Ranking Joe Burrow, Aaron Donald, and the Top 7 Players in the 2022 Super Bowl
It's fitting that Super Bowl 56 will be played in Los Angeles, the city of the stars. The Los Angeles Rams and Cincinnati Bengals have made it to the doorstep of NFL immortality because of their grit, hard work, and determination. Still, both rosters also feature extremely talented rosters. It's hard to deny that there will be significant star power on both sidelines in the 2022 Super Bowl.
With that in mind, here's a ranking of the top seven players in Super Bowl 56.
7. Joe Mixon, RB, Cincinnati Bengals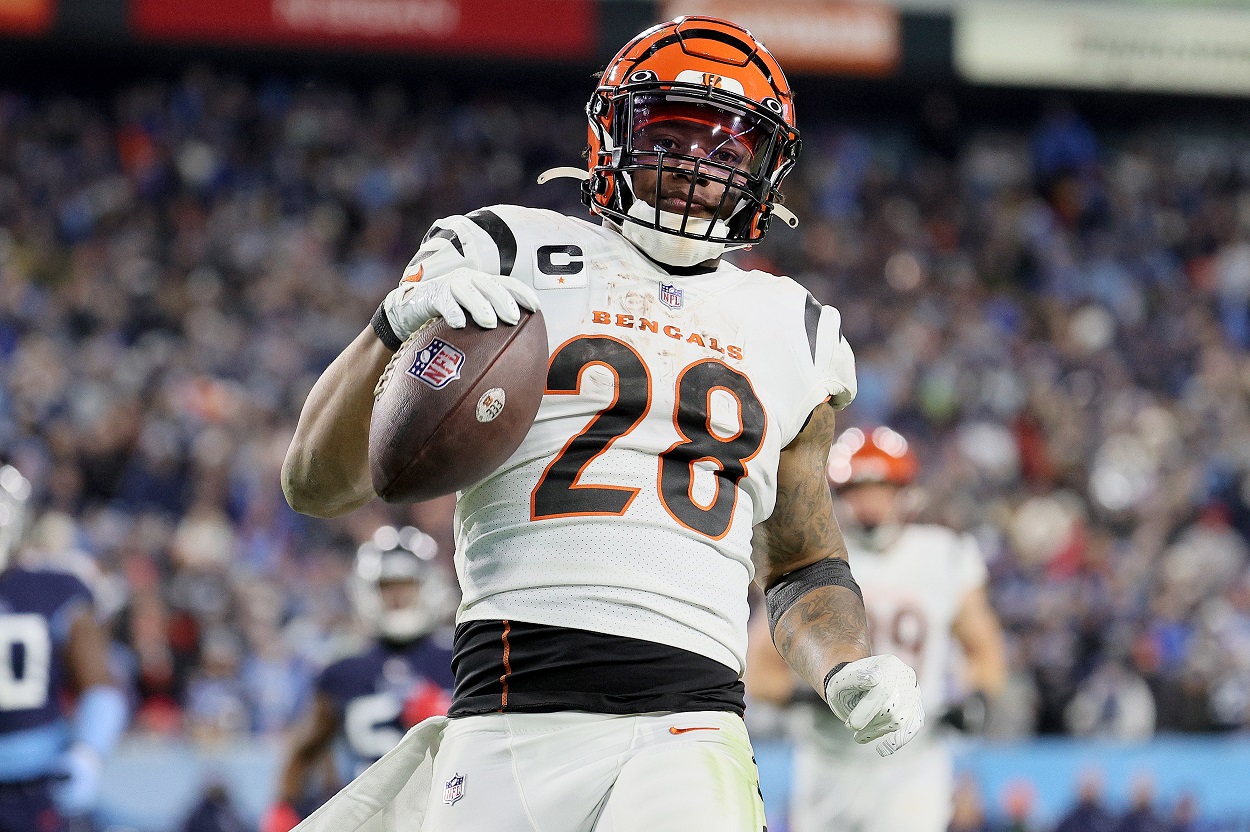 Joe Mixon has been one of the better running backs in the league ever since the Bengals drafted him in the second round of the 2017 NFL Draft out of Oklahoma, but 2021 was easily his best season to date.
Mixon rushed 292 times for 1,205 yards and 13 touchdowns in the regular season, averaging a stout 4.1 yards per carry. He was soo good for Cincinnati that he earned himself a trip to the Pro Bowl, his first honor of the sort.
He was a solid contributor for Cincinnati in the playoffs, finding the end zone on the ground in the overtime win over the Tennessee Titans. Mixon has a stunning blend of size, speed, and agility. The Bengals should use him early and often in the Super Bowl. He can be a game-changer when he gets rolling on the ground.
6. Matthew Stafford, QB, Los Angeles Rams
Matthew Stafford has been a top 10 quarterback league-wide ever since the Detroit Lions took him with the No. 1 overall pick back in 2009. The problem for Stafford was that his talent was largely hidden, if not straight-up wasted, because of Detroit's ineptitude as a franchise. He played his part in that, of course, but the trade to the Rams has highlighted that Stafford does have the talent to be a Super Bowl quarterback. Perhaps he just needed better pieces around him.
Either way, if you're looking for a quarterback with experience, arm strength, and the ability and smarts to make all the throws, you'd find Stafford. The only knock against him is that he can sometimes be very sloppy with the football and throw one too many interceptions, especially in big moments.
That's the only reason he's not any higher on this list because otherwise, he has Hall of Fame talent.
5. Joe Burrow, QB, Cincinnati Bengals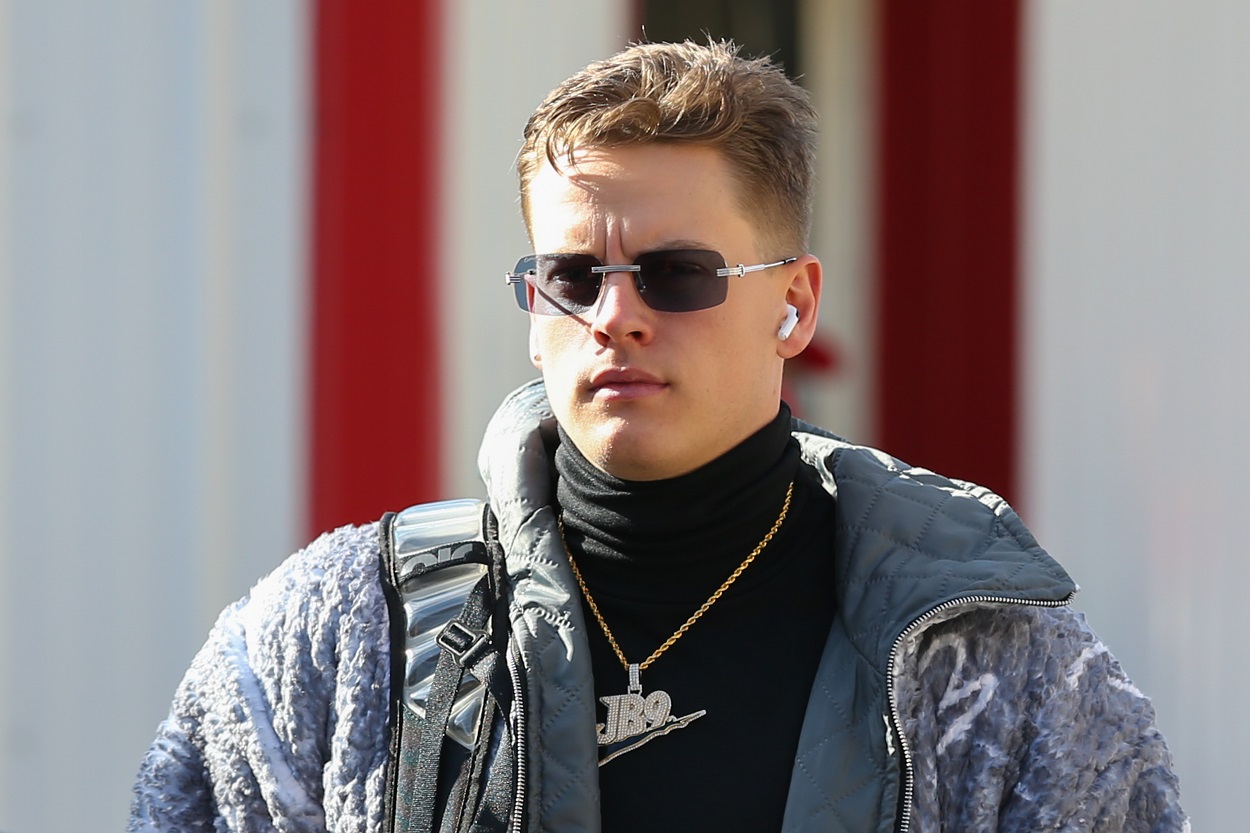 Is Joe Burrow the coolest player in the NFL? If his chain game is any indication, the answer is a resounding yes.
Swagger is a real thing for a quarterback, and Burrow just seemingly has that "it" factor. The moment is never too big for him. He proved that all throughout the playoffs, but it was most evident when he led the Bengals to an overtime win against Patrick Mahomes and the Kansas City Chiefs at Arrowhead Stadium.
He belongs in the big moments, and this will be the biggest of his young career.
Burrow is everything you look for in a No. 1 overall pick, and even if he and the Bengals come short in Super Bowl 56, he has the look of a quarterback who can quickly bring them back.
4. Ja'Marr Chase, WR, Cincinnati Bengals
In terms of pure talent, Ja'Marr Chase looks like he can be an all-time great, and he's still just in his rookie season. He has the size (6-foot-1, 200-pounds) and speed to be an incredible deep threat over the top, but he already has the route-running ability and footwork of a veteran receiver.
He's Burrow's favorite target, and the two have benefited from their time playing together at LSU, where they won the college football national championship.
Chase finished his rookie season with 81 catches for 1,455 yards and 13 touchdowns, averaging an incredible 18 yards per catch. He caught 20 of 27 passes for 279 yards and a touchdown during the playoff run, including an impressive game against the Titans that saw him catch five passes for 109 yards, averaging 21.8 yards per reception.
Chase has the talent to be one of the top five receivers in the NFL in short order.
3. Jalen Ramsey, CB, Los Angeles Rams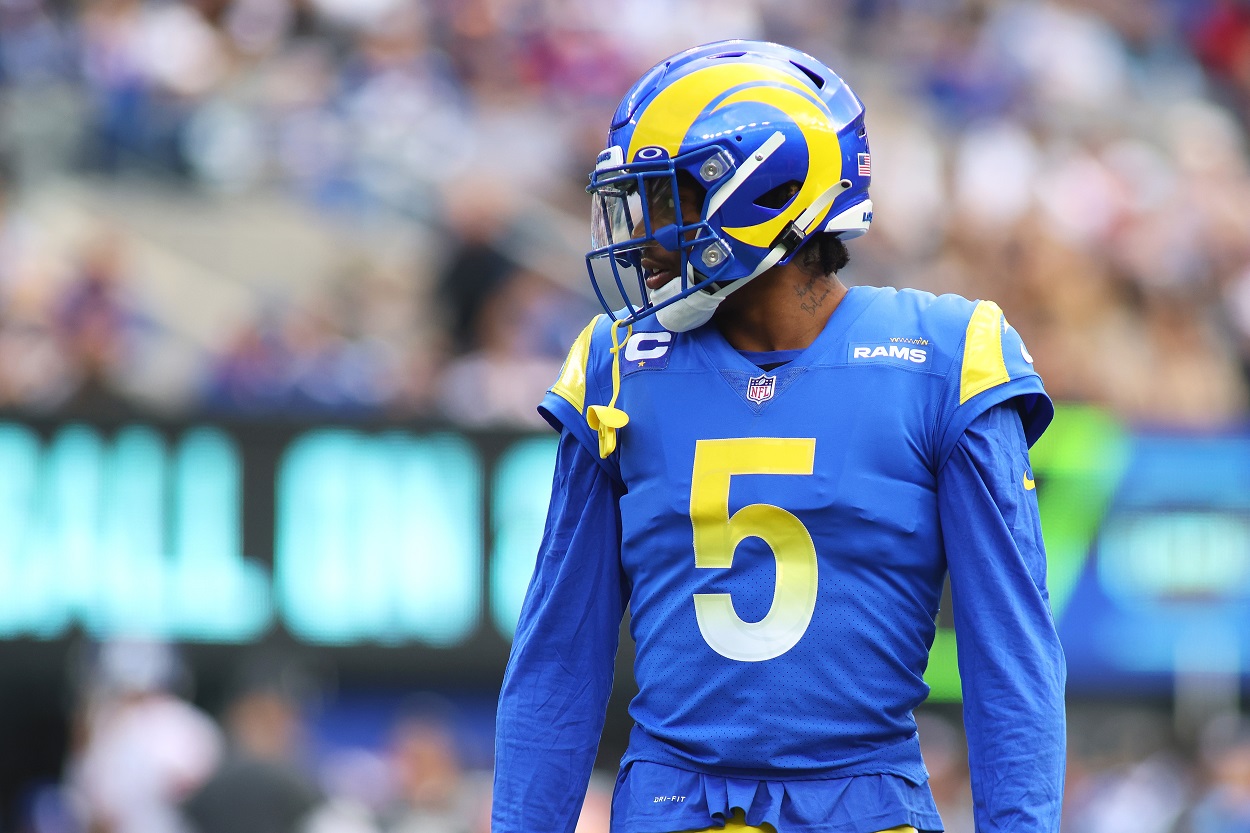 In terms of pure shutdown cornerbacks, there's nobody doing it better than Jalen Ramsey at the moment. He's been great ever since he entered the league as the No. 5 overall pick of the Jacksonville Jaguars in 2016, but he's really turned it on with the Rams.
True shutdown cornerbacks don't get a ton of stats because quarterbacks are afraid to throw the ball their way. That's what makes Ramsey soo impressive, though. The Rams move him all over the defense and do their best to get him close to the football. He notched 62 tackles, four interceptions, one forced fumble, and 16 passes defended in the regular season and followed that up with nine tackles and three passes defended in the playoffs.
If anyone is going to shut down Burrow and Chase through the air, it will be Ramsey.
2. Cooper Kupp, WR, Los Angeles Rams
Speaking of the top receivers in the NFL, there was none better than Cooper Kupp this season. Kupp won the proverbial wide receiver Triple Crown, meaning that he led the league in the three most important categories for a wide receiver: catches, yards, and touchdowns.
Cupp finished the regular season with a whopping 145 receptions for 1,947 yards and 16 touchdowns. It's telling that the closest wideout to him in terms of production was Davante Adams, who many consider the best overall talent at wideout in the league, and he wasn't even that close. Adams finished with 123 catches for 1,553 yards and 11 touchdowns.
Cupp has come up huge for LA in the playoffs as well, notching 25 catches for 386 yards and four touchdowns. Those stats include two touchdowns and 142 yards in the NFC Championship game and a touchdown and 183 yards caught against the defending champion Tampa Bay Buccaneers in the Divisional Round.
If the Rams need a big play, it's more than likely going to be Cupp on the receiving end of it.
1. Aaron Donald, DT, Los Angeles Rams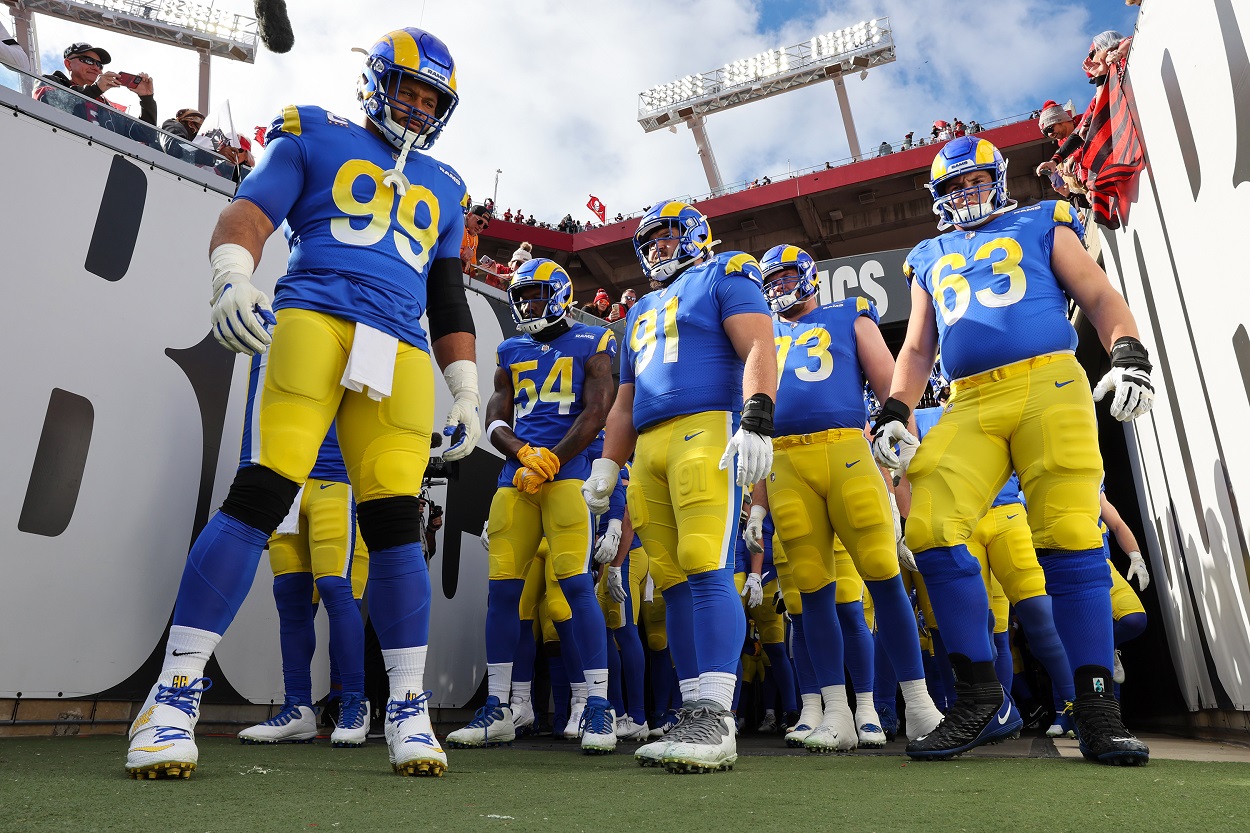 Aaron Donald is a transcendent talent as a defensive tackle. He's a once-in-a-lifetime player and at 6-foot-1, 280 pounds with breathtaking speed, he looks every part of that description on the field.
To truly understand Donald's greatness, you have to understand his position. He's often on the interior of the defensive line where he's open to double teams from centers and guards, and he can even be triple-teamed by blockers if an offense leaves the running back in the pocket.
That's conventionally the best way to try to stop a player like Donald, but even then, it doesn't work. He notched 12.5 sacks and four forced fumbles in 2021, and though he only has a half-sack in the playoffs so far, his presence has been felt on every play. Just ask Jimmy Garoppolo or Tom Brady their thoughts on Donald.
Donald is the one player in the NFL who can truly, single-handedly wreck an offense's game plan, and Super Bowl 56 will be the biggest game of his life. He's almost guaranteed to deliver a handful of game-changing plays for LA.
Stats courtesy of ESPN and Pro Football Reference. Contract information via Spotrac
RELATED: 2022 Super Bowl Prop Bets to Target