Ranking LeBron James' 6 Best Christmas Day Performances
LeBron James has become a Christmas staple for NBA fans. He has played on the holiday 15 times and has had several massive games.
But which have been his most impressive so far?
We sat down and ranked James' six best Christmas Day performances. And while he has essentially played well every year, we weighed the list on the overall numbers he put up, whether his team won, and who he was playing against in the game.
Here are LeBron's six best performances on Christmas Day.
Honorable mention: LeBron puts on a show as a rookie against Tracy McGrady and the Orlando Magic in 2003
This one didn't make the list because LeBron James' Cleveland Cavaliers lost to the Orlando Magic. But in his first-ever Christmas Day performance as a rookie, James dropped 34 points and six assists, and he sank four 3-pointers against the league's reigning leading scorer in Tracy McGrady, who had 41.
It was a pretty special introduction to LeBron's Christmas magic.
6. James got the best of Dwyane Wade and the Miami Heat on Christmas in 2007
After leading the Cavs to the NBA Finals the season before, LeBron faced his pal Dwyane Wade and the Miami Heat on Christmas in 2007.
Wade's squad wasn't very good that season, which is why this performance is only sixth. But James outdueled his fellow 2003 draft classmate, recording 25 points, 12 assists, and six rebounds in a 96-82 win.
5. LeBron beat Kobe Bryant and the reigning NBA champion Lakers in 2009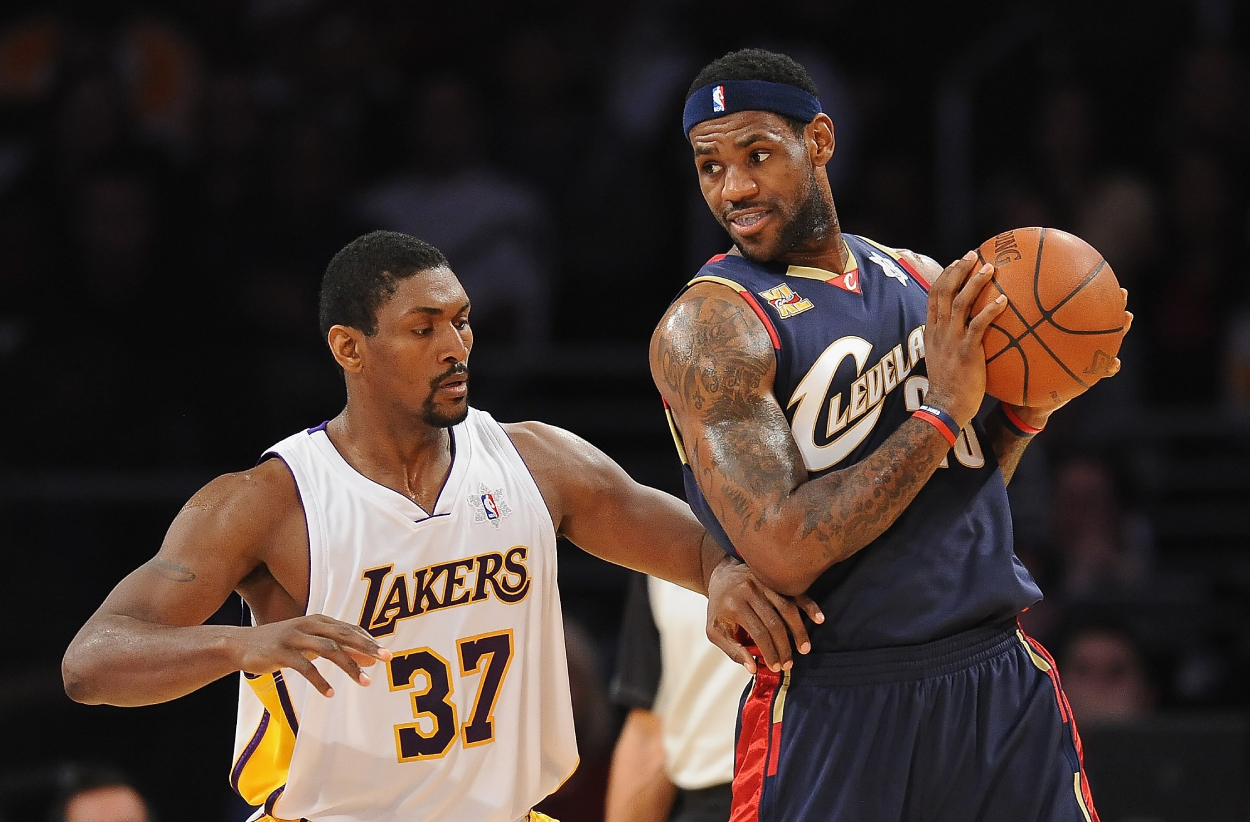 The Cavaliers and the Lakers were the No. 1 seeds in the East and West, respectively, in 2009-10. The Lakers had also just won the championship the season before. So, a Christmas meeting between the two that featured LeBron and Kobe Bryant (and Shaquille O'Neal) was one of the season's marquee matchups.
Despite Kobe going off for 35 points, 10 rebounds, and eight assists, The King recorded 26 points, nine assists, and four rebounds, and he led Cleveland to a 102-87 victory.
4. LBJ recorded a triple-double in another win over Kobe and the Lakers in 2010
James faced the two-time reigning champ Lakers again on Christmas in 2010, but it was with the Heat during his first season in Miami.
This time, LeBron's squad dominated from start to finish, winning 96-80, and James had a triple-double, recording 27 points, 11 rebounds, and 10 assists. He also made 5-of-his-6 3-point attempts. His filling of the stat sheet that day, against Kobe nonetheless, is a big reason why this one ranked in the top four.
3. LeBron James reminded Kevin Durant and the Thunder who was boss on Christmas Day 2012
The Finals rematch element of this game has a lot to do with it ranking No. 3. James and the Heat defeated the Oklahoma City Thunder in the 2012 NBA Finals to win him his first championship, and the two teams then met again on Christmas Day about six months later.
Kevin Durant scored 33 points and pulled down seven rebounds in the game, but James almost dropped another triple-double with 29 points, nine assists, and eight rebounds. The Heat won 103-97.
2. He led Cleveland to a close win in the Cavaliers-Warriors rivalry in 2016
In 2016, the Cavaliers and Warriors had met in the past two NBA Finals, and Cleveland won the 2015-16 championship in seven games after trailing 3-1. So, reigniting that rivalry on Christmas Day was, of course, enormous. But with Golden State adding Kevin Durant that past offseason, there was even more hype around the game.
And it lived up to all of it.
The reigning champion Cavaliers reminded Golden State that the Larry O'Brien Trophy ran through them, as Kyrie Irving hit a jumper with three seconds left to give the Cavs a 109-108 win. While KD had 36 points and 15 rebounds, James' 31 points, 13 rebounds, and four assists were too much for the Warriors.
1. The King opened his first championship run with a revenge win over the Mavericks on Christmas Day 2011
The Mavericks showed the Heat and their Big Three that talent doesn't always win during the 2011 NBA Finals, as they won the series in six games. But LeBron and company got their revenge in a season-opening win on Christmas Day just months later (the NBA started late that year due to a lockout).
James nearly dropped 40 points, as he scored 37 and pulled down 10 rebounds to go with six assists in a 105-94 victory. While LeBron's 2016 game went down to the wire, this win set the tone for Miami's championship-winning season and their eventual two-peat. It was the catalyst for a magical run.
Stats courtesy of Basketball Reference