Ranking LeBron James and the 6 Best NBA Players Taking the Court on Christmas
Christmas is always a massive day for the NBA as the league's best players get to show off at a time when most people are just hanging out by the television with their family members. This year may look slightly different due to the ongoing COVID-19 pandemic, but plenty of stars, like LeBron James of the Los Angeles Lakers, plan to suit up for their teams.
Ahead of the NBA's 2021 Christmas showcase, we decided to rank the top players playing on the big day this year. Our criteria is heavily based on the numbers they are currently putting up (this isn't an all-time ranking), but we did give their resumes a bit of consideration.
For example, Luka Doncic, who won't be playing on Christmas after entering the COVID-19 protocols but would have otherwise made the countdown, has numbers close to LeBron's, but James gets the nod thanks to his, you know, four league MVPs and four NBA championships. He has a proven track record of unreal success that Doncic hasn't even come close to yet.
So, without future ado, here's our list of the six best NBA players taking the court on Christmas Day. Oh, and don't worry. Like Santa Claus, we checked everything twice.
6. Donovan Mitchell, Utah Jazz
Donovan Mitchell is only 25 years old, but he's in the midst of his fifth consecutive season scoring at least 20 points per game. Averaging 25.1 points, 3.8 rebounds, and 5.1 assists while hitting 45.8% of his field-goal attempts and 34.2% of his 3-pointers, the guard has his Utah Jazz trailing only the Golden State Warriors and Phoenix Suns in the Western Conference standings. 
The Jazz have a deep roster that features Rudy Gobert, Mike Conley, Bojan Bogdanovic, and other high-quality rotation members, but Mitchell has been the biggest reason for their success. His athletic scoring ability draws plenty of defensive attention, pushing him ahead of James Harden, Gobert, and Chris Paul for the No. 6 spot in our Christmas Day rankings.
5. Jayson Tatum, Boston Celtics
After establishing himself as a future star with a brilliant playoff performance as a rookie in 2017-18, Jayson Tatum has only continued to climb the NBA's individual ladder. 
The Boston Celtics haven't yet been able to push toward the top of the Eastern Conference this year, but that has little to do with Tatum's play. He's averaging 25.6 points, 8.6 rebounds, and 3.8 assists while hitting 41.9% of his shots. 
With two All-Star appearances under his belt, Tatum has left his up-and-coming status behind and asserted himself as one of the league's brightest talents. He's still just 23 years old, but he's no stranger to the Christmas Day stage with four previous appearances in his young NBA career.
4. Devin Booker, Phoenix Suns
Devin Booker proved he was the real deal this past summer, leading the Phoenix Suns to their first Finals appearance since 1993. And that run is why he's among the top five NBA players playing on Christmas, as he averaged 27.3 points, 5.6 rebounds, and 4.5 assists in his first-ever playoff appearance.
So far this season, Booker has continued turning the Suns into perennial contenders. The two-time All-Star is averaging 23.3 points, 5.2 rebounds, and 4.7 assists. He has also led Phoenix to the top of the Western Conference standings, where they are battling the Golden State Warriors for the No. 1 seed.
3. LeBron James, Los Angeles Lakers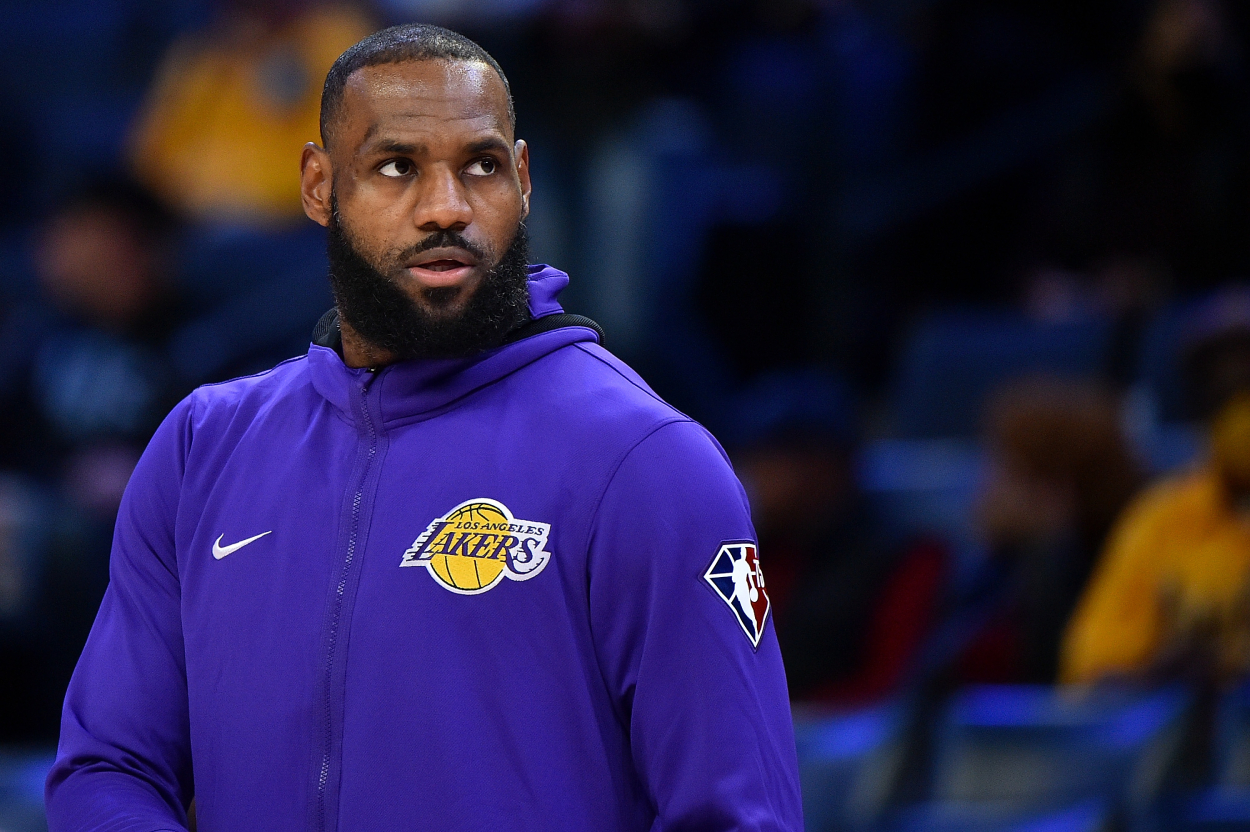 Of course, if this were an all-time ranking, LeBron James would be sitting at No. 1. But his Los Angeles Lakers have struggled this season, and he missed a good chunk of games due to injury, so we can't move him any higher.
However, The King is still putting up his typical numbers, and that, combined with his Hall of Fame resume, is why he's still one of the top NBA players taking the court on Christmas. James is averaging 26.8 points, 6.7 rebounds, and 6.5 assists. He's also shooting 51.4% from the field. If it weren't for him, the Lakers would be much lower than their current standing within the NBA Play-In Tournament race.
2. Giannis Antetokounmpo, Milwaukee Bucks
Coming off his first-ever NBA championship, Giannis Antetokounmpo has been a man on a mission yet again this season. The two-time MVP is averaging 27.0 points, 11.6 rebounds, and 5.8 assists. He's also making 52.9% of his shots.
While his Milwaukee Bucks have dealt with injuries and COVID-19 issues so far, Antetokounmpo still has them in a good spot in the Eastern Conference standings with a great chance to win him his second title later this season.
Giannis has easily cemented his status as one of the top players in the world, and that's why the reigning NBA Finals MVP ranks so high on this Christmas list.
Note: Per ESPN, Antetokounmpo had cleared the health and safety protocols but wasn't certain whether he would play as of publication.
1. Stephen Curry, Golden State Warriors
Stephen Curry and the Golden State Warriors took a bit of a break from title contention the past two years, but they have surprised everyone this season, proving they have as great a chance as any team to win the championship.
Behind Steph's 27.7 points, 5.4 rebounds, and 5.9 assists per game, and, of course, his unreal 3-point shooting, the Warriors have been fighting the Suns for the No. 1 seed in the Western Conference all year. There's hot, and there's Stephen Curry hot, and that's why the three-time NBA champ is atop our Christmas Day list.
Stats courtesy of Basketball Reference and current heading into games on Dec. 24.