Ranking LeBron James' NBA Finals Appearances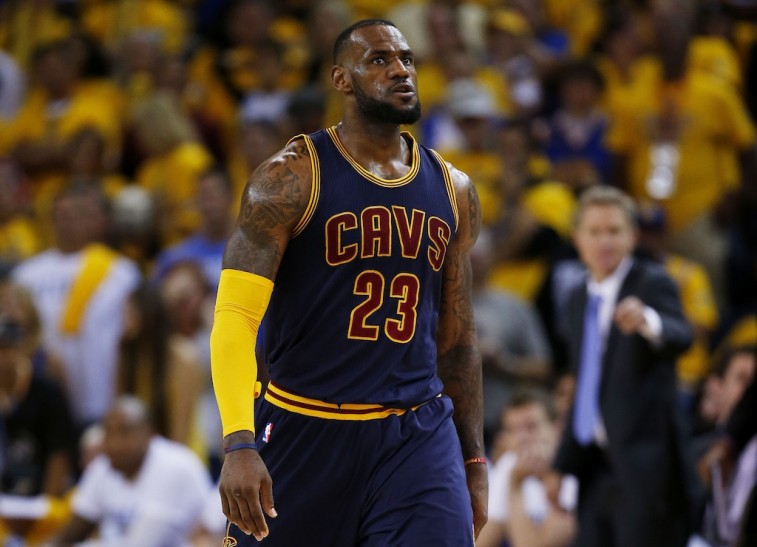 In June 2015, in front of millions of basketball fans, the Golden State Warriors dispatched the Cleveland Cavaliers in six games. It's not that the Cavaliers didn't have a prayer at the beginning of the series. However, with Kevin Love sidelined and Kyrie Irving going down at the end of Game 1 with what was eventually diagnosed as a fractured kneecap, Cleveland never really stood a chance.
One year later, facing what could only be classified as insurmountable odds, the Cleveland Cavaliers rose from the ashes — i.e., a 3-1 deficit to a 73-win Warriors squad — and pulled off one of the greatest comebacks in sports history. The main reason the Cavs were able to scrape and claw their way back to the top of the basketball mountain is simple: LeBron James.
The best player on the planet — who was playing in his sixth consecutive Finals at the time — took the series by storm. The rest of the Cavs followed James' lead and the defending champion Warriors were defeated in seven games. Now, to the surprise of no one, the King and the Cavs are at it again.
In 2016–17, for the third straight season, the Cavs and Warriors duked out in the NBA Finals. This time, however, James and company were unable to overcome the Western Conference champs. Behind sensational performances from Kevin Durant — who took home Finals MVP honors — and Stephen Curry, Golden State took home the title in five games. Still, it's hard to argue with LeBron's overall greatness, as the King was making his seventh consecutive trip to the Finals and the eighth of his illustrious career.
While this latest loss brings James' overall Finals record to 3-5, his legacy as one of the game's all-time greats is firmly cemented. See for yourself, as we rank all the King's NBA Finals performances to date.
8. 2011 NBA Finals: Miami Heat vs. Dallas Mavericks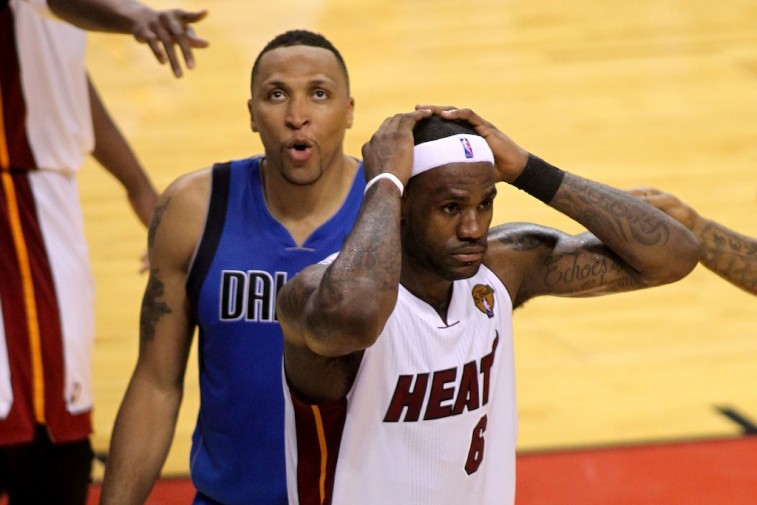 Finals Averages

: 17.8 PPG, 7.2 RPG, 6.8 APG

End Result

: Lost to Mavericks in six games
James took his talents to South Beach for this very reason: to compete for championships. However, despite reaching the Finals during his first season as a member of the Miami Heat, we're sure this is one showing he'd like to forget. During the club's eventual loss to the Dallas Mavericks, the King couldn't quite put it all together.
LeBron was third on the team in scoring. He committed 24 total turnovers and only shot 60% from the free-throw line. His Game Score total was a lackluster 13.7 — showing that his overall productivity throughout the series was a bit over average. It was clear that Miami hadn't properly discovered how best to use its newly formed Big Three. Perhaps this is when James realized that learning to win was "a process."
7. 2007 NBA Finals: Cleveland Cavaliers vs. San Antonio Spurs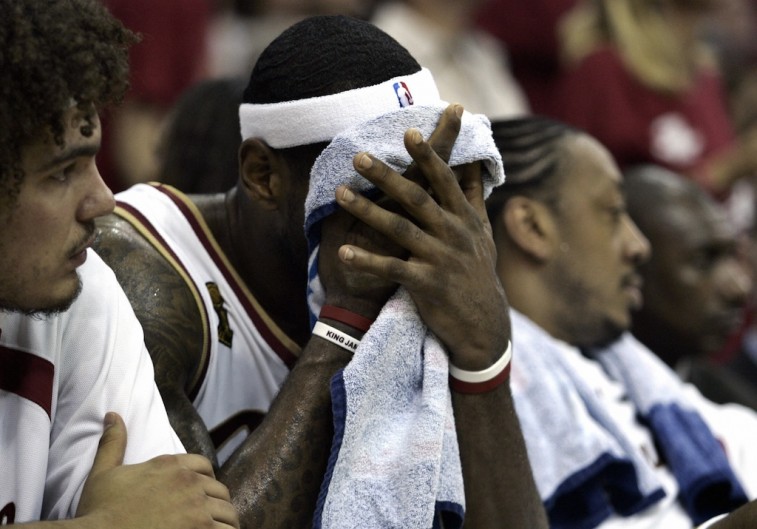 Finals Averages

: 22.0 PPG, 7.0 RPG, 6.8 APG

End Result

: Lost to Spurs in four games
James was just 22 years old — just his fourth NBA season — when he made his first Finals appearance. Neither James nor the Cleveland Cavaliers were ready for the task at hand. Their poor showing would emphatically prove this point.
The San Antonio Spurs took it to the Eastern Conference champion. They swept the Cavs in four games, winning the franchise's fourth title in nine years. The King struggled for much of the series. He shot just 35.6% from the field, 20% from three-point range, and 69% from the line. He carried the scoring load for Cleveland. But James also had the highest turnover percentage on the team (18.3%).
Many may say this was his poorest showing in the NBA Finals. We, however, can't overlook the circumstances. 'Bron was young, inexperienced, and surrounded by players like Drew Gooden and Daniel Gibson. This team was fortunate enough simply to make the NBA Finals. You can't really fault James for not being able to take over the series.
6. 2012 NBA Finals: Miami Heat vs. Oklahoma City Thunder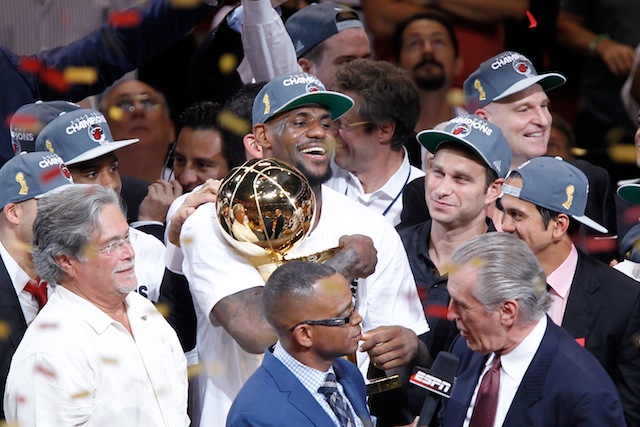 Finals Averages

: 28.6 PPG, 10.2 RPG, 7.4 APG

End Result

: Beat the Thunder in five games
James finally got over the hump in the 2012 NBA Finals, as the Miami Heat defeated the Oklahoma City Thunder in five games. By averaging 28.6 points, 10.2 rebounds, and 7.4 assists per game, King James was the clear runaway winner for the Finals MVP award.
On top of playing 44 minutes a game, James had a 47.2% field goal percentage and hit 82.6% of his free throws. He led the team in Game Score (23.6), usage percentage (29.7%), and assist percentage (31.0%). In a showdown between two of the game's best talents, the King showed that Kevin Durant wasn't quite ready to wear the crown.
5. 2013 NBA Finals: Miami Heat vs. San Antonio Spurs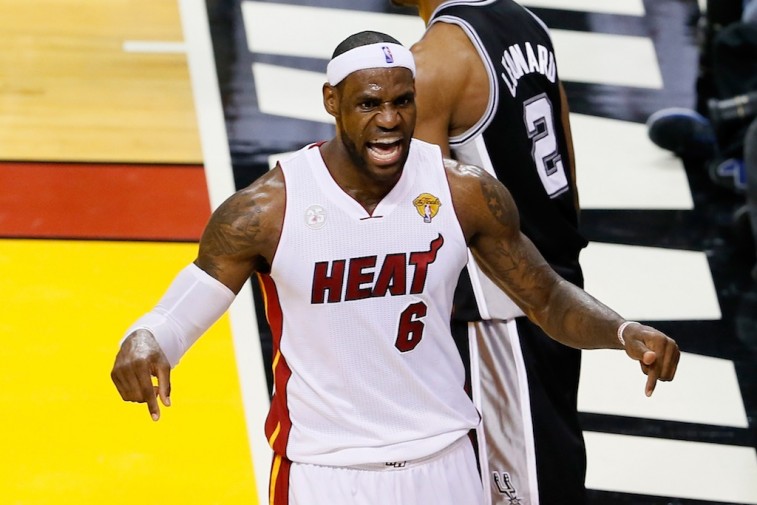 Finals Averages

: 25.3 PPG, 10.9 RPG, 7.0 APG

End Result

: Beat the Spurs in seven games
With James leading the way, the Heat toppled the San Antonio Spurs in seven games, and the club won its second consecutive NBA championship. The King was at the center of everything for Miami during this series. He led the team in minutes per game (43.0), Game Score (22.5), usage percentage (29.7%), assist percentage (30.1%), and total points (177).
He may have averaged more points a game during the 2012 Finals, but this Spurs team required James to give more of himself than ever before. And for any who maintained that LeBron wasn't born with "the clutch gene," he gave them this big-time shot in Game 7 that all but iced it for Miami. For the record, he also put up 37 points — on 52.2% shooting — 12 rebounds, and 4 assists in that close-out game.
4. 2014 NBA Finals: Miami Heat vs. San Antonio Spurs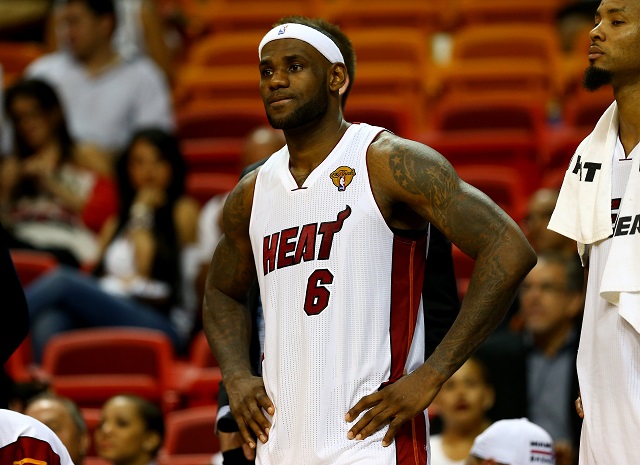 Finals Averages

: 28.2 PPG, 7.8 RPG, 4.0 APG

End Result

: Lost to Spurs in five games
There's no question that James had put up better numbers in previous Finals appearances. On top of that, the Heat were thoroughly throttled in five games by a much superior San Antonio team. If you rewatch this series again, you'll see that James was pretty much carrying the load all by himself. The King averaged 28.2 points per game, while the closest Heat member to that total was Dwyane Wade, who only contributed 15.2 points a contest. 'Bron had a terrible turnover percentage — 15.5% — but that's because he was forced to have the ball in his hands for the majority of the time.
In the end, he still led the Heat in minutes played, total points, total rebounds, assists, and steals. James shot 57.1% from the field and connected on 51.9% of his threes. What it boils down to is, Miami was simply no match for its Western Conference foe. Still, that doesn't mean that James didn't leave it all on the court. He certainly did, and then some.
3. 2015 NBA Finals: Cleveland Cavaliers vs. Golden State Warriors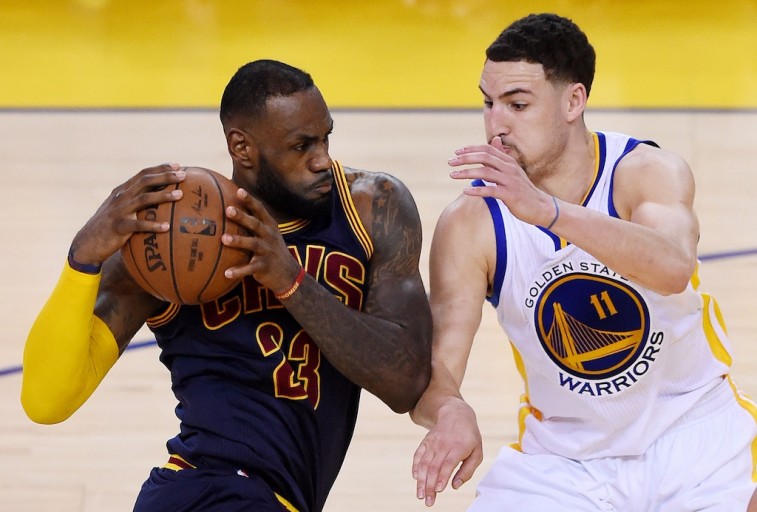 Finals Averages

: 35.8 PPG, 13.3 RPG, 8.8 APG

End Result

: Lost to Golden State in six games
James wasn't shooting the ball as well as he has in the past, but every other facet of his 2015 NBA Finals performance is nothing short of unbelievable. As the only top tier player left standing for the Cavs, James showed the will of a champion. He was the first player ever to lead both teams in points per game (35.8), assists per game (8.8), and rebounds per game (13.3). He had a 27.2 Game Score, a usage percentage of 43.3%, and an assist percentage of 53.1%.
The King put this young Cavaliers team on his back and carried them to a potential Finals upset. Sure, the Warriors came out on top, but LeBron's ability to play at such a high level, and make those less talented players around him that much better, was otherworldly. If he can lead somehow lead Cleveland to a title in 2016, it will easily be his greatest Finals performance ever.
2. 2017 NBA Finals: Cleveland Cavaliers vs. Golden State Warriors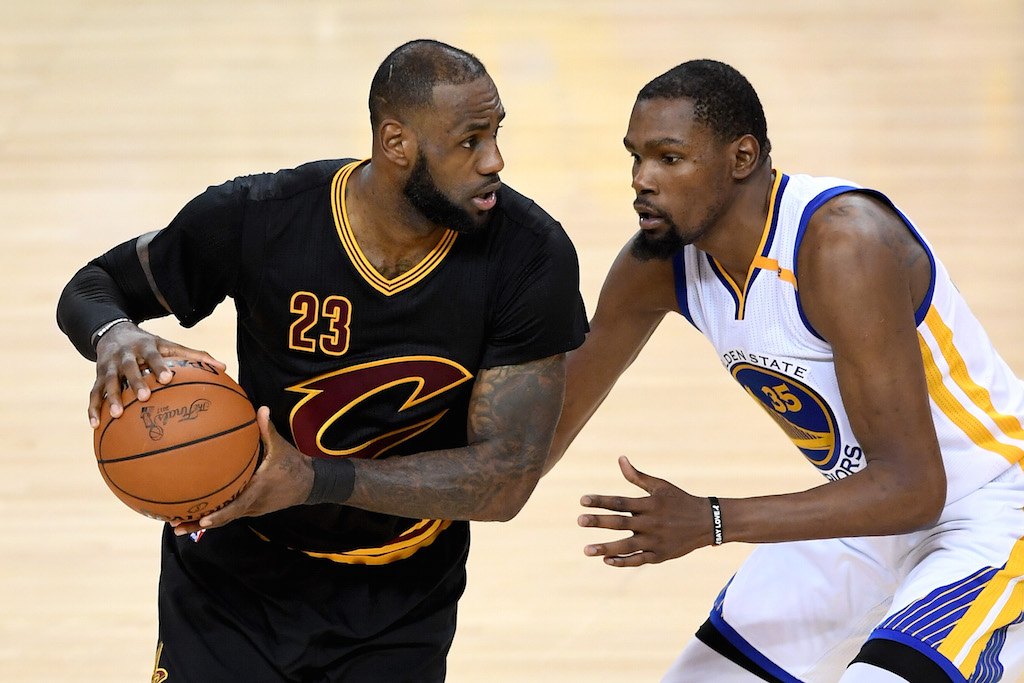 Finals Averages

: 33.6 PPG, 12.0 RPG, 10.0 APG

End Result

: Lost to Golden State in five games
Although the Cavaliers were unable to repeat as champions in 2017, it's impossible to hold any of that against the King. Facing a historically great Golden State Warriors team, James was absolutely incredible. He played 42.4 minutes per game, shot 56.4% from the field, and averaged a ridiculous 33.6 points, 12.0 rebounds, and 10.0 assists per game, becoming the first player ever to average a triple-double in the Finals.
The history books will show that James and the Cavs fell to the Warriors in five games. However, make no mistake, had the Dubs not added KD in the offseason, there's a good chance LeBron and company would've come away victorious. That alone should speak volumes about James' performance in the 2017 NBA Finals.
1. 2016 NBA Finals: Cleveland Cavaliers vs. Golden State Warriors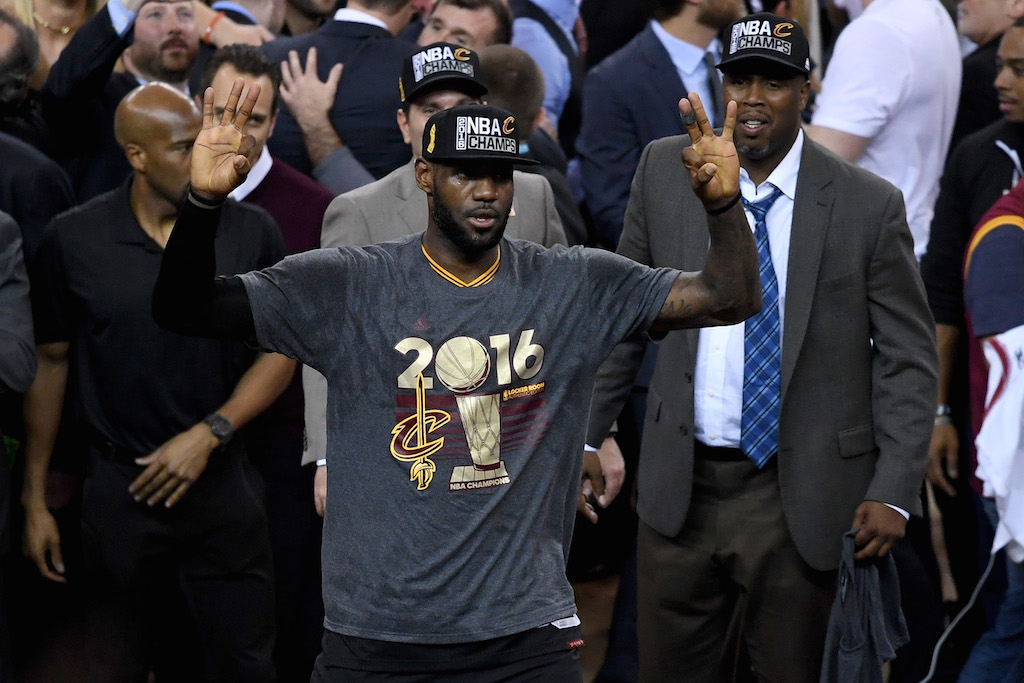 Finals Averages

: 29.7 PPG, 11.3 RPG, 8.9 APG

End Result

: Beat Golden State in seven games
Two years after returning home, James completed the greatest achievement of his professional basketball career — bringing a championship to the city of Cleveland. Despite facing incredible odds for most of the series, including deficits of 2-0 and 3-1, the King took matters into his own hands, leading the Cavaliers to the greatest comeback in NBA Finals history.
In a showdown that reaffirmed his status as the best player on the planet, while cementing his status as one of the all-time greats, 'Bron averaged 29.7 points, 11.3 rebounds, and 8.9 assists per game, including back-to-back 41-point performances in Games 5 and 6 of these 2016 Finals. Now that the King is back on his throne, it's time for the doubters to finally give it a rest and admit the simple truth: They have "Witnessed" greatness.
Statistics courtesy of Basketball-Reference and ESPN Stats and Info.