Ranking the Offenses for Aaron Rodgers' 3 Reported Trade Destinations
Aaron Rodgers has yet to make an official decision on his NFL future. However, that decision could be coming soon. The Green Bay Packers quarterback could opt to rejoin the franchise he's spent his entire 17-year career playing for. Or, he could request a trade and start fresh elsewhere.
Three teams have emerged as serious contenders if the Packers choose to trade the four-time Most Valuable Player. According to Pro Football Talk, the Denver Broncos, Pittsburgh Steelers, and Tennessee Titans would be Rodgers' preferred landing spots if he goes that route.
Each destination offers the 10-time Pro Bowl selection something different. However, which squad would give Rodgers the best chance to succeed when he has the ball in his hands?
Could Aaron Rodgers rejoin the Packers offense in 2022?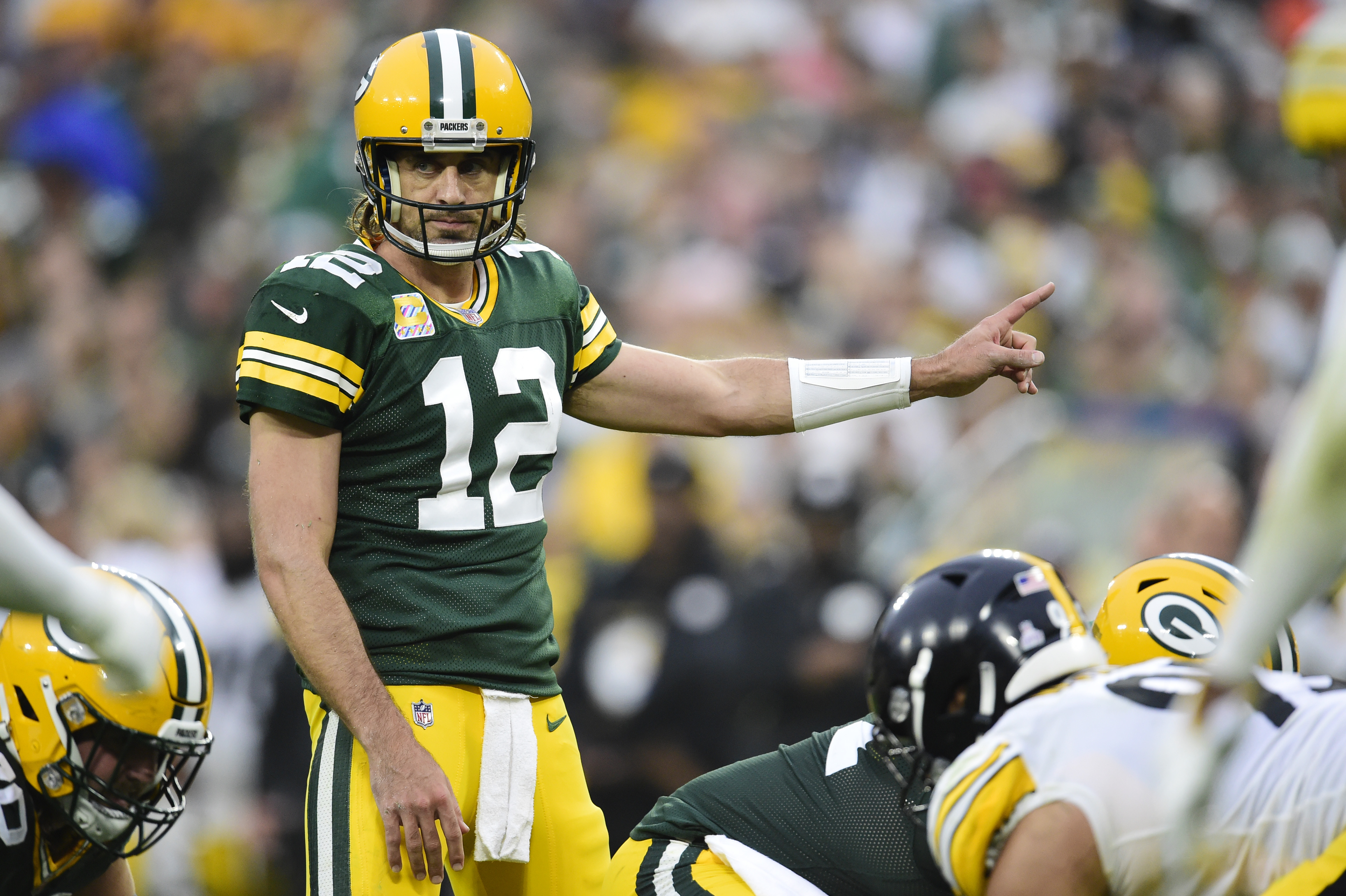 The most obvious decision for Aaron Rodgers would be to rejoin the Green Bay Packers for the 2022 season. Matt LaFleur's squad posted a 13-4 record, good for the NFC North title and the No. 1 seed for the playoffs. Even with some players moving on in the offseason, the Packers should be a contender again.
According to NFL Network insider Ian Rapoport, the veteran signal-caller is reportedly torn over where he wants to play in the upcoming season.
Green Bay expects to return several of its key offensive weapons in 2022. The one-two punch of Aaron Jones and A.J. Dillon will be back at tailback. Allen Lazard should return, too. All-Pro wide receiver Davante Adams is an unrestricted free agent, though, as is Marquez Valdes-Scantling. The Packers could choose to use the franchise tag on Adams, which would be a massive step toward retaining Aaron Rodgers.
3. Pittsburgh Steelers
The Pittsburgh Steelers have some nice pieces in place if the Packers decide to deal Aaron Rodgers. Ben Roethlisberger retired, and the front office has to look for a quarterback for the first time since 2004.
There's a lot to like about the Steelers offensively. For starters, Najee Harris has the potential to be one of the best running backs in the NFL someday. He put together a solid rookie campaign, rushing for 1,200 yards and seven touchdowns on 307 carries.
Pittsburgh has some promising young players at wide receiver, too. Diontae Johnson has come on over the past two seasons. He posted his best numbers to date in 2021. The Toledo product caught 107 passes for 1,161 yards and eight touchdowns. Chase Claypool took a step back after a breakout rookie season. If he matures, he could get back on track in year three.
However, JuJu Smith-Schuster is a free agent, and likely won't be back in 2022. The front office also must address the offensive line, which was wildly inconsistent in 2021. If the Steelers don't commit to bolstering the offensive line, they could have trouble landing Aaron Rodgers.
2. Denver Broncos
Speculation continues to build around the chances Aaron Rodgers plays for the Denver Broncos in 2022. Denver hired former Packers offensive coordinator Nathaniel Hackett as its new head coach. The front office has also built a roster that's almost ready to compete. Unfortunately, the quarterback position is lacking. That's where Rodgers comes in.
The Broncos' offense featured a solid ground game in 2021. It averaged 119.1 rushing yards per game and scored 16 touchdowns on the season. Melvin Gordon III is an unrestricted free agent, but the team could ultimately hand Javonte Williams the keys in year two. He flashed immense potential as a rookie and has a bright future.
Denver's pass-catchers could appeal to Rodgers as well. Jerry Jeudy and Courtland Sutton form a dangerous tandem at wide receiver. Neither player has reached their full potential in the NFL. Injuries have played a part, but inconsistent quarterback play has also held them back. They wouldn't have that problem with Aaron Rodgers.
The Broncos have several other receiving options, including tight end Noah Fant and wideouts Tim Patrick and K.J. Hamler. With the Packers star under center, this could be a fun offense to watch.
1. Tennessee Titans
The Tennessee Titans have publicly shown their support for starting quarterback Ryan Tannehill. The veteran struggled at times throughout the 2021 season. He threw three interceptions in the Divisional Round loss to the Cincinnati Bengals. Regardless of how the team feels about Tannehill, Aaron Rodgers would be a significant upgrade.
The Packers star could take Tennessee's offense to the next level. The Titans have long been a run-first team with Derrick Henry in the backfield. The Alabama product led the league in rushing in back-to-back seasons (2019 and 2020). He arguably would've completed the hat trick if not for a foot injury in 2021.
The Titans feature A.J. Brown and Julio Jones at wide receiver. Brown continues to flash potential as one of the better young receivers in the game. Jones is no longer elite. However, Rodgers might be able to pull something out of him if Jones stays healthy.
While the Broncos might have more options, they don't have King Henry. Having a dominant running back like him is invaluable. He can wear down a defense for four quarters and deliver the knockout blow late in games. That would take a world of pressure off Aaron Rodgers' shoulders in crucial moments.
All stats courtesy of Pro Football Reference
RELATED: Aaron Rodgers Trade: Does Packers Quarterback Have Plans In Place?