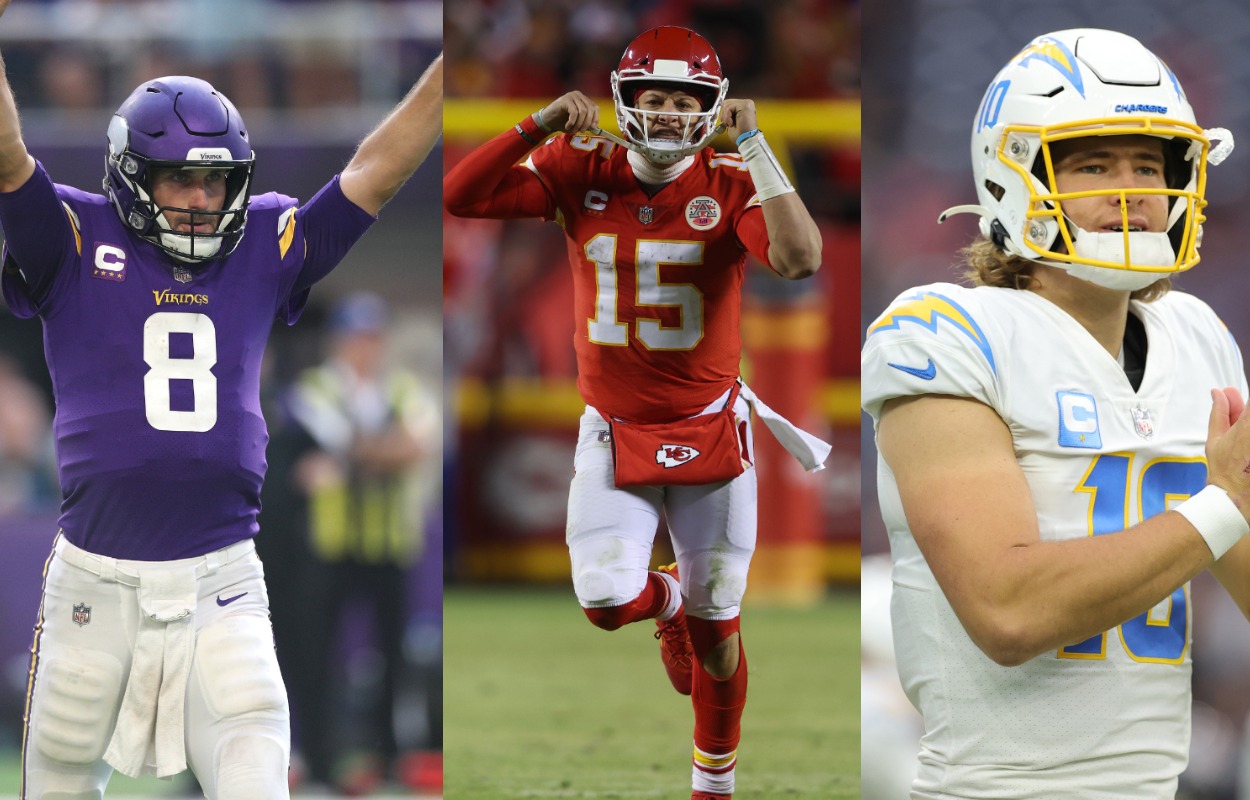 Ranking Patrick Mahomes and the 6 Quarterbacks Playing in the 2022 Pro Bowl
The 2022 Pro Bowl will feature some of the game's top quarterbacks, but who are the best of the six signal-callers slated to participate?
Luckily for football fans, Super Bowl 56 is rapidly approaching. Unfortunately for football fans, we must deal with the Pro Bowl first.
At this stage in the game, the NFL's all-star game is a meaningless exhibition where players do their utmost best to avoid injuring themselves. However, the league has shown no interest in simply ditching the game, so here we are.
The AFC and NFC teams each have three quarterbacks participating in the 2022 Pro Bowl, and now feels like the perfect time to rank those six signal-callers. For this list, we are only rating players based on their on-field achievements and numbers during the 2021 season. We did not factor in previous seasons or any off-field issues. We also excluded Aaron Rodgers, Lamar Jackson, and Tom Brady, all of whom opted out of playing in this year's game.
Based on consideration of the aforementioned prerequisites, the 2022 Pro Bowl quarterbacks rank as follows:
6. Mac Jones, New England Patriots
Jones was easily the league's top rookie quarterback in 2021, completing 67.6% of his passes for 3,801 yards, 22 touchdowns, and 13 interceptions. In large part because of his solid play, New England ovecame a 1-3 start and reached the postseason as a wild-card team.
The less said about the Patriots' performance in the Wild Card Round, the better.
Still, it's surprising that Jones earned a Pro Bowl nod as opposed to the likes of Buffalo Bills star Josh Allen (63.3 completion percentage, 4,407 passing yards, 36-15 TD-INT ratio, and 763 rushing yards) or embattled Indianapolis Colts quarterback Carson Wentz (62.4%, 3,563, 27-7 TD-INT ratio). Don't be surprised to see Jones, the 15th overall pick in 2021, become a mainstay in the Pro Bowl.
5. Kyler Murray, Arizona Cardinals
Remember when Murray looked like an MVP candidate in the season's first two months? Those were good times, especially for Cardinals fans who talked themselves into thinking the team wouldn't collapse as they did in 2020.
So much for that one.
Arizona lost in the NFC Wild Card Round, and Murray is headed to Las Vegas for the Pro Bowl. The third-year quarterback completed 69.2% of his passes for 3,787 yards, 24 touchdowns, and 10 interceptions in 14 starts. He also rushed for 423 yards and five touchdowns on 6.3 yards per attempt in his third season.
Although Murray looked sharp at times throughout the 2021 campaign, he faltered down the stretch and looked lost in his first career playoff game. As a result, he only ranks fifth on this list.
4. Russell Wilson, Seattle Seahawks
In spite of missing four games with a finger injury, Wilson turned in another excellent season during his age-34 campaign. The Super Bowl 48 champion recorded a 64.8 completion percentage, 3,113 yards, 25 touchdowns, and six interceptions. However, he only rushed for a career-low 183 yards on 4.3 yards per carry.
Placing the 34-year-old Wilson above Jones and Murray is controversial, especially considering the other reached the postseason. We're nonetheless sticking to our guns here. When Wilson was healthy, he lived up to his reputation as one of the league's top quarterbacks, and he did enough to warrant the No. 4 spot.
3. Kirk Cousins, Minnesota Vikings
If we factored in off-field issues, Cousins would have fallen for missing Week 17 — a must-win game against the Green Bay Packers — when he, an unvaccinated player, went on the COVID-19 list. Although there is no guarantee the Vikings would have won that night, his decision not to get a shot might have cost his team a playoff berth — and, consequently, cost head coach Mike Zimmer and general manager Rick Spielman their positions.
However, we're sticking with our ranking criteria, and Cousins played far better in 2021 than his critics will admit, at least in terms of counting stats. The 10th-year veteran completed 66.3% of his passes for 4,221 yards, 33 touchdowns, and seven interceptions. He might have missed the postseason for the third time in four years, but he at least ranks third on our list.
2. Justin Herbert, Los Angeles Chargers
Although Herbert threw five more interceptions in 2021 than he did in 2020 (albeit in two more games), he mostly avoided the dreaded sophomore slump. The Oregon product completed 65.9% for 38 touchdowns and 15 interceptions in 17 starts. Herbert, who threw for 5,014 yards, also quietly became only the ninth quarterback in league history to join the 5,000-yard club.
For as great as Herbert was in 2021, he's only the second-best Pro Bowl quarterback in our eyes. How can that be when he topped 5,000 yards and came one controversial timeout shy of possibly reaching the playoffs?
Easy. Patrick Mahomes exists.
1. Patrick Mahomes, Kansas City Chiefs
Mahomes looked human during the Chiefs' slow start and threw nine interceptions in Kansas City's first seven games. Over the next 10 games, Mahomes threw for 2,746 yards, 19 touchdowns, and four interceptions en route to a 9-1 finish and another AFC West crown.
That'll do.
Then came the postseason, a three-game stretch where Mahomes totaled a 73 completion percentage, 1,057 yards, 11 touchdowns, and three interceptions. Chiefs fans are likely still cringing at the thought of his final pass this season, one that doomed Kansas City's hopes of a third straight Super Bowl appearance.
Mahomes won't compete for a Lombardi Trophy this year, but he's easily the best quarterback participating in the 2022 Pro Bowl. Football fans can only hope that Patrick's presence at the Pro Bowl means we're likely spared seeing Jackson Mahomes attend Super Bowl 56.
Like Sportscasting on Facebook. Follow us on Twitter @sportscasting19.