Ranking the 2016 NHL Playoff Goalies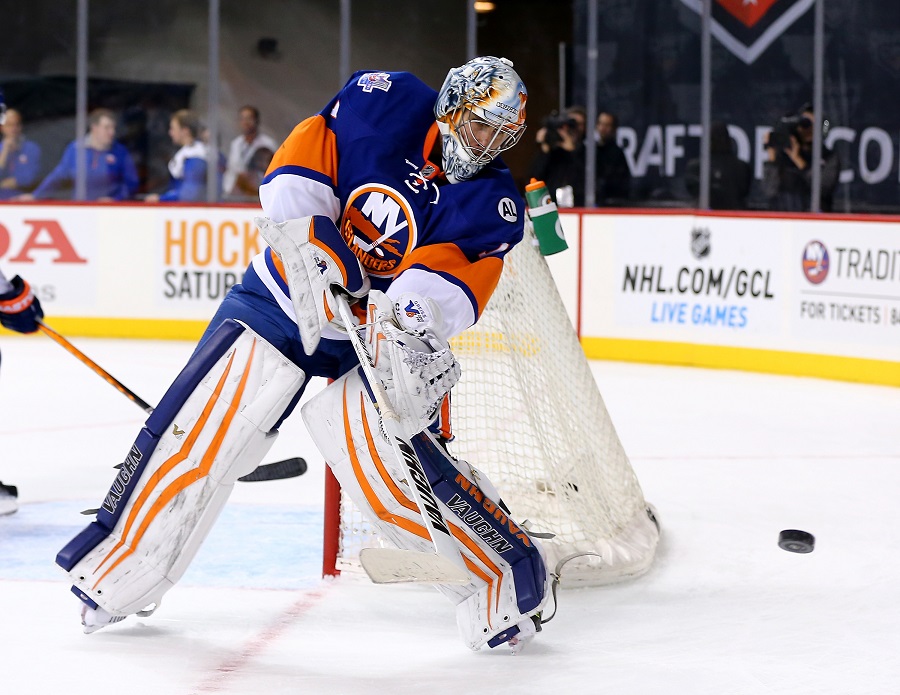 With the 2016 NHL Stanley Cup Playoffs underway, it's time to take a look at the most important man on the ice for each team. That player is, of course, the goaltender. A playoff team can roll four lines of scoring threats during the playoffs and still fail to advance to the Cup final if they don't have a strong netminder.
By the same token, a goaltender who's playing out of his mind during the playoffs could lock up the Stanley Cup for his team. None of the teams in the playoffs have poor goaltending, but with the number of teams playing reduced to 16, you can bet that we will find out which teams have average goaltenders and which teams have exceptional goaltenders as the battle for the Cup begins.
For this exercise we looked at each goaltender's playoff stats and performances over the 82-game season and ranked them from worst to first. Does your team have a chance at winning the Stanley Cup? Check out where they fall in our rankings.
16. Jeff Zatkoff, Pittsburgh Penguins
Playoff Games: 0
Record: 0
GAA: 0
Shutouts: 0
With Marc-Andre Fleury and Matt Murray sidelined with injuries, the Penguins are going with Jeff Zatkoff in net for the start of the playoffs. Zatkoff has never played in an NHL playoff game and only has 35 NHL games to his name. If the Penguins have any hope in the playoffs, they need Fleury to recover fully from his concussion in a big hurry.
15. Jimmy Howard, Detroit Red Wings
Playoff Games: 46
Record: 21-24
GAA: 2.53
Shutouts: 3
This year marks the 25th straight season that the Detroit Red Wings have made the NHL playoffs. Unfortunately, they don't have a team that is strong enough to make a deep run this year, and one of those weak links is goaltending. Jimmy Howard didn't keep the starting job this season, and only gets the nod for the playoffs because Petr Mrazek played worse than he did down the stretch.
14. Thomas Greiss, New York Islanders
Playoff Games: 1
Record: 0-0
GAA: 3.00
Shutouts: 1
Thomas Greiss (pictured far above) has 40 minutes of playoff experience to his name and is ranked here because Islanders starting goalie Jaroslav Halak is hurt. As the season progressed and the pressure mounted heading into the playoffs, Greiss's performance slipped. Facing a tough Florida Panthers hockey club in the first round will not help that confidence.
13. Kari Lehtonen, Dallas Stars
Playoff Games: 8
Record: 2-0
GAA: 2.53
Shutouts: 1
Kari Lehtonen gets the nod as the starting goalie for the Dallas Stars in the playoffs, but the fact that the team is considering going with a rotation in the playoffs should tell you all you need to know about how much confidence they have in him.
12. Steve Mason, Philadelphia Flyers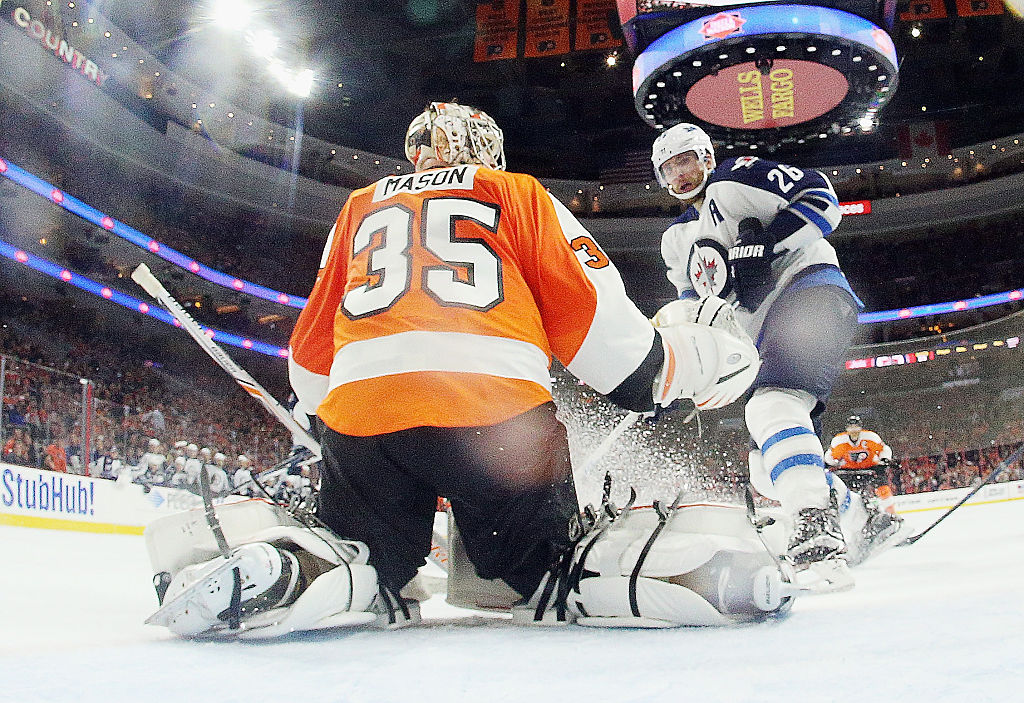 Playoff Games: 9
Record: 2-6
GAA: 3.11
Shutouts: 0
The Flyers' Steve Mason played well down the stretch, going 8-2-2 in his last 12 games with a 1.88 goals against average. The problem is that he has never done well in the playoffs, and he will have to carry a defense that is a little below average. Another concern is rest. Mason hasn't had a lot of it since starting goaltender Michal Neuvirth was injured, and if he does get tired, all bets are off for Philly.
11. Frederick Anderson, Anaheim Ducks
Playoff Games: 23
Record: 14-7
GAA: 2.54
Shutouts: 1
Frederick Anderson played 43 games for the Ducks, but took some time off due to a concussion near the season's end. He retuned for the final regular-season game. The Ducks seem unsure if they will use one or two goalies for the playoffs, and history shows that hardly ever works. If Anderson rushed back to be a part of the action, he could hurt the team. Regardless, splitting the duties during the season may leave him unprepared for the playoff workload.
10. Martin Jones, San Jose Sharks
Playoff Games: 2
Record: N/A
GAA: 0.00
Shutouts: 0
Martin Jones has a total of 56 minutes of playoff time to his name, making seven saves during that time. Sure, he played great during the regular season, but anyone will tell you that the playoffs are not like the regular season. So, the big question is what can he do when the pressure is on and one slip-up could end the team's season? Jones may surprise us all, but until he does, we have doubts about him in the playoffs.
9. Brian Elliott, St. Louis Blues
Playoff Games: 19
Record: 6-10
GAA: 2.54
Shutouts: 0
The Blues also split goaltending duties during the regular season with Brian Elliott getting 37 games in. One of the reasons he's getting the nod over the more active Jake Allen is because Allen did not play during the final stretch of the season due to a lower body injury. The Blues have a solid defense in front of Elliott, but if that defense falters and he struggles, we could see Allen moved in to the net in a hurry.
8. Pekka Rinne, Nashville Predators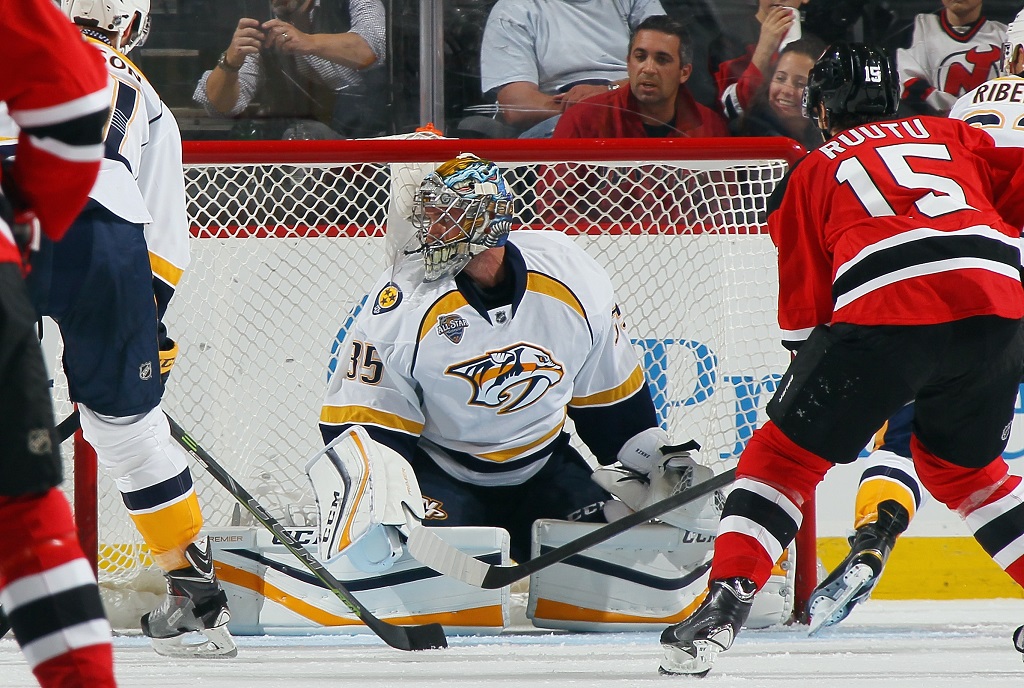 Playoff Games: 34
Record: 15-19
GAA: 2.47
Shutouts: 1
Time is catching up with Pekka Rinne. He posted the second-worst save percentage of his career this season (.908) and had a bad start to the season. However, he did turn things around near the end of the season, going 13-3-1 to wrap up the Predators' campaign. If the end-of-season Rinne shows up, the Predators will be in good shape; if the early-season Rinne is in net for the playoffs, expect a quick exit.
7. Devan Dubnyk, Minnesota Wild
Playoff Games: 10
Record: 4-6
GAA: 2.52
Shutouts: 1
Devan Dubnyk played great last year for the Wild, posting a goals against average of 1.78 and a save percentage of .936. The problem is that both of those numbers took a hit this season with Dubnyk posting a 2.33 GAA and a .918 SP. With that dip, and the fact that he's facing the high-scoring Stars in the first round, Dubnyk takes a hit in these rankings.
6. Ben Bishop, Tampa Bay Lightning
Playoff Games: 25
Record: 13-11
GAA: 2.18
Shutouts: 3
Ben Bishop had a great year this season, and if it wasn't for Braden Holtby, he would probably be in the discussion for the Vezina Trophy. The other thing Bishop has going for him is that he showed he can get things done, leading the Lightning to the Stanley Cup Final last season. Sure, they lost in six games to the Blackhawks, but let's not forget that Bishop played the final few games of that series with a badly injured groin.
5. Roberto Luongo, Florida Panthers
Playoff Games: 64
Record: 32-31
GAA: 2.54
Shutouts: 5
At 37, Roberto Luongo still has it. He's found new life in Florida, and with that he's built up expectations for the fans. He will feel some pressure to deliver this season, which is his first playoff run with the Panthers. The good news is that this is old hat for him; he played in Vancouver and was blamed for the team tanking in the 2011 Stanley Cup Final against the Bruins. Luongo should do well this playoff season, as long as his teammates can put the puck in the opposition's net.
4. Corey Crawford, Chicago Blackhawks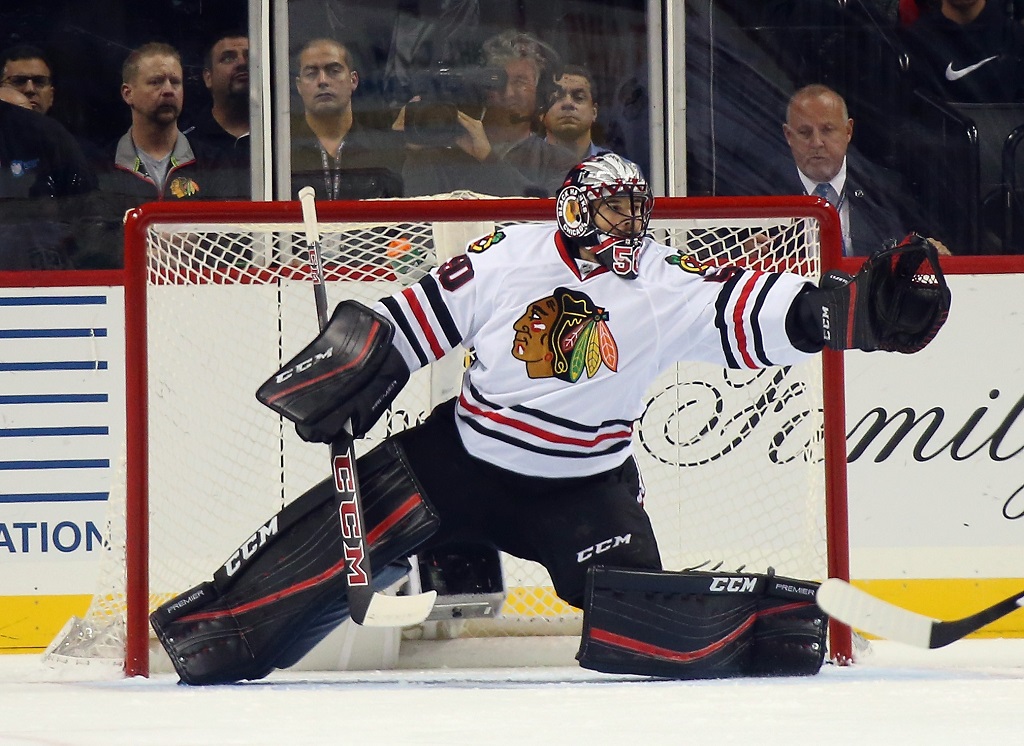 Playoff Games: 76
Record: 45-29
GAA: 2.23
Shutouts: 5
With two Stanley Cup wins to his name, Corey Crawford deserves more credit than he receives. If he takes the team to a Cup win this year, he will get that credit because the Chicago defense is not as robust as it was in the past. Many considered Crawford a product of the system in Chicago and not an elite goaltender. But he showed that this wasn't the case when the team struggled at times this year.
3. Braden Holtby, Washington Capitals
Playoff Games: 34
Record: 16-18
GAA: 1.92
Shutouts: 2
Holtby is just about a lock to win the Vezina Trophy this season, and with that, expectations are high in Washington that this will be the year the Capitals finally win the Cup. His 1.92 goals against average tells you that he can take care of business in his own end. Now, if the teammates can keep up their balanced scoring in the playoffs, he should be able to get the team very close to the Cup, if not above their heads.
2. Henrik Lundqvist, New York Rangers
Playoff Games: 111
Record: 54-56
GAA: 2.22
Shutouts: 9
If you're looking for a goalie who stirs the drink for his team, it's Henrik Lundqvist. Without him, the Rangers would be just another team in the Eastern Conference. With him, they are a threat to win the Stanley Cup. He's the epitome of a money goaltender. When things get tough in the playoffs, Lundqvist is there to save the day. And with the Rangers' defense hurting a bit this year, the team will look to him once again to be great in net.
1. Jonathan Quick, Los Angeles Kings
Playoff Games: 76
Record: 45-31
GAA: 2.22
Shutouts: 9
Jonathan Quick not only has two Stanley Cup rings to his name, but he has a Conn Smythe Trophy as playoff MVP for his performance in 2012 as well. Quick also has something to prove this season, since the Kings missed the playoffs last year. In 2012, Quick posed a goals against average of 1.41 and a save percentage of .946. Sure, the defense in front of him is solid, but an average goaltender is not posting those kind of numbers.
Statistics courtesy of Hockey-Reference.com, Toronto Sun, and NHL.com.