Ranking the 2021 Heisman Trophy Candidates
The Heisman Trophy ceremony will take place on Saturday, December 11, to honor the top player in college football. In 2021, this finalist group features mainly quarterbacks as Bryce Young, CJ Stroud, and Kenny Pickett represent their programs. The final player is Aidan Hutchinson out of Michigan, and each player has a terrific shot to walk away with the award.
With that being said, here are the rankings of Heisman Trophy finalists.
4) DL Aidan Hutchingson, Michigan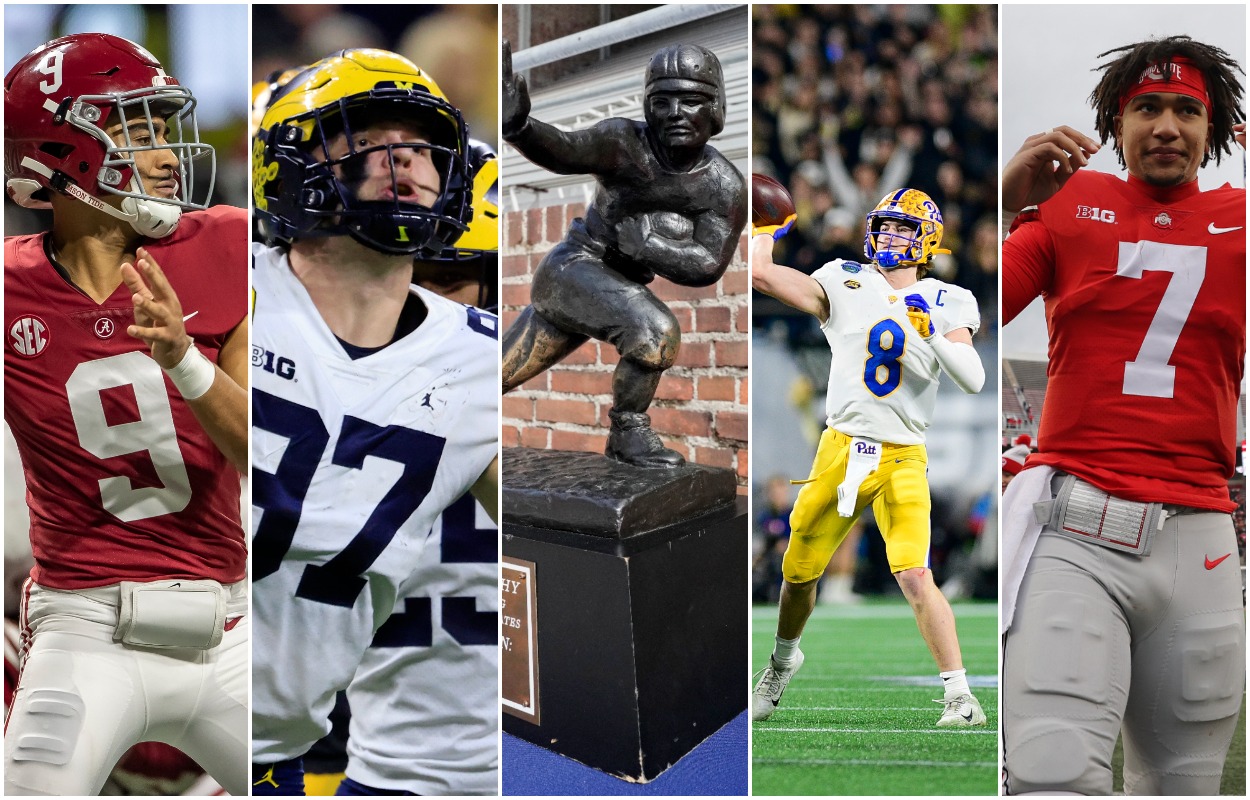 Funny enough, Michigan star Aidan Hutchinson has a clear path to being the top overall pick in the 2022 NFL Draft just a few months from now.
But he drops in at No. 4 on the Heisman Trophy list. Now, Hutchinson is a game-changer and a wrecking ball and will wreak havoc in the NFL for many years to come.
Hutchinson has been a monster, putting together a 13-sack season with 58 tackles as the Wolverines won the Big Ten and earned a spot in the College Football Playoff.
However, Hutchinson's numbers were worse all around than Alabama linebacker Will Anderson Jr., who got left off of the Heisman Trophy finalists list.
There is certainly a case for Hutchinson to be on a Heisman finalist, but there is an even bigger case as to why Anderson — or even Matt Corral or Kenneth Walker — should have earned this final spot. For that reason, Hutchinson drops in at No. 4.
Nonetheless, this guy will be destroying NFL offensive lines for years to come soon enough.
3) QB Kenny Pickett, Pittsburgh
Pickett came out of nowhere to catapult into the first round of the NFL Draft and the Heisman conversation. His fifth season at Pittsburgh has been marvelous, and he broke Dan Marino's record for most career touchdown passes and set an ACC record for single-season touchdown heaves.
Pickett threw 35 touchdown passes combined in three seasons before exploding with 42 scores in his final year in Pittsburgh. He topped that off with 4,319 yards and another five scores on the ground.
Those numbers are solid all around and he has emerged out of the fog as a viable NFL quarterback. However, the competition he faced in the ACC compared to the Big Ten and SEC aren't quite the same. Either way, Pickett's emergence and nomination as a Heisman finalist is quite the accomplishment after looking like a Day Three draft choice the past few seasons.
2) QB CJ Stroud, Ohio State
Some scoffed when CJ Stroud was on this list. Sure, Stroud's career got off to a bit of a rocky start after tossing an interception in each of his first three games, but he bounced back and earned a stop in the Heisman Trophy finalists.
But, the Buckeyes freshman is here to stay in this conversation. Stroud threw for 38 touchdown passes and just five interceptions while compiling 3,862 yards on the year. His best performance was an eye-popping 432 yards and six touchdowns against Michigan State, just a week after throwing five scores against Purdue.
The Buckeyes' two losses came to Oregon and Michigan, and Stroud finished in the top 10 in touchdown passes in the NCAA despite a rigorous schedule.
Stroud's fundamentals are remarkable, and the fact that he is only a redshirt freshman makes him a must-watch for the next couple of seasons until he enters the NFL. No wonder talented quarterback Quinn Ewers transferred out of Columbus.
1) QB Bryce Young, Alabama
Is this really a surprise?
The Alabama Crimson Tide get another Heisman Trophy-winning quarterback and another chance to add a trophy to Nick Saban's jam-packed mantle.
After Mac Jones left for the NFL, it was time for Bryce Young to step up to the plate and answer the call. Well, that he did.
Young threw for an impressive 4,322 yards with 43 scores and only four interceptions all year long. That is the lowest interceptions among all the Heisman candidates, one more score than Pickett, and more yards than Stroud and Pickett.
The Alabama quarterback won SEC Offensive Player of the Year, the AP Player of the Year, the Davey O'Brien Award and the Maxwell Award. The Heisman Trophy should be next, barring any surprises.
Young had four games with four or more touchdown passes, including three five-touchdown games. The one Alabama loss was against Texas A&M on a last-second field goal, and one that Coach Saban made sure didn't happen again.
Oh, Young is only a sophomore, so there is a very high possibility that Stroud and Young will see the podium again at the Heisman Trophy ceremony in 2022.
Bryce Young, enjoy striking that Heisman pose and playing for a National Championship.
Stats Courtesy of Sports Reference