Ranking the 5 Worst 2016 NFL Draft Classes
In the NFL, championship rosters are built through the NFL Draft. The best General Managers in the business have a knack for striking gold on both top-flight prospects during the first and second rounds, and also finding steals during the middle and late rounds of the draft on a consistent basis. And the GMs who swing and miss often find themselves on the chopping block.
After some time to analyze and evaluate the draft classes for all 32 teams in the league, we have come up with a list of five teams that we believe would benefit from a draft day do-over. Here's what we came up with.
Note: These evaluations were made based on each player's performance at the college level.
5. Atlanta Falcons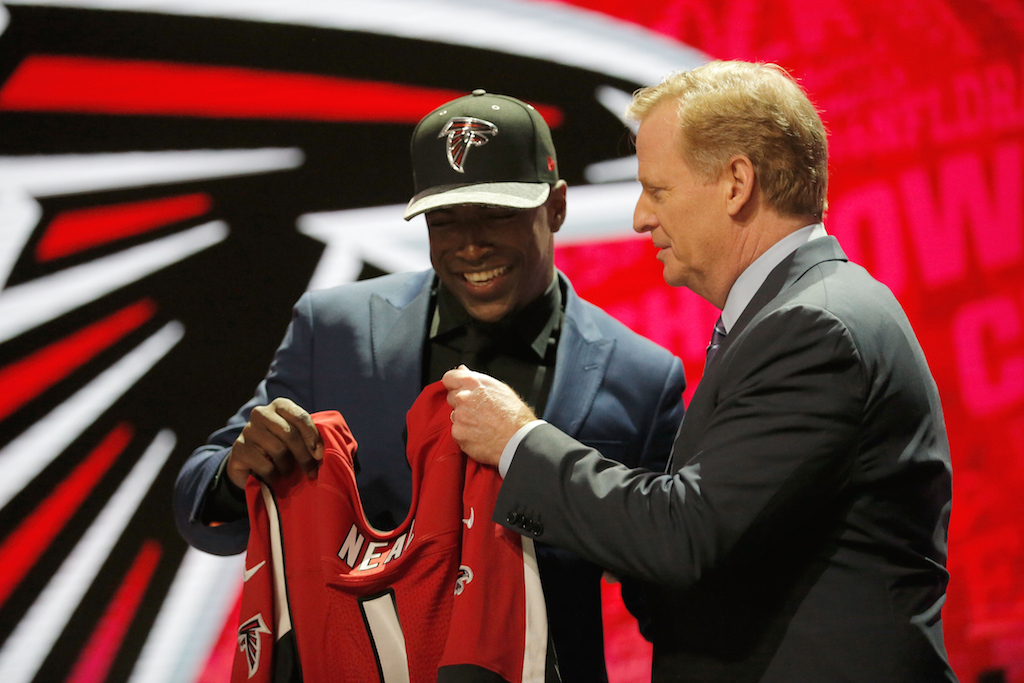 Picks:
Keanu Neal, S, Round 1 (No. 17 overall)
Deion Jones, OLB, Round 2 (No. 52 overall)
Austin Hopper, TE, Round 3 (No. 81 overall)
De'Vondre Campbell, OLB, Round 4 (No. 115 overall)
Wes Schweitzer, OG, Round 6 (No. 195 overall)
Devin Fuller, WR, Round 7 (No. 238 overall)
First things first, we thought the Falcons reached a bit for former Florida safety Keanu Neal in the first round, but he has the ability to be a longtime starter in the NFL. The addition of former LSU linebacker Deion Jones in the second round was solid, and filled a position of need, and former Stanford standout Austin Hopper (third round) may be the team's starting tight end by the end of the season.
What we find incredibly baffling, though, is that the Falcons failed to address their glaring weaknesses along their defensive line and at pass rusher. All said, we don't see this as the type of class that will help the Falcons reestablish themselves as legitimate contenders in the NFC South.
4. Cleveland Browns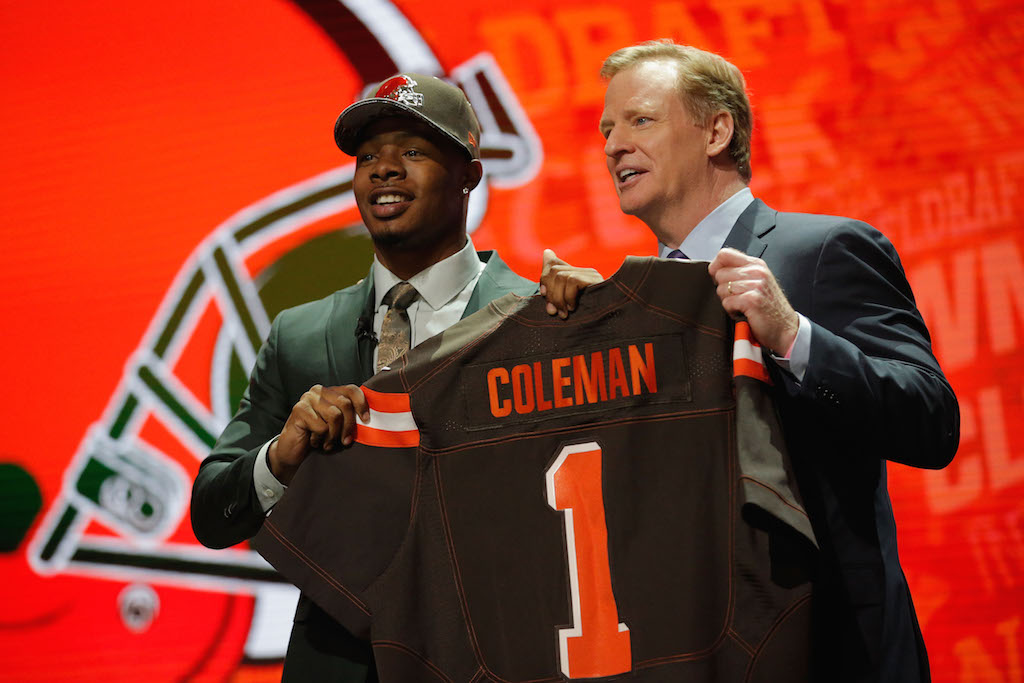 Picks:
Corey Coleman, WR, Round 1 (No. 15 overall)
Emmanuel Ogbah, DE, Round 2 (No. 32 overall)
Carl Nassib, DE, Round 3, (No. 65 overall)
Shon Coleman, OT, Round 3 (No. 76 overall)
Cody Kessler, QB, Round 3 (No. 93 overall)
Joe Schobert, OLB, Round 4 (No. 99 overall)
Ricardo Louis, WR, Round 4 (No. 114 overall)
Derrick Kindred, S, Round 4 (No. 129 overall)
Seth Devalve, WR, Round 4 (No. 138 overall)
Jordan Payton, WR, Round 5 (No. 154 overall)
Spencer Drango, OT, Round 5 (No. 168 overall)
Rashard Higgins, WR, Round 5 (No. 172 overall)
Trey Caldwell, CB, Round 5 (No. 173 overall)
Scooby Wright III, LB, Round 7 (No. 250 overall)
We loved the Browns' decision to stockpile draft picks by trading the No. 2 overall pick. We had similar feelings about their decision to move back again from No. 8 to No. 15. And we really liked the value they found in a trio of late-round draft picks involving offensive tackle Spencer Drango, wide receiver Rashard Higgins, and linebacker Scooby Wright III.
But based on the rest of their 2016 Draft, we can't help but think that the Browns wasted a golden opportunity to begin rebuilding the foundation of their roster. We like former Baylor wideout Corey Coleman, but we would have preferred to see them use their first-round pick on either Josh Doctson or Laquon Treadwell, and we simply cannot figure out the thought process that went into their decision to select quarterback Cody Kessler in the third round.
And on top of that, the fact that they drafted five wide receivers when they have holes up and down their roster makes this class even more of a head-scratcher.
3. Philadelphia Eagles
Picks:
Carson Wentz, QB, Round 1 (No. 2 overall)
Isaac Seumalo, C, Round 3 (No. 79 overall)
Wendell Smallwood, RB, Round 5 (No. 153 overall)
Halapoulivaati Vaitai, OT, Round 5 (No. 164 overall)
Blake Countess, CB, Round 6 (No. 196 overall)
Jalen Mills, S, Round 7 (No. 233 overall)
Alex Mccalister, DE, Round 7 (No. 240 overall)
Joe Walker, LB, Round 7 (No. 251 overall)
Anybody who follows the NFL already knows that the Eagles went all-in on former North Dakota State quarterback Carson Wentz — and for the record, we liked the move. After that, though, we can't come up with many positive things to say about Philadelphia's draft class outside of their decision to grab former LSU defensive back Jalen Mills in the seventh round with the 233rd overall pick.
With all that being said, we can't truly rate the Eagles' 2016 draft class until we know what kind of pro Wentz is going to be. If he develops into an elite NFL quarterback, this will go down as one of the best drafts in Eagles history. If he proves to be a bust, the 2016 draft will be remembered as a monumental failure in Philadelphia.
2. Carolina Panthers
Picks:
Vernon Butler, DT, Round 1 (No. 30 overall)
James Bradberry, CB, Round 2 (No. 62 overall)
Daryl Worley, CB, Round 3 (No. 77 overall)
Zack Sanchez, CB, Round 5 (No. 141 overall)
Beau Sandland, TE, Round 7 (No. 252 overall)
We liked the Panthers' decision to use their first-round pick on former Louisiana Tech defensive tackle Vernon Butler — especially given that Kawann Short and Star Lotullelei are approaching contract years.
We, along with every other sports media outlet in the country, expected the Panthers to snag a cornerback at some point to help offset the loss of Josh Norman, but adding three of them when they only had five picks to work with and completely ignoring their offensive line is something that we find unforgivable.
1. San Francisco 49ers
Picks:
DeForest Buckner, DE, Round 1 (No. 7 overall)
Joshua Garnett, OG, Round 1 (No. 28 overall)
Will Redmond, CB, Round 3 (No. 68 overall)
Rashard Robinson, CB, Round 4 (No. 133 overall)
Ronald Blair, DT, Round 5 (No. 142 overall)
John Theus, OT, Round 5 (No. 145 overall)
Fahn Cooper, OT, Round 5 (No. 174 overall)
Jeff Driskel, QB, Round 6 (No. 207 overall)
Kelvin Taylor, RB, Round 6 (No. 211 overall)
Aaron Burbridge, WR, Round 6 (No. 213 overall)
Prince Charles Iworah, CB, Round 7 (No. 249 overall)
The 49ers got off to a great start by selecting former Oregon defensive end DeForest Buckner with the seventh overall pick in the first round, but proceeded to follow that up with several questionable decisions through the rest of the draft.
Their move back into the first round to pick former Stanford offensive guard Joshua Garnett made no sense to us — not because Garnett isn't a good player, but more so because he would have almost surely been available when the Niners were set to pick in the second round.
When it comes down to it, the 49ers failed to address their glaring holes at linebacker and wide receiver, and we firmly believe that they should have been able to add more impactful players than they did given the number of picks they had at their disposal when the draft started.