Ranking the 8 Wide Receivers Who Made the Pro Bowl This Season
The NFL released its official rosters for the Pro Bowl, held on Feb. 6, 2022. Every year, there's controversy surrounding snubs and players who may or may not have deserved a spot. However, one position that's difficult to debate this time around is wide receiver.
The current crop of Pro Bowl wideouts features players with diverse skill sets. How do the receivers stack up against one another, though? These rankings take into account the 2021 season alone and which players merited the nod most.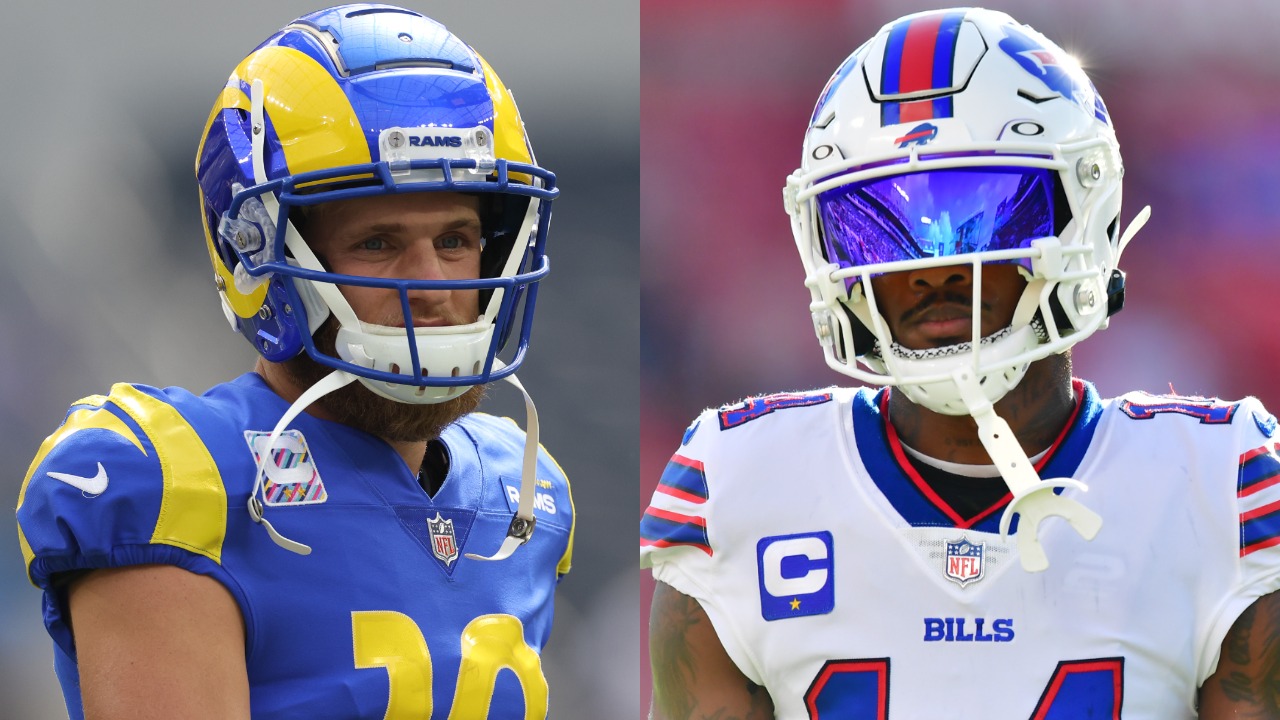 8. Deebo Samuel, San Francisco 49ers
Deebo Samuel has been a pleasant surprise for the San Francisco 49ers in 2021. He's always shown flashes, but the South Carolina product is putting it all together in year three.
Samuel has caught 61 passes for 1,088 yards and five touchdowns. He leads the NFL in yards per reception (17.8). He comes in at the bottom of the list simply based on his usage elsewhere.
The 49ers love to line the wideout up as a running back, and he's accounted for seven scores on the ground. Kyle Shanahan has him heavily involved in the run game, so his usage as a receiver isn't as robust as the other names on the list. Still, he deserves the Pro Bowl nod.
7. Ja'Marr Chase, Cincinnati Bengals
Many questions emerged around Ja'Marr Chase after a horrible preseason. He struggled with drops early on, but he's since overcome the rookie jitters. The LSU product has been a massive success story in his first season with the Cincinnati Bengals.
Chase has recorded 61 receptions for 1,038 yards and 10 touchdowns. He quickly established himself as a big-play threat for his college teammate, second-year quarterback Joe Burrow.
Chase scored a touchdown in six of his first eight NFL games, but he has since cooled down a bit. Still, given his speed and athletic ability, opposing defenses must account for him at all times.
6. Keenan Allen, Los Angeles Chargers
Keenan Allen is probably one of the most under-appreciated wide receivers in the NFL today. He's been a model of consistency. The California product just recorded his fourth 1,000-yard campaign in five seasons.
Allen has caught 92 passes for 1,007 yards and five touchdowns. While his touchdown number may not equal some of the other players on this list, there's a reasonable explanation for the discrepancy. The Los Angeles Chargers' offense also features Mike Williams, who should eclipse the 1,000-yard mark. Austin Ekeler also plays a large role in the passing attack.
Allen deserves the Pro Bowl nod, but not just because of his numbers. The Chargers' offense doesn't flow without him getting open consistently and having sure hands.
5. Stefon Diggs, Buffalo Bills
Stefon Diggs enjoyed the best season of his NFL career in 2020. The Buffalo Bills wideout led the league in receptions (127) and receiving yards (1,535).
While Diggs isn't on pace to reach those same numbers in 2021, he's still had a highly impactful season. He's equaled his touchdown number from a season ago (8). He should eclipse that total with three games left in the regular season.
Diggs has recorded 82 receptions for 1,007 yards. Josh Allen has targeted him 128 times, which speaks to his ability to get open and his quarterback's trust in him. This Pro Bowl selection marks Diggs' second in a row.
4. Tyreek Hill, Kansas City Chiefs
Tyreek Hill is arguably the most dangerous offensive player in the NFL right now. The Kansas City Chiefs' offense hasn't exactly been dominant in 2021, but it's not because of Hill.
The sixth-year receiver has caught 102 passes for 1,178 yards and nine touchdowns. Hill's elite speed and playmaking ability make him a dream weapon for Patrick Mahomes to have at his disposal. He's great at creating separation and breaking plays open in space.
Hill's explosive plays alone make him a lock for the Pro Bowl. However, those should not overshadow the intricacies of his all-around game. He's six for six in the NFL's All-Star game.
3. Justin Jefferson, Minnesota Vikings
Justin Jefferson is in just his second season, but he's quickly climbed the ranks to become one of the league's best wide receivers. The Minnesota Vikings star continues to develop his game and is already exceeding expectations.
Jefferson has recorded 89 receptions for 1,335 yards and nine touchdowns. He broke the rookie single-season receiving record in 2020, but he's on pace to top that number in 2021.
The 22-year-old can beat defenses in a multitude of ways. He runs exceptional routes at all three levels and excels in red zone and 50-50 situations. It wouldn't be surprising to see Jefferson top this list in 2022.
2. Davante Adams, Green Bay Packers
Davante Adams has staked his claim as the best wide receiver in the NFL, and he's probably right. He and Aaron Rodgers are the most lethal wide receiver-quarterback tandem in the league.
The Green Bay Packers wideout has caught 96 passes for 1,248 yards and eight touchdowns through 13 games. After posting a league-high 18 touchdowns in 2020, he's naturally experienced some regression.
Not many receivers command as much attention as Adams does. Opposing defenses game plan all week to stop him, but they're rarely successful. That's why he belongs in the Pro Bowl.
1. Cooper Kupp, Los Angeles Rams
While Davante Adams may be the best all-around wide receiver in the NFL, Cooper Kupp has borrowed the crown for the 2021 season.
Kupp is putting together a historic campaign in his fifth season with the LA Rams. He's recorded 122 receptions for 1,625 yards and 14 touchdowns. The Eastern Washington product leads the league in receptions, receiving yards, and touchdowns.
Kupp is going for the triple crown, and it's likely he finishes the season strong due to his special connection with quarterback Matthew Stafford. He's more than earned his first Pro Bowl nod in 2021.
All stats courtesy of Pro Football Reference