Ranking the NFL Head Coaching Vacancies
Black Monday has come and gone. After the madness that was Week 18, NFL teams made decisions on their head coaches and fired up the coaching carousel to start a new chapter.
Most of the firings were expected, but Brian Flores getting ousted as the Miami Dolphins head coach was a massive surprise. This time around, the carousel is filled with popular names, and one has to wonder if guys like Eric Bieniemy and Brian Daboll finally get a chance to become head coaches.
Here are the seven openings:
Chicago Bears
Denver Broncos
Jacksonville Jaguars
Las Vegas Raiders
Miami Dolphins
Minnesota Vikings

New York Giants
Let's examine the seven openings and rank the best jobs available on the market, with roster construction, cap space, and the overall organization being the criteria.
7. New York Giants
The Giants job is the most recent opening, and it is the worst. Joe Judge did not do himself any favors after a strange rant toward the end of the season.
Then, Judge called a QB sneak on 3rd-and-9 in a play that went viral, and more questions were asked about the Giants head coach.
That was bad, and Judge's tenure in New York was a forgettable one. But, this job is still an ugly opening.
Daniel Jones does not look like a franchise quarterback. Saquon Barkley has trouble staying healthy, and the absurd contract to Kenny Golladay looks worse and worse by the day.
The ownership has questions to answer on their own end. Sure, the Giants have a lot of draft picks — with two firsts this year, both of which are in the top 10.
That will help, but limited weapons on offense and a pressing, urgent need for a franchise quarterback are just a few concerns for this group.
The question is, who wants to even take this job? Surely somebody will, but it will take a ton of work to get the Giants back on track, especially after the mess Judge made in just two years.
6. Minnesota Vikings
The Vikings didn't just fire Mike Zimmer, but they also let go of general manager Rick Spielman. Zimmer's recent comments were even more questionable and proved that the firing was the right move for the organization.
Justin Jefferson and Dalvin Cook are huge pieces for this team going forward. But why are the Vikings last on this list?
Well, a few reasons.
For starters, Kirk Cousins' recent play was not where it should be, and his $35 million guarantee in 2022 is not easy for Minnesota to navigate. Yes, he finished the year with 4,221 yards and 33 touchdowns, but he needs to play like a Pro Bowler with a contract that high.
The defense needs many playmakers added to help out, and it isn't beneficial that the Vikings' cap space situation looks horrendous. How will they sign free agents this offseason?
Moreover, Cousins' contract runs out after next season, so they need to start thinking of a plan at quarterback. Is Kellen Mond the guy? Do they take a flier on a QB in the 2022 NFL Draft?
Besides Jefferson and Cook, there isn't much to love about this job, and it looks like they are headed for a full-blown rebuild.
5. Chicago Bears
The Bears' job is a tricky one.
On the one hand, you have Justin Fields as your starting quarterback and David Montgomery in the backfield. On the other hand, Bears chairman George McCaskey didn't do himself any favors with his recent press conference.
The Matt Nagy era was ugly, former GM Ryan Pace made questionable decisions, and Fields' development took a massive hit due to Nagy's insistence to start Andy Dalton.
Allen Robinson is a free agent, Cole Kmet hasn't been what they expected, and Fields needs other weapons besides Montgomery and Darnell Mooney.
Furthermore, Pace's recent draft history hasn't set the Bears up too well for the future.
Whoever takes over this job, whether it's Jim Harbaugh, Doug Pederson, or perhaps Brian Flores, will have a ton of work to do.
The reason they are above the Vikings? Justin Fields is on the roster.
4. Jacksonville Jaguars
The Urban Meyer era was ugly from the beginning. It was a questionable move at the time of the hiring, but nobody ever predicted such a bizarre tenure from the former college football head coach.
However, not even one entire season went by before the Jaguars realized they had made a massive mistake.
This job comes with its fair share of concern, including the following:
The ownership is shaky, at best
Trevor Lawrence's development was hindered by Meyer
Lack of talent on defense
Trent Baalke is back as the GM
That right there is a lot of problems. In the Week 18 game — one the Jaguars won against the Indianapolis Colts — fans wore clown costumes to protest Baalke.
How did the team respond? They decided to retain him, putting even more comments in the owner's suggestions box.
Despite all of that, there is a reason this opening is No. 4 on this list: Trevor Lawrence and the massive cap space number.
Sure, Lawrence didn't jump out as everybody thought he would. However, a ton of that can be placed on Meyer's shoulders. The offense was terrible, the personnel was questionable, and this team showed zero fight with the head coach putting himself into hot water early on.
Oh, and the Jaguars have the third-most cap space entering the offseason, which will help lure free agents into playing there, even after the Meyer turmoil.
Whoever gets this job has a lot of work to do, but make no mistake, it has its share of attractiveness.
3. Las Vegas Raiders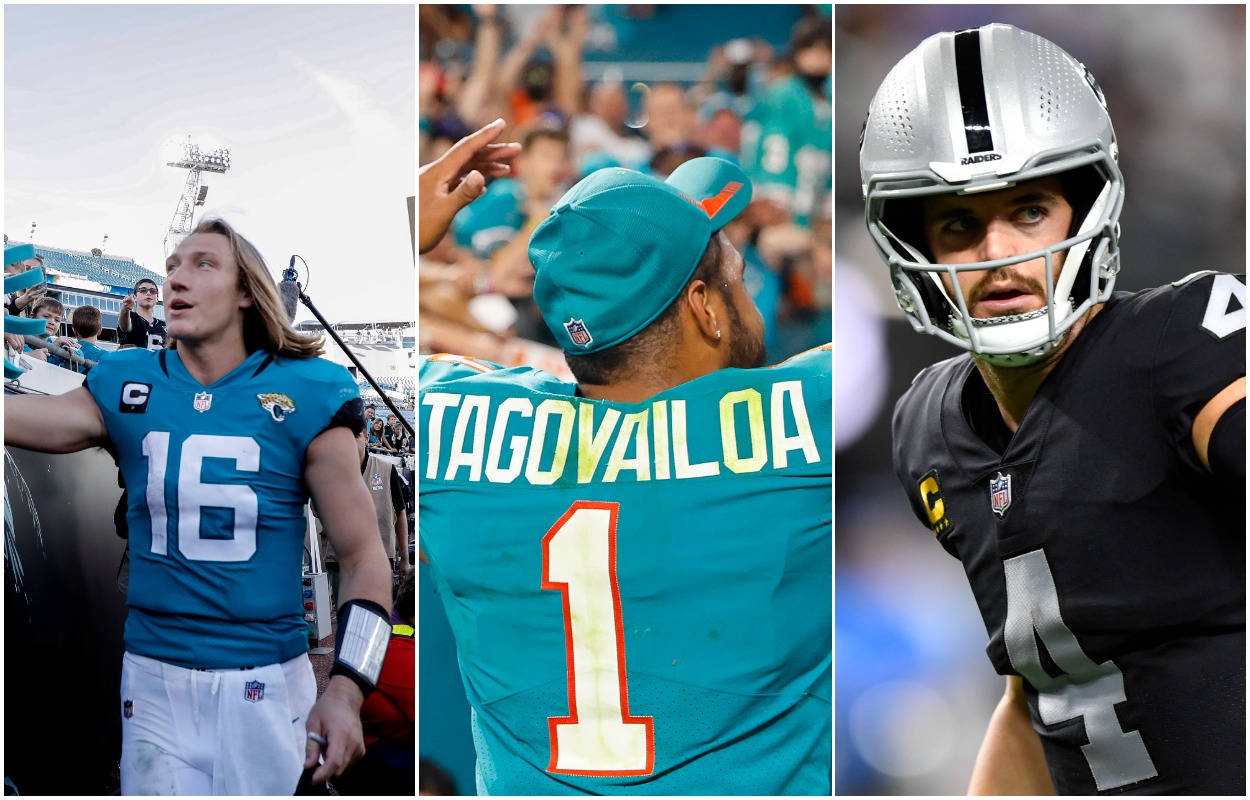 Yes, the Raiders made the playoffs after one of — if not the best — games of the season. Rich Bisaccia stepped in for Jon Gruden and found a way to rattle off four straight wins to earn a spot in the postseason.
On paper, this roster looks pretty good. Derek Carr had his best year as a pro, throwing for a career-high 4,804 yards and adding 23 touchdowns, with a limited receiving group at that.
Hunter Renfrow emerged as Carr's favorite target, and Darren Waller proved he's one of the best tight ends in the game.
On the other side, the defense is the biggest concern. They finished last in the NFL in interceptions and 26th in points allowed per game — which is a common trend.
General manager Mike Mayock has made puzzling draft decisions, but a report from Jason La Canfora of CBS Sports suggests that Mark Davis might be making a GM change as well.
If the Raiders can add a true No. 1 wide receiver and a few playmakers on defense, this team can very well return to the playoffs next season.
Bisaccia did a decent job as interim head coach and could very well be back in that role in 2022. Nonetheless, this job has attractiveness, especially if Mayock gets the ax.
Third might seem too low for the Raiders, but the following two openings are desirable.
2. Miami Dolphins
The move to fire Flores was easily the most shocking of all. Sure, the Dolphins missed out on the playoffs the past two seasons.
But after a 1-7 start to the year, Flores somehow led this team to an 8-1 close to secure a 9-8 record. The Dolphins endured a seven-game losing streak but then flipped the script and rattled off seven in a row.
More than that, Flores dealt with many injuries and some questionable decisions by the front office — including paying Will Fuller V $10 million to play just two games.
Tua Tagovailoa has potential and needs another opportunity, which the next head coach will likely give him.
Jaylen Waddle came on strong at the end of the season, and the Miami defense has a ton of talent across the board, making this one of the more interesting NFL head coach openings.
The Dolphins defense finished sixth in the NFL in sacks (47), 14th in interceptions (14), and 15th in points allowed per game (21.9). That is an excellent group to build around, and the Dolphins' decision to fire Flores doesn't make any sense — look at the Tweets from some players in that locker room.
The former Miami HC has already garnered interest from the Chicago Bears and should have zero issues finding another job. Furthermore, whoever takes over in Miami has to feel pretty good, even with Stephen Ross making puzzling decisions from the box.
1. Denver Broncos
The Broncos kicked things off by firing Vic Fangio on Sunday following the Week 18 loss against the Kansas City Chiefs.
Fangio's dismissal isn't a surprise at all, and his hot potato quarterback system over the years was never going to work out.
But, this job is easily the most luring for the candidates. The defense has a ton of playmakers, with Patrick Surtain II showing his worth in his rookie season. The Broncos' defense finished 15th in interceptions and 18th in sacks while losing Von Miller via trade earlier in the season.
Denver finished third in the NFL in points allowed, giving up just 18.9 per contest. That is one huge selling point.
On the other side of the ball, the Broncos recently committed a lot of money to Courtland Sutton and Tim Patrick to give the next quarterback a nice flurry of pass-catchers. Javonte Williams and Jerry Jeudy are both still on rookie deals, and Melvin Gordon III could very well be back in 2022 after an impressive campaign.
The only thing missing? A franchise quarterback. Rumors have swirled about Aaron Rodgers being interested if he leaves Green Bay, and Packers offensive coordinator Nathaniel Hackett is one of the favorites to land this job.
Either way, if Denver can find a quarterback, this roster is at a playoff-caliber level, and the next head coach can come in and immediately compete in the competitive AFC West.
Stats Courtesy of Pro Football Reference