Ranking Jonathan Taylor and the 6 Running Backs in the 2022 Pro Bowl
The NFL season is winding down, with just over a week until Super Bowl 56. The Pro Bowl will take place during the off week on Sunday, Feb. 6. The event will look a little different this year, as AFC and NFC teams will be playing at Allegiant Stadium, the home of the Las Vegas Raiders.
Regardless of the location, expect plenty of talent to be on the field. Both rosters feature some elite running backs. However, which are the ones to watch? Here's how each of the running backs selected for the 2022 Pro Bowl stack up.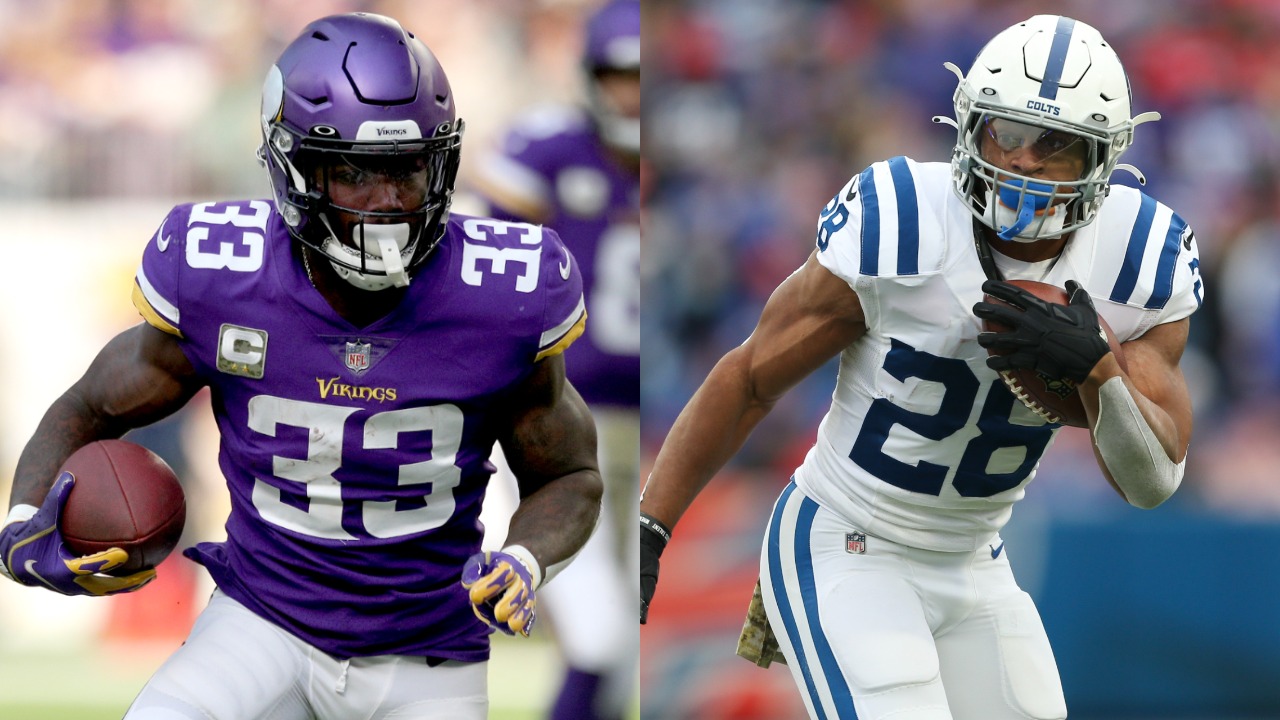 6. Najee Harris, Pittsburgh Steelers (replacing Joe Mixon)
Najee Harris kicks things off. The Pittsburgh Steelers rookie running back was not voted to the Pro Bowl as an official selection. However, he serves as an alternate for Cincinnati Bengals star Joe Mixon, who will be playing in the Super Bowl.
Harris enjoyed a solid rookie campaign, rushing for 1,200 yards and seven touchdowns on 307 carries. The Alabama product broke Franco Harris' Steelers rookie rushing record (1,055 yards). He added 74 receptions for 467 yards and three scores.
The 23-year-old saw plenty of volume in year one. His emergence helped take some pressure off an aging Ben Roethlisberger. However, inconsistent offensive line play capped his production. Still, the rookie proved why he could be a special player for years to come.
5. James Conner, Arizona Cardinals
What a story James Conner has been in 2021. He battled some injuries during his last couple of seasons with the Steelers, and his production slipped a bit. The Arizona Cardinals picked Conner up in free agency, and he's come back to life in Kliff Kingsbury's offense.
The former Pittsburgh Panthers star carried the ball 202 times for 752 yards and 15 touchdowns in 15 games. Conner's touchdown mark tied Damien Harris for second in the NFL, behind only Jonathan Taylor. Arizona also found ways to get him involved in the passing game. He recorded 37 receptions for 375 yards and three scores.
Conner made his impact felt early and often with his physical running style. The Cardinals used him heavily in the red zone, which helped take pressure off Kyler Murray's shoulders in scoring situations. The Pro Bowl nod is well-deserved.
4. Nick Chubb, Cleveland Browns
Nick Chubb continues to prove why he's one of the best running backs in the NFL. The Cleveland Browns star is one of the most bruising backs in the league and is hard to bring down one-on-one.
Chubb finished with 1,259 rushing yards and eight touchdowns on 228 carries. He wasn't heavily involved in the passing game, as that's not his strength. Still, he can establish his dominance on the ground behind a talented Browns offensive line.
The fourth-year running back will be making his third Pro Bowl appearance in a row. As long as he has those big guys up front, Chubb could keep racking up the nod year after year.
3. Dalvin Cook, Minnesota Vikings
Although Dalvin Cook took a bit of a step back in 2021, there's no debating how good a player he is. The Minnesota Vikings tailback has been a tone-setter for the offense. The entire unit feeds off of his energy.
Cook rushed for 1,159 yards and six touchdowns on 249 attempts. He also caught 34 passes for 224 yards. The Florida State product missed some time due to a shoulder injury, but he produced when he was on the field.
Some of the other names on this list had better production in terms of counting stats. However, the box score doesn't tell the entire story. Cook is undoubtedly a top-five talent at the running back position right now. The Vikings' offense runs much smoother when he's in the lineup. It's no shock that he made the Pro Bowl.
2. Alvin Kamara, New Orleans Saints
There aren't many players who can do the things New Orleans Saints running back Alvin Kamara can do on a football field. Kamara can do it all out of the backfield — run inside or outside, catch the ball regularly, even pass protection. His elite combination of speed and athletic ability make him a dynamic playmaker with the ball in his hands.
Those talents were on display when he was on the field. Kamara missed four games due to a knee injury. He ended the season with 898 rushing yards, 439 receiving yards, and nine total touchdowns.
The 2021 season was a down year for Kamara, by his standards. The injuries played a big part, but the Saints' offense wasn't nearly as effective without Drew Brees and Michael Thomas. That allowed teams to key in on Kamara.
1. Jonathan Taylor, Indianapolis Colts
The No. 1 spot is a no-brainer. Jonathan Taylor played at an MVP level for most of the 2021 season. He almost single-handedly carried the Indianapolis Colts to the NFL playoffs.
Taylor played all 17 games, rushing for 1,811 yards and 18 touchdowns. The Wisconsin product added 40 receptions for 360 yards and two more scores. Taylor led the league in rush attempts (332), rushing yards, and touchdowns.
Sure, Derrick Henry's season-ending foot injury played a role in Taylor leading in those categories for as long as he did. Still, that doesn't discredit his body of work. The second-year running back took the league by storm in 2021, and no one will be sleeping on him heading into the 2022 season.
All stats courtesy of Pro Football Reference.
RELATED: Super Bowl 56: Who Is the Betting Favorite Between the Rams and Bengals and What Is the Point Spread?