Rashan Gary Is Accomplishing for the Green Bay Packers What He Wasn't Allowed to With the Michigan Wolverines
Pass rusher Rashan Gary appears to be entering the prime of his career with the Green Bay Packers.
Gary, a 6-foot-5, 277-pound athletic marvel, is coming off a game in which he absolutely caused havoc for the Packers' defense. Green Bay (6-1) beat the Washington Football Team (2-5) and secured its sixth-straight win in the process.
While quarterback Aaron Rodgers threw three touchdowns and linebacker De'Vondre Campbell led the team with 13 tackles and two forced fumbles, it was Gary's presence that was most the most noticeable for Green Bay.
The 2019 first-round pick was second on the team in tackles with seven, and he secured two sacks, four quarterback hits, and a forced fumble.
Watching Gary play football is a treat for those who appreciate the combination of hustle, heart, and extreme talent. Every NFL player has at least one of those traits, but few players have all three as Gary does.
That's the reason Green Bay drafted him 12th overall in 2019, and that's the reason the Packers have been patient with his development.
It's starting to pay off.
Rashan Gary was a notable player for the Michigan Wolverines, but he looked nothing like what we're seeing with the Green Bay Packers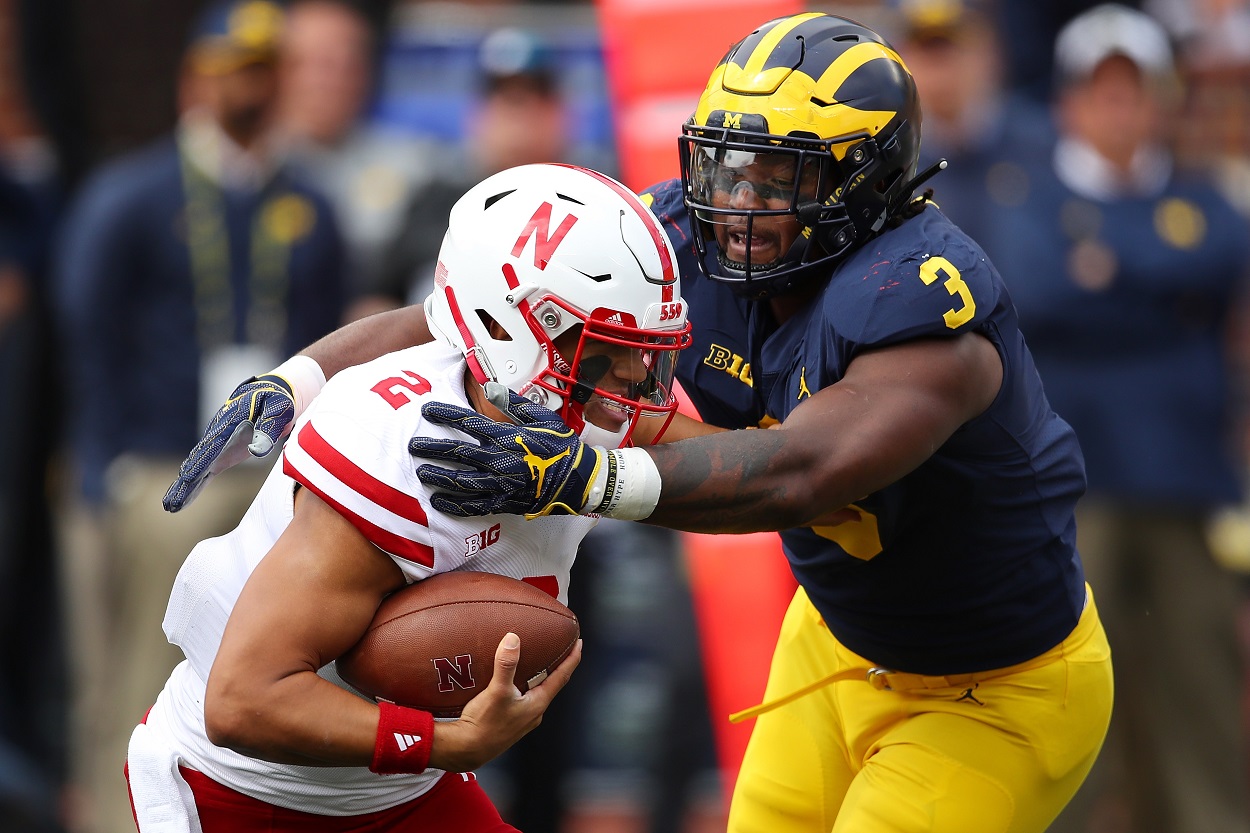 Gary was a big deal as a college football player for the Michigan Wolverines, and much of that had to do with his status as a five-star recruit. Gary was the No. 1 overall player in the 2016 class, according to 247Sports, which meant he was considered the best college football recruit in America.
This was a recruiting class that featured players like Nick Bosa, A.J. Brown, and Ed Oliver, so the fact that he was unanimously ranked No. 1 was a big deal. It was also a huge deal for Jim Harbaugh and the Wolverines that he decided to go to Ann Arbor.
Because of his size and strength, Gary was pegged as a defensive end in Michigan's scheme. He was asked to use his strength to set the edge against the run and take on blockers for the linebackers behind him. Here's how Nick Baumgardner of the Detroit Free Press described Gary's role at Michigan back in 2018:
On the field, one could argue Gary spent three years playing out of position at Michigan. He won't be an even-front defensive end in the NFL. The 6-foot-5, 287-pounder will be a three-technique defensive tackle at the next level if he's in a 4-3. If he's playing in a three-man front, he'll be an end.

At Michigan, he was a strong-side edge setter, a position Greg Mattison and Don Brown call "anchor," whose responsibility was — above all — to set the edge on the strong side of the field to allow others around him the opportunity to make plays. Pass rush from that spot is generally done through chips from backs and tight ends or double teams. 
As a result of Michigan playing him at a position that didn't necessarily utilize his athleticism, Gary's college numbers were underwhelming.
He played three seasons with the Wolverines and came away with 119 total tackles, 23 tackles for loss, and 9.5 sacks.
Baumgardner was right in saying that Michigan underutilized him. He was wrong in projecting that Gary would be a defensive end in a 3-4 NFL defense.
The Packers saw Gary's size and athleticism and immediately saw a pass-rushing outside linebacker, and they took the chance to draft him with their highest pick in years.
Green Bay has been patient with Gary's development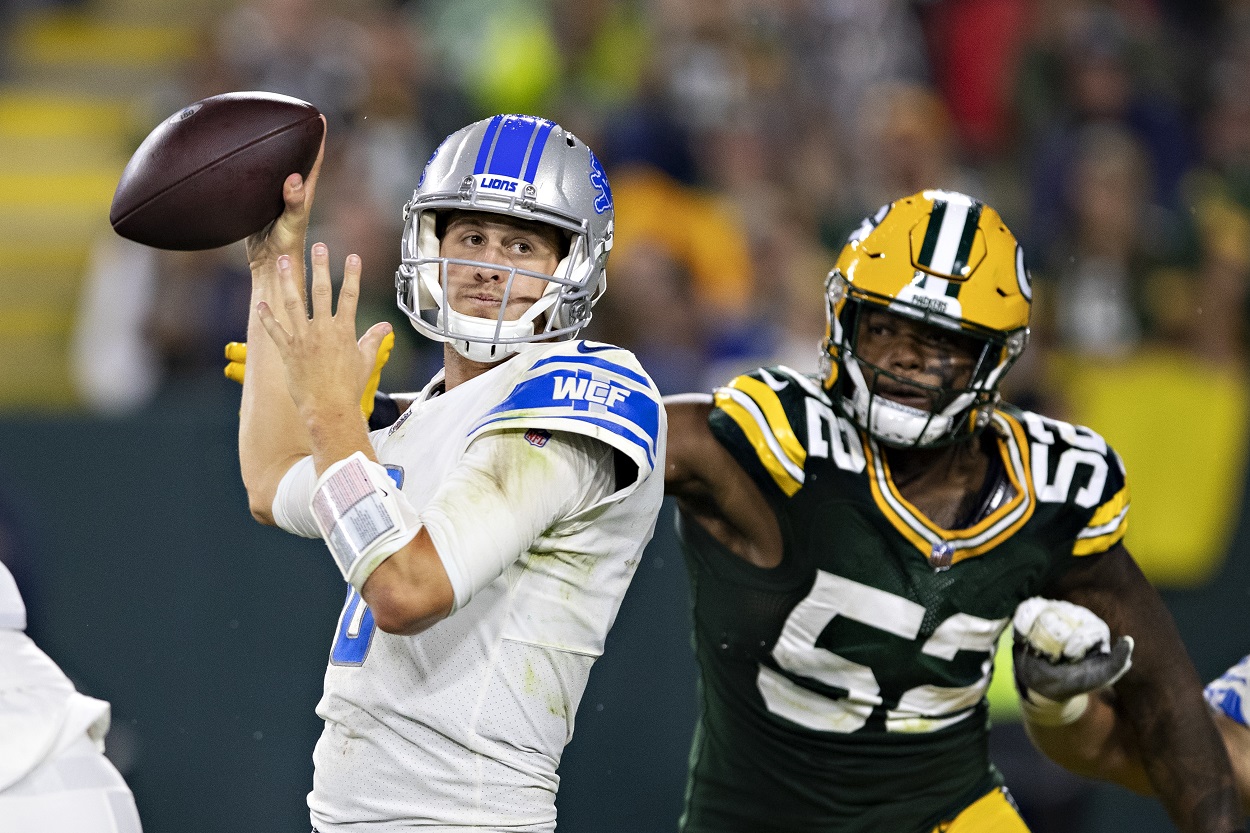 The Packers chose the perfect time to take a developmental pass rusher. It may not have felt like it to fans, who are always clamoring for an "immediate impact player", especially in Green Bay, but general manager Brian Gutekunst had enough foresight to see Gary's immense ceiling. He also knew that it would take time, and practice, for Gary to reach that ceiling,
Gary heading to Green Bay via the draft was perfectly timed up with the signings of veteran pass rushers in Za'Darius Smith and Preston Smith, the "Smith Brothers" as they've become known in Green Bay. While learning a completely new position, Gary was able to come off the bench and be a situational pass-rusher behind the Smiths. They took him under his wing and took his development seriously.
Za'Darius Smith's overall production in Green Bay was an incredible surprise, as he became a star pass rusher almost immediately. His tutelage of Gary has been arguably just as important for the Packers, though. Especially now, with the star pass rusher sidelined with a back injury, having a player like Gary who has been developed and prepared to ultimately fill his shoes has been excellent for the Packers. Unknowingly, Za'Darius may have been training his replacement, but that's a topic for another time.
While Gary did progress, it was a slow progression. That didn't surprise the Packers, though it did bother some fans who couldn't see the big picture.
Gary finished his rookie season with just two sacks and three quarterback hits. He notched five sacks and 11 quarterback hits in 2020.
It was expected that Gary's third season would be his breakout year, and so far so good on that front for Green Bay.
Gary looks like an emerging star for Green Bay
The Packers have to be extremely pleased with Gary's growth in 2021, especially with so many injuries plaguing Green Bay's defense.
He's been a constant presence for Green Bay through seven games, and notably, he's been more than a pass rusher. Gary has developed into an all-around linebacker. He's great at setting the edge against the run and he's one of the Packers' best tacklers. He's also elite in pursuit of a running back out of the backfield, or a quarterback rolling out on a play-action pass. The Packers even play him as a blitzing inside linebacker in certain packages.
The thing about this fully-formed version of Gary is that he's the type of player who makes an impact far beyond the box score. He consistently funnels the ball inside to his teammates, and even when he doesn't get home on the pass-rush, he's almost always getting massive pressure on the quarterback. In fact, he was ranked 9th in the league in quarterback hits heading into the Washington game, and that's a list he's going to move up on after the game.
Gary now has 3.5 sacks, 15 quarterback hits, and one forced fumble on the season. He's quickly becoming the outside linebacker the Packers envisioned when they drafted him. He's now the type of player he wasn't allowed to be at Michigan.
His impact for the Packers is so much more than pass rush statistics, but they are quickly growing.
Stats courtesy of ESPN and Pro Football Reference.
RELATED: Joe Barry's Green Bay Packers Defense Turns New Page While Sporting Fresh Throwback Threads