NFL
Ravens 26, Steelers 6: 3 Things You Should Know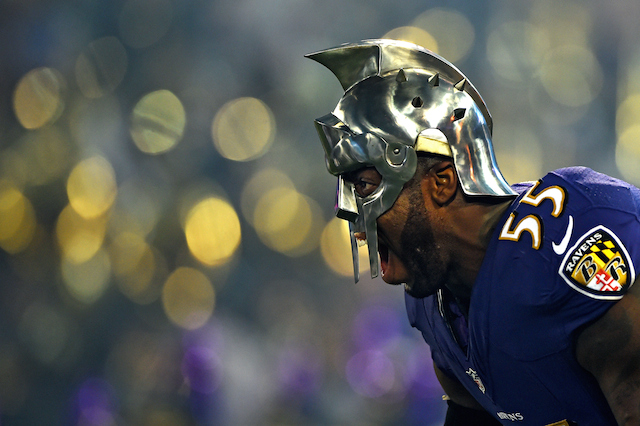 The Baltimore Ravens picked up their first win of the 2014 season Thursday night, beating the Pittsburgh Steelers, 26-6, to even both teams' records at 1-1. Joe Flacco threw for 166 yards and two touchdowns, Bernard Pierce added 96 yards on the ground, and the Ravens forced three Pittsburgh turnovers in the victory.
Here are three things you should know from this AFC North divisional clash.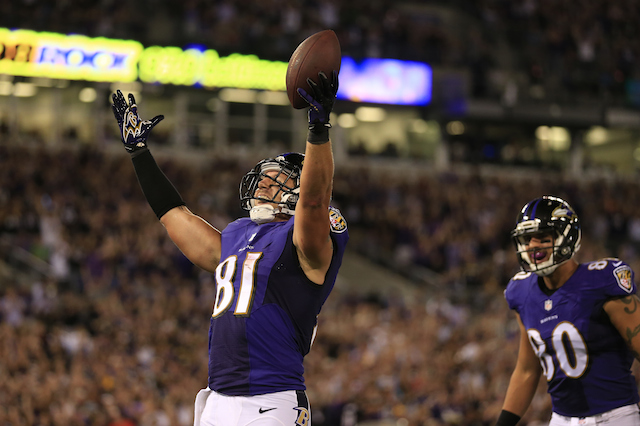 The Ravens were focused
Baltimore appeared ready to play from the get-go after a week when all of the questions and storylines surrounding the game had nothing to do with football. The team released running back Ray Rice just a few days earlier, when video from his domestic abuse arrest became public. More than three times the usual amount of media members were on hand to cover the Ravens' first game since that happened.
TE Owen Daniels described coach John Harbaugh's pre-game message to the team: "I think the biggest thing for us was to focus on football. We didn't have any control over what was going on outside of that, and we had to. It was a short week — big rivalry game. Fifty-three of us had to go out there and play a football game. That was the biggest thing on our minds."
"I thought our guys handled it tremendously well: with class, with character, and they responded," said Harbaugh. "If you're made of the right thing, I think adversity can bring you together."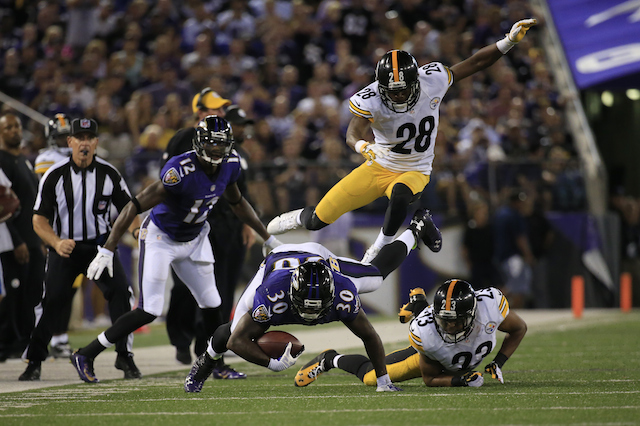 The opening drives decided the game
You want ball control? We've got ball control.
The Steelers took the opening kickoff and promptly proceeded to march the ball down the field, taking more than eight minutes off the clock in the process. However, Pittsburgh's drive went for naught when Steelers WR Justin Brown fumbled the ball in the red zone and Baltimore recovered. The Ravens answered with a long, methodical drive of their own, draining more than six minutes from the clock before TE Owen Daniels found himself wide open in the end zone for the game's first touchdown.
"By the end of the first quarter, I think we were up 7-0 and we both had had the ball once. I think we each had three possessions in the first half — it's kind of a typical Steelers-Ravens game," Harbaugh said. It turned out that those seven points were all the Ravens would need, and the rest of the game went along the same lines as each team's opening-period drive (singular).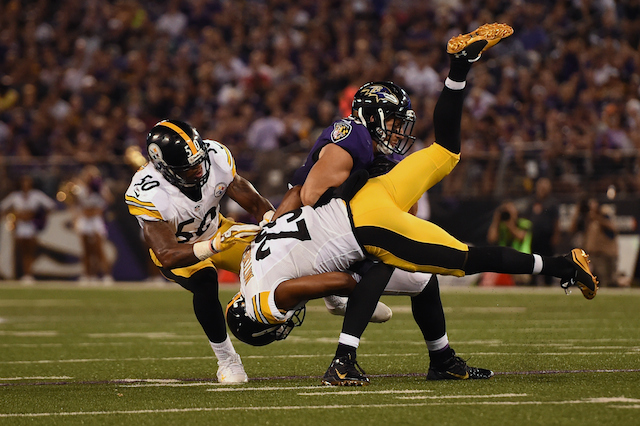 The hitting was intense, but Baltimore's new veteran receivers didn't mind
Pittsburgh-Baltimore is not a game for the faint of heart, and the rivalry lived up to its billing on Thursday. Courtney Upshaw absolutely flattened Ben Roethlisberger before the contest was even a minute old, drawing a roughing-the-passer penalty on the sack in the process, and that set the tone for an extremely hard-hitting night.
"We pride ourselves on being a physical football team," Ravens defensive lineman Chris Canty said. "We knew we had to be physical with them in order to give ourselves a chance to be successful, and we were able to come out tonight and do that."
Two players that didn't seem to mind were a pair of 2014 Ravens free agent acquisitions, wide receiver Steve Smith Sr. and tight end Owen Daniels. After 13 years for Smith in Carolina and eight seasons for Daniels in Houston, both men were playing in their first AFC North game, and they responded to the challenge with solid outings. Smith led Baltimore with six catches, while Daniels added five receptions and two touchdowns. Quarterback Joe Flacco was impressed: "They're tough guys — you can tell that. Owen made some tough catches over the middle for me where got popped, and he held onto the ball and got up fired up."
"Steve said something to me that was he was born for AFC North football," Harbaugh said later. "I know he was having fun."