John Harbaugh Gives Brother Jim Harbaugh a Classy Endorsement As Vikings Close in on Plucking Him Away From Michigan
The NFL coaching carousel is not even close to over. Round and round it goes, and even though a few jobs are taken, the ride continues — especially after former Miami Dolphins head coach Brian Flores sued the NFL. However, one name that keeps popping up is Jim Harbaugh, the head coach at Michigan. Harbaugh has been linked to both the Dolphins and the Minnesota Vikings, and it looks like he will get one of these jobs.
On Wednesday, Baltimore Ravens head coach and Jim's brother, John, gave a ringing endorsement.
John Harbaugh gives his brother a classy endorsement as his name circulates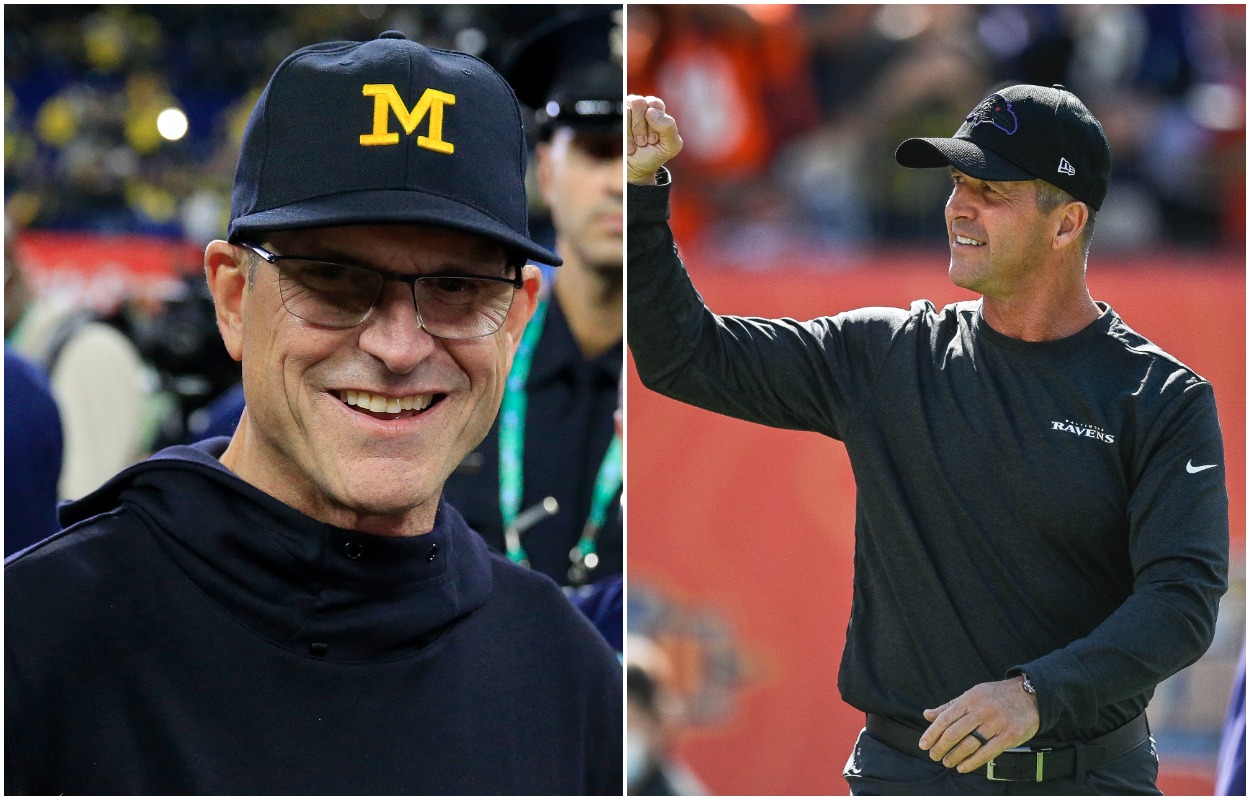 The NFL coaching cycle has been full of rumors left and right. Over a month ago, Jim was rumored to be a candidate for the Las Vegas Raiders job as Michigan prepared for the College Football Playoff.

However, Harbaugh made his intentions at Michigan very clear, saying he would "do this job for free." Lately, he has picked up steam again and had his second interview for the Vikings on Wednesday.
Then, his brother, John, raved about Jim.
It seemed only a matter of time before Jim made his way back to the NFL circles. He was the head coach of the San Francisco 49ers from 2011-2014 and went to the Super Bowl and made another two NFC Championship Games.
Harbaugh then went to Michigan and took the Wolverines from unranked in the preseason to a Playoff team in 2021, where they lost to Georgia in the Semifinals.
The Ravens recently hired Mike Macdonald as the new defensive coordinator following the parting of ways with Wink Martindale. Macdonald previously worked for Jim at Michigan and joined the other Harbaugh, and he raved about the connection between the two.
His brother's comments mean a lot. Putting the family ties aside, Jim is a capable head coach who deserves another shot at the NFL. Maybe this is the right time for both parties.
The Vikings and Dolphins have interest in Jim Harbaugh, although the Vikings have emerged as the clear favorite
Both teams reportedly are interested in bringing Harbaugh on board and taking a shot at an NFL reunion. However, the Dolphins lately appear more inclined for 49ers offensive coordinator Mike McDaniel.
San Francisco head coach Kyle Shanahan raved about McDaniel, and at this point, it would be surprising if he isn't the next head coach for the Dolphins.
At the moment, all signs point to Harbaugh becoming the next head coach for the Vikings after they fired Mike Zimmer.
John's recent praise of Jim is even more testimony that he deserves another chance, and even though they are family, Jim's impressive resume speaks for itself.
But, there is an outside chance the Dolphins swoop in and nab Harbaugh, although the Vikings appear intent on getting a deal done quickly.
It would be a shock if Jim Harbaugh isn't the next head coach of the Minnesota Vikings
The latest report from Ian Rapoport of NFL Network suggests that Harbaugh should be the favorite to land with the Vikings, and Harbaugh himself even feels like it's his job.
But, the Vikings spent a lot of time with Giants defensive coordinator Patrick Graham on Tuesday, and both Los Angeles Rams coordinators — OC Kevin O'Connell and DC Raheem Morris — have generated interest from Minnesota.
However, on Tuesday, a report came out from Chris Balas, a Michigan insider with On3, that Harbaugh planned to take the Vikings job. Balas even mentions that Harbaugh said some "goodbyes" and "thank yous" in Ann Arbor.
With all of this, it would be a shock if Harbaugh isn't the new head coach of the Vikings, and with John's massive endorsement for his brother, the Vikings might be even more inclined to offer him the position and try to fix the mess that Zimmer left.
Only time will tell if Harbaugh is headed to the Vikings, and no, the Vikings and Ravens aren't scheduled to play in 2022.
Stats Courtesy of Pro Football Reference
RELATED: Jim Harbaugh's Latest Comments Should Officially Shut the Door on an NFL Reunion: 'I'd Do This Job for Free'