Ravens QB Lamar Jackson Reveals What Aspect He Wants to Take From LeBron James
The Baltimore Ravens found something special when they drafted Lamar Jackson in 2018. The 25-year-old quarterback has already accomplished a lot in just four NFL seasons. However, he's still looking to do more. One of Jackson's biggest idols has achieved great success in a different sport — LeBron James.
The Ravens signal-caller admittedly has made some mistakes early in his career, but he has his eyes squarely on the prize. Jackson's path to the top might not be all that far off from the lane James traveled. Now, he's ready to learn from his experiences and seize the moment.
Lamar Jackson wants to be a champion like LeBron James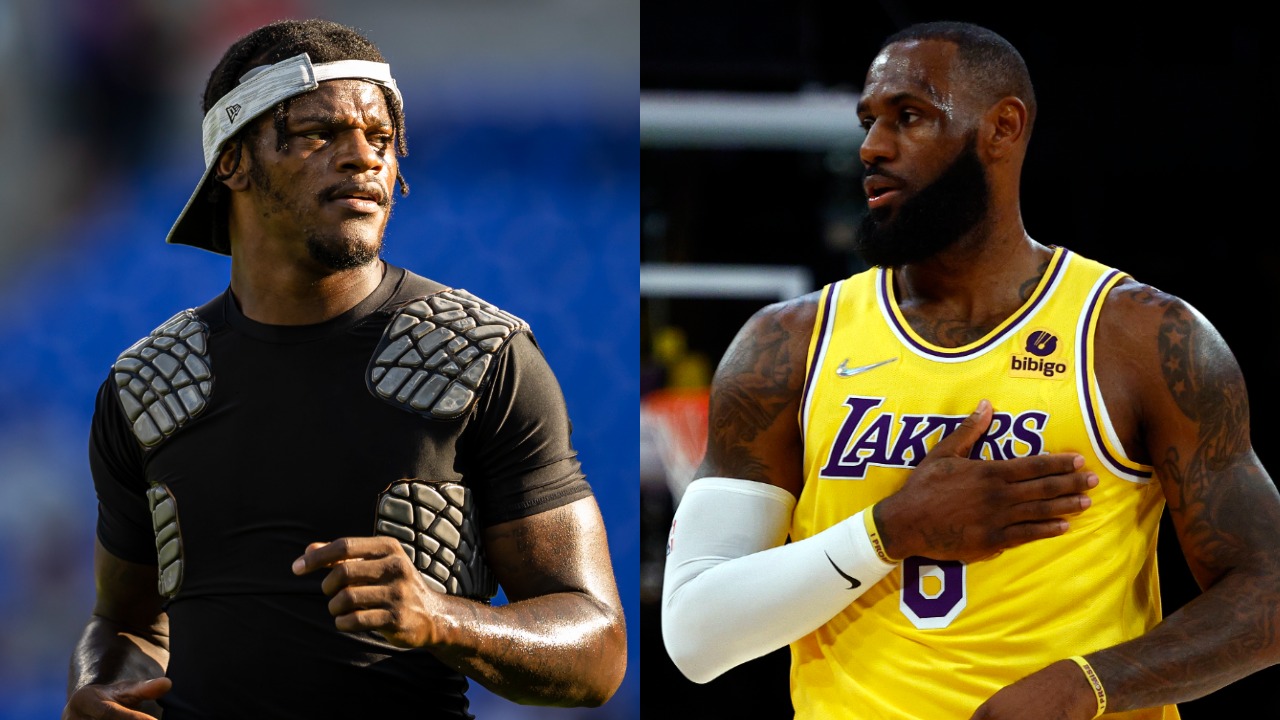 The Ravens are coming off their worst season since Lamar Jackson arrived in Baltimore. John Harbaugh's squad went 8-9 and missed the playoffs. Jackson missed the last five games, but he's ready to get back on track in 2022.
In a recent appearance on UNINTERRUPTED's The Shop, the former MVP opened up on what drives him and why he looks up to Los Angeles Lakers forward LeBron James.
"Bron is my favorite basketball player," Jackson said. "That's why I wanted to be on "The Shop."
When asked if there was anything, in particular, he wanted to take from James' career, the Ravens star responded without hesitation.
"Oh man, everything," Jackson added. "Being a champion. I feel like that's the one thing I want to take from him if anything else. Being a champion and being a billionaire. That's just what I've been thinking about ever since I was a little kid — being a billionaire and being a champion."
Lamar Jackson is only heading into his fifth NFL season. Still, he's getting closer to earning a massive payday, and he hopes to lead the Ravens to a Super Bowl in the near future.
What the Ravens QB wants to change in 2022
Like LeBron James, Lamar Jackson has had his fair share of critics throughout his playing career, and he's just getting started. The two-time Pro Bowl quarterback understands that he could make some changes to help him achieve all of his goals moving forward.
Jackson revealed part of his pregame routine on The Shop, which drastically differed from how the Lakers star gets ready for a game.
"Hollywood [Brown] comes to get me before every game," Jackson said. "Me and Hollywood ride together ever since he been in the league. Then we go to the game. I like to get right to it. I don't like to wait for the game like Bron, five hours. Probably an hour before the game. They got it [uniform] in the locker room prepared for me. I need to get on that routine, though. Cause he's been around for a long time."
The Pompano Beach, Florida native admits that he has some changes to make to take his game to new heights in the future. Jackson detailed what he wants to change most heading into the 2022 season.
"My approach," Jackson said. "You know, my mindset. Just a lot more mature. I felt like I was a little immature, but not in a bad way."
Jackson was alluding to him being young and making mistakes along the way. He plans to learn from them and come back even stronger for his teammates in the upcoming season.
Can Jackson lead Baltimore to a Super Bowl?
LeBron James entered the NBA at 19, and he didn't win an NBA Championship until he was 27 years old. The Akron, Ohio native learned many lessons throughout the process, and they ultimately made him stronger. Lamar Jackson is still young and still writing his story. Still, he understands the goal is to bring a Super Bowl to Baltimore.
The Ravens posted just their second losing season under John Harbaugh in 2021. It was a rough season that saw several key players suffer season-ending injuries. As long as everyone comes back healthy, this team could be right back in the thick of it.
Still, Jackson must play better than he did in 2021. He finished with 2,882 passing yards, 16 touchdowns, and 13 interceptions. He also rushed for 767 yards and another two scores. Offensive coordinator Greg Roman finally opened the passing game up a bit, but Jackson sometimes struggled with decision-making. He tried to force things that weren't there to make up for the depleted roster.
Baltimore is an organization with a winning culture. Harbaugh has his guys ready to play every time out. The Ravens exited the NFL playoffs early in three straight seasons from 2018 to 2020. They haven't been able to get over the hump. However, similar to LeBron James, you always have a chance with Lamar Jackson.
The All-Pro must make the necessary changes on and off the field to put himself and his team in the best position to succeed. The critics aren't going away. But given his intrinsic motivation and drive, Jackson is OK with betting on himself.
All stats courtesy of Pro Football Reference 
RELATED: Chris Simms Urges Lamar Jackson to Open Contract Negotiations With the Ravens