Ravens' Lamar Jackson Sets Impressive NFL Record
In his short time in the NFL, Baltimore Ravens quarterback Lamar Jackson has quickly found success. Much of that has come behind his unique ability to make plays with his legs, which has helped guide him to a feat that no other quarterback has reached in their first two seasons.
Lamar Jackson's fast start
Since taking over the reins as the Ravens' starting quarterback from Joe Flacco, Jackson has lifted the team to a tremendous amount of success in his short time with the franchise.
The 22-year-old has won 10 of his first 13 regular-season starts, including wins in six out of his first seven last season that lifted Baltimore into the playoffs behind an AFC North title. The Ravens fell to a tough loss to the Los Angeles Chargers in the wildcard round of the playoffs, but the team has made some notable progress forward with the former Heisman winner leading the charge.
Jackson has shown a special ability to impact the game with his legs as it has made it difficult for opponents to game plan for him. That has led to setting an all-time mark just a little over a year into his NFL career.
Lamar Jackson sets NFL rushing record
In his second campaign, Jackson has settled in as the Ravens' offensive centerpiece, taking further command of the game plan behind largely the use of his legs in the running game.
His playmaking ability in that regard was put on full display against the Cincinnati Bengals' porous rush defense as he tallied 152 rushing yards on 19 carries with a touchdown along with completing 21-of-33 passes for 231 yards. According to ESPN Stats & Info, Jackson is the first quarterback in NFL history to record three 100 rushing yard performances in their first two seasons.
He was also the first quarterback in the last 13 years to register more than 100 rushing yards in the first half since Michael Vick dating back to November 2006, according to Jamison Hensley of ESPN. These are also the only two instances where this has occurred since at least 1991.
Jackson has torched the Bengals in his brief NFL career as he tallied a pair of 100 rushing yard outings in his first two starts against them. Last week, he tied the league mark for the fewest games for a quarterback to record 1,000 career rushing yards alongside teammate Robert Griffin III in only 21 games played.

Lamar Jackson's development as a passer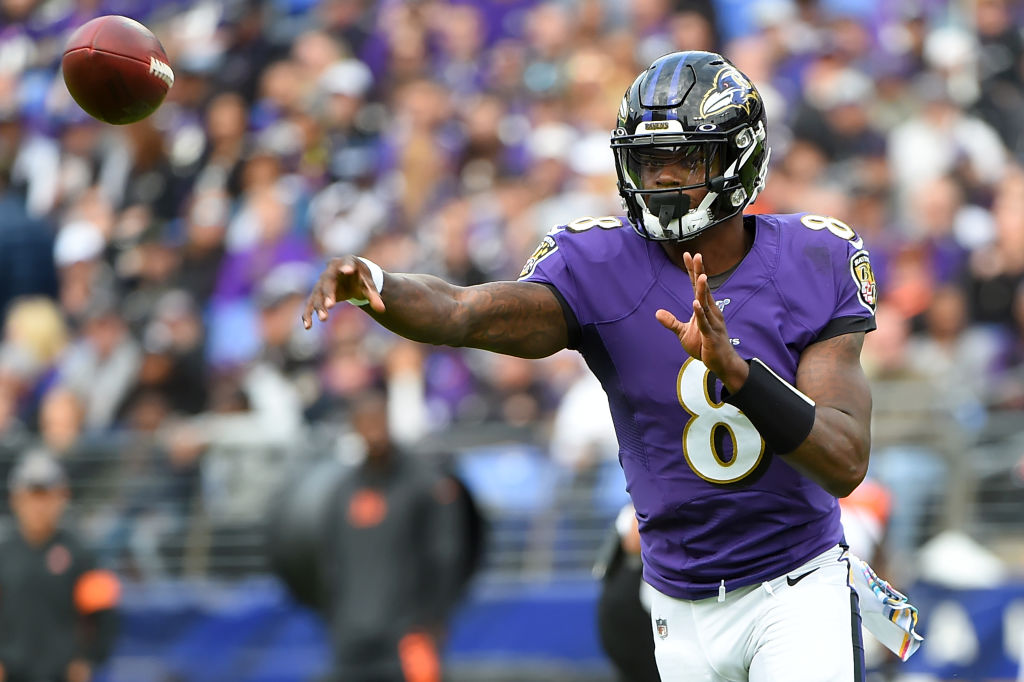 Through his first season-plus in the NFL, it has become quite clear that Jackson can be a game-changing factor behind his running ability.
However, there remain questions concerning his passing ability as he has experienced his ups and downs. Jackson looked like he was making strides in the first two games of the 2019 campaign with seven touchdown passes to zero interceptions, but he had five interceptions in two contests before Sunday's win against the Bengals.
It should be noted that he was sacked nine times in those two games before Week 6 action, but there is much he can still improve on. Jackson has shown promise, which has only made it a more significant emphasis to help shift the bulk of his production away from his running ability.
There's no question he can make plays with his legs, but it also puts him in harm's way. The next step in his development should entail becoming a more precise passer while being a smart scrambler to avoid unnecessary hits.
The future ahead of Jackson is bright, which makes his maturation as a quarterback that much more vital.