Ravens Legend Ed Reed Gave Lamar Jackson a Valuable Piece of Advice to Help Him Avoid the Same Fate as Cam Newton
Baltimore Ravens quarterback Lamar Jackson is one of the most dynamic players in the NFL today. He has a strong case for his second Most Valuable Player Award in three seasons. Ravens legend Ed Reed wants Jackson to dominate the league for a long time.
Reed thinks the Ravens' young signal-caller needs to change one part of his game to extend his NFL career.
Lamar Jackson is dangerous as a dual-threat quarterback
Lamar Jackson has turned heads since entering the NFL. Coming out of Louisville, there was no doubt that he was a dynamic athlete. Some people thought he couldn't be a legitimate NFL quarterback, though, including former NFL executive Bill Polian.
Jackson has continued to prove the doubters wrong. Baltimore's 2018 first-rounder has developed as a passer year after year despite the criticisms.
The fourth-year quarterback's ability as a runner makes him even more dangerous. He's rushed for 3,386 yards and 21 touchdowns in 53 games with the Ravens. The league has never seen a player quite like Jackson, including Michael Vick.
Jackson deserves more credit than he's received, too. He's never played with an elite group of skill players, yet the Ravens are perennial playoff contenders.
Jackson's performance through the first seven weeks of the 2021 season proves that he's capable of standing in the pocket and making plays with his arm. However, teams game plan for him every week because of the damage his legs can do.
Former Ravens Pro Bowler Ed Reed wants Jackson to take less hits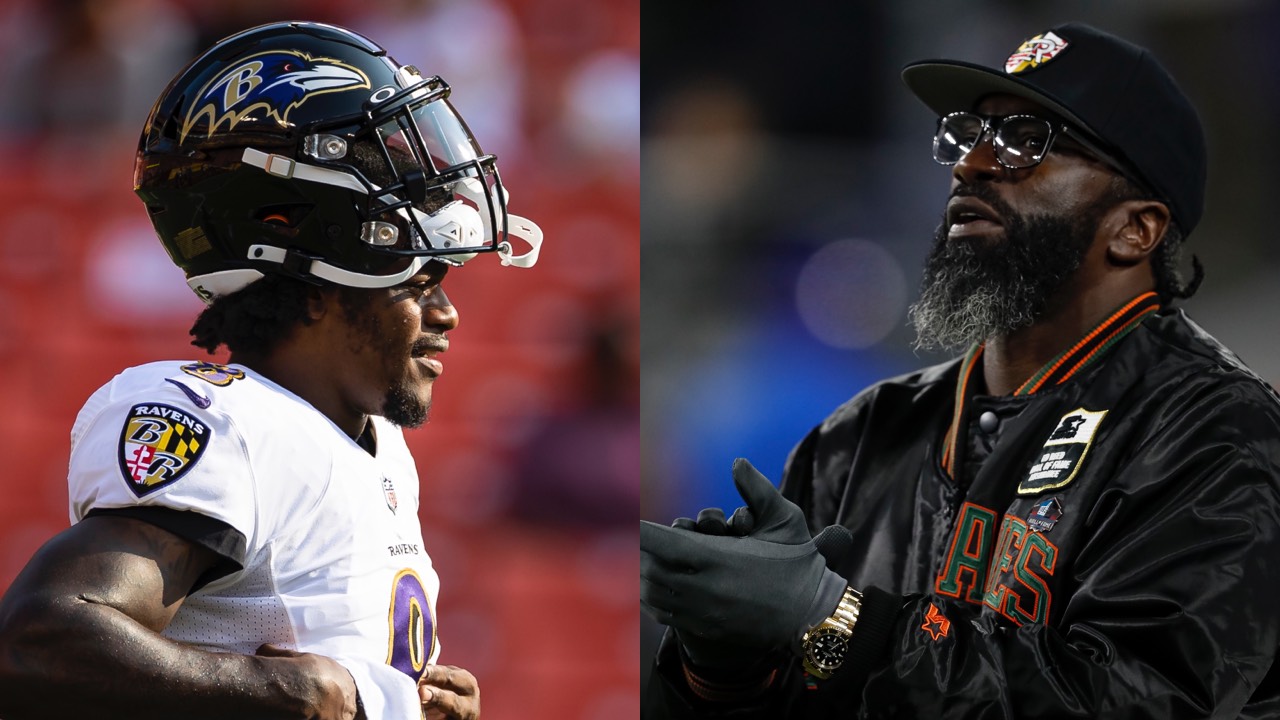 Lamar Jackson is one of the most polarizing players in the NFL. Many people have an opinion on his game, but it's difficult to deny his dominance since entering the league.
Ed Reed is one of the greatest players in the Ravens franchise history. The former Miami Hurricanes star regularly gives advice to Jackson as he navigates his young career. Reed advised the quarterback to change part of his game so he could enjoy longevity in the NFL.
"I give constructive criticism to Lamar because I want him to play 20 years as Tom Brady is," said the Hall of Fame safety on The Ringer. "I don't want to see Lamar get a catastrophic injury like the running quarterbacks of our past. I want him to win a championship before he becomes like Cam Newton."
Cam Newton stands 6-foot-5 and 245 pounds. Reed said the former MVP's prime got cut short because of the punishment he took running the football. "As big as Cam was, those hits affected Cam. Those hits caught up with him, man."
Reed knows that Jackson's style of play is receiving criticism because people aren't used to seeing it. "A quarterback that runs as much as Lamar does is not normal for football fans," said he said. "Of course, they're going to criticize that, too."
Cam Newton's career may be coming to an end
Ed Reed believes Cam Newton is a cautionary tale for young dual-threat quarterbacks like Lamar Jackson, Kyler Murray, and Deshaun Watson.
The Carolina Panthers drafted Newton in 2011, and he spent nine seasons with the team. However, his play started to decline towards the end of his tenure in Carolina.
Newton's imposing size and athletic ability allowed him to be a dominant force as a runner. In 10 NFL seasons, he has carried the football 1,071 times. The wear and tear appeared to take a toll on Newton.
"That affects your throwing," said Reed of the hits Newton took. "Great quarterbacks don't take hits."
Newton took a lot of hits during his career. His declining play made it easier for the Panthers organization to move on from him. The New England Patriots cut him before the 2021 regular season, and other teams have yet to make a move for him.
Lamar Jackson already has 558 rush attempts, and he's only in his fourth NFL season. Ed Reed isn't telling the young quarterback never to run the football. He does need to make more business decisions, though.
Jackson takes some unnecessary shots. He hasn't suffered any major injuries yet, but the Ravens need to make sure he can play for a long time.
The NFL needs Lamar Jackson. It's best when he's healthy.
All stats courtesy of Pro Football Reference.
RELATED: The Baltimore Ravens Should Immediately Strike a Deal to Bring an Underperforming Former All-Pro Back Home Before the NFL Trade Deadline