Ravens QB Josh Johnson Earned $537,500 Per Touchdown Last Sunday, and So Much More
Who was that helmeted man?
That was undoubtedly the question many of the Baltimore Ravens players were asking on Sunday, other than, who turned Joe Burrow into Dan Marino?
It was certainly not your normal Sunday afternoon for quarterbacks in Cincinnati. Burrow had career highs in yards (525) and touchdown passes (4) in the 41-21 rout of the Ravens that kept the AFC South bundled tight heading into the final two weeks of the season.
But the truly remarkable quarterback performance was the guy taking the snaps for the Ravens. On a weekend where a movie about the improbable career of Kurt Warner debuted across the country, a similar out-of-nowhere man made the most of a rare opportunity.
They probably won't make any movies about Josh Johnson anytime soon, but what he did for the Ravens on Sunday was as storybook as any underdog story the NFL has produced.
A career consisting of 13 years, 14 teams and nine starts comes roaring back to life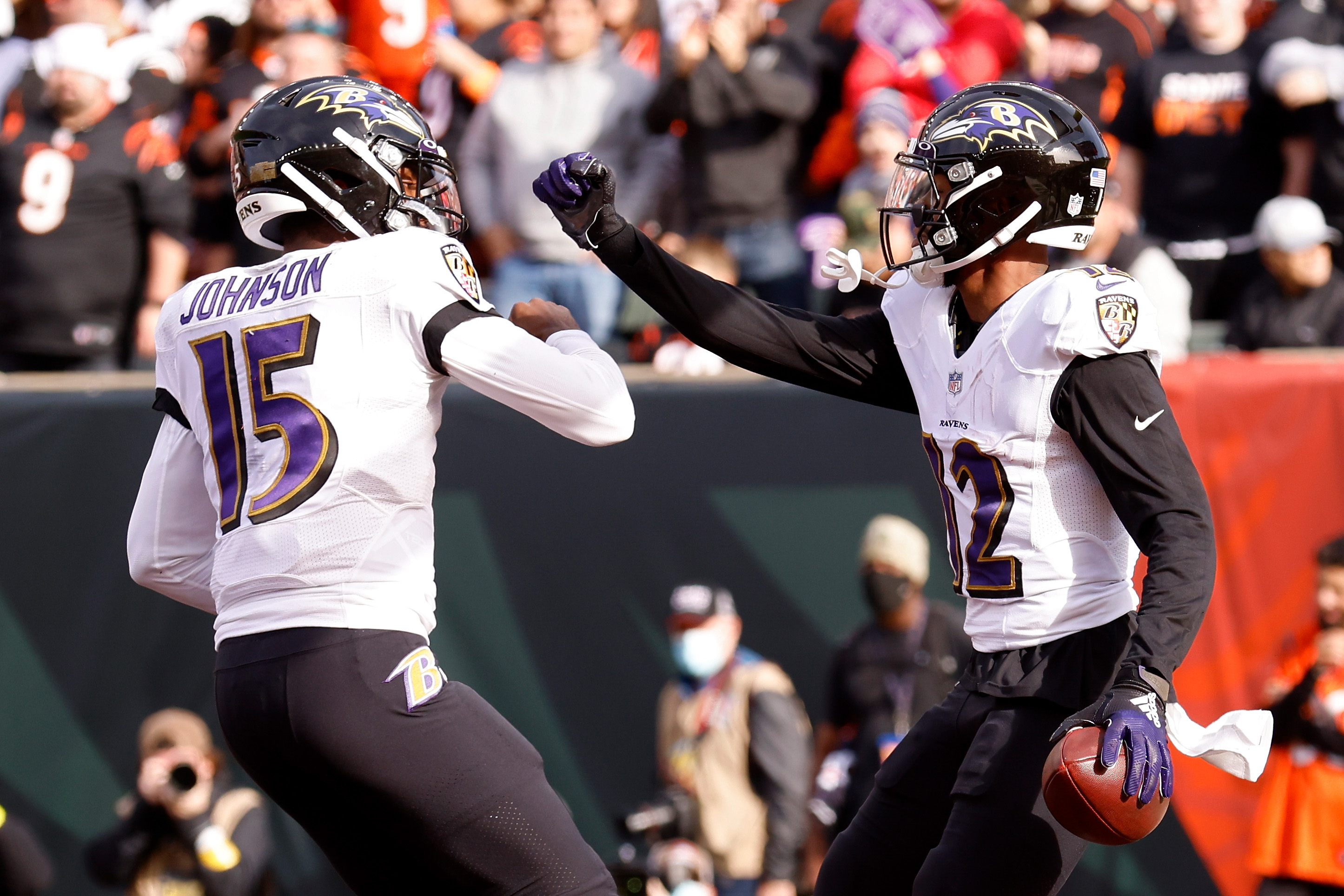 The Ravens signed Johnson to a one-year deal on Dec. 16, paying the ultimate journeyman $1,075,000 to back up the injured Lamar Jackson and No 2 starter Tyler Huntley for the final month of the regular season.
It was the 13th different team Johnson had signed with since entering the league in 2008 after a career at the University of San Diego, known much more for its baseball stars than football prodigies.
Taken by the Tampa Bay Buccaneers in the fifth round of the 2008 NFL Draft, Johnson started four games in 2009 and made one spot start in 2011, his final year with the Bucs.
He played for the Cleveland Browns in 2012, taking one snap all season – and being sacked – and the Cincinnati Bengals in 2013, never appearing in a game. From 2014-18, Johnson would be signed by nine different NFL teams, but failed to appear in a single game with any of them.
Late in 2018, he was set to make a professional comeback in the city of his college glory days when he was taken first overall by the San Diego Fleet in what was to be the Alliance of American Football, a spring league set to debut the week after the Super Bowl in February 2019.
But a funny thing happened on the way back to San Diego. The Washington Football Team, aware that Johnson was back in game shape preparing for the AAF, signed Johnson at the end of their 2018 season after the hideous injury to starter Alex Smith.
Johnson made three starts for Washington, then returned to pro ball with the Los Angeles Wildcats of the XFL before the pandemic shut down the league. Then, this season, at age 35, he made three appearances with the Jets before signing with Baltimore.
"My journey is a wild one, but it's something that I'll talk about when I'm done," Johnson said.
Johnson has been everywhere, man, and on Sunday he really cashed in
The Ravens knew they were going to be without Jackson for their critical Week 16 game against the Bengals. Huntley performed well as Jackson's replacement in Week 15, but now, on the eve of the game in Cincinnati. Huntley tested positive for Covid-19 and was placed in league protocols, making him inactive for game.
All that was left was Johnson, with the team for just 10 days. But Johnson was up for the task, turning in one of the most unlikely performances of this, or any season.
All Johnson did, having barely any time to learn the Ravens' playbook, having not attempted a pass in a game for seven weeks – having not started an NFL game since 2018 – was complete 28 of 40 passes for 304 yards, two touchdowns, and just one interception.
According to ESPN Stats and Information, Johnson became the first player to throw a touchdown pass for multiple teams in a season since 2015. He threw for 334 yards and three touchdowns in relief for the New York Jets in November against the Indianapolis Colts.
The Ravens lost the game, but Johnson won a ton of respect from his new teammates
Based on his contract with the Ravens, Johnson earned $26,875 per pass attempt, $48,863 per completion, and a tidy $537,500 per touchdown.
But what Johnson earned from his new teammates was invaluable: Their respect.
"Shout out to Josh," said Ravens rookie receiver Rashod Bateman, who caught his first career touchdown from Johnson in the first quarter. "I didn't really know him. I didn't know how long he played in the league, but it definitely showed today that [he's] a smart guy with the way he was reading the coverages and things like that and communicating with us. It was definitely impressive for him."
With Huntley removed from the Covid-19/reserve list this week, it's unlikely Johnson will see the field again for the Ravens, barring an injury to Huntley. Still, if last Sunday was it for the 2021 season, Johnson will gladly take it.
"I don't really focus on all the things I can't control," Johnson said after the game. "That's why I'm able to be here and have this opportunity. For me, it's just really focus on how we can try to win and beat the Cincinnati Bengals. Unfortunately, we didn't do that today. So that's really we're I'm at. Just reflecting on the fact that we could've scored on those drives we didn't capitalize on. Being better in those situations.
"For me it was just about, how can we get down the field? Let these great players do what they can do. We've got a hell of a cast here even amongst all the things going on. My job was to get those guys the ball and let them do what they do best.
"You dreamed of these things as a kid to go out there and play in a crazy stadium for a division game. So, I'm just appreciative of life."