Ravens RB J.K. Dobbins' Father Died in Jail Just a Few Years Before His Son Starred at Ohio State
J.K. Dobbins has become an essential piece to the success of the Baltimore Ravens. Before his time in Baltimore, though, Dobbins was an absolute star for the Ohio State Buckeyes. He even had so much success that he finished near the very top of Ohio State's all-time rushing list. However, while Dobbins' father, Lawrence Dobbins, played a significant role in J.K. playing football, he sadly hasn't been able to see his son become the star he is today. Lawrence sadly died in jail at a young age, just a few years before J.K. became a Buckeye.
J.K. Dobbins had an excellent college career with the Ohio State Buckeyes
RELATED: What Happened to Michael Oher, the Super Bowl Champion Who Inspired 'The Blind Side'?
J.K. Dobbins became an instant star for Ohio State in college as a freshman. He ultimately ran for 1,403 yards in 2017 for the Buckeyes to go with seven touchdowns.
Then, in 2018, Dobbins had another nice year, but Ohio State was more of a pass-first team. He ran for 1,053 yards and 10 touchdowns. However, in 2019, Dobbins was one of the best running backs in the country, and the Buckeyes were one of the country's best teams.
Dobbins ran for an incredible 2,003 yards and 21 touchdowns in 2019. He had some massive games, too, as he ran for 211 yards and four touchdowns against Michigan, and 172 yards in the Big Ten Championship Game against Wisconsin. He also recorded 174 rushing yards and a touchdown to go with 47 receiving yards in the College Football Playoff semifinals against Clemson.
Ohio State had an incredible season as a team in 2019, too. The Buckeyes started the year 13-0 and reached the College Football Playoff before barely losing to the Clemson Tigers in the semifinals, 29-23.
Overall in his college career, Dobbins ran for 4,459 yards and 38 touchdowns. His total rushing yards are second in Ohio State program history, only behind two-time Heisman Trophy winner Archie Griffin.
He had a nice rookie season with the Baltimore Ravens
RELATED: How Did the Baltimore Ravens Get Their Nickname?
Dobbins' play in college led to the Baltimore Ravens selecting him in the second round of the 2020 NFL draft. He had a slow start to his rookie season, but from the midway point of the season on, he became an essential piece to the Ravens' success.
From Week 8 to Week 17, Dobbins had 11 or more carries in every game but one. This led to him gaining 651 rushing yards and seven touchdowns on 109 attempts in those games. He also gained 5.97 yards per carry. Additionally, Dobbins finished his rookie season with a monster game, as he ran it 13 times for 160 yards and two touchdowns back in Ohio in a win over the Cincinnati Bengals.
Overall in his rookie season with the Ravens, Dobbins ran for 805 yards and nine touchdowns and gained six yards per attempt. He also helped lead the Ravens to the playoffs.
J.K. Dobbins' father was a star athlete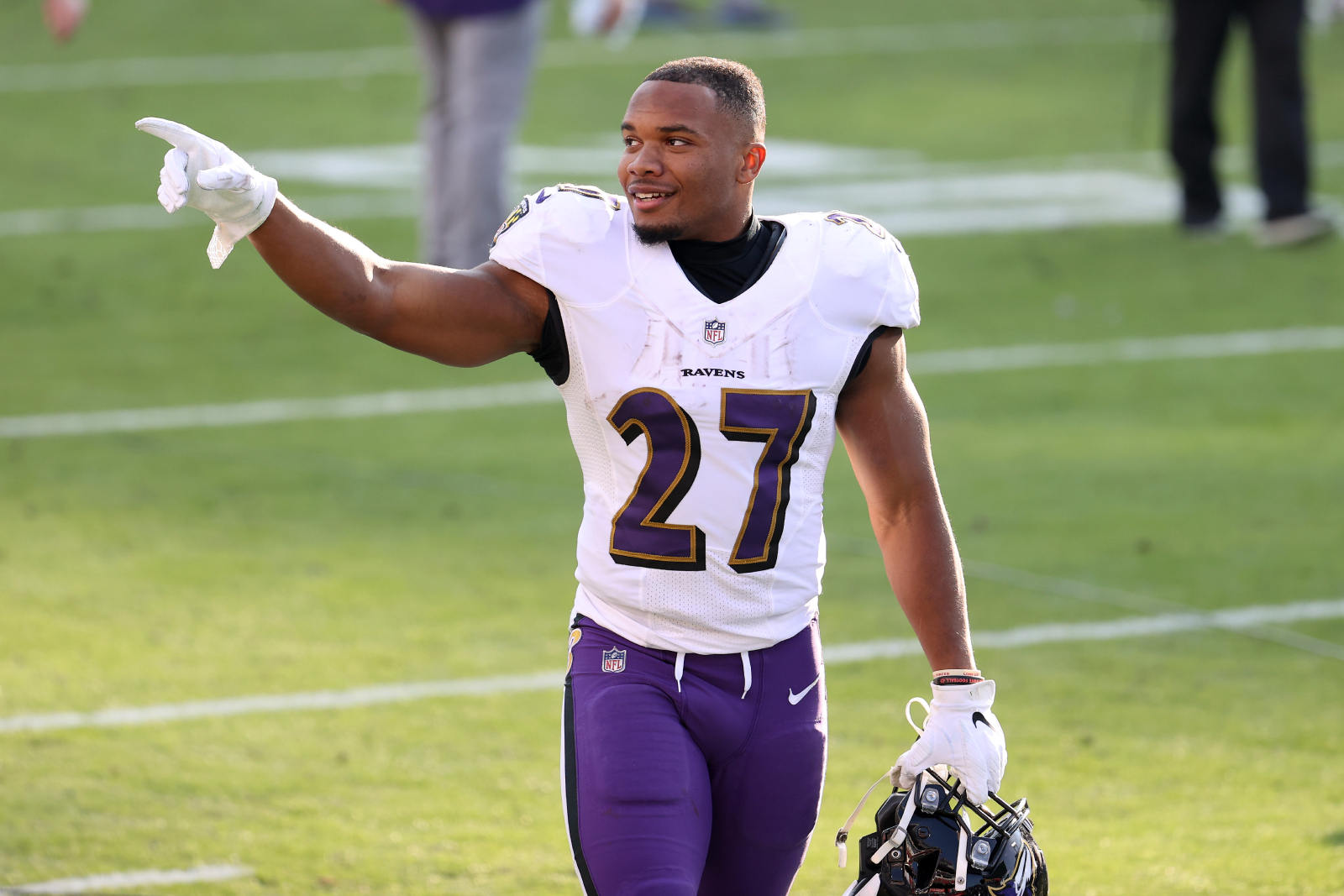 RELATED: How Many National Championships Has Ohio State Won in Football?
Before J.K., Lawrence Dobbins was a star athlete. According to Cleveland.com, Lawrence won a state championship as a sprinter for La Grange High School in Texas, where J.K. also attended. He was also a superstar running back in high school.
Lawrence then went to Lincoln University for track. He was a part of the 4×100 meter relay team that ultimately finished in second place in the 1999 Division III national championships. Lawrence didn't return for the next season, though.
However, despite not getting a chance to really become a football star at the next level, he helped inspire his son to become one.
"He's the reason I love football," J.K. said, according to Cleveland.com.
Lawrence Dobbins sadly died in jail at a young age
RELATED: Why Does Ohio State Put Stickers on Its Football Helmets?
Lawrence and J.K. were close. However, according to Cleveland.com, long-term health issues led to Lawrence's life taking an unfortunate turn. He also eventually got into legal trouble.
Cleveland.com reports that a courthouse brief from a local paper in 2012 wrote "about Lawrence getting convicted for theft of property and sentenced to two years in state prison".
Lawrence then sadly died of a stroke in February 2014 while in Bartlett State Jail at only 33 years old.
"When my dad was alive he would tell me no matter what, have a smile on your face," J.K. said, according to Cleveland.com. "No matter how you're feeling, you're living and you should be able to smile … It was not easy. I cried myself to sleep. It's something you can't explain to lose a parent, and I was close with my dad. I loved my dad. I have a positive outlook on life because I'm still living and I can appreciate more things in life. You'll see me smiling."
J.K. Dobbins might have had to go through some tough times early on in his life, but he has come out stronger and has ultimately become a star with the potential to become an NFL legend. The AFC better be ready because J.K. Dobbins is coming.
Stats courtesy of Sports Reference and Pro Football Reference