Ray Lewis's Mother May Have Saved Her Son's Life With $20 in Food Stamps
The Baltimore Ravens would not have enjoyed two Super Bowl parades without Ray Lewis's presence at linebacker.
Lewis is arguably the greatest defensive player from his era, and he remains a beloved fan favorite in Baltimore. If not for his mother and $20 in food stamps, Lewis may have never played college football.
Ray Lewis's mother sent him to Florida with $20 in food stamps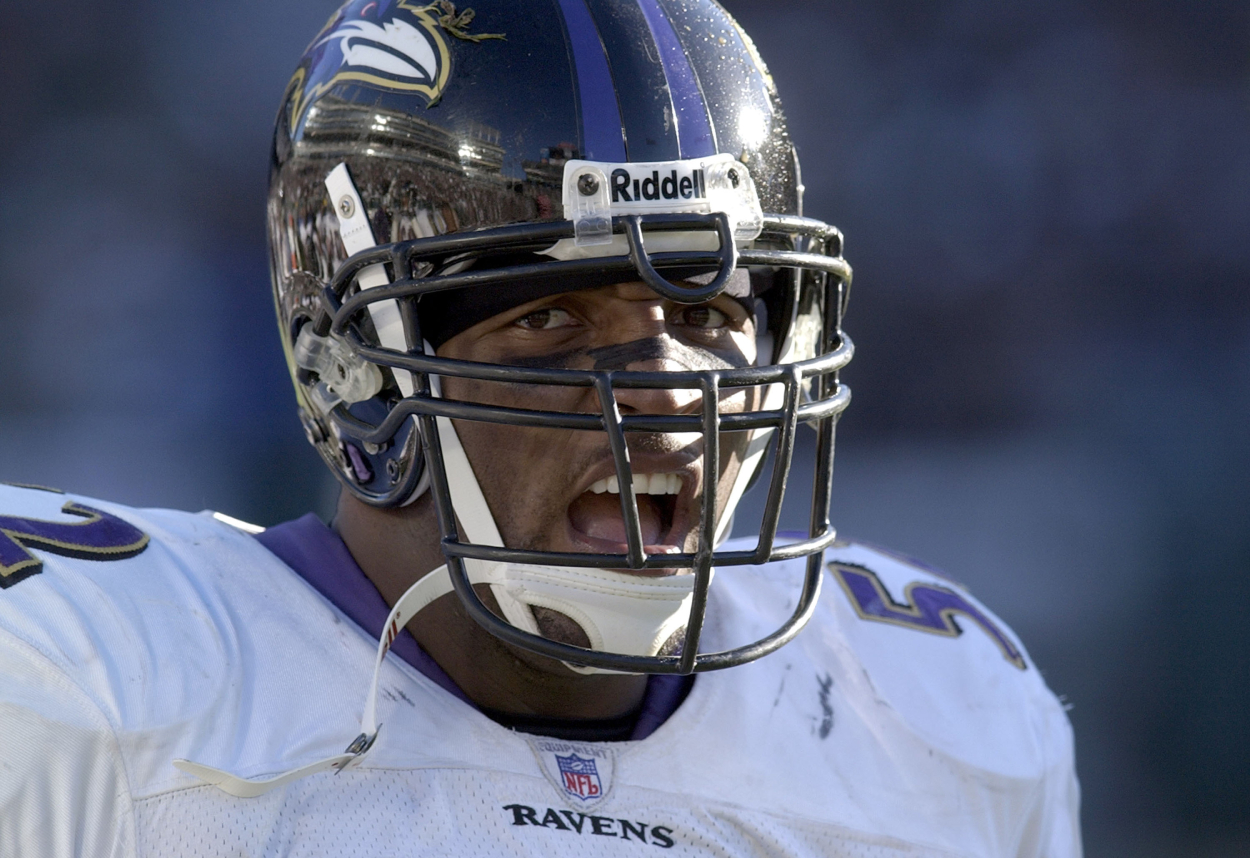 A future star at the University of Miami, Ray Lewis originally grew up in Bartow, Florida. By his junior year of high school, however, his mother had other plans.
In a 2016 interview with Cigar Aficionado, Lewis explained that his mother moved herself and her five children to Memphis, Tennessee. However, Lewis wanted nothing to do with the Volunteer State, and he made that clear very early on.
"I end up running away for a few days, and she found me sitting on the floor. She knew I wanted to go back to Florida so bad. She gave me $39 and said, 'I think I'm making the biggest mistake of my life by sending you back.' She handed me a book with $20 worth of food stamps. She said, 'That's all I got.'"

Ray Lewis
Lewis returned to Florida, eventually moved in with his grandmother, and enrolled at Kathleen High School in Lakeland. He became an All-American linebacker and a dominant wrestler before he graduated high school in 1993.
Lewis became a star at the University of Miami
Perhaps in another universe, Lewis stayed in Memphis and eventually enrolled at the University of Tennessee.
That did not happen in our reality. After starring at Lakeland, Lewis signed with the Miami Hurricanes and enrolled in time for the 1993 season.
Lewis instantly contributed as a freshman and entered the 1994 season as a starting linebacker. He earned All-American honors after his sophomore and junior seasons with the Hurricanes. Miami went 27-8 in Lewis's three seasons but failed to win a bowl game.
Although Lewis had a standout college career, he lasted until the 26th overall pick in the 1996 NFL draft. Four other teams selected linebackers before the Baltimore Ravens, in their first year after moving from Cleveland, drafted Lewis.
Those food stamps helped Lewis become an NFL legend
Sometimes, a team makes a franchise-altering decision in the NFL draft, and it happens well outside of the top 10 selections. Russell Wilson and the Seattle Seahawks can surely attest to that fact after he went in the third round of the 2012 NFL draft.
Lewis and the Ravens are in the same boat. After nearly falling out of the first round, Lewis found a home in Baltimore and became arguably the greatest player in franchise history.
In 17 NFL seasons, Lewis earned first-team All-Pro honors seven times and made 13 Pro Bowls. He won two Super Bowl rings and earned a spot on the NFL 100th Anniversary All-Time Team in 2019. Lewis entered the Pro Football Hall of Fame in 2018, his first year of eligibility.
If not for his mother's bold and selfless decision, Lewis may not have even made it to the NFL. And anyone who watched Lewis over the years and heard his speeches knows how much he loves his mother, even now.
Like Sportscasting on Facebook. Follow us on Twitter @sportscasting19.