Ray Lewis Reveals Difference Between His Retirement and Tom Brady's
Just when we thought we saw the last of Tom Brady in the NFL, he decided he had some unfinished business. The seven-time Super Bowl champion quarterback officially retired from football on Feb. 1st. A little over a month later, he announced he would be returning to the Tampa Bay Buccaneers for the 2022 season.
Hall of Fame linebacker Ray Lewis recalls when he retired back in 2012. Filled with emotion, the Baltimore Ravens legend stepped away from the game he dedicated his blood, sweat, and tears to. While Lewis can relate to Brady, he suggests he and TB12 were on different pages when they decided to call it quits.
Ray Lewis suggests Tom Brady's competitive nature brought him back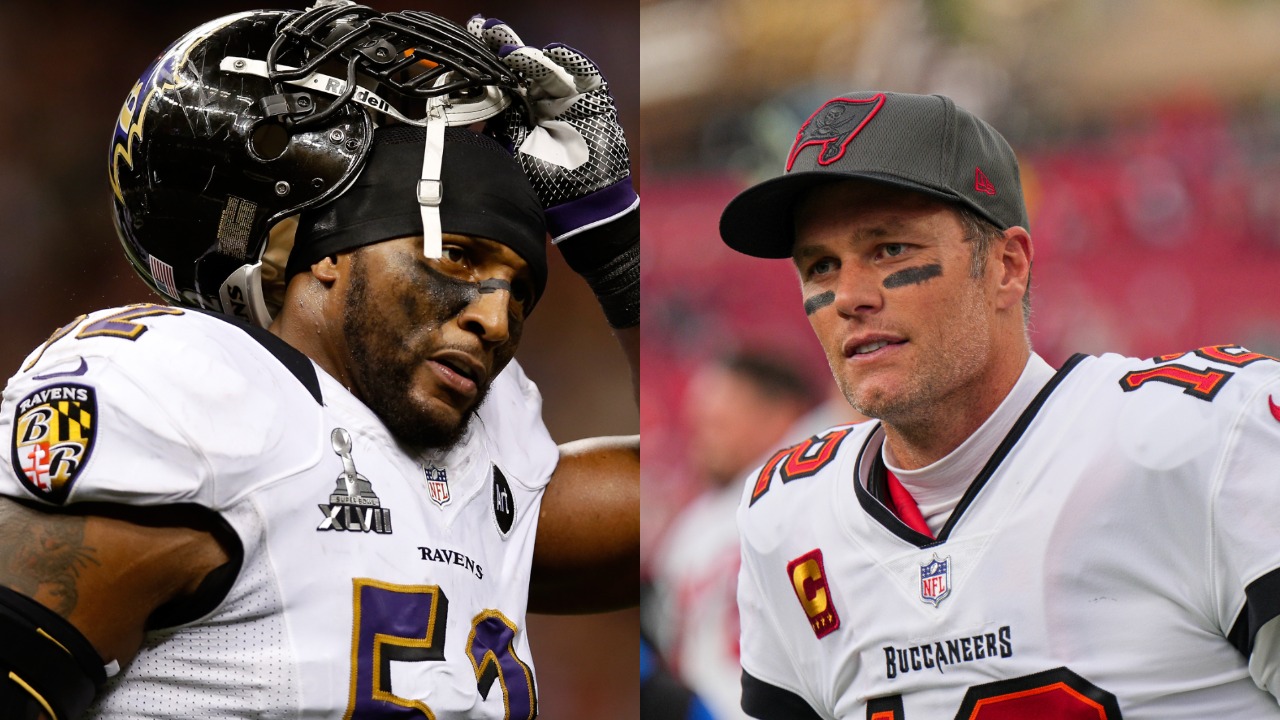 The NFL hasn't seen a player quite like Tom Brady and probably never will. He entered the league in 2000, and he's still playing at a high level two decades later. Even though he's 44 years old, the 15-time Pro Bowl quarterback hasn't shown obvious signs of slowing down.
Ray Lewis didn't buy that Brady no longer wanted to play football, so he's not surprised the future Hall of Famer decided to return. The retired linebacker recently joined The Rich Eisen Show and weighed in on why TB12 came back.
"The competitive side of Tom is the easy noticeable thing," said Lewis. "He's one of the greatest competitors ever. The one thing I said when I got ready to retire — if you got more in the tank, finish it. Empty the tank. I don't think he's finished. I don't think the tank is empty for his passion."
Lewis believes things might've been different if Tom Brady and the Buccaneers repeated as Super Bowl champs.
"If they would've won it, I think he walks out," Lewis added. "But tasting glory and losing the way they did last year and living with that the rest of your life? I don't know if that's his pedigree."
The Ravens Hall of Famer knew when his time was up
The Baltimore Ravens drafted Ray Lewis with the No. 26 overall pick in the 1996 NFL Draft. He spent his entire 17-year career with the same organization. After being the face of the franchise for nearly two decades, the Miami product went out on top.
After posting a 10-6 record in the 2012 regular season, the Ravens went on a magical run through the postseason. They met the San Francisco 49ers in the Super Bowl, coming away with a 34-31. Hoisting the Lombardi Trophy one last time gave Lewis peace riding off into the sunset.
"For me, it was kind of an easy decision," Lewis said. "Because I said, 'This is my last ride.' I didn't go after the season was over. I just tore my tricep from the bone. They said I could never come back, but I'm coming back. So when I come back, I'm coming back to do one thing, one more dance. For Brady, it's like, how do you want it to end?"
No one knew what Tom Brady's plans were before the 2021 season concluded. He retired at the season's end, unlike Ray Lewis, who announced it before the season started. The Hall of Famer suggests that Brady intentionally left the door open in case he changed his mind.
The Buccaneers QB is still at the top of his game
Tom Brady has eluded Father Time for a long time and continues to do so. He is 44 years old and has officially signed on to play his 23rd NFL season.
As Ray Lewis noted, he was well out of his prime when he retired. He had been battling injuries but wanted to go on one final ride with the Ravens. Meanwhile, Brady is still at the top of his game.
The Bucs signal-caller is coming off one of the most productive seasons of his career. He threw for 5,316 yards, 43 touchdowns, and 12 interceptions while completing 67.5% of his passes. Brady led the league in completions, passing attempts, yards, and touchdowns.
TB12 is one of the most competitive quarterbacks in NFL history. If he weren't, he wouldn't be playing at 45. At some point, he'll start to decline. But in the meantime, he'll be emptying his tank.
All stats courtesy of Pro Football Reference
RELATED: Bill Belichick and the Patriots Gave Tom Brady a $16 Million Unretirement Gift in Shaq Mason