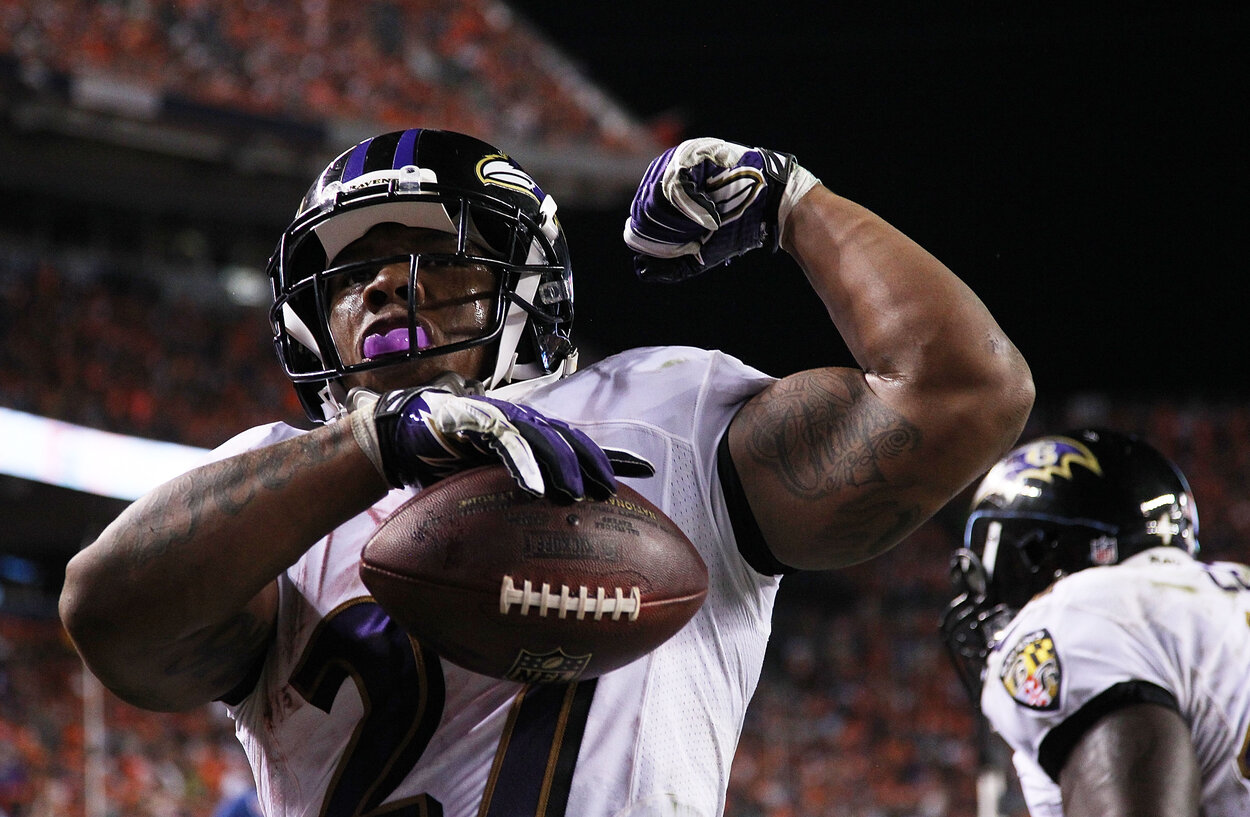 Ray Rice Sounds Open to Playing a Final NFL Game if Given the Chance
Could former Baltimore Ravens running back Ray Rice make an NFL comeback? Rice thinks he'd excel if given a final chance to play.
Former Baltimore Ravens running back Ray Rice remains the featured image for how quickly things can change in the NFL.
Rice, a three-time Pro Bowl selection, had a bright future in Baltimore even after a disappointing 2013 season. Nearly a year later, Rice found his NFL days to be essentially over after a domestic violence arrest and controversy that earned him, the Ravens, and the league a great degree of negative criticism.
Could Rice, who turned 34 in January, make a comeback in 2021? Rice sure sounds confident about playing well if a team signed him.
Ray Rice thinks he could excel if given another chance
There once was a time where Ray Rice was among the NFL's best running backs. A two-time second-team All-Pro selection, Rice was an elite and powerful rusher who helped the Baltimore Ravens win Super Bowl 47.
Everything changed in 2014, when Rice and his fiancée (now wife), Janay Palmer, were arrested in Atlantic City, N.J., and charged with assault. The Ravens released Rice in September 2014 and he never played in another NFL game. 
It has been over seven years since Rice played in an NFL regular-season game. But if a team called and offered Rice a contract, the former Pro Bowler isn't opposed to a comeback.
During a recent interview on WFAN in New York, Rice told Carton and Roberts that he'd be open to playing one last NFL game if given a chance.
"I don't know – I think I got maybe one hard 150-yard game left in my legs. You might need to get the wheelchair after the game, but I'll be okay."
Rice, who has spent recent years giving back to the community, made those comments in a lighthearted tone. Still, the idea of Rice making a comeback is intriguing to think about, especially with how long it has been since he last took the field.
Rice hasn't played in the NFL since August 2014
Ray Rice had a 2013 season to forget, running for 660 yards and four touchdowns on a career-low 3.1 yards per carry. 
Rice hadn't ever averaged lower than four yards per season, and he was coming off four consecutive campaigns with at least 1,100 rushing yards. Still, there were reasons to believe that he and the Ravens would turn things around in 2014.
The Ravens returned to the playoffs, albeit without Rice. Baltimore released their star running back — at the time, serving a two-game suspension for his aggravated assault indictment — in September 2014, hours after TMZ released a video of him assaulting his fiancée.
Rice spent the next few months in a legal battle with the NFL over his suspension and release. According to ProFootballTalk, the Ravens eventually settled with Rice after he filed a formal grievance claim for wrongful termination. 
Technically, Rice's final game with the Ravens came in a preseason game on Aug. 16, 2014. Rice had two carries for 21 yards in a 37-30 victory over Tony Romo and the Dallas Cowboys.
Ray Rice has found a new life since leaving the NFL
Although Ray Rice tried making several comeback attempts in the coming years, no teams signed him.
Rice officially announced that he was done with football in 2018. He has spent recent years giving back to the less fortunate, both in Baltimore and across the country.
Rice and Houston Texans quarterback Deshaun Watson have partnered to provide families with food amid the pandemic. The duo recently fed 10,000 people in Southeast Baltimore.
Rice, Watson, and their foundations have also done food giveaway events in Atlanta, Miami, and Orlando this year.
Rice has also worked in recent years with his alma mater, New Rochelle High School, in suburban New York.
Like Sportscasting on Facebook. Follow us on Twitter @sportscasting19.