Re-Examining the 2018 NBA Draft: The No. 1 Overall Pick Is Still Ludicrous, and the Luka Doncic-Trae Young Swap Remains a Crucial Part of Recent NBA History
Three seasons removed from a draft is a reasonable period of time to look back and examine which selections worked out and which didn't. The biggest storyline of the 2018 NBA Draft was a trade that will shape the NBA landscape for at least another decade. Less than a handful of lottery picks turned into franchise-changers, and it looks like a decent chunk of the first-rounders are already heading toward an NBA exit. In retrospectively analyzing that draft, the No. 1 overall pick remains as ludicrous as it was at the time, and the Luka Doncic-Trae Young swap between the Dallas Mavericks and Atlanta Hawks is an all-time what-if moment for the league.
It's still unbelievable that Luka Doncic wasn't the No. 1 overall pick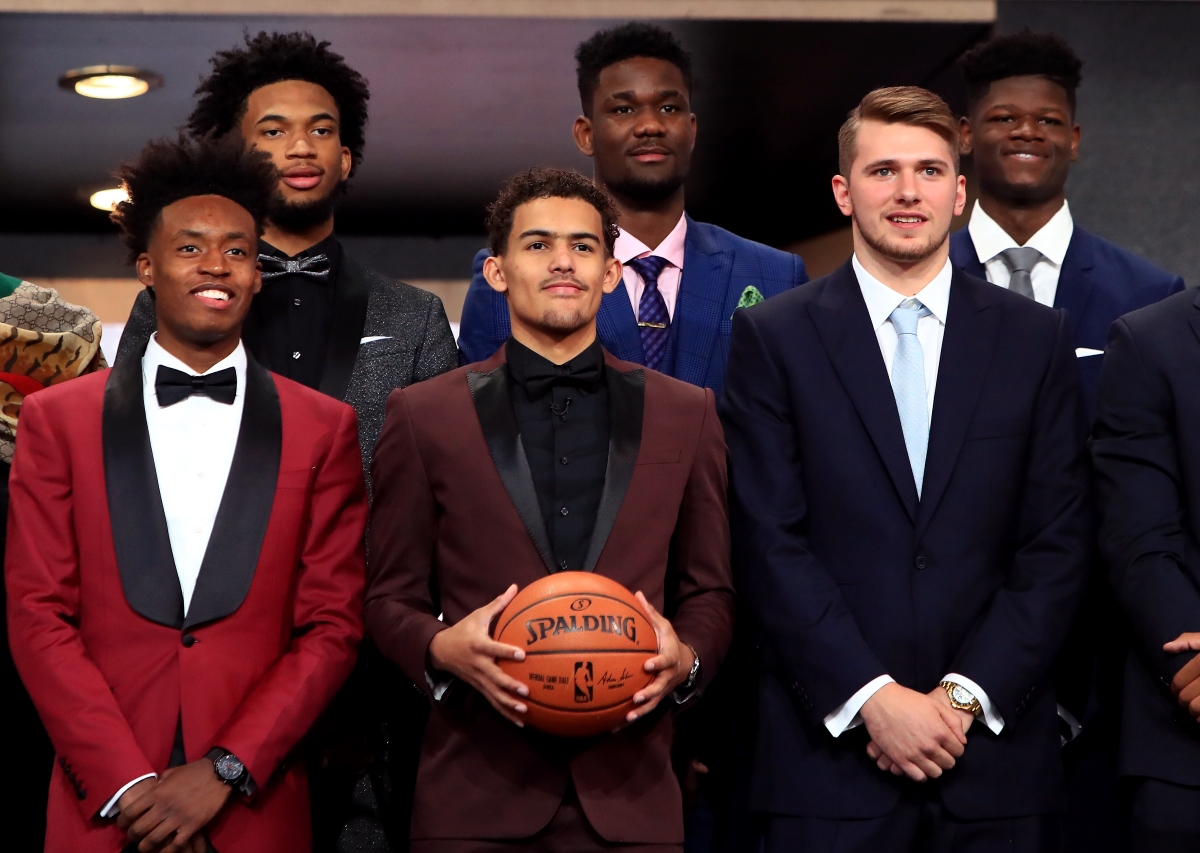 The Phoenix Suns finished the 2017-18 season 21-61 and were awarded the No. 1 pick that year's draft. The Suns eventually settled on Arizona center Deandre Ayton.
Ayton played in the 2021 NBA finals and became a meaningful playoff contributor alongside Devin Booker and Chris Paul. He was thought of as a prototypical modern big after his one season with the Wildcats — an athletic specimen with two-way potential as a perimeter scorer and rim defender. Ayton averaged 20.1 points and 11.6 rebounds his lone season in Tuscon. Some thought of him as the best player in the draft — Phoenix grabbing him with the first pick wasn't a major franchise error.
But the generational talent that came out of the 2018 draft is obviously Doncic. He entered the process as a 19-year-old who had already dominated the second-best league in the world. He wasn't a sure thing — no prospect is — but he was as close to that as possible having already proven himself as the best player in Europe. He had the skills and intangibles to succeed in the NBA, yet somehow dropped to the fifth overall pick.
All Doncic has done is average a stat line of 25.7 points, 8.4 rebounds, and 7.7 assists in his first three seasons while being named Rookie of the Year and making two All-NBA first teams.
The Dallas Mavericks and Atlanta Hawks made a swap of Trae Young for Doncic
The most notable move before, during, and after the draft was the Atlanta-Dallas Doncic-Young swap. The Hawks wanted Young as their version of Steph Curry — a shooter with unlimited range who could unlock an entire offense. Dallas was more than happy to flip flop with Atlanta and drop down to No. 5 to select Doncic.
The Slovenian will always be the best player and best pick in the 2018 draft, but Young has developed into a future MVP candidate himself. It wasn't a bad deal for either side; both teams got what they wanted. Doncic is simply the better overall player.
After Doncic, Young, and Ayton, there was a significant drop off
The Sacramento Kings picked Marvin Bagley III at No. 2 in between Ayton and Young. Jaren Jackson Jr. went fourth and still has star potential but has yet to prove he can stay healthy. Mo Bamba and Kevin Knox went sixth and ninth, respectively. Wendell Carter Jr was picked seventh by the Chicago Bulls and now plays in Orlando.
Collin Sexton (No. 8) has become a score-first (score-only) point guard. Mikal Bridges (No. 10) and Miles Bridges (No. 12) have developed into role players but seem tapped out in terms of upside. Shai Gilgeous-Alexander (No. 11) is one of the 10 best starting point guards in the league, and Michael Porter Jr (No. 14) has shown flashes of offensive potential in Denver. Still, injuries remain a concern for the Missouri product, and he has yet to show anything on defense. Jerome Robinson (No. 13) is not currently on an NBA roster.
Donte Divincenzo (17), Kevin Huerter (19), and Aaron Holiday (23) have all carved out careers as rotation players. Jalen Brunson, Devonte Graham, Bruce Brown, De'Anthony Melton, and Shake Milton were all second-round picks and are playing roles for different franchises.
But it's a long fall from Doncic, Young, and Ayton to Gilgeous-Alexander, who at this point looks like the fourth-best player in that draft. Doncic is a future MVP and Young will likely find himself in that conversation as well. Ayton was an important piece in Phoenix's run to the 2021 finals.
The Suns had the first overall pick and win the bronze medal, which teaches a valuable lesson about drafting in the NBA: always pick the best player available. If that were the case, Phoenix could have an NBA title with Doncic, Booker, and Chris Paul. Sacramento could have Young instead of hoping Bagley can still develop into an NBA player. There are plenty more examples of reaches and poor fits.
Hindsight is 20/20, but in 2018, Doncic as the best overall prospect appeared relatively clear.
All statistics and draft order courtesy of Basketball-Reference.
RELATED: Ben Simmons Continues to Make Everything Worse, This Time Hilariously Telling the Philadelphia 76ers It's 'Not His Job to Fix His Trade Value'