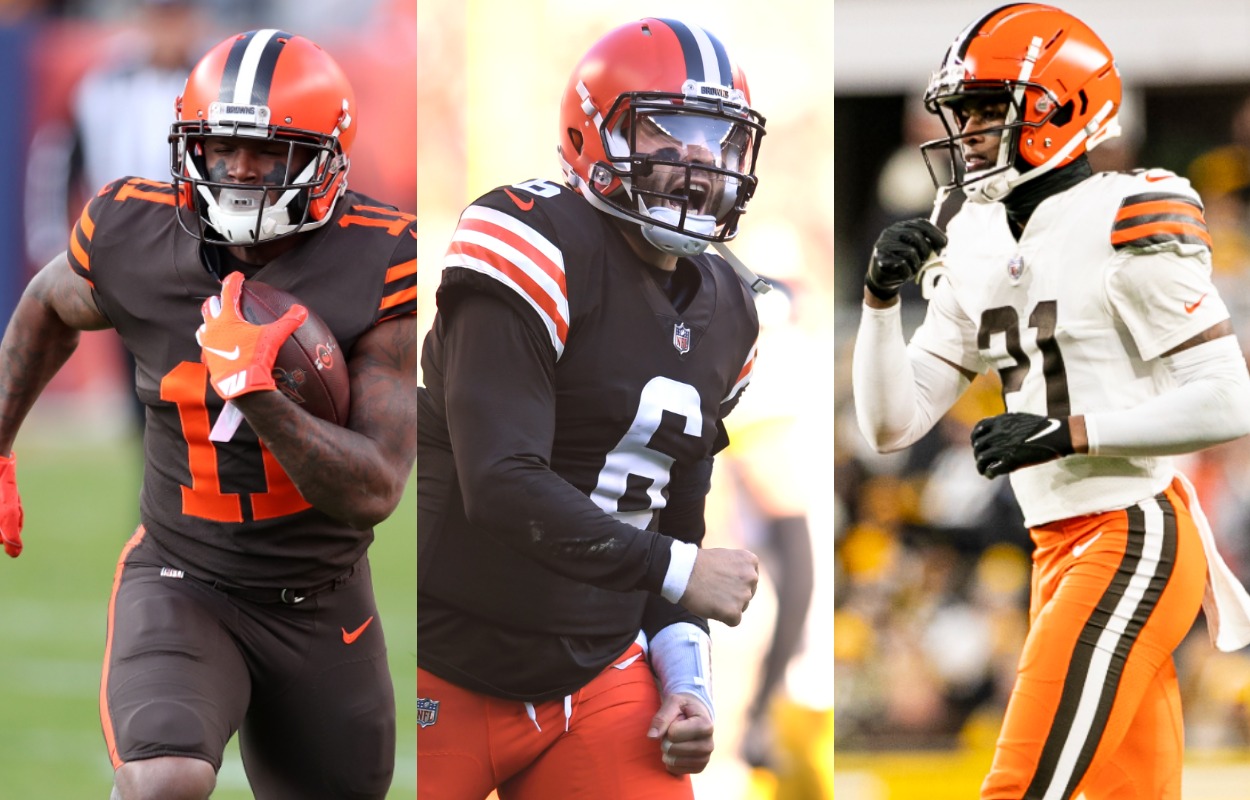 Re-Grading Baker Mayfield and the Cleveland Browns' 2018 NFL Draft Class
The Cleveland Browns hoped they drafted a winning core in 2018. How do the decisions to select Baker Mayfield and Nick Chubb, among others, look now?
The Cleveland Browns understandably had high hopes when the 2018 NFL Draft ended. Baker Mayfield, the reigning Heisman Trophy winner, would come in and become the franchise quarterback the Browns had spent decades trying to find. Denzel Ward, the fourth overall pick, had the potential to become a mainstay at cornerback. 
Cleveland also drafted Nevada offensive lineman Austin Corbett, Georgia running back Nick Chubb, and former Florida receiver Antonio Callaway, all of whom would help Mayfield live up to his potential and end a lengthy playoff drought … right?
Well, somewhat.
The nucleus of Chubb, Mayfield, and Ward helped the Browns reach the 2020 AFC Divisional Round before injuries struck last season. Now, Deshaun Watson is in at quarterback, and Mayfield is likely on the way out after requesting a trade. Of the nine players the Browns selected in 2018, only Chubb and Ward are expected to be on the club's 2022 roster.
A good rule of thumb is to re-evaluate draft classes after five years. However, given the circumstances and how few players remain, now feels like a fair time to revisit the Browns' 2018 draft class.
For this list, players were graded on how they performed with the Browns. We factored in on-field performance, off-field issues, where the player was drafted, and how long they stuck with the franchise. Because we feel so much of a player's success is dependent on the scheme and the organization around them, teams were not necessarily penalized for picking Player A over Player B. For example, the Browns' grade for selecting Mayfield wasn't affected by the success Josh Allen and Lamar Jackson, each of whom went later in the first round, have enjoyed in the NFL thus far.
Based on the aforementioned prerequisites, the Browns' re-graded 2018 NFL Draft class looks as follows:
Round 1, No. 1 overall: Baker Mayfield, QB, Oklahoma
The good news is that Mayfield is the best quarterback in the Browns' modern history, and it's not especially close. We'll open the floor for anyone who wants to argue for Tim Couch or Derek Anderson.
No takers? 
Assuming his time in Cleveland is over, Mayfield completed 61.6% of his passes with the Browns for 14,125 yards, 92 touchdowns, and 56 interceptions in 60 career games. He leads all Browns quarterbacks, at least since the franchise resumed play in 1999, in passing yards, touchdowns, and playoff victories — or, in his case, playoff victory.
However, the Browns drafted Mayfield to be the long-term option, and there were enough questions about his future that the team gave up three first-round picks for Watson. Still, given how terrible the Browns were before Mayfield's arrival and how well he played at times, a B- feels fair here.
2022 Grade: B-
Round 1, No. 4 overall: Denzel Ward, CB, Ohio State
We have no complaints here. Ward has evolved into an elite cornerback, especially in man coverage, and owns 10 career interceptions and two Pro Bowl nods. The Ohio State product will play the entire 2022 season at 25 years old and is expected to sign an extension ahead of his fifth NFL campaign.
Between Ward and All-Pro pass-rusher Myles Garrett, the Browns' defense should be in good shape moving forward.
2022 Grade: A
Round 2, No. 33 overall: Austin Corbett, G/C, Nevada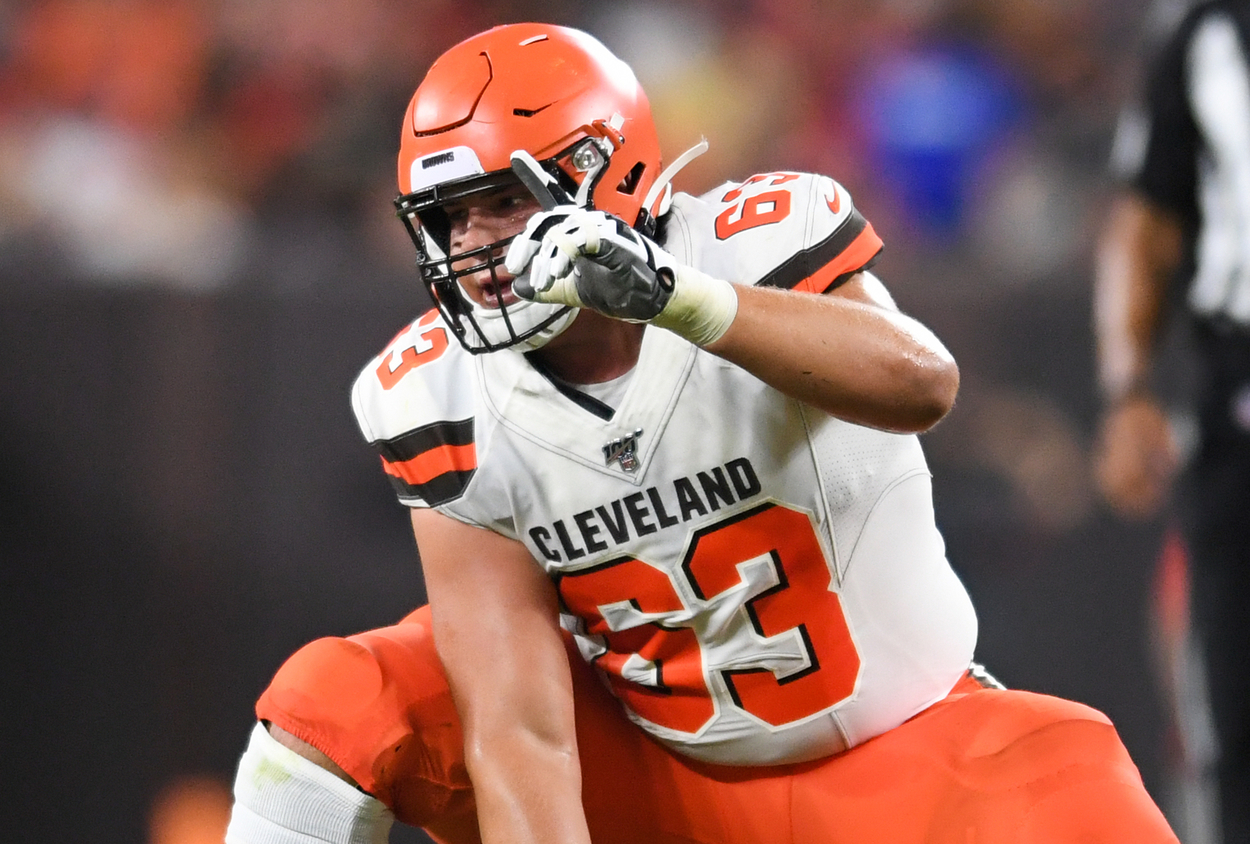 Yes, you read right. The Browns used a second-round pick on Corbett, an All-Mountain West Conference standout, before trading him to the Los Angeles Rams for a 2021 fifth-round pick midway through his second season. Cleveland primarily used Corbett at guard and center during his two years with the organization.
Investing such an early draft pick on a player who is traded less than two years into his rookie deal is bad enough. However, the Browns used that 2021 pick on Georgia safety Richard LeCounte, a former All-SEC standout at Georgia, and it's still too early to know what he'll do in the NFL. Given the circumstances, a D feels fair here.
2022 Grade: D
Round 2, No. 35 overall: Nick Chubb, RB, Georgia
The Browns did everything right here. Not only did the franchise wait until the second round to add a running back, but they landed Chubb, who enters the 2022 season among the NFL's top running backs. The Georgia product rushed for 4,816 yards and 36 touchdowns on 5.3 yards per carry in his first four seasons and played a pivotal role in the Browns' return to relevancy.
Chubb will play the bulk of the 2022 season at 26 years old and is under contract through the end of 2024. It'd be impossible not to give the Browns at least an A here, but we'll be kind and go the extra mile.
2022 Grade: A+
Round 3, No. 67 overall: Chad Thomas, DE, Miami
After seeing limited action as a rookie, Thomas exploded for four sacks, six tackles for a loss, and a fumble recovery in 16 games and eight starts in 2019. Had the Browns uncovered another impactful pass-rusher?
Nope.
Cleveland surprisingly cut Thomas in September 2020, and he never landed with another team. The impressive play at spurts in 2019 is enough to keep him and the Browns from an F, but not by much.
2022 Grade: D
Round 4, No. 105 overall: Antonio Callaway, WR, Florida
Callaway entered the NFL with multiple red flags after legal issues in his college career, and his doubters were right to be skeptical. Over a four-month span in 2019, the league suspended him twice for violating the substance-abuse policy, and Cleveland waived him for showing up late to team meetings and practices.
Without the pre-existing red flags, the Browns would have likely earned a D here. However, we cannot ignore Cleveland's decision to gamble on a player who clearly lacked the maturity to last in the NFL.
Before things went south, Callaway impressed as a 21-year-old rookie, hauling in 43 catches for 586 yards and five touchdowns in 16 games and 11 starts. However, he's bounced around professional football since the fall of 2019 and last played for the Kansas City Chiefs during the 2021 preseason. Although the explosive wideout is still only 25 years old, his football days might be over.
2022 Grade: F
Round 5, No. 150 overall: Genard Avery, LB, Memphis
Like Corbett, the Browns traded Avery midway through the 2019 campaign, and he's grown into a reliable special teams contributor for the Philadelphia Eagles. The Memphis product even started 12 games as a linebacker last season. Although he totaled 40 tackles and 4.5 sacks as a rookie, the Browns sent him packing a year later and received a 2021 fourth-round pick in return.
Cleveland used the 110th overall pick on Cincinnati offensive tackle James Hudson, who played in 12 games and started four as a rookie. For now, we'll leave this as a C-, if only because Hudson might have a future on the Browns' offensive line.
2022 Grade: C-
Round 6, No. 175 overall: Damion Ratley, WR, Texas A&M
Although the Browns cut Ratley ahead of the 2020 campaign, he at least gave them 25 catches, 344 yards, and a touchdown in 26 games and six starts in his two years with the team. It's not great, but for a sixth-round pick who also played special teams, it's enough.
2022 Grade: C
Round 6, No. 188 overall: Simeon Thomas, CB, Louisiana-Lafayette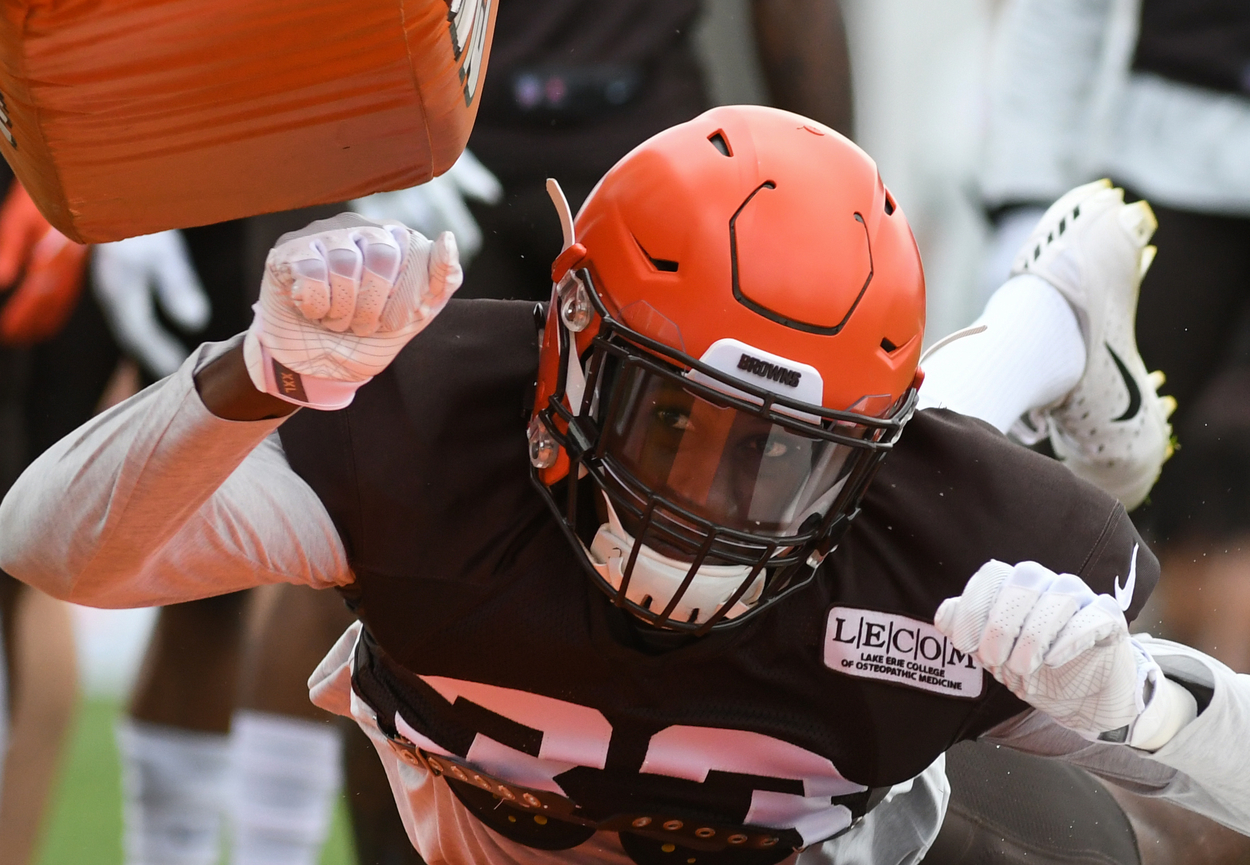 Look, an F might sound harsh considering where Thomas was drafted, but he didn't even survive final cuts. This was a wasted pick, one the franchise could have spent on a player worth keeping on the 53-man roster for the whole season.
Had the Browns selected Thomas with the 248th overall pick, this would likely be a D. But at No. 188 and with the team's final selection? Not good enough.
2022 Grade: F
Like Sportscasting on Facebook. Follow us on Twitter @sportscasting19.