1 Reason the Lakers Should Worry About LeBron, Anthony Davis, and DeMarcus Cousins
The eyes of the basketball world will be on Los Angeles once again this season, as the Lakers and LeBron James finally got their prized missing piece of Anthony Davis. Adding the talented DeMarcus Cousins to their frontcourt only sweetens the outlook for the upcoming season. However, there is one reason those three should give the Lakers a little bit to worry about in 2019.

Big-time offseason moves
Last offseason, the Lakers made their ultimate move of bringing LeBron James to L.A. Despite having one of the greatest players of all time, the 2018-2019 season was a struggle. The team never really found its groove, they missed the playoffs, and executive Magic Johnson abandoned his post before the last game of the season. Missing out trading for Anthony Davis and not having the authority to fire Luke Walton as coach frustrated Johnson.
Things changed significantly once the offseason began.

First, the Lakers finally swung the deal for Davis, giving up a sizable package for the star forward. Then, they signed free agent DeMarcus Cousins. Cousins and Davis enjoyed playing with each other in New Orleans, and if healthy Cousins is one of the better big men in the league.
The Lakers' grand plan seemed to be coming together as they now have two top-five players and one All-Star caliber player. The only problem? All three come with asterisks.

2018 injuries for the Lakers' stars
Let's take a closer look at how LeBron James, Anthony Davis, and DeMarcus Cousins were used last year by their respective teams (the Lakers, Pelicans, and Warriors) according to the L.A. Times:
James missed 17 games last year, the most he's ever sat out in his career.
Davis played in 56 games due to a variety of injuries. He's only played more than 75 games in a season twice during his seven-year career.
Cousins played only 30 games in 2018.
Injuries and recovery from those injuries were a concern for all three players.

Why Lakers fans should worry about LeBron, Anthony Davis, and DeMarcus Cousins
While LeBron, Davis, and Cousins are all elite talents, they're all at a fairly high risk of an injury. Davis and Cousins both missed significant time last season as did LeBron.

James is well into his mid-30s, and while he's still very good when he plays, he has played a lot of games over his career (1,198 in the regular season, 239 in the playoffs). If the Lakers plan to save James for the playoffs, they may decide to sit him liberally to save his energy.

The reason the Lakers need to worry about their new trio of stars is that there is no telling how many games the three will be able to play together.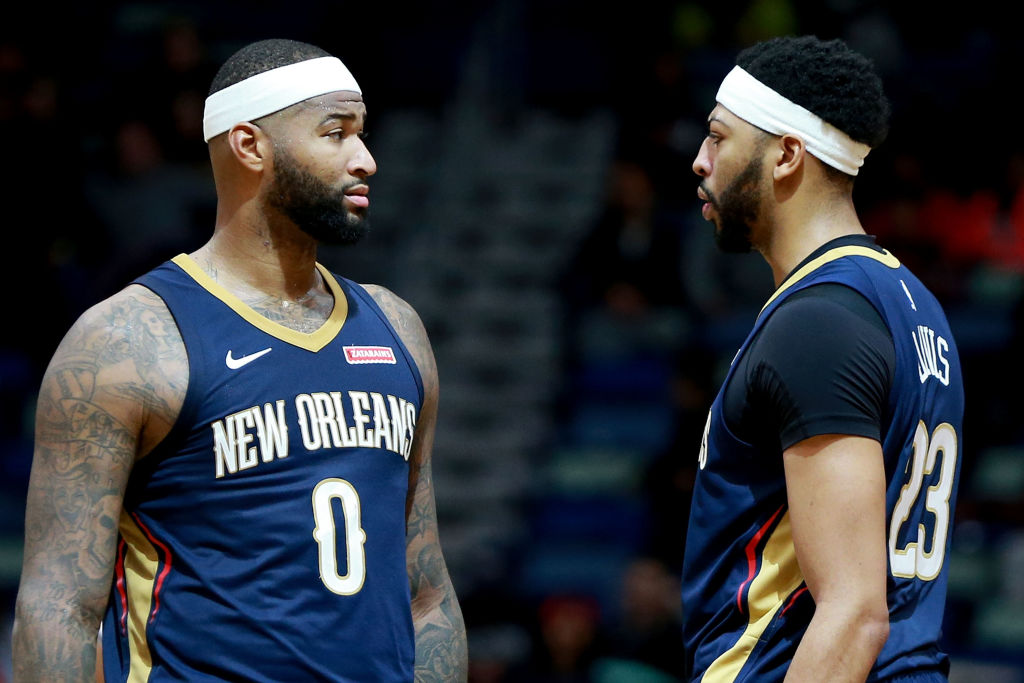 New head coach Frank Vogel has the unenviable task of sorting out the playing time issue with his three stars. When asked by the L.A. Times how he plans to manage that situation, Vogel deferred to the Lakers' staff:

"This is something I will rely very heavily on our medical team for. To me, it's pretty black and white … We've hired Judy Seto to oversee the whole sports performance program. I have the utmost trust in her. Whatever she decides in meetings with LeBron, with AD, about what the plan is going to look like, I am going to fall in line with that."

With LeBron's age and Cousins' and Davis's injury history, adhering to the medical staff for guidance on how to move forward seems like the only move to make. If Vogel can qualify for the playoffs and keep those three healthy in doing so, they'll have a legitimate shot to emerge from the Western Conference to make the NBA Finals. It won't be easy, but the Lakers' core trio is certainly good enough to do it.