MLB: 1 Reason Starting Pitcher Dallas Keuchel is Still Unsigned
Dallas Keuchel won the American League Cy Young in 2015 with 20 wins and a 2.48 ERA, but he has only had an ERA below 3.70 once in the three seasons since then. He, along with agent Scott Boras, hoped for a big payday in free agency this offseason with reports that the hurler was looking for a five- or six-year contract in the nine-figure range. But heading into the final full week of spring training starting March 18, Keuchel remained unsigned. Let's examine why teams aren't knocking down his door to meet his salary demands.
Location, location, location
Keuchel's strength is as a ground-ball pitcher. He doesn't throw his fastball at 90+ mph, so he doesn't get as many swings-and-misses as the game's elite pitchers, which is what teams are looking for nowadays. Keuchel's best pitch is his two-seam fastball and without a high velocity on the pitch, he has to rely on location to get hitters out. If he misses his spot by just a couple of inches, the batter could hit the ball a long way.
Two-seamers are easier to hit
Pitching to contact, as Keuchel does, is a dying skill in the majors. From 2015 to 2018, two-seam fastball usage has dropped from 21.2% to 19.4% as analytics have encouraged hitters to focus on launch angle and take swings that can get low pitches elevated. As batters have made that change at the plate, pitchers have adjusted and now throw more four-seam fastballs up in the zone.

The five pitchers who threw the most sub-90 two-seamers last season — Keuchel was fourth on the list — had ERAs that ranged from 3.44 to 5.78 because it's an easier pitch for batters to hit. Keuchel allowed the most hits among all major-league pitchers last season at 211.
Not enough strikeouts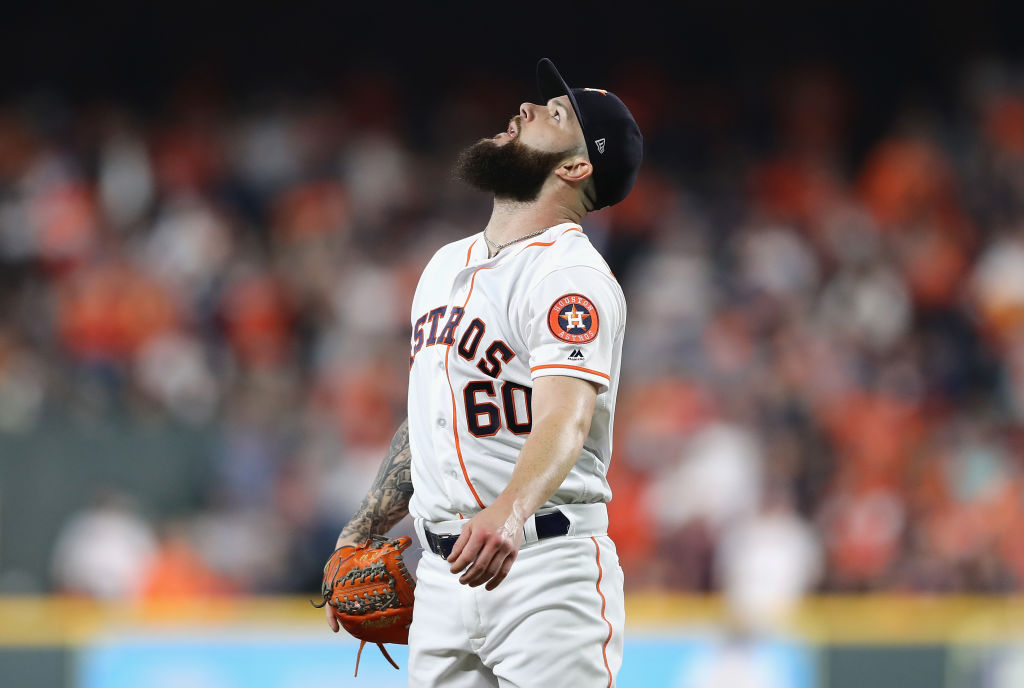 Two of the biggest contracts given to starting pitchers in free agency this winter were a six-year, $140 million deal for Patrick Corbin and two years, $34 million for J.A. Happ. Last year, Corbin and Happ ranked sixth and 14, respectively, in strikeouts per nine innings among the 57 qualified pitchers. Keuchel, on the other hand, ranked 43rd in the category. At a time when 19 pitchers racked up at least 200 strikeouts last season — and a 20th fell one short — front offices are down on pitchers who don't get hitters to whiff at a lot of pitches.
What's next for Keuchel?
Keuchel turned 31 in January, which means if a team gives him the five-year deal he wants, it would take him into his mid-30s.

Earlier in the offseason, teams like the Reds and Braves were rumored to be interested in him. Now, even if he signs soon, he won't be ready to pitch in the majors early in the regular season, so even going with a one-year "prove it" contract may not be viable because he won't pitch the full season. His best bet at this point may be to wait and see if a contender suffers a pitching injury early in the season and looks to perhaps sign the veteran to a short contract of two years or so. One such team could be the Yankees, who are expected to be without ace Luis Severino until May.

The Astros, who drafted Keuchel in 2009, offered him a qualifying offer in November, which would have been worth just under $18 million for 2019, but he turned it down. The Astros weren't interested in giving Keuchel a long-term deal, but as he has remained unsigned late into spring training, the Astros were reported to be interested in the possibility of a short-term contract. However, general manager Jeff Luhno wrecently indicated they were moving on from Keuchel. So a reunion with the only team he has played for seems unlikely.