MLB
MLB: 4 Reasons the Atlanta Braves Will run Away With the NL East
The Atlanta Braves find themselves in first place in the National League East and in prime position to take the division crown after making a big signing recently. But how did they get here, and why are they in such a good spot going forward?

Let's look at four reasons the Atlanta Braves will run away with the NL East (all statistics are as of June 25, 2019).

1. Their pitching has been good enough, and help is on the way
The Braves entered 2019 viewing their starting pitching as one of their greatest strengths, but they have been just okay so far. Here's where the Braves rank in some important pitching categories:
12th in ERA
10th in quality starts
11th in earned runs
13th in strikeouts
Overall, it paints a picture of a rather pedestrian pitching staff. The Atlanta Braves have two starters with eight wins (Max Fried and Mike Soroka), while Julio Teheran has performed well with bad luck on his way to a 5-6 record.
That's why the Braves went out and signed free agent Dallas Keuchel.
Keuchel waited until uncharacteristically late in the free agent signing period (as in, several months into the season) to sign with the Braves, but now that he's here, Atlanta will get his fresh, experienced arm for the remainder of the year. The former Cy Young Award-winner will give them an added boost down the stretch, lightening the load on the rest of the rotation.

2. Their offense has been stellar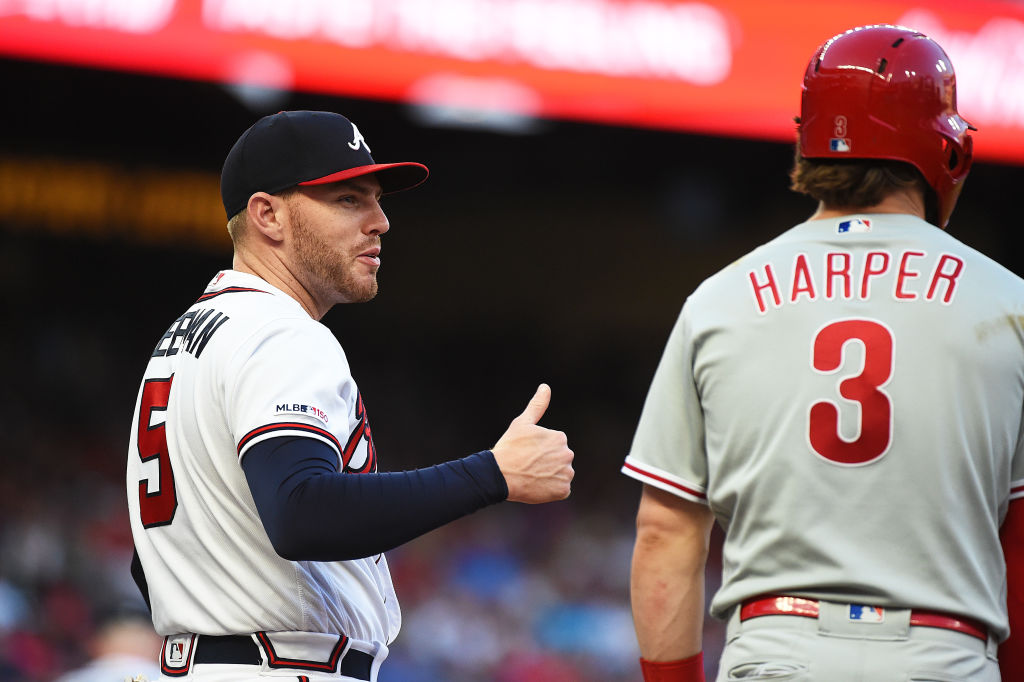 Atlanta's offensive production has been excellent this year. Here's where they rank in the major offensive categories:
Seventh in runs scored
Fifth in hits
Eighth in home runs
Fourth in RBI
Fifth in on-base percentage
While they aren't first in any one category, they're in the top 10 in most of the important ones. The Braves have a solid lineup, with great individual performances so far from:
Freddie Freeman: 21 home runs, 61 RBIs, .315 batting average, .402 on-base percentage
Ronald Acuna: 18 home runs, 50 RBIs, .289 batting average, .369 on-base percentage
Dansby Swanson: 15 home runs, 48 RBIs, .259 batting average, .325 on-base percentage
Josh Donaldson: 15 home runs, 37 RBIs, .259 batting average, .361 on-base percentage
3. The NL East isn't as competitive as expected
The Braves are atop the division with the Phillies not too far behind at 5.5 games back. After that, there seems to be a fairly steep drop off.

While no one expected the Marlins to contend, many thought the Nationals and Mets would at least challenge Atlanta and Philadelphia for NL East supremacy. That hasn't been the case. The Nationals find themselves in the midst of a lost season, and the Mets are even farther behind in the division race.
Even if the Braves hit a lull, MLB's weighted schedule allows them to beat up on three bad NL East teams in the second half of the season.

4. They have a deep farm system they can parlay into veteran help
The Braves have been good this year as evidenced by their record, but they definitely have room for improvement. That's where their deep farm system can come in handy.

Before this season, the Braves farm system was the third-best overall minor league system in MLB. Adding Dallas Keuchel was a great way to add a big piece without sacrificing any young talent, but the Braves can also move some of that talent for another player that can help.

The most urgent area of need is the bullpen, but the Braves could also look for help on the bench or another quality starter to add to the mix. Adding these additional players can only bolster their case for the division championship.

No matter what they decide to do, it's clear the Atlanta Braves are poised to win this division fairly easily.