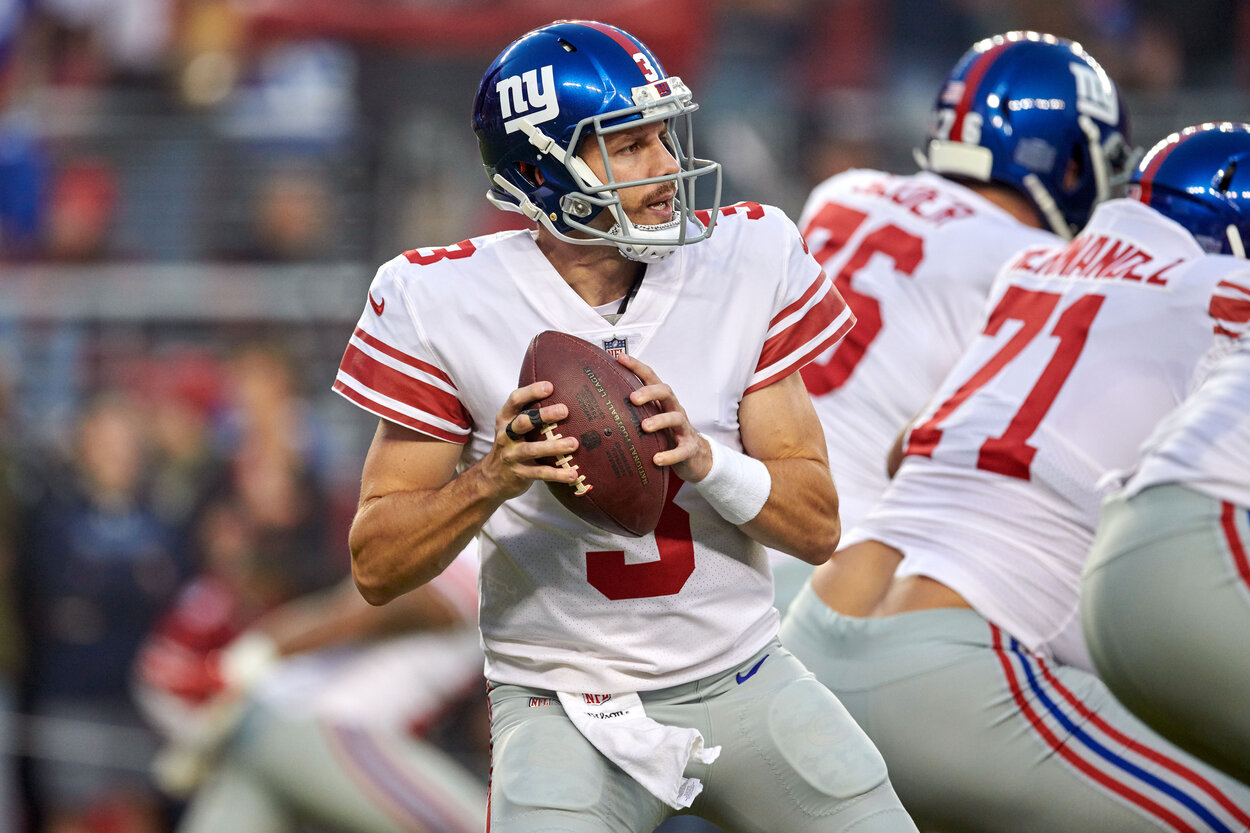 Recently-Retired Giants Quarterback Alex Tanney Made Nearly $4 Million to Throw 15 NFL Passes
New York Giants quarterback Alex Tanney just retired after a nine-year career where he earned nearly $4 million to throw 15 passes.
Alex Tanney's retirement not only leaves the New York Giants without their third-string quarterback, but it just took away one of football's best stories.
If everything went to plan, Giants fans only saw Tanney in the preseason or on the sidelines. Tanney was the perfect third-string quarterback, someone who showed up every day, waited for an emergency situation, and went home.
In that regard, Tanney was as great as his job as Patrick Mahomes is as the Chiefs' starting quarterback. If you don't believe us, just look at Tanney's bank account.
Alex Tanney cashed in to throw only 15 passes
Alex Tanney is a firm reminder of why being a backup or third-string quarterback is a wonderful job that we should all be allowed to have one day.
According to Spotrac, Tanney made over $3.6 million in nine NFL seasons. Over The Cap had Tanney's career earnings around $3.5 million.
Let's split the difference and say that Tanney made over $3 million in total. Tanney only threw 15 passes in his career, so he earned over $200,000 per attempt in the NFL.
Forget Aaron Rodgers throwing 48 touchdowns against only interceptions. Tanny's pass to money ratio might be the best contrast you'll see today.
Alex Tanney was mostly a backup for his career
It's easy to say that highly-paid backups like Chad Henne and Colt McCoy have the best jobs.
Alex Tanney might contest to that argument. Tanney, who turned 33 in November, spent parts of the last three seasons as the New York Giants' reserve quarterback.
His lone regular-season appearance for the Giants came in December 2019, when Tanney relieved Eli Manning in what proved to be the latter's final game. Tanney completed his lone pass for a single yard.
Tanney's days of earning paycheck from the Giants are over, though. The journeyman retired earlier this month and will spend 2021 working for the Eagles as an offensive quality control coach.
Tanney had an incredible road to the NFL
Alex Tanney is an exceptional success story and is further proof about how one should keep pursuing their dreams.
A star high school quarterback in Illinois, Tanney signed with Monmouth College (Ill.) out of high school. Unlike Monmouth University in New Jersey, which is an FCS school, Monmouth College is a Division III football program.
Tanney shredded the record books in his five years at Monmouth. His 157 touchdowns remain the all-time NCAA record, and no quarterback at the D-III level topped his 14,249 yards through the 2020 season.
In 2011, Tanney went viral for his role in a video featuring trick shot passes. Tanney nonetheless went undrafted in 2012, and he bounced around several teams for a few years.
Finally, Tanney got his chance. The Tennessee Titans signed Tanney to the active roster in December 2015, and he completed 10 of 14 passes for 99 yards and a touchdown in a meaningless Week 17 game.
When a time works best, Tanney may want to treat his agent to a steak and some drinks. Anyone who says they wouldn't want to receive $200,000 every time they throw the football — and only needing to do it 15 times — is lying.
All contract figures courtesy of Over the Cap and Spotrac.