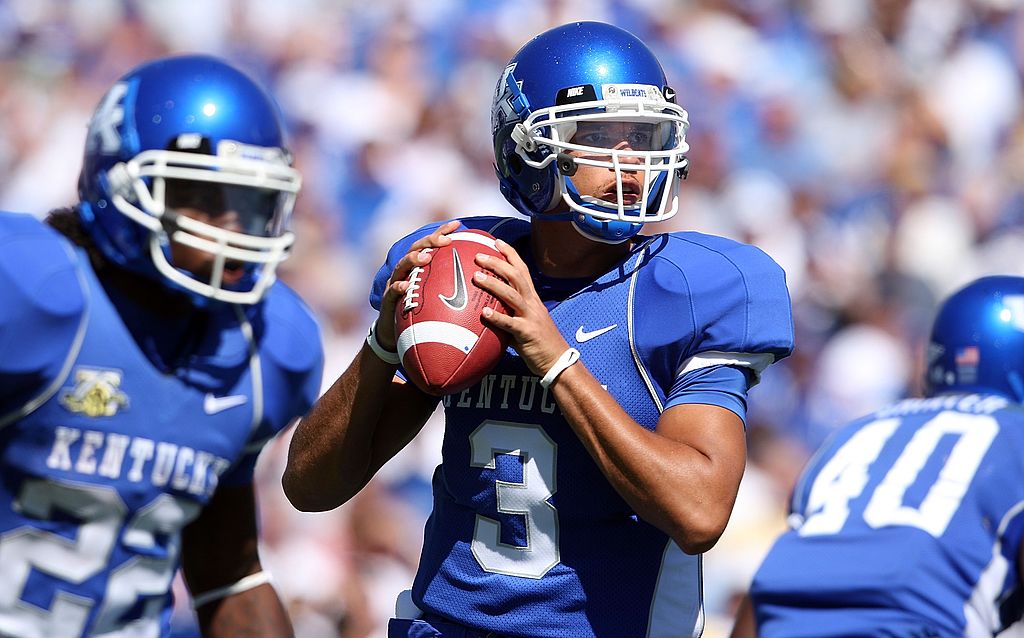 Record-Setting Kentucky QB Andre' Woodson Now Works at Amazon
Kentucky Wildcats quarterback Andre' Woodson once threw 40 touchdowns in a season. Woodson now works at Amazon.
Andre' Woodson was one of college football's most exciting, yet unnoticed, quarterbacks in the late 2000s. Woodson starred for Kentucky at a time when Tim Tebow was dominating offenses at Florida, Colt McCoy and Sam Bradford were leading shootouts in the Big 12, and Matt Flynn led LSU to a national championship.
Over a decade after Andre' Woodson's playing career ended, his post-football career may come as a surprise. Here's what the former Kentucky standout is doing in 2020.
Andre' Woodson is arguably the greatest quarterback in Kentucky history
From 1996-2007, the Kentucky Wildcats had some of the greatest players in franchise history behind center. Future No. 1 overall pick Tim Couch started at Kentucky from 1996-98. Jared Lorenzen, the Hefty Lefty, dominated SEC defenses from 2000-03. When Lorenzen graduated and began his NFL career, it was Andre' Woodson's time to shine.
Andre' Woodson completed 62% of his passes for 9,360 yards, 79 touchdowns and 25 interceptions in three-plus years as the Wildcats' starter. Woodson is the Wildcats' all-time leader in passing touchdowns and second behind Lorenzen in passing yards.
After only going 3-8 in 2005, Kentucky went 16-10 from 2006-07 and won the Music City Bowl each year. Woodson was named MVP of those games both years. Woodson led Kentucky to six fourth-quarter or overtime come-from-behind victories in 2006 and 2007. Among those wins were a 42-29 victory over No. 9 Louisville on Sept. 15, 2007, and a 43-37 upset of No. 1 LSU on Oct. 4, 2007.
From 2006-07, Woodson set an NCAA record by going 325 passes without throwing an interception. That historical streak ended in a 45-17 rout over Florida Atlantic University.
Woodson briefly played professional football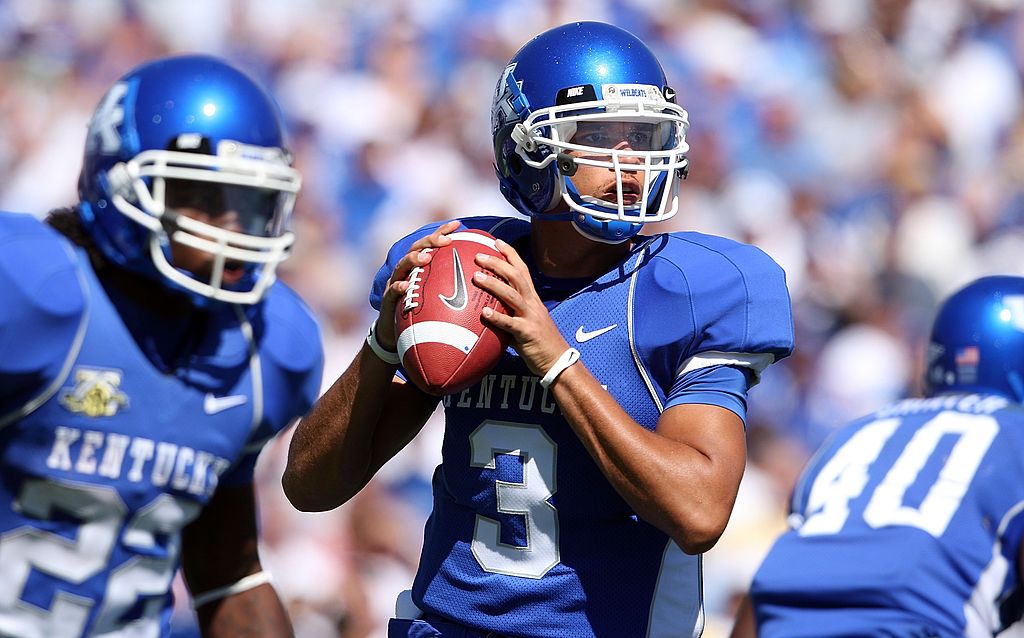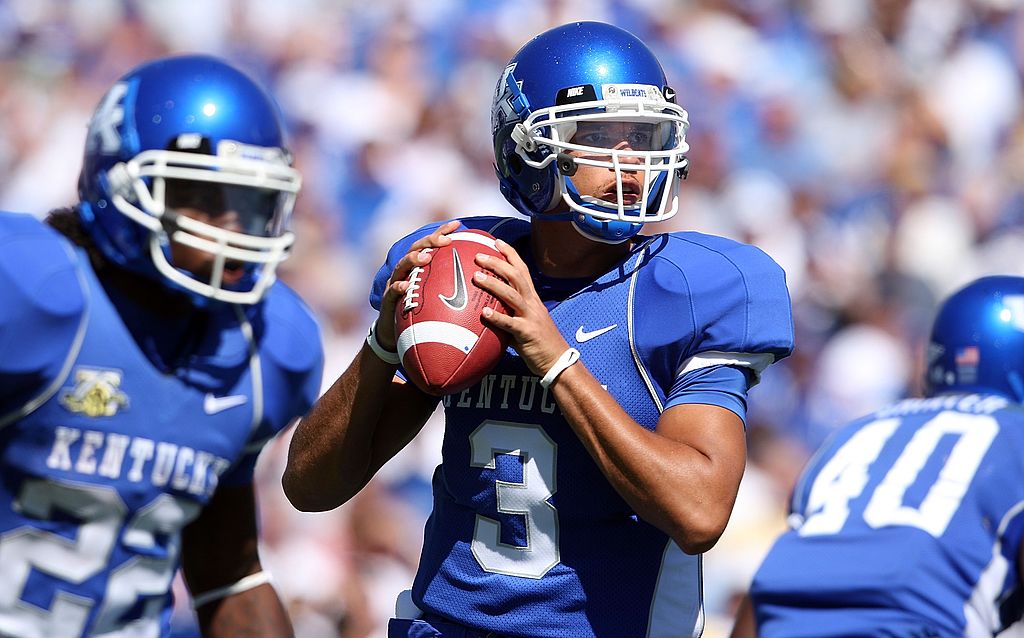 Andre' Woodson's record-setting career at Kentucky was enough to earn him a sixth-round selection in the 2008 NFL draft. The New York Giants — who'd previously employed Jared Lorenzen, Woodson's predecessor at Kentucky, as Eli Manning's backup quarterback — drafted Woodson but waived him that August.
In a town hall last year, Eli Manning recalled pranking Woodson. After Woodson showed up late to a voluntary practice and missed a meeting, Manning cleared out Woodson's locker room and wrote, "come meet me in my office, bring your playbook," on a note signed by Tom Coughlin. Woodson later realized he'd been taken for a ride.
Woodson spent two summers with the Giants but never made it into a game. After stints with the Washington Redskins and the United Football League's Hartford Colonials,
Where is Andre' Woodson now?
Andre' Woodson began his coaching career as a Kentucky graduate assistant in 2011. Woodson spent two seasons in Lexington before he became Morehead State's wide receivers coach in 2013. Woodson left the program after only one year.
Rather than stick with a coaching career, Andre' Woodson joined Amazon as an operations PR specialist in 2014. Woodson's Linkedin page says he has worked there since June 2014. Woodson turns 36 later this month.
Andre' Woodson also was inducted into Kentucky's Athletics 2019 Hall of Fame Class. Woodson and veteran NBA center DeMarcus Cousins headlined the six-member class.
Olympic gold medalist and rifle standout Henri Junghanel, women's basketball star Ai'da Mathies, cross-country runner Vic Nelson, and Kentucky's longtime track and field and cross country coach Don Weber also were honored last year.