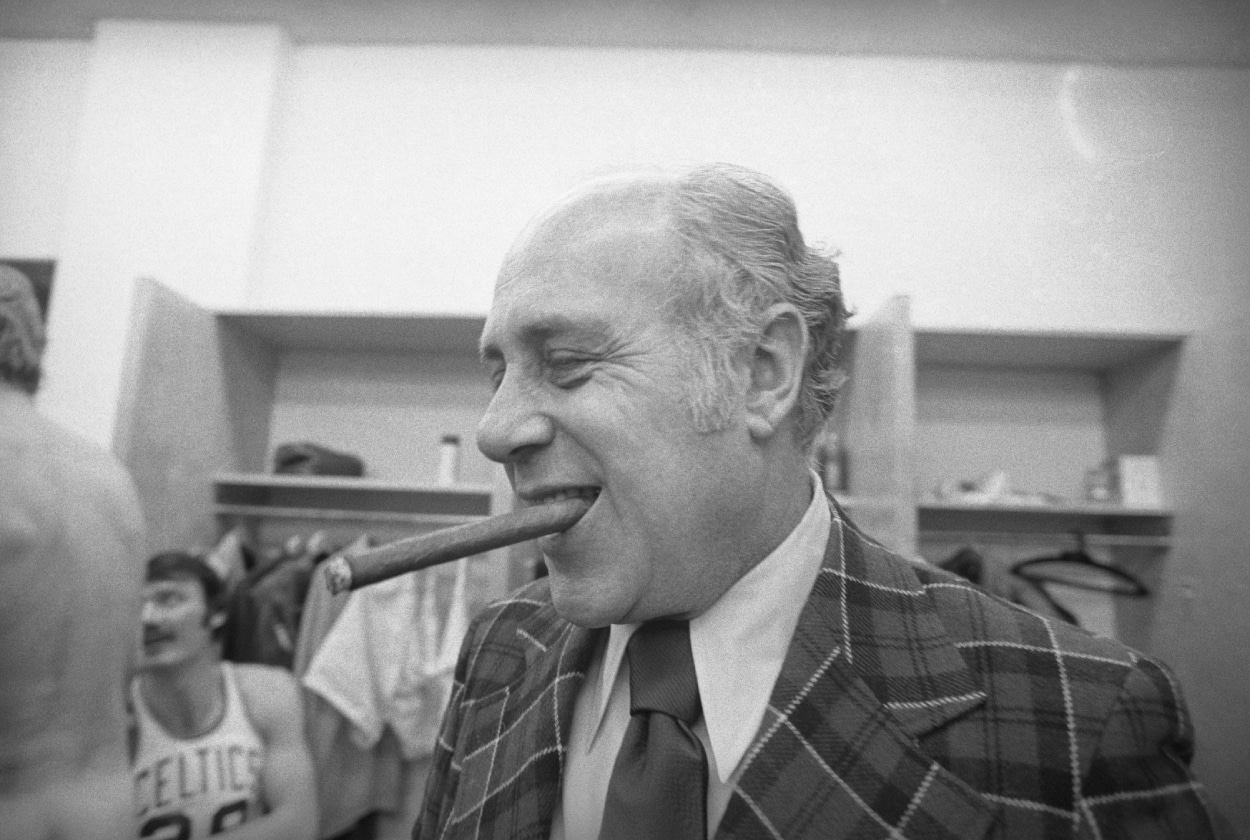 Red Auerbach Threatened His Team Before Playing at Cincinnati After He Heard About the Royals' Game-Day Promo
Former coach, president, and GM Red Auerbach has 16 championships with the Boston Celtics.
It wasn't even a meaningful game, but the legendary Red Auerbach wanted to win it almost as much as any playoff game. The fiery Boston Celtics coach put together one of the most motivational pregame speeches when his team traveled to play the Cincinnati Royals.
The Royals and Celtics weren't rivals. There were no playoff implications on the line. Still, Auerbach got his team together before the game, telling his players, "if we lose this game, they're dead." It all happened because of a game-day promotion the Royals had that day.
Red Auerbach desperately wanted to beat the Cincinnati Royals because of their game-day promotion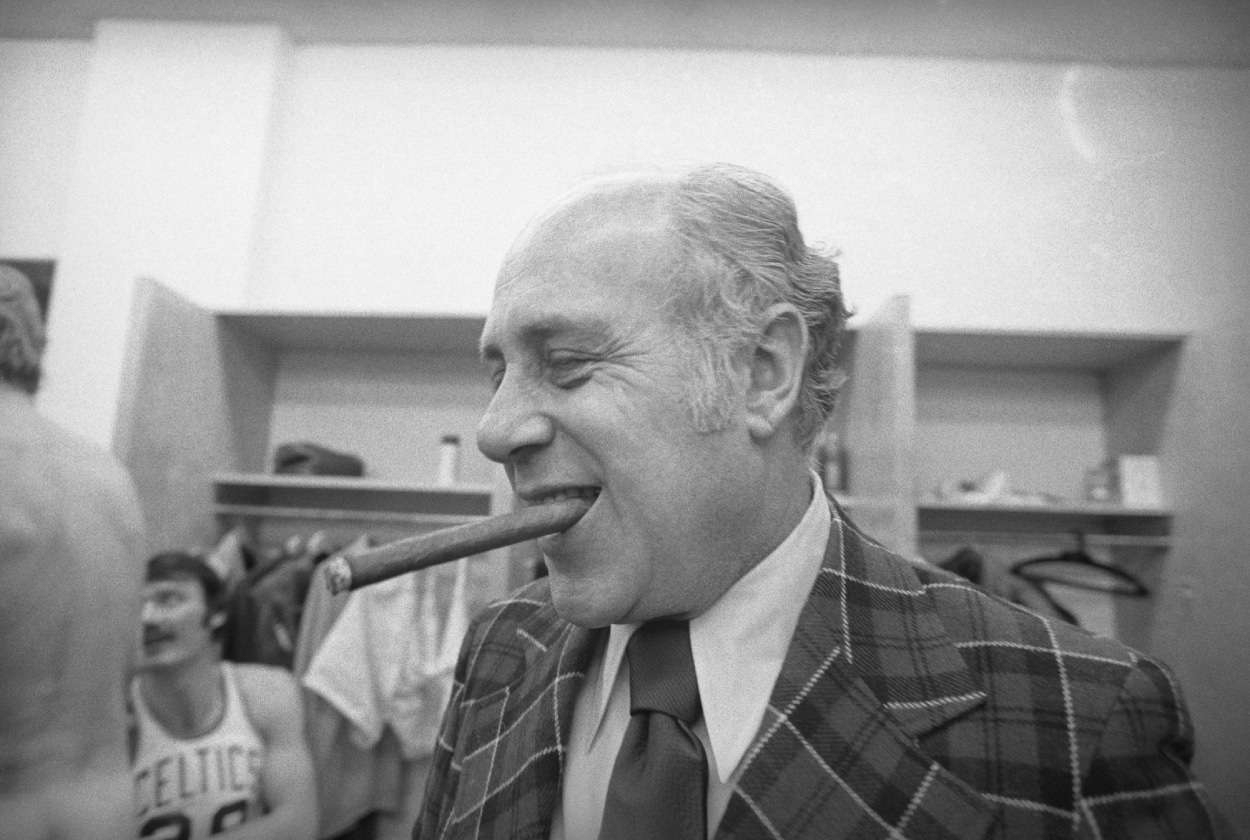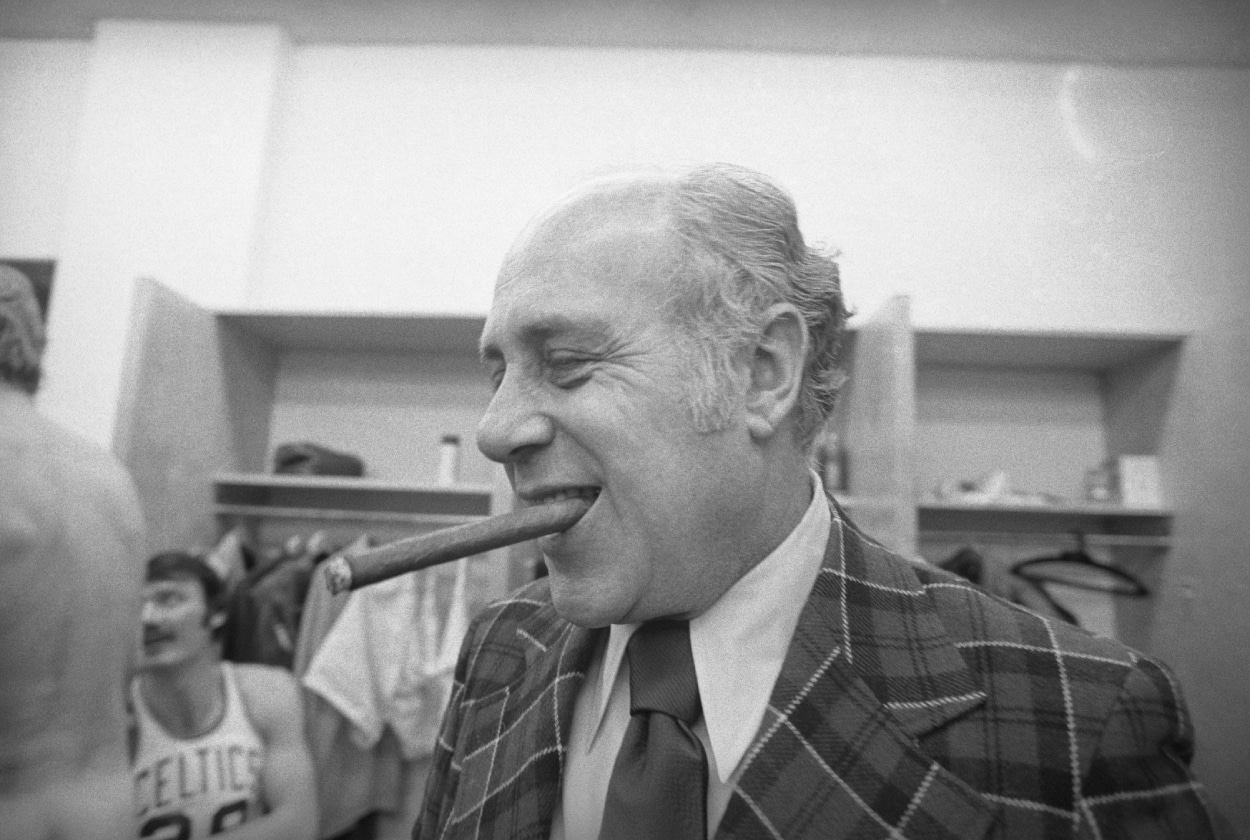 Outside of winning, Auerbach's trademark is his cigar. The legendary Celtics coach was known to light up victory cigars on the bench. During games that were out of hand, Auerbach would have a cigar lit well before the final buzzer sounded.
During a 1991 interview with Bob Costas, posted by NBA History & Legends on CLNS, Costas asked Auerbach if all that cigar lighting irked opponents.
"I didn't do it originally to annoy them," Auerbach said. "But after a while, it was charismatic, and I didn't care.
"We went into Cincinnati one time, and they gave out 5,000 cigars to every male in the place. So when they beat us, everybody's going to light up a cigar.
"You talk about a pregame motivating talk. I told them if we lose this game, they're dead. They're dead. I'd kill them. We'll, luckily we beat the heck out of them and they didn't light up."
Auerbach goes down as one of the biggest winners in all of sports
When Auerbach wasn't winning nine NBA championships, including titles in his final eight seasons, as Boston's coach, he was piecing together winning teams from the front office.
He drafted Larry Bird in 1978, but Bird elected to play his final college season at Indiana State. After frantic negotiations, the Celtics and Bird came to a contract agreement right before the 1979 NBA Draft, allowing the Celtics to keep Bird's rights.
In 1980, he swung a masterpiece of a deal with the Golden State Warriors. It was a trade that would shape the franchise for the next decade.
Boston owned the top pick in the 1980 NBA Draft and shipped it, along with the No 13 pick, to the Warriors in exchange for center Robert Parish and the third overall selection. With that third pick, Auerbach selected Kevin McHale, giving the Celtics arguably the best frontcourt in NBA history.
As Celtics president and general manager, Auerbach won seven more championships, giving him 16 rings for his career. He retired from coaching in 1966 and moved into the front office with positions as president and general manager. He remained with the team until his death in 2006.
Like Sportscasting on Facebook. Follow us on Twitter @sportscasting19 and subscribe to our YouTube channel.