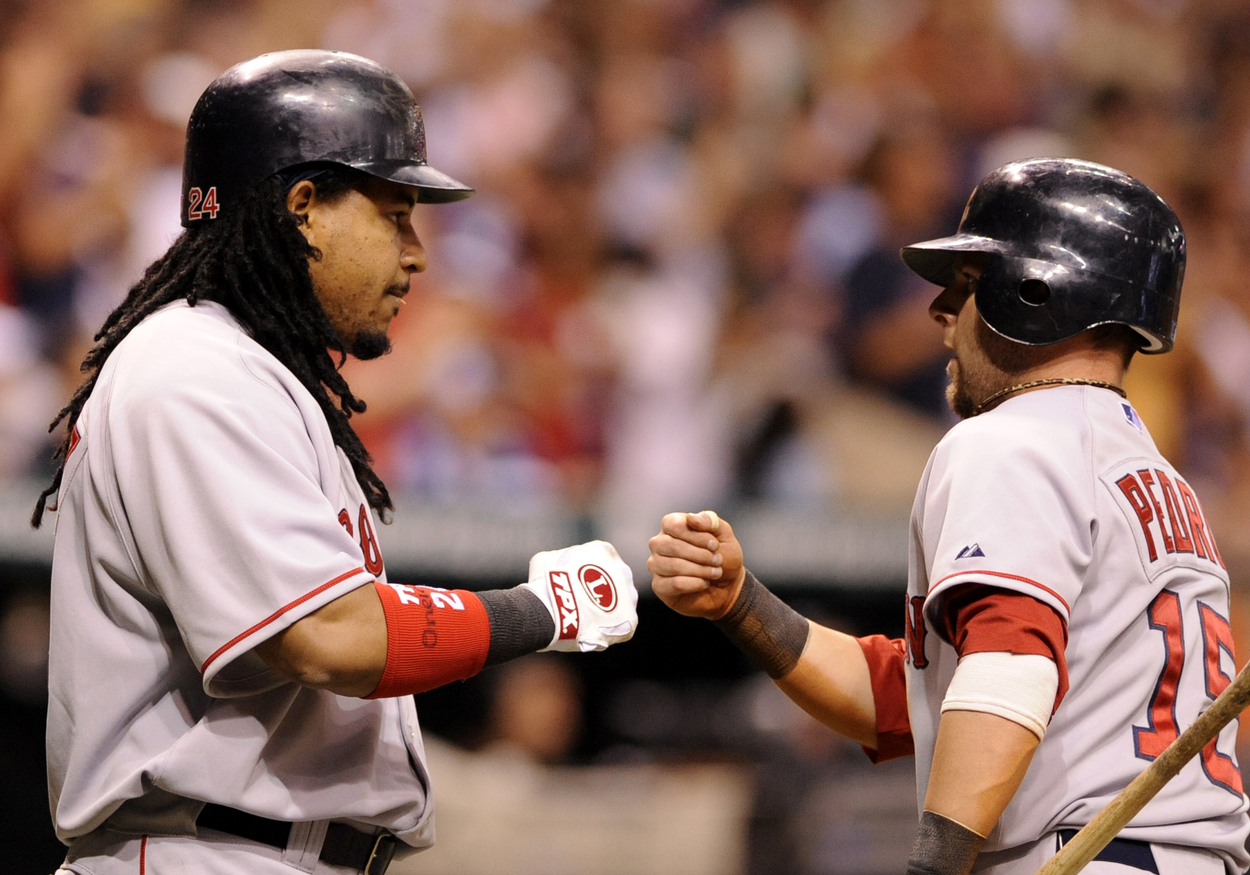 Red Sox Legend Dustin Pedroia Defended Manny Ramirez's Hall of Fame Candidacy Despite PED Use: 'I'm Not One to Judge Him on Anything Like That'
Although Boston Red Sox legend Dustin Pedroia is against the idea of taking performance-enhancing drugs, he says he doesn't judge former teammate Manny Ramirez.
Article Highlights:
Boston Red Sox legend Dustin Pedroia defended former teammate Manny Ramirez's National Baseball Hall of Fame candidacy 
Ramirez served two suspensions after testing positive for performance-enhancing drugs
The two-time World Series champion could find his way into the Hall of Fame even if the writers don't elect him
Boston Red Sox legend David Ortiz will enter the National Baseball Hall of Fame this summer. His former bash brother, Manny Ramirez, isn't on track to join him anytime soon.
Although Ortiz appeared on over 75% — 77.9%, to be exact — of the 394 Hall of Fame ballots this cycle, Ramirez's name was only checked on 114 ballots. Despite hitting 555 career home runs and winning two World Series titles, the 49-year-old's road to Cooperstown has been dragged down by two positive tests for performance-enhancing drugs.
Although the writers have spent the last six years judging Ramirez, former Red Sox teammate Dustin Pedroia has no intentions of doing the same.
Dustin Pedroia defended Manny Ramirez's Hall of Fame candidacy ahead of the 2022 election
Pedroia, in his own words, played baseball "the right way." Despite standing 5-foot-9 and weighing 170 pounds, Pedroia stuck around long enough to tally a .299 average, 1,805 hits, 140 home runs, 725 RBI, and 138 stolen bases from 2006-19. 
From 2007-17, the diminutive second baseman earned four All-Star nods, won the 2008 American League MVP, and secured two World Series rings; he won a third in 2018 despite missing most of that season with a lingering knee problem. He'll have his own intriguing Hall of Fame case when he hits the ballot for the 2025 cycle.
Pedroia spent the first three seasons of his career playing alongside Ramirez, who the Red Sox traded in July 2008. In a Jan. 25 appearance on The Athletic Baseball Show, the retired second baseman made it clear that, although he himself disagrees with players using performance-enhancing drugs, he doesn't think any less of Ramirez for testing positive twice.
"I value the game and try to play the game the right way and set the example for my kids. But everybody's different. Everybody has their own way about them. Everybody has their own choices to make, and I'm not one to judge him on anything like that. … I can just speak for me, but playing with Manny, you know, it felt good when he was hitting."

Dustin Pedroia
Ramirez, then with the Los Angeles Dodgers, tested positive for a female fertility drug in 2009 and served a 50-game suspension that summer. As a member of the Tampa Bay Rays, he retired in April 2011 after testing positive for performance-enhancing drugs again. Had he not retired, Ramirez would have served a 100-game suspension.
Ramirez's Hall of Fame progress appears to have stalled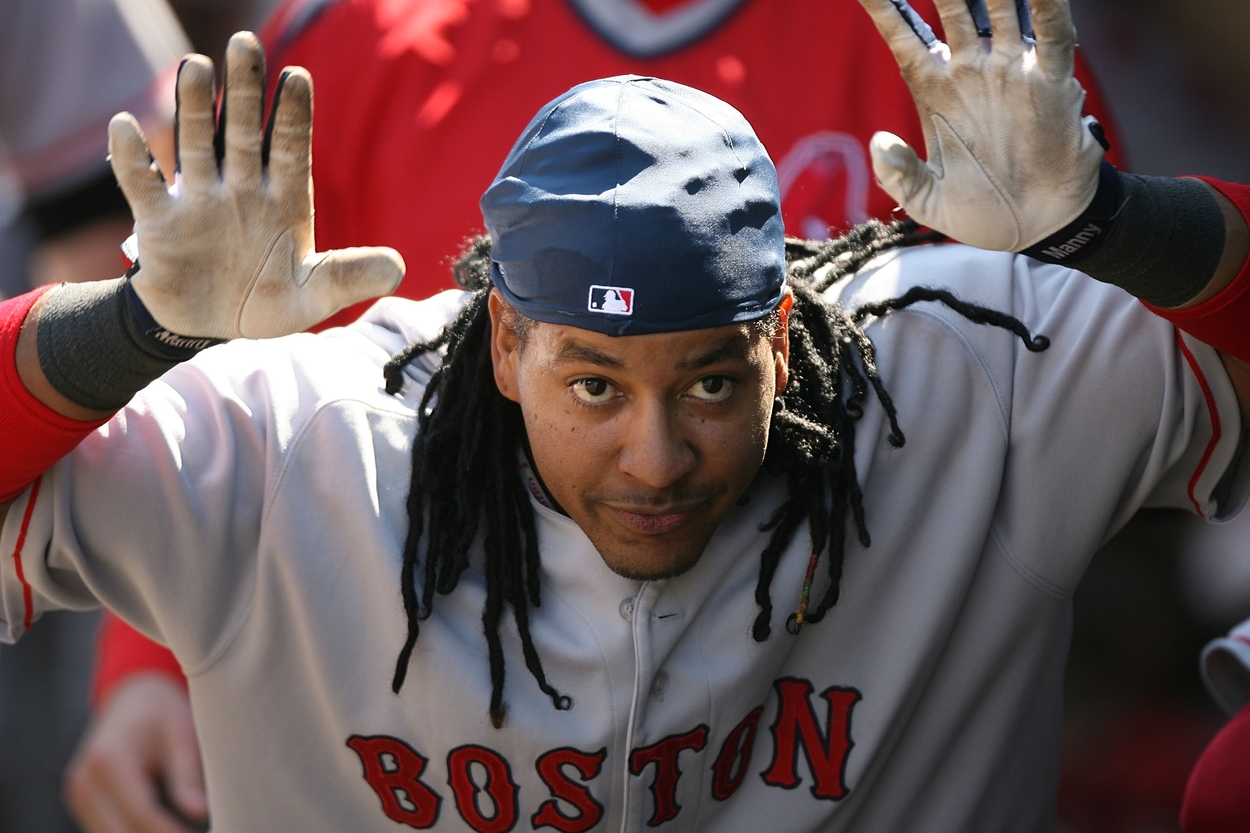 There currently exist three segments of Hall of Fame writers, at least with regards to performance-enhancing drug users. The first group is the one that kept Barry Bonds and Roger Clemens, among others, out for alleged steroid use. Although those players never served a suspension, their potential ties to PEDs rendered them unworthy of the Hall, according to those voters. Those are the voters who will never check Ramirez's name on their ballots.
A second group believes the likes of Bonds and Clemens should be in, either because they never served a suspension or because they used PEDs before the league modernized the testing policy. Ramirez, who tested positive twice and received two suspensions, likely won't find his name checked on their ballots.
Then, there is a third group, those who check off the best players regardless of whether or not they have ties to PEDs. They're the ones who have played a substantial role in Ramirez lasting on the ballot as long as he has thus far.
Ramirez's name was checked on 23.8% of ballots when he debuted in 2017. His 28.9% in 2022 marked his highest showing yet, and he has only five years of eligibility remaining.
Compare that to Alex Rodriguez, who admitted to using steroids in 2009 and served a 162-game suspension in 2014 following his involvement in the Biogenesis scandal. Nonetheless, 34.3% of voters checked Rodriguez's name this cycle, his first year on the ballot.
Ramirez, along with other proven and suspected PED users, could eventually find himself in Cooperstown without the writers' help
Barring a remarkable push in the coming years, it appears unlikely that the much-criticized Baseball Writers' Association of America, or the BBWAA, will elect Ramirez. However, he can still earn enshrinement in the Hall of Fame without its help.
The Today's Game Committee, which studies eligible Hall of Fame candidates whose greatest contributions came from 1988-2016, meets twice every five years. The 16-member subcommittee, which includes Hall of Fame members, executives, and media members, discusses players no longer eligible for induction by the BBWAA, along with managers, umpires, and executives; the BBWAA only votes for players.
Every member of the committee votes for ten candidates, meaning a committee member could theoretically use seven votes on players and use the other three spots for former Seattle Mariners manager Lou Piniella, ex-Philadelphia Phillies skipper Charlie Manuel, and longtime New York Yankees owner George Steinbrenner when the group votes in December.
Bonds, Clemens, former Red Sox star pitcher Curt Schilling, and Chicago Cubs great Sammy Sosa are all eligible to appear on the 2022 Today's Game ballot. If the process does not change and the bulk of the BBWAA doesn't wake up and realize Ramirez is a Hall of Famer, he could be eligible for the Today's Game committee as early as later this decade.
The BBWAA has five years left to decide if they believe Ramirez is worthy of a bronze plaque or if they're going to continue judging him. At least Pedroia, a man who takes pride in having played baseball "the right way," knows where he stands.
Like Sportscasting on Facebook. Follow us on Twitter @sportscasting19.