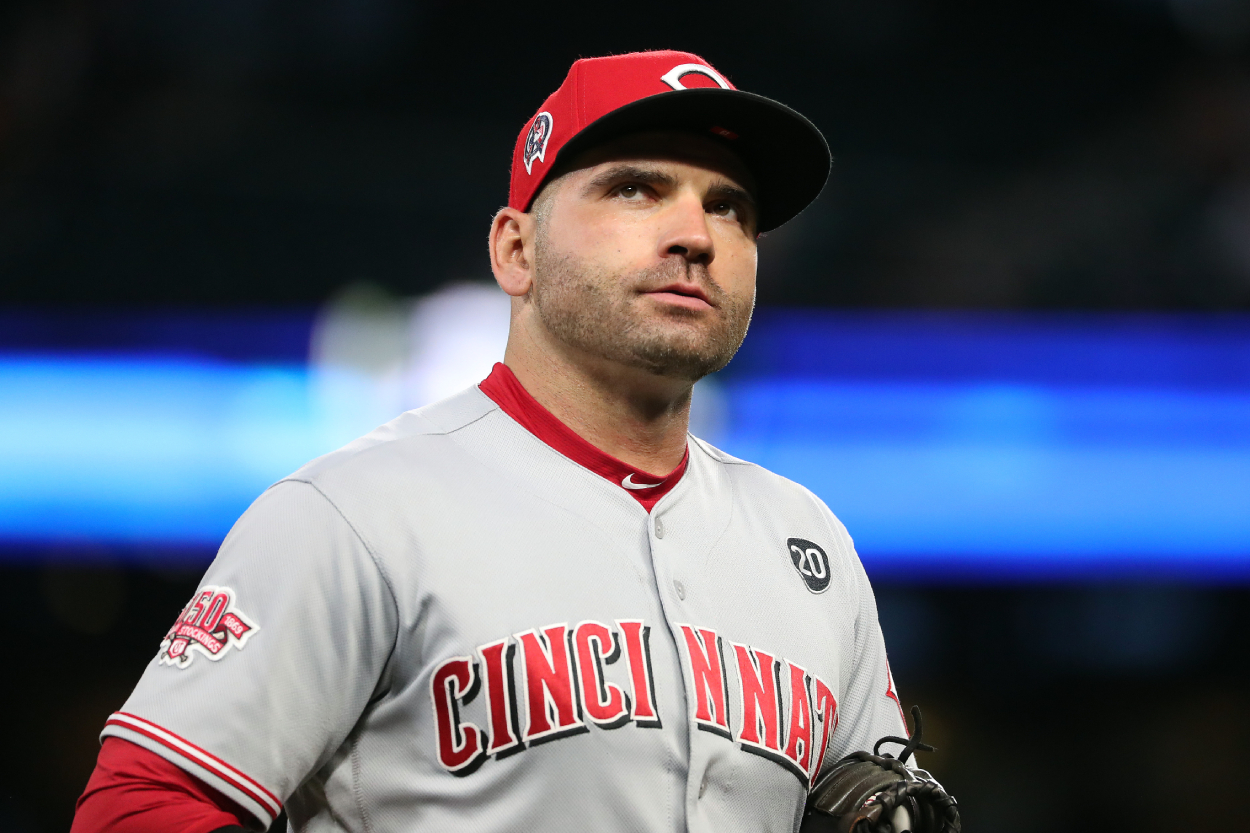 Reds Star Joey Votto Blasts Cardinals Fans in a Profanity-Laced Message: 'How'd You Like That?'
The Cincinnati Reds swept the St. Louis Cardinals in a four-game series for the first time since 1990, and Reds star Joey Votto was pumped. In fact, the 2010 NL MVP recently sent out a profanity-laced message to Cardinals fans, which could very well add another chapter to the teams' storied rivalry.
The Cincinnati Reds and St. Louis Cardinals have one of the best rivalries in baseball. Despite the Cardinals' two-decades-long success making things pretty one-sided, the ball clubs almost always have a heated series that results in players or fans talking trash.
Now, a new chapter can be added to this storied rivalry as Reds star Joey Votto recently sent out a profanity-laced message to Cardinals fans.
The Cincinnati Reds swept the St. Louis Cardinals in a 4-game series
The Reds and Cardinals have gone back-and-forth so far in 2021. Cincinnati won two of three games in the teams' season-opening series, but the Cardinals swept the Reds just a few weeks later.
In their most recent meeting, though, the Reds got revenge by sweeping the Cardinals in a four-game series. It was the first time Cincinnati had swept the Cards in four games at St. Louis since 1990.
While the Reds' wins helped tighten the gap between them and the Cardinals in the National League Central — and got them a little closer to first place in the division — it also gave them some momentum. They desperately needed things to start going their way after dropping from 19-19 on May 16 to 22-28 on May 29. Cincinnati then sat at 24-29 before facing St. Louis.
However, that's not all the sweep did for Reds players. It also gave them a reason to talk trash.
Joey Votto had a stern message for Cardinals fans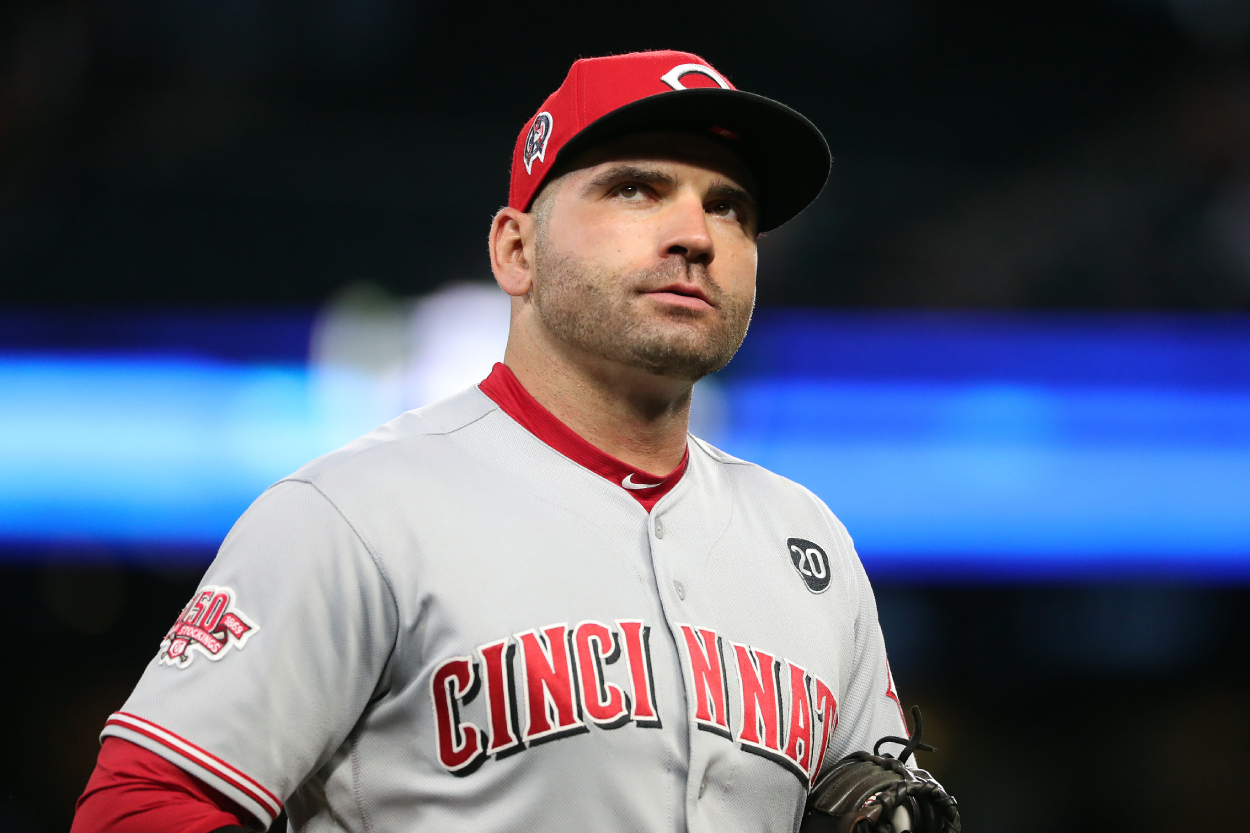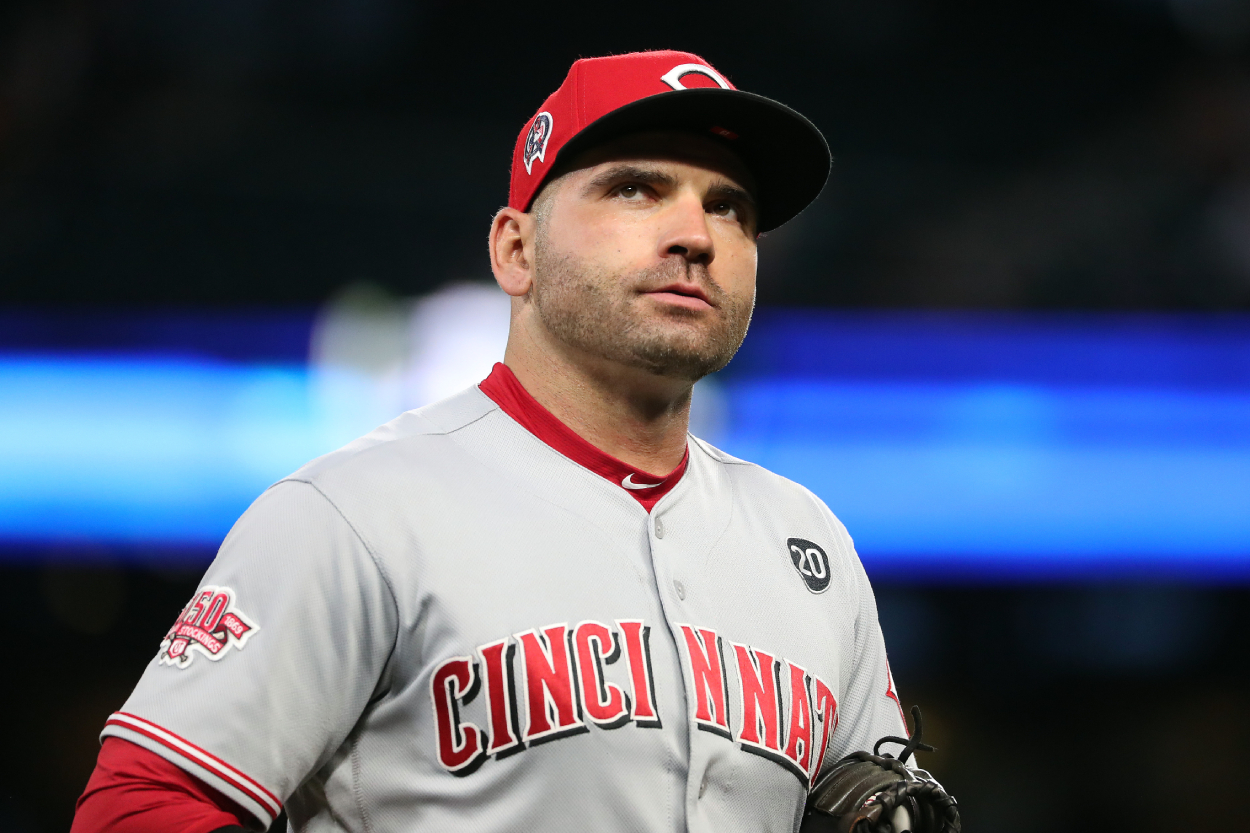 Votto, the 2010 NL MVP, didn't play in the recent series against the Cardinals due to injury, but he was hyped about his team getting the sweep, so he sent a stern message to Cardinals fans.
"It's hard to win four games in a row; it's especially hard to win four games in a row on the road," Votto said, per a video from WLWT's Brandon Saho. "… We had some s***-talkin' motherf****** in St. Louis after the first series sweep. It's kind of nice to go at their road ballpark and let them have it."
Votto ultimately revealed that he wasn't too happy with how Cardinals fans reacted to their team sweeping the Reds earlier this season.
"We had some people sweeping brooms and s*** like that while we were leaving," Votto said. "So, how'd you like that? How'd you like that?"
The first baseman's comments could make things interesting whenever the teams meet next, but he also just added another chapter to the Reds-Cardinals rivalry.
Joey Votto added another chapter to the heated Reds-Cardinals rivalry
Tempers have already flared between the Reds and Cardinals this year. After Reds outfielder Nick Castellanos scored in a game during their season-opening series, he flexed and yelled over Cardinals pitcher Jake Woodford, which resulted in the benches clearing. The MLB ultimately suspended Castellanos for two games.
That game, though, is just one of many on the list of heated meetings between the two teams as the players and fans have been at each other's throats for the past decade. 
Their hatred for one another even dates back to 2010, when comments made by former Reds second baseman Brandon Phillips led to a confrontation at the plate between him and Cardinals catcher Yadier Molina. The teams then got into a brawl that resulted in former Reds pitcher Johnny Cueto getting suspended for seven games. Dusty Baker, who was the Reds' manager at the time, and former Cardinals manager Tony La Russa were also suspended.
Over the past 10-plus years, three things in life have been guaranteed: death, taxes, and the Reds and Cardinals hating each other. Votto's comments certainly won't be the end of this.
Stats courtesy of Baseball Reference