Reggie Bush Just Provided a 4-Word Update on His Fight to Regain His Heisman Trophy
College football fans won't rest easy until Southern California legend Reggie Bush has his Heisman Trophy back on his mantle.
It's been over 11 years since the NCAA stripped Bush, the 2005 Heisman winner, of his prestigious award. However, the All-American running back recently made it clear that he expects the saga to have a happy ending.
Reggie Bush said fans should 'stay tuned' on his pursuit of regaining his Heisman Trophy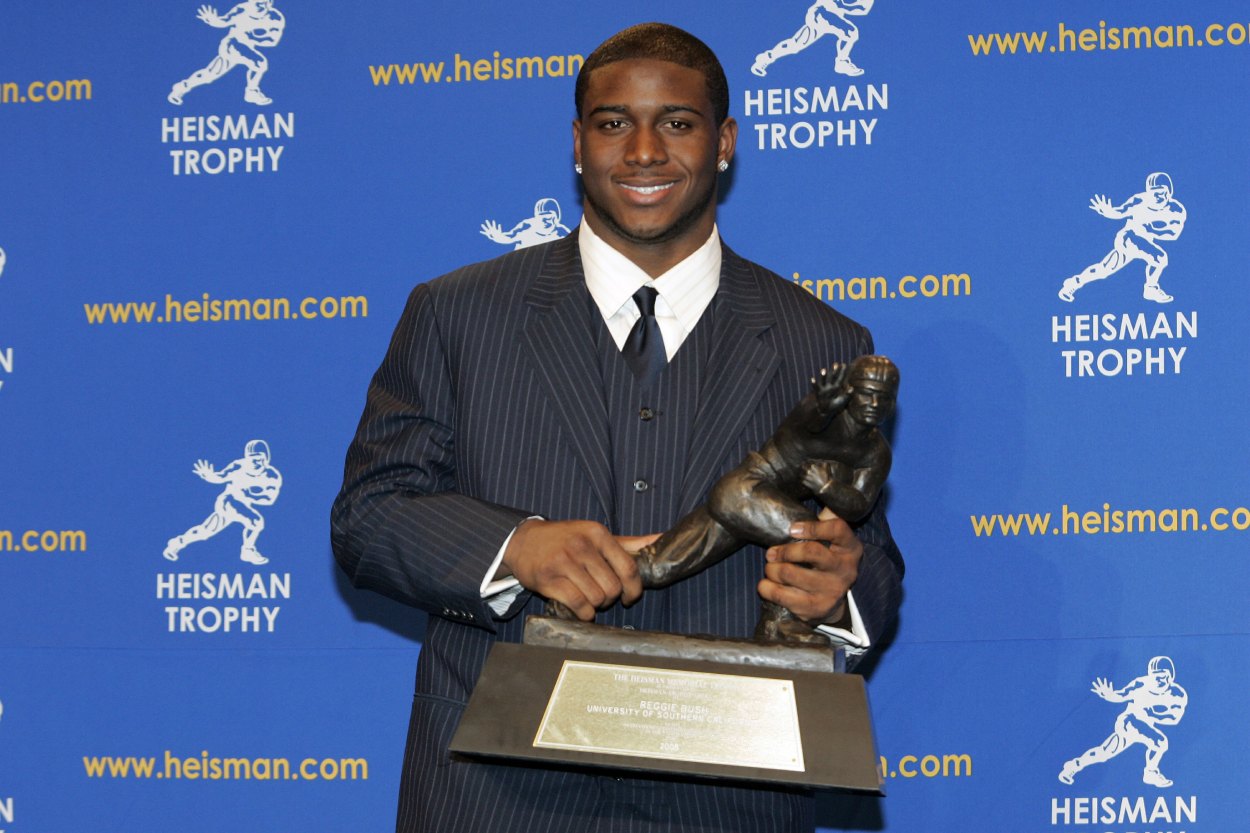 In the era of NIL (name, image, and likeness), players are free to build their own brands. The days of schools getting punished if an energy drink company pays a player to promote its business are over.
In other words, someone like Bush — who served as the face of college football during his career yet couldn't profit off his likeness during that time — has a far greater opportunity to avoid trouble. The NCAA determined he received approximately $300,000 in cash and gifts during his playing career.
Bush lost his Heisman Trophy, and USC was sanctioned in 2010 upon the investigation's conclusion. With the NIL movement in full swing, college football fans and media members have called for the NCAA to give the legendary running back his award back.
​​In a recent interview with the New York Post, Bush reiterated that he still hopes to regain his Heisman. 
"It's not done yet," said Bush, who told his fans to "stay tuned for much more."
Post columnist Steve Serby asked Bush if he believes he'll get the award back.
"Without a doubt," Bush said. "Without a doubt."
The NCAA is staying unnecessarily stubborn on giving Bush his Heisman back
The NCAA only believes in forgiveness to an extent. Despite the new NIL rules, the organization announced that previous penalties and violations would "not be re-evaluated or reconsidered."
Why?
Let's really think about this for a second. Bush didn't lose his Heisman Trophy because he killed someone, operated a drug ring, or worked with organized crime to shave points during Trojans games. He received money using his name, image, and likeness during a time when USC and the NCAA also profited off promoting the star running back. The only difference is the school could legally do it and he couldn't.
No one will dispute that Bush broke the rules, as unfair as they may have been. However, the NCAA now exists in a time where a local car dealership can pay a player to promote their business. The most successful student-athletes, whether they're football players or women's golf players, can use their brand to get paid … which is what Bush did in a time when he couldn't.
What does the NCAA realistically gain from being so stubborn? USC dealt with the sanctions, and Bush has been without his Heisman for over a decade. That should be enough punishment at this point. 
College football fans still celebrate Bush as the 2005 Heisman Trophy winner
Bush is the 2005 Heisman Trophy recipient for all intents and purposes, even without having the award in his mancave. College football fans, even those who watched him carve up their defenses each year, still celebrate him as the man who won the award 16 years ago.
The NCAA loves erasing history, at least in the factbooks. It's a ridiculous premise that should have gone away decades ago, long before we found ourselves in debates about the College Football Playoff or games being on ESPN+. But the association and the schools can't erase memories.
If you look at Major League Baseball's official record books, Pete Rose — who the league permanently banned for gambling — is still considered the all-time hit king. The NFL included O.J. Simpson on its 100th Anniversary All-Time Team in 2019 despite the running back's controversial history and a nine-year prison sentence for armed robbery. Yet the NCAA doesn't want to give Bush his award back.
Memories and emotions are forever, and Bush has already won in that regard. He sounds like a man who expects to record another victory, one involving a physical award, very soon.
Like Sportscasting on Facebook. Follow us on Twitter @sportscasting19.