Reggie Bush 'Knows' He Can Help a Team in 2020
Time heals all wounds, but it certainly hasn't affected Reggie Bush's confidence.
Although it has been years since Reggie Bush played an NFL down, the former New Orleans Saints star is sure he'd contribute if given a chance in 2020. Here's what Bush said about a possible comeback attempt.
Reggie Bush was an electric player when healthy
RELATED: Reggie Bush Made $1.5 Million During One of the Worst Seasons in NFL History
Reggie Bush's resume at both the college and professional level speaks for itself. At USC, he wasn't just one of the greatest running backs in college football history, but a dangerous all-purpose weapon who excelled in the passing game and on kick returns.
Bush ran for 3,169 yards and 25 touchdowns in three seasons at USC. He totaled 1,740 yards and 18 touchdowns from scrimmage in 2005, the same year he won the Heisman Trophy and led USC to the national title game.
The New Orleans Saints selected Bush with the second overall pick in the 2006 NFL draft. He totaled 5,940 rushing yards and 36 touchdowns in 11 NFL seasons and won a Super Bowl ring in February 2010.
Reggie Bush also caught 477 passes for 3,598 yards and 17 touchdowns. He returned four punts for touchdowns, three of which came in 2008.
Bush 'knows' he can contribute to a team in 2020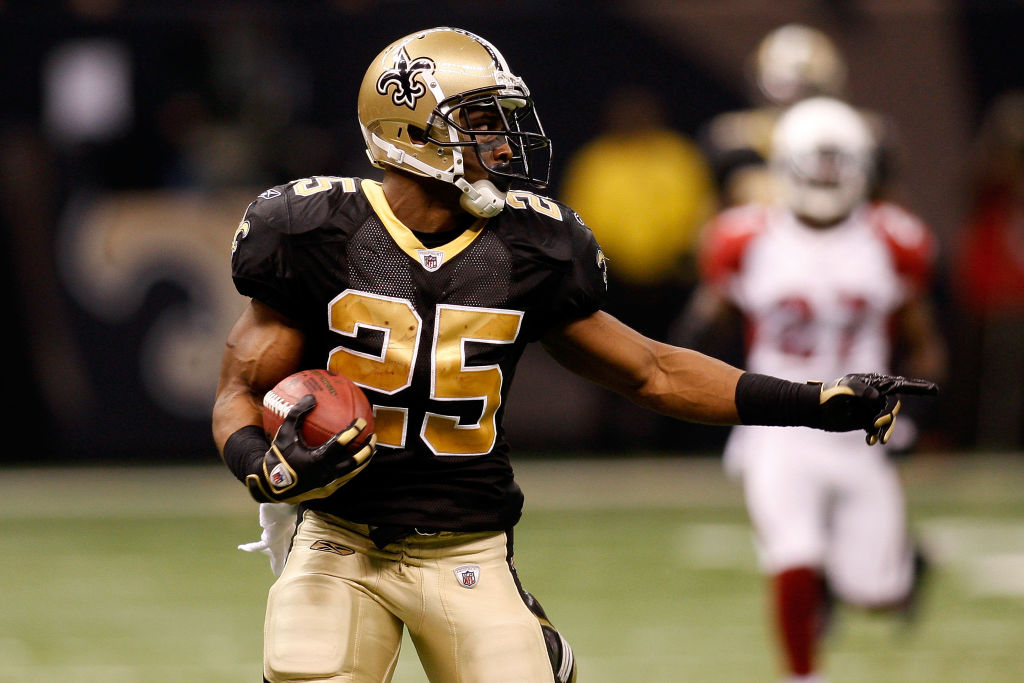 RELATED: Ex-USC Star Reggie Bush Wishes He Got Better Financial Advice
Reggie Bush earned $63 million in 11 NFL seasons, most of which came from the Saints. He is among the highest-paid running backs in NFL history.
Reggie Bush played his final NFL season at 31 years old, when he averaged -0.3 yards per carry on 12 attempts with the 2016 Buffalo Bills. Bush recorded 90 receiving yards on seven catches, but his inability to pick up first downs on the ground sealed his fate.
Could we eventually see Bush play in the NFL again, though? In a recent interview with Playboy, Bush admitted he believes he can contribute to a team if given the opportunity in 2020.
Bush made it clear: He doesn't believe he can help teams — he "knows" it.
Will Reggie Bush ever play in the NFL again?
RELATED: How Much Money Did Reggie Bush Make in the NFL?
Reggie Bush averaged 3.4 yards per carry in his last three NFL seasons. His 2015 season ended prematurely because of a fluke injury and by 2016, it was clear Bush wasn't his old self.
Bush turned 35 on March 2. Only six NFL running backs played last season at over 30 years old and one, Marshawn Lynch, unretired and joined the Seahawks in late-December.
By his own admission, Reggie Bush doesn't think he'll return to the gridiron anytime soon. Bush now works on Fox's college football coverage and, for the most part, has left his NFL dreams behind.
Still, as Bush explained to Playboy, those thoughts still linger in his head.
"You guys turn on the TV on Sunday, and you're like, 'Oh, s—. This is the greatest sport in the world.' And it is one of the greatest sports in the world. But it comes with a price. It comes with sacrifices. And those sacrifices are what people don't see.

"The game will always be one of my first loves, but I'm happy with where I'm at right now."