Reggie Miller Absurdly Claims Isaiah Stewart 'Going Rambo' Is Responsible for LeBron James' Suspension
The hot topic in the NBA right now is the altercation between the Detroit Pistons and Los Angeles Lakers. LeBron James has been in the crosshairs after receiving the first suspension of his career for hitting the Pistons Isaiah Stewart in the face while the two battled for a rebound.
Whether LeBron did it intentionally or not is irrelevant at this point — The King is suspended one game and Stewart two. But now Reggie Miller has weighed in on the subject, and the Indiana Pacers great somehow believes it's Stewart's fault that James picked up a suspension.
Isaiah Stewart was in a fighting mood after LeBron James' fist connected with his face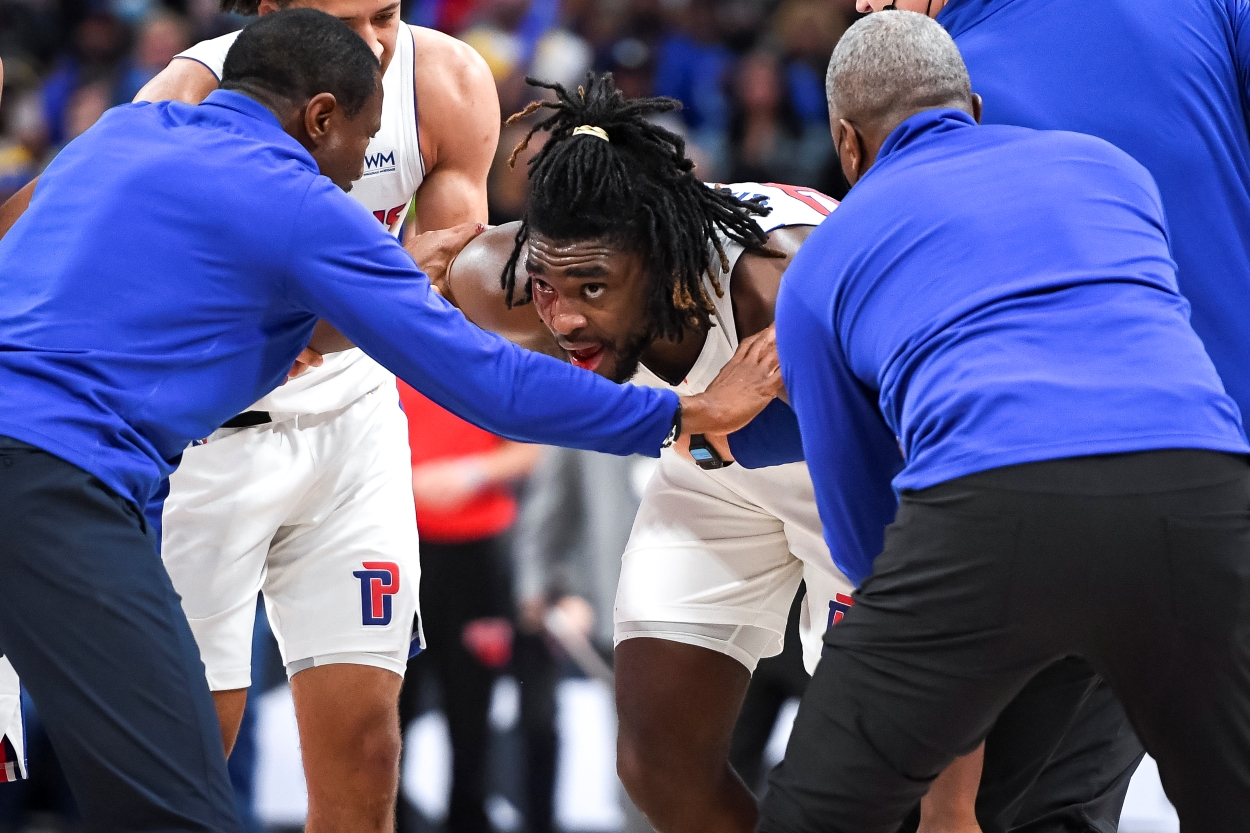 LBJ and Beef Stew were jockeying for position to rebound a free-throw during the two teams' matchup in Detroit. James — listed at 6-foot-9 and 250 pounds — was trying to fight off Stewart — listed at 6-8, 250 pounds.
In the process, LeBron's fist connected squarely with the middle of the second-year forward's face. Stewart had words for LBJ, some shoving ensued, and players from both teams cleared the bench to get in the middle and try to diffuse the situation.
The 20-year-old Washington product, though, wasn't going gently into that good night. He was eventually restrained and then broke free to go after LeBron again. The dust began to settle as Stewart walked to the other end of the floor — until he broke free and sprinted at the four-time MVP once more.
Ultimately both players were ejected, and a bloodied Stewart left the court.
The following day, the NBA suspended both players. But to hear Miller tell it, Stewart was the one who got punched in the face and bled all over his jersey, yet is in some way responsible for King James' suspension.
Reggie Miller claims Stewart "went Rambo" and his reaction is what got LBJ suspended
Stewart wasn't about to leave the floor without taking his shot at James. It took a handful of players and coaches to hold him back. And then to hold him back again.
But now Reggie wants to play the "it's your fault I got in trouble" tattletale game as he defends LeBron.
On TNT's Inside the NBA, Miller said that if Stewart hadn't reacted so fiercely, the Lakers superstar would have gotten off scot-free:
I think the reaction by Stewart is probably what got LeBron James the one-game suspension because Stewart was okay before he started to taste the blood. He didn't know he was bleeding at first, and then once it started to trickle down and into his mouth, he went Rambo.

If it wasn't for the crack to the face, I think it would've been a flagrant two, no suspension. But I think the reaction by Stewart is probably what elevated for LeBron to get the one-game suspension, in my opinion.

After the hit, the initial crack, when LeBron went over to him – I do think LeBron went over to him to make sure he was alright, he was fine then. It's once he tasted the blood that the dog started to come out.

Reggie Miller on LeBron James' one-game suspension after the Lakers-Pistons scrum
Again, to clarify: James hit Stewart in the face, Stewart began bleeding profusely, but it's Isaiah's fault The King has to get off his throne for a night.
Alright, Reg.
The Lakers have bigger problems to address, regardless
Heading into a game against the New York Knicks at Madison Square Garden — without Bron-Bron as he serves his suspension — LA is sitting at .500 on the season at 9-9. LBJ has now missed 11 of his team's first 19 games.
Stewart and the Pistons have entirely different problems. Detroit is deep into the throes of a rebuilding process. Once this blows over, his team will retreat into the background again.
James, though, needs to get his squad back in gear. Anthony Davis and Russell Westbrook haven't been enough to carry the Lakers in his absence. The four-time MVP and four-time NBA champion needs to do his job as LA's leader if he has any hope of winning his fifth title.
According to Miller, though, that process should have already started. If it weren't for a 20-year-old getting upset after being punched in the face, LeBron would be on the floor with his teammates.
Just like Jack Nicholson, it seems, Reggie can't handle the truth.
Like Sportscasting on Facebook. Follow us on Twitter @sportscasting19.