Reggie Miller Is Worth a Lot of Money Despite Not Winning One Ring With the Indiana Pacers
Reggie Miller was a Hall of Fame player for the Indiana Pacers. He is also one of the greatest shooters to ever live. However, even though he was a great player, Miller never won an NBA championship. He is on a list with guys like Karl Malone and John Stockton as guys who were excellent players but could never win a title. Like them, though, not winning a ring did not negatively impact his net worth.
Reggie Miller was a great player for the Indiana Pacers
The Indiana Pacers selected Reggie Miller with the 11th overall pick in the 1987 NBA draft. After being a nice role player in his rookie season, Miller became a star in his second and third seasons. He averaged 16 points per game in 1988-89, and then Miller earned his first All-Star selection in 1989-90 as he scored 24.6 points per game.
From that season on, Miller scored 20 points per game or more in six of eight seasons from 1989-90 through 1996-97. He also earned two more All-Star selections during that time.
Miller earned two more All-Star selections in 1997-98 and 1999-2000, but his stats began to decline then. He did not average over 19.5 points per game once from 1997-98 through 2004-05. His last season was ultimately in 2004-05.
Here are his overall career accomplishments.
Hall of Famer
Five-time NBA All-Star
Three-time All-NBA honoree
18.2 career points-per-game average
2,560 career three-pointers (second all-time) 
Despite all of this success, though, Miller could not lead the Indiana Pacers to the mountaintop.
Not winning one NBA championship
Reggie Miller did not win one championship with the Indiana Pacers, but he was on some excellent teams. After missing the playoffs in his first two seasons, the Pacers only missed the playoffs once the rest of his career.
The Pacers then went to back-to-back Eastern Conference Finals in 1993-94 and 1994-95. They, however, lost in seven games in each of those series. Miller then helped lead the Pistons to three more consecutive Eastern Conference Finals from 1997-98 through 1999-2000. They lost to Michael Jordan and the Chicago Bulls in seven games in 1997-98, though, and to the New York Knicks in six games in 1998-99.
However, in 1999-2000, the Pacers finally reached the NBA Finals. Reggie Miller played exceptionally well in the Finals too as he averaged 24.3 points per game, including a 35-point game in Game 4. The Pacers ultimately lost to the Los Angeles Lakers in six games, though.
After that season, the Pacers only made it as far as the Eastern Conference Finals once during the rest of Miller's career. The Pacers have not made it back to the NBA Finals since Miller's retirement and have only made it to the Eastern Conference Finals twice.
Miller has a massive net worth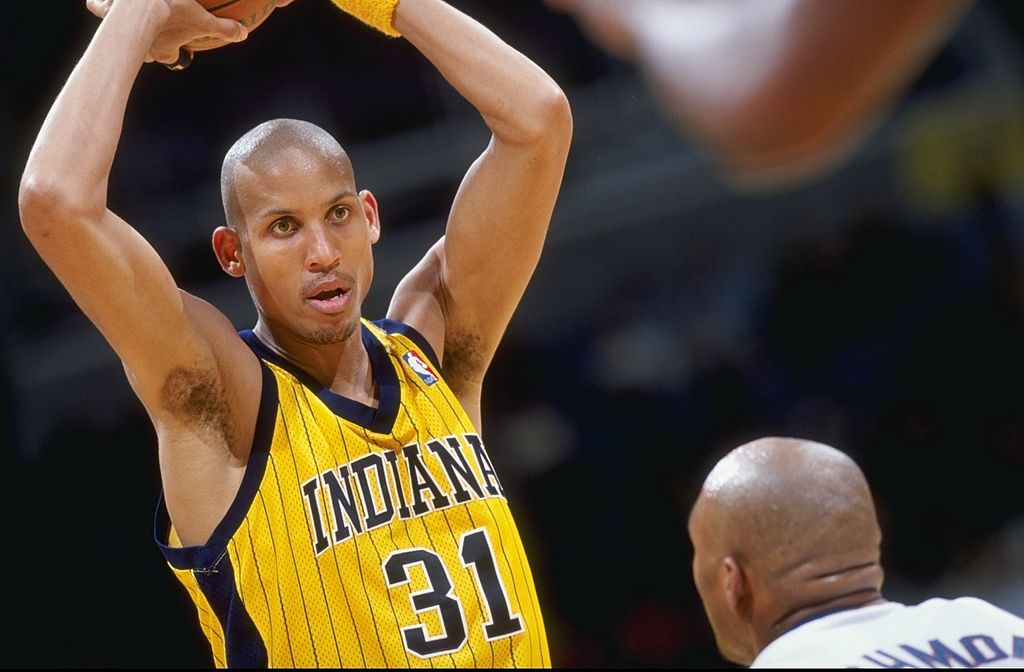 Reggie Miller never won a championship during his career, but his play was stellar enough for him to make a lot of money. That is not all of the money he has made throughout his lifetime, though, as he is currently an analyst for TNT. So, who knows how much money he has made while doing that.
Because of all of the money that Miller has made throughout his life, he has racked up a massive net worth. Celebrity Net Worth reports that Reggie Miller's net worth is an estimated $90 million. That is a ton of money despite never winning an NBA championship.
Reggie Miller is one of the greatest players of all-time. He is also one of the greatest shooters to ever exist. This, along with the fact that he is one of the best analysts on TV right now, has allowed Miller to rack up a huge net worth. Who needs an NBA championship?