Reggie Miller Relived an Iconic Moment in His Career Thanks to a Strange Birthday Wish From His Son
Reggie Miller's son might only be eight years old, but he wanted inflammatory imagery on his birthday cake.
The Indiana Pacers legend and NBA Hall of Famer shared the images from his son Ryker's eighth birthday celebration, notably a picture of himself making the infamous "choke" symbol plastered all over the cake. Shield your eyes, Spike Lee.
Reggie Miller making the "choke" sign at Knicks fan Spike Lee is one of the lasting images in NBA history
The Indiana Pacers and New York Knicks had one of the best rivalries in the NBA in the mid-1990s, and Reggie Miller was at the very center of it all.
Miller is one of the most reputable trash talkers in league history. He was especially vocal whenever he played the Knicks, jawing with John Starks and, on a famous occasion, film director and Knicks superfan Spike Lee.
The Pacers and Knicks were tied at two games apiece in the 1994 Eastern Conference Finals, with Game 5 set to be played on New York's turf. Miller made sure to turn Madison Square Garden into his own playground.
The Knicks led by 12 points heading into the fourth quarter, but the ever-confident Miller told Lee his team was about to let that lead slip away. He held up four fingers and flashed the choke sign at Lee during a stoppage in play, boldly suggesting the Pacers would inevitably claw their way back. Indiana did just that, thanks to Miller.
Reggie scored 25 of his 39 points in the final period, glaring at Lee after almost every three-pointer and almost single-handedly delivering the Pacers to a win. Indiana would drop the next two games and lose the series, but Miller's Game 5 heroics and interactions with Spike made for some of the best theater in NBA history.
The "choke" was long before Ryker's time. Nevertheless, Miller's son still wanted to commemorate the moment during his birthday celebrations.
Ryker Miller honored his father with an incredibly unique birthday cake
Ryker Miller might take the cake, so to speak, when it comes to birthday directions.
Reggie's oldest child had something special in mind for his eighth birthday on Sunday. Ryker asked for his cake to be shaped like a shoebox, with the shoe on top displaying his father making the "choke" sign at Spike Lee.
This has to be one of the coolest tributes ever and incredibly fitting for the son of Reggie Miller. It stands to reason the trash-talking legend's son wanted to celebrate another year by referring to one of the more unforgettable and depictive moments in his father's career.
Moreover, there is a certain humor in Miller's 8-year-old son unintentionally shading Knicks fans even if it's more likely the intentions were harmless.
Reggie Miller's family life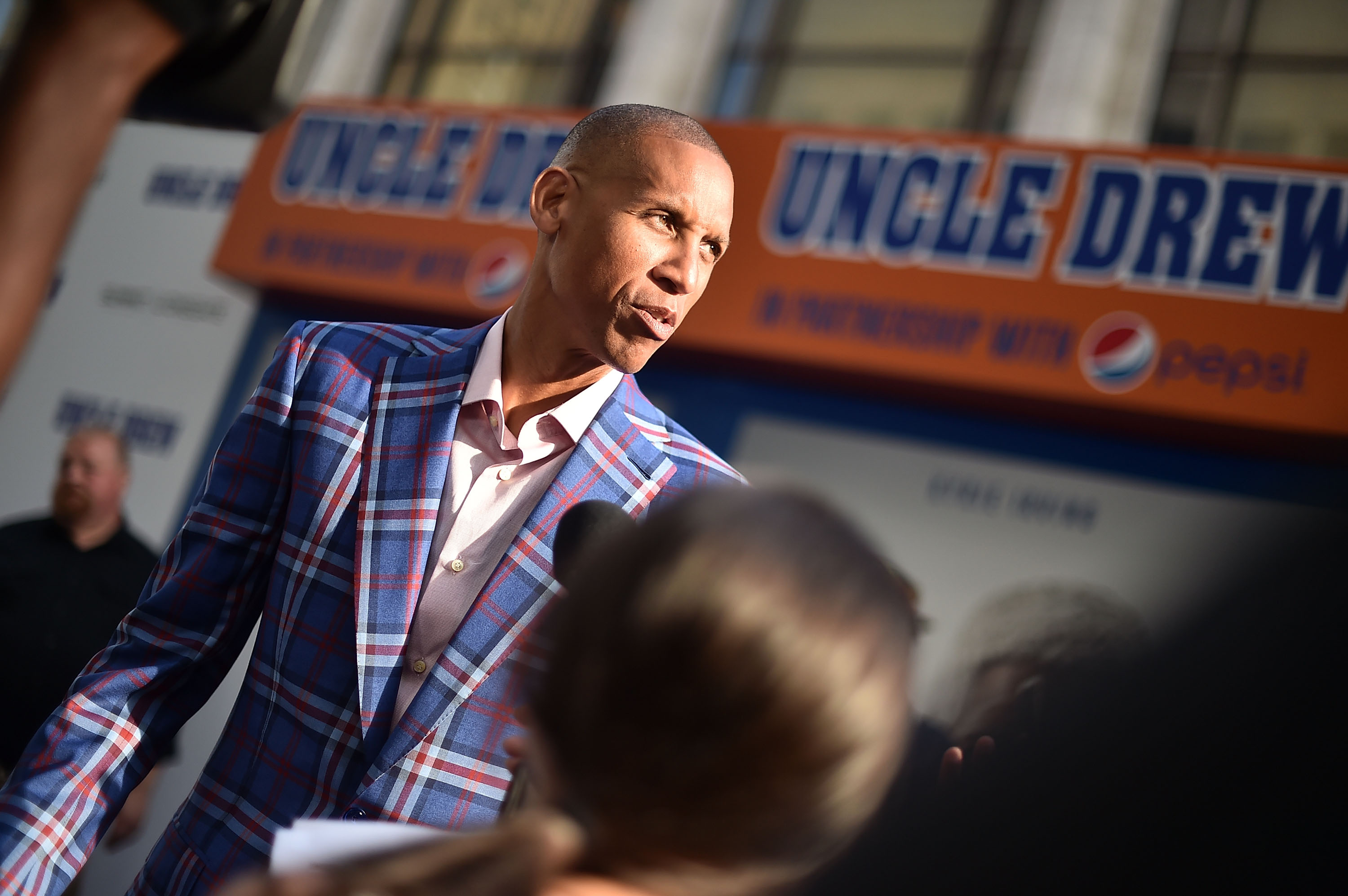 Reggie Miller had a contentious separation from ex-wife Marita Stavrou in April 2021 but has since settled into his routine as a partner and father.
Miller has three children with Laura Laskowski, whom he has been with for 17 years. He has kept much of his personal life with family somewhat under wraps, including the birth of his daughter earlier this year.
However, Miller clearly relished the chance to show off his son's birthday cake and the notorious "choke" image stamped all over it, especially at the expense of Lee and Knicks fans everywhere.
Stats courtesy of Basketball Reference.
RELATED: Kobe Bryant Admitted He Stole 1 of Reggie Miller's Signature Moves: 'Of Course I Did'