Reggie White and Steve McMichael Took the Packers-Bears Rivalry to WCW, and Fans Hated It
Steve McMichael played a part in the famously dominant defense for the 1985 Super Bowl champion Chicago Bears. He may be equally famous for his second career. Wrestling fans remember "Mongo" for his four-year run as a fighter and commentator in the now-defunct World Championship Wrestling. Toward the end of that run, he'd grapple with a familiar foe and teammate from his NFL days, Reggie White.
A rundown of Steve McMichael's NFL career
RELATED: Jamal Anderson Acted Like a "Dirty Bird" After Leading the Atlanta Falcons to a Super Bowl
When Mike Ditka calls you the toughest player he's ever coached, you know you're cut out for professional wrestling.
McMichael spent his first season with the New England Patriots before they released him. He moved onto the Chicago Bears and made New England pay for that mistake. In Chicago, he took part in Buddy Ryan's famous 46 defense which led them to victory in Super Bowl XX against…you guessed it…those same New England Patriots. McMichael was a standout performer, reaching the Pro Bowl in both 1986 and 1987 and leading the stacked Bears defense in sacks in 1988.
In a strange twist, McMichael became a Green Bay Packer for his final season in 1994. This meant that he got to play on the same defense as Reggie White for the first and only time.
The Bears-Packers rivalry comes to the ring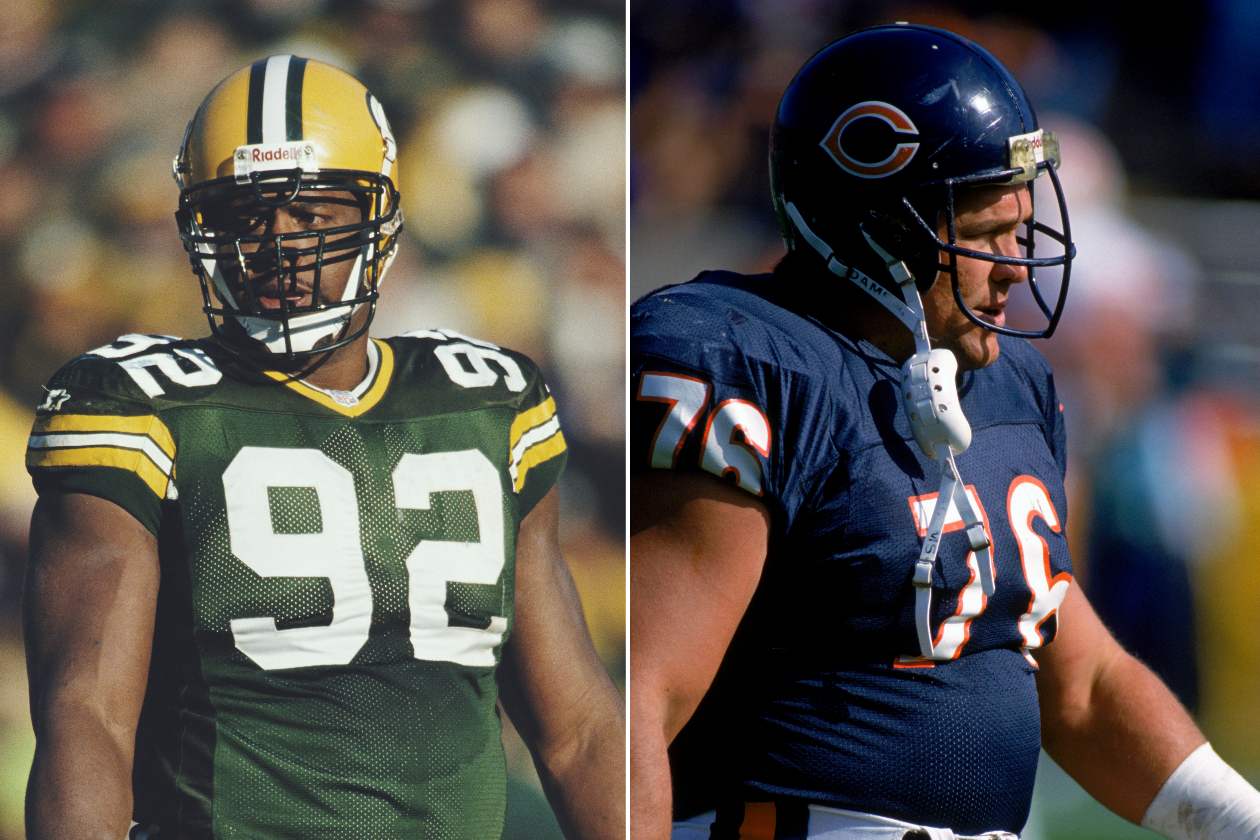 RELATED: Reggie White Emotionally Broke News of Teammate's Tragic Death to Fans
Three years after they joined forces on the field, McMichael and White would be…well, "reunited" isn't really the right word…paired up for a match on the Slamboree pay-per-view event. They wouldn't be the only NFL players on the card — Kevin Greene of the Carolina Panthers took part in a tag-team match on the very same night.
This wouldn't be Reggie White's first appearance in professional wrestling, although it would be the first time he'd step into the ring himself. Both he and McMichael made a cameo at WrestleMania XI alongside Carl Banks, Ken Norton, Chris Spielman, and Rickey Jackson. All of them accompanied Lawrence Taylor in his main title fight against Bam Bam Bigelow. (Wrestling in the mid-90s was weird.)
The choice to pair McMichael and White as a "rivalry" was questionable. Mongo's career as a Bear only overlapped for one year (thus, two matchups) with White's career as a Packer. Then again, WCW would later become synonymous with questionable decisions, which led to their collapse and absorption into Vince McMahon's empire.
McMichael vs. White underwhelms all
The McMichael vs. White match lasted a whopping 15 minutes, during which neither White nor Mongo displayed much actual wrestling technique. In case you're curious, McMichael eventually emerged as the winner thanks to interference from WCW regular Jeff Jarrett.
Wrestling journalist Dave Meltzer wasn't kind to this match. He wrote in the Wrestling Observer, per FanBuzz, "Whoever got the idea that these two could go 15:00 needs to be sent back to the sanitarium."
This would be Reggie White's last experience in professional wrestling. He would play three more seasons in the NFL and reached another Super Bowl before retirement. On the other hand, McMichael stuck around with WCW until February 1999.