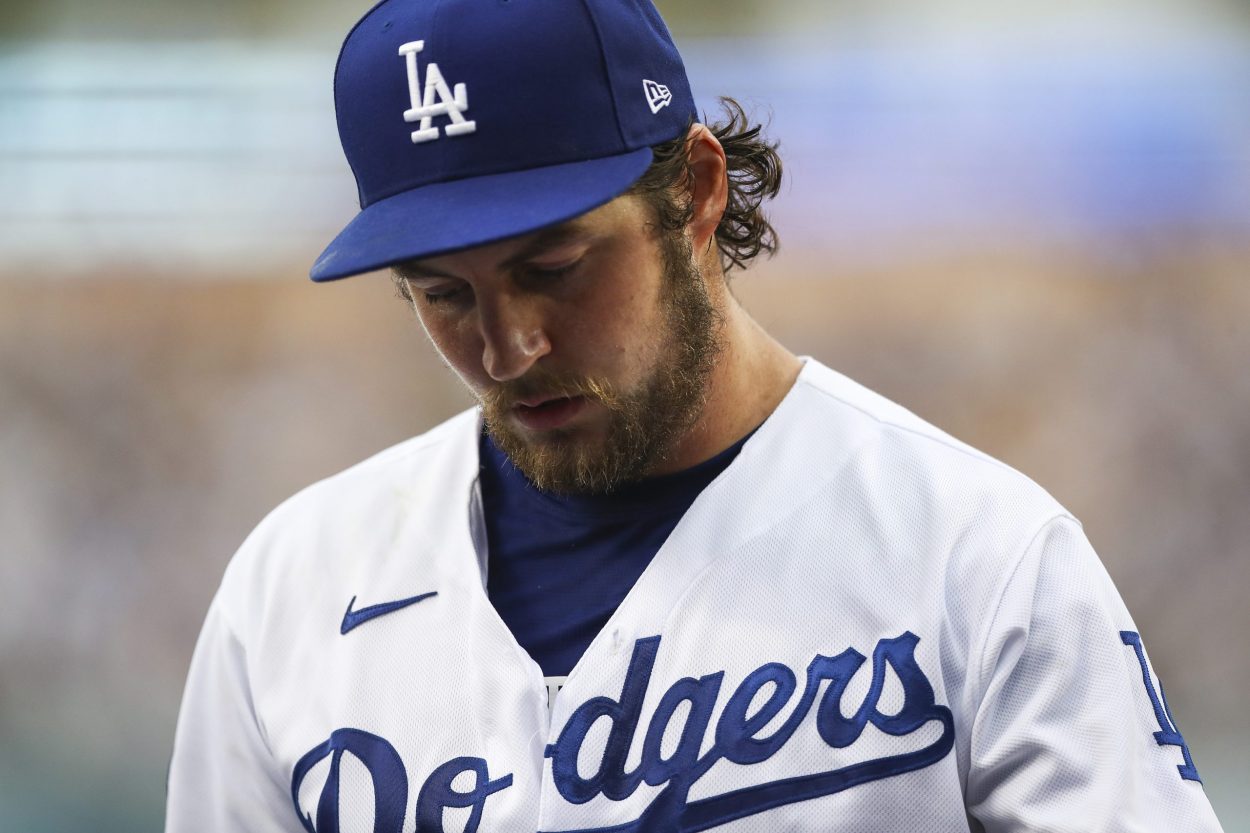 Reigning Cy Young Trevor Bauer Being Exiled by Dodgers Teammates Amid Sexual Assault Allegations
Trevor Bauer's time wth the Los Angeles Dodgers might soon be at an end.
Trevor Bauer's decision to sign with the Los Angeles Dodgers was one of the headline moves of the 2020-21 MLB offseason, but there's a distinct possibility he does not return to the club.
Bauer is still on administrative leave after an LA-area woman alleged he raped and physically assaulted her on two separate occasions earlier this spring. The allegations have spurred some unrest within the organization, with former Dodgers standouts like Dave Stewart voicing his displeasure as to how the team originally handled the case.
Now, it appears current Dodgers players would like to see the team cut ties with Bauer entirely.
Trevor Bauer was granted a continuance in an ex-parte restraining order hearing
The woman who made the assault allegations against Bauer also filed for a restraining order, and the legal proceedings are set to begin next month.
The Athletic reported Bauer was granted a continuance after his lawyer, Shawn Holley, said the legal team had "insufficient time" to prepare for the medical records and witnesses presented to them on Thursday. There are three new dates for the hearing: Aug. 2, Aug. 3, and Aug. 19 in the Los Angeles Superior Court.
Holley said his team was prepared based on the initial information given to them but asked for the continuance primarily to review medical documents.
"We came here ready, but ready on what had been presented to us," Holley said last week, via The Athletic.
The woman's legal team has stated it plans to call Bauer as a witness, but Holley said she will advise her client to plead the Fifth. The initial restraining order will remain in place until the legal proceedings have concluded.
Bauer is still under criminal investigation by the Pasadena Police Department and could face charges depending on the results of said investigation.
Most Dodgers players want the team to cut ties with Bauer
Members of the Dodgers clubhouse are making it clear they do not want Bauer back with the team, regardless of how the 30-year-old's legal situation pans out.
Mike DiGiovanna of the Los Angeles Times reported two sources with "knowledge of Dodgers clubhouse dynamics" said a "majority of players do not want Bauer back under any circumstances."
It was unclear whether Bauer would rejoin the Dodgers when and if his administrative leave ended, anyway. Manager Dave Roberts previously suggested he did not believe Bauer would return to the club in 2021. The organization canceled a Trevor Bauer Bobblehead Night initially scheduled for Aug. 19.
There's also the possibility Bauer could face a suspension by way of MLB's domestic violence policy, regardless of whether he is charged with a crime.
Bauer has a long list of past transgressions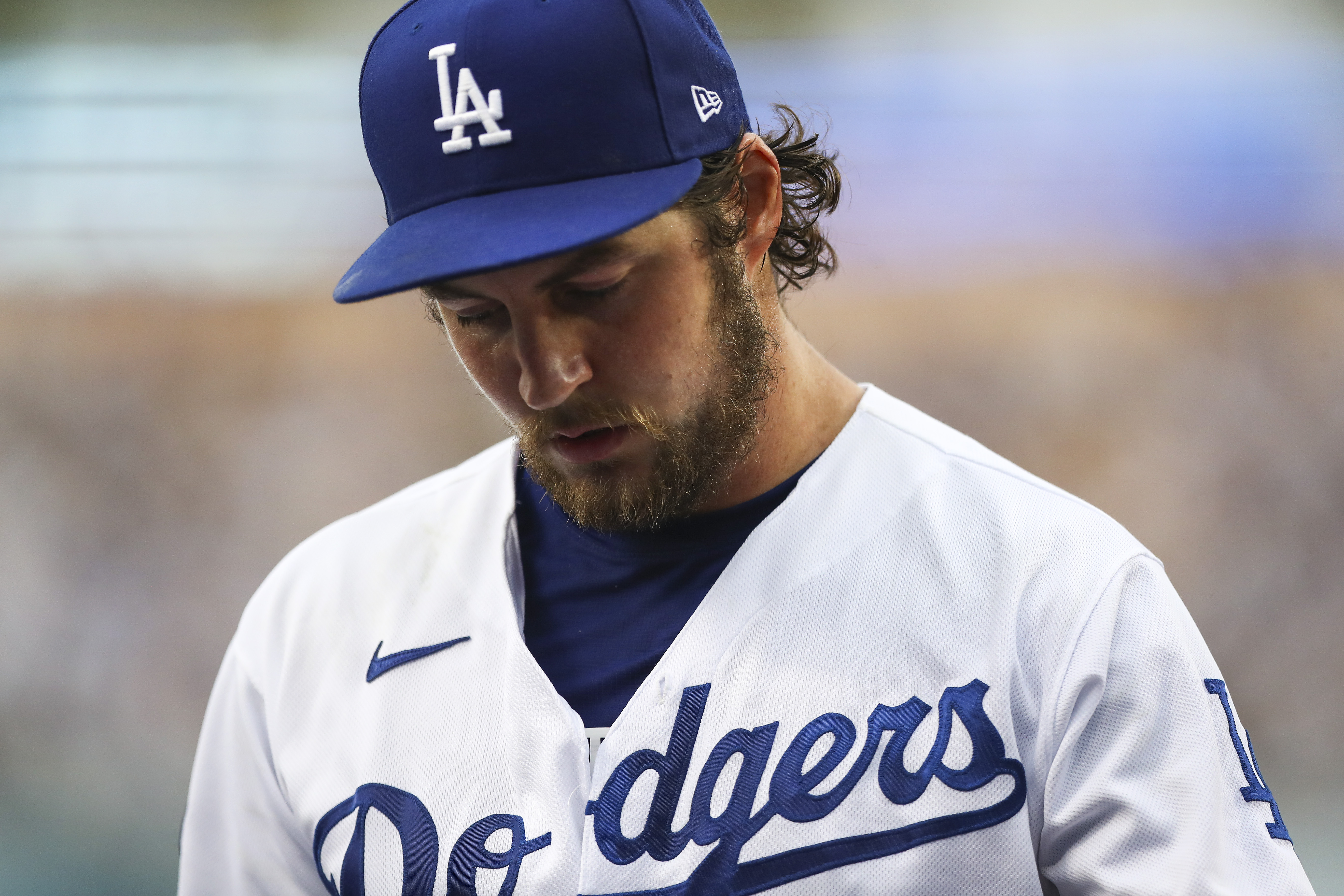 The Dodgers assumed a lot of risk and responsibility when they signed Bauer.
As DiGiovanna noted, the North Hollywood native had a "history" of online verbal abuse and harassment, especially against women. However, Dodgers president of baseball operations Andrew Friedman said the team's background checks of Bauer yielded positive results.
Friedman and team president Stan Kasten had conversations with Bauer about social media before the season. Bauer himself appeared to express a desire to change during his introductory press conference.
"Everyone makes mistakes in the past — I try to learn from them as quickly as I possibly can," Bauer said at the time, per DiGiovanna. "I've spent a lot of time talking to people to try to understand other peoples' perspectives, and I'm doing my best to be better in all walks of life. I am committed to being better on social media, to being better on the field, in the clubhouse, and in life in general."
Yet, just months later, Bauer faces serious accusations that again call his character into question and prompt at least some skepticism about whether LA vetted him thoroughly enough.
Some Dodgers players might have been excited to play with Bauer when the season began, but most do not want to see him wearing a Dodger uniform again.