NBA: Rejecting the Celtics' First Offer Might Have Been Jaylen Brown's Smartest Move
Outside of the trade deadline and the beginning of NBA free agency, the end of the preseason tends to be the most exciting time for fans of NBA contracts and player movement. It is when many of the league's best players sign their contract extensions and avoid a season of drama and free agent rumors. It is also a time that lets players gamble on themselves and try to assess their worth. Jaylen Brown did just this with the Boston Celtics, and as a result, he got himself a hefty payday going into next season.

Jaylen Brown gambles on himself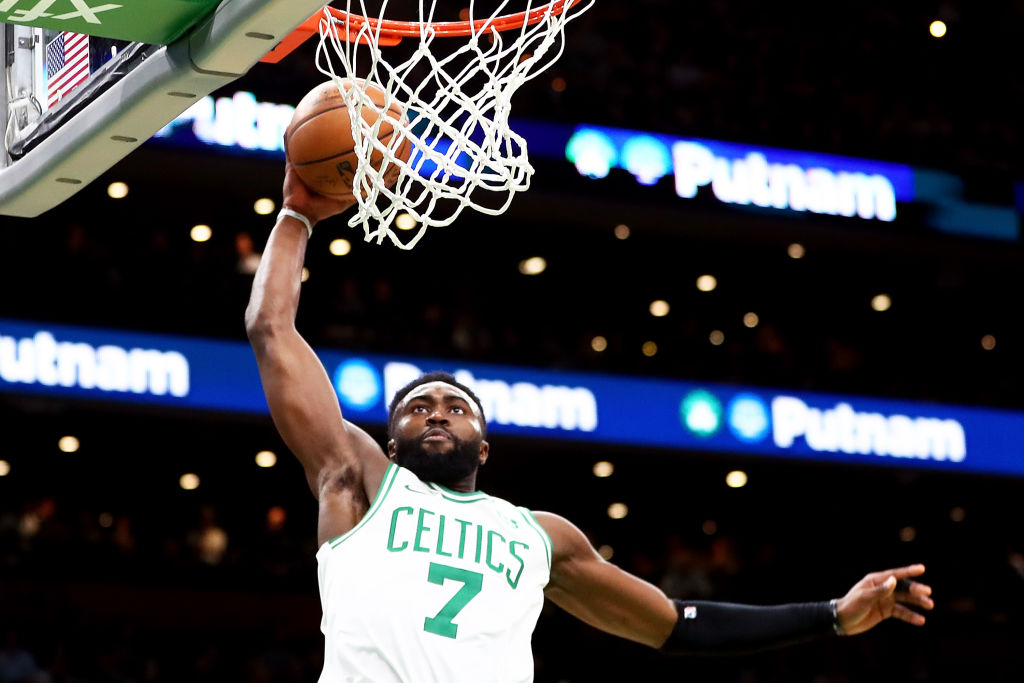 Brown received an offer of four years, $80 million from the Boston Celtics, and he caused a stir after rejecting it. Some believed that he was overvaluing himself by turning down the offer. One Eastern Conference executive even told HoopsHype that he thought the Celtics should be cautious about caving and giving Brown too much money.

It appeared to have paid off, however, as Brown was able to lock down $35 million more than the Celtics initially offered. Before the Celtics could find a potential trade partner, Browns agreed to a four-year, $115 million extension with the Celtics as the October 21 deadline approached. Financially, the deal paid off for Jaylen Brown. Now the Celtics will have to hope that Brown can prove that he was worth such a hefty deal.

Reason for hope for the Celtics
Jaylen Brown has proven to be a vital part of the Celtics' young core. His 2017-18 campaign showed that he was able to step up in the face of adversity. He replaced the fallen Gordon Hayward en route to a productive season in which he did a little bit of everything. Brown put up nearly 15 points per game during that sophomore season, and he showed the ability to defend multiple positions.

Brown is also a more-than-capable shooter when he is called upon to do so. His sophomore season saw him shoot nearly 40% from behind the three-point line, and even in his less-productive seasons, he has shot just shy of 35%. At just 23 years old, Brown has a lot of time to grow into the star player his money now projects him to be. If he doesn't prove himself, however, he could have been a gamble that did not pay off for the Celtics.

Should Jaylen Brown or the Celtics have concerns?
Nobody likes to see a player regress in just his third season. Although some of the statistical regressions that Brown faced during the 2018-19 season can be chopped up to the fact that he was coming off the bench instead of starting, others show that he failed to produce the same numbers that made him so important during the previous season.

Brown played in five fewer minutes per game than the year before, so falls in points and rebounds make sense. What doesn't make sense, however, is his 5% fall-off in his three-point percentage. Entering his fourth year, Brown should be getting more comfortable with his shot, and in a league like the current NBA, a consistent shot is vital. Shooting 34% isn't catastrophic, but the drop off that got him there is concerning.

Hayward could come to the bench, causing Brown to start where he is comfortable. This could allow him to have the season people expect of him. Kemba Walker helps to ease the losses of Kyrie Irving and Al Horford, but Brown is going to need to take a leap if the Celtics are going to get back into contention.

The Celtics have one of the most intriguing young cores in the NBA, and if they want to take full advantage, they need the guys to perform as well as their promise showed before this season.