Has a Kicker Ever Won NFL MVP?
The NFL awards only one MVP every year. This player is typically a quarterback but it can often be given to a running back, and in one instance, a linebacker. In 1982, however, the AP did something strange and awarded the MVP to a kicker named Mark Moseley in 1982.
Who is Mark Moseley?
Moseley was a kicker in the NFL from 1970 to 1986. Although he spent his rookie season in Philadelphia and the following two in Houston, Moseley spent the bulk of his career in Washington, where he quickly became one of the best kickers in the NFL. Throughout his career, he made 300 field goals out of 457, a 65.6% performance.
Moseley was decorated, albeit not as much as others at his position, kicking in two different Pro Bowls, making one All-Pro team, and even winning a Super Bowl in 1983.
While he may not be the figure that an Adam Vinatieri or a Sebastian Janikowski is in the lexicon, his long and productive career made him one of the best to ever play at his position. His 1982 MVP award is what truly sets him apart from other players in more ways than one.
An MVP field-goal kicker?
Moseley's MVP season is a strange one to digest. It came during the NFL's lockout season, which meant every team played in only nine games. Moseley was in his 13th season.
As a kicker, it's hard to argue that Moseley's performance wasn't great for a kicker. In a career where he only once surpassed 70% once, Moseley had an astronomically great kicking season, kicking 21 field goals and making on 20 of them, a 95.2% clip.
The kicker, while often the difference between a win, loss, or tie, is often viewed as a role player. Even the most valuable kickers serve one purpose and one purpose only. They are only out there for seconds at a time, and while the pressure is on them, the offense and defense absorb most of the attention.
How Moseley won NFL MVP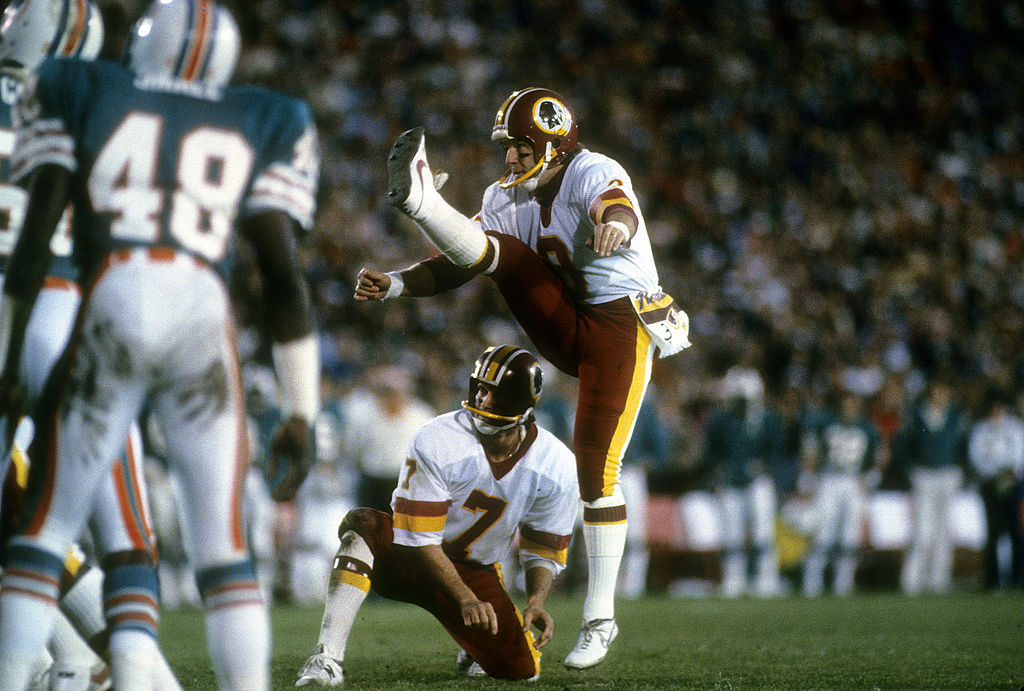 Grantland looked back at Moseley's season and tried to figure out why he was the MVP. According to them, the Redskins were the best team in the NFL during the lockout-shortened season, boasting an 8-1 record after having as many wins in the full-sized season before it.
The team swept opponents in spectacular fashion, with several of Moseley's field goals coming in key moments. To say that Moseley was the MVP of the team because of this, however, is selling the other players short.
While his kicks were huge for the team, several were extending leads or shortening deficits, not necessarily winning them the game. The fact of the matter was that the Redskins were a deep team that did not have a leader, and Moseley's impressive feat made him a good story.
Finally, according to another piece by Grantland, there wasn't a head-over-heels favorite in the season. The Redskins had the best team, but no clear leader. Marcus Allen had a great year for the Raiders, who also had an 8-1 record. Wes Chandler, Dan Fouts, and several others were candidates, but none stood out.
Whether it was his clutch performance or the need to put a name down, Moseley got the votes to win. Some believe the sheer audacity of a kicker being on the ballot made people gravitate to him. Whatever the case, Moseley achieved something nobody did before or since; he won the MVP as a kicker.