Reminiscing on Cedric Benson's Football Career After His Untimely Death
On the night of August 17, 2019, former NFL running back Cedric Benson and his girlfriend were killed in a motorcycle accident. Benson was just 36 years old at the time of his passing. Former teammates, opponents, coaches, media members, and fans around the country have been mourning his loss and fondly remembering his football career.
Benson was one of the all-time great Texas Longhorns
There wasn't much that Cedric Benson didn't accomplish during his time with the Texas Longhorns. He is the only player in the school's history to rush for at least 1,000 yards across four seasons, rushing for 1,053 yards as a freshman in 2001, 1,293 yards in 2002, and 1,360 yards in 2003.
Benson had his best season with the Longhorns as a senior in 2004, racking up 1,834 rushing yards and 19 touchdowns. Texas finished that season with an 11-1 record and Rose Bowl victory, and Benson won the Doak Walker Award (awarded to the nation's best running back) and was a Consensus All-American.
Cedric Benson finished his collegiate career ranking sixth all-time with 5,540 rushing yards and tied for seventh all-time with 64 rushing touchdowns. He was inducted into the Longhorns Hall of Honor in 2014.
He came into his own in the NFL during his time with the Cincinnati Bengals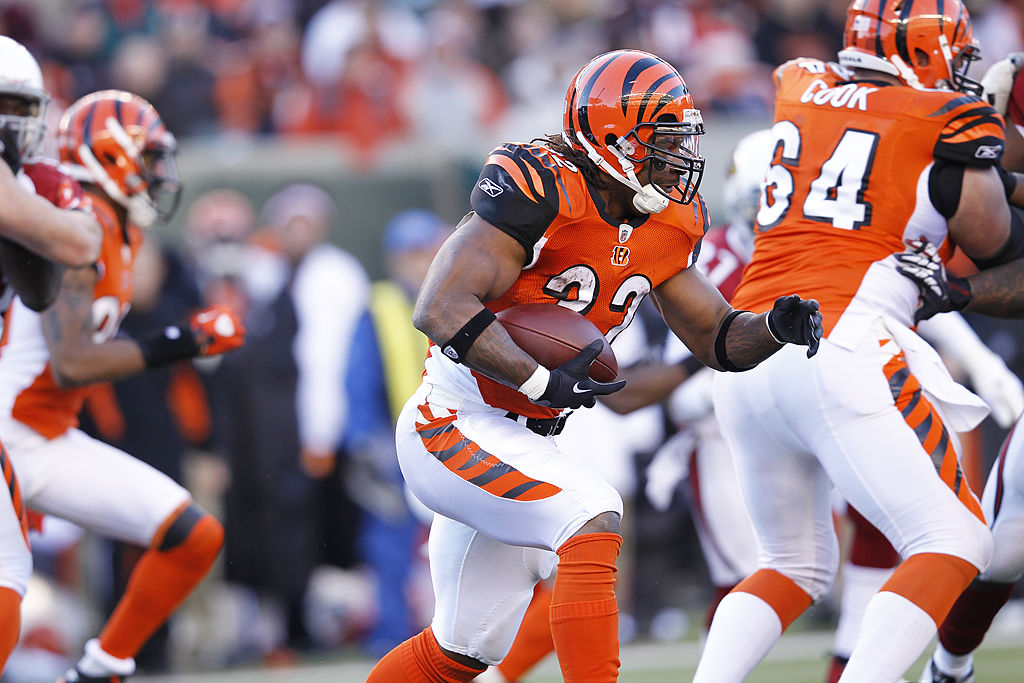 Benson was selected with the fourth overall pick in the 2005 NFL Draft by the Chicago Bears. He was never able to get anything going with the Bears, stuck behind Thomas Jones on the depth chart in 2005 and 2006 and dealing with injuries as well. After being arrested on alcohol-related charges twice in a five-week span in 2008, the Bears decided to release their former first-round pick.
Cedric Benson received a second chance with the Cincinnati Bengals and wound up making the most of it. Benson had three straight 1,000-yard seasons with the Bengals from 2009 through 2011, finishing those three years with 3,429 rushing yards and 19 rushing touchdowns.
Benson retired after playing five games with the Green Bay Packers in 2011 and having his season cut short by a Lisfranc injury to his foot.
Remembered by his former teammates
Some of Cedric Benson's former teammates took the time to share their condolences Sunday on social media platforms.
"You and I always got along," former Bears linebacker Lance Briggs shared on Instagram. "Even with pads on, if I hit you or you hit me a little harder than usual, it was always followed by an apology, which was followed by a "you good". You ran all over us when you played for the Bengals. As mad as I was at the way we played that day. I gave you the biggest hug after the game, because I was so damn proud of you. R.I.P. #32."
Former Bears defensive back Charles Tillman also shared his memories of Cedric Benson on Instagram. "The first time I saw Cedric Benson, he was a sophomore at Midland Lee and we would compete against each other in the 3rd round of the Texas High school playoffs at Angelou State University. Little did I know that I was witnessing the birth of one of the best running backs in Texas high school football. I'm honored to have had the privilege of being your teammate. Please keep the Benson family in your prayers."
The outpouring of love and respect that Cedric Benson is receiving in the wake of this horrible accident is a testament to the type of teammate that he was. Our condolences go out to the Benson family and everyone else who is suffering from this tragic loss.