Reporter Mistakes Byron Leftwich for Todd Bowles in Extremely Awkward Postgame Moment
Super Bowl LV took place amid a storm of controversy surrounding the NFL's hiring practices for head coaches. The Super Bowl champion Tampa Bay Buccaneers brought the league's most diverse head coaching staff to the league's biggest game, including two Black coordinators, Byron Leftwich and Todd Bowles. This undoubtedly led to one of the most awkward postgame moments in sports history.
Byron Leftwich and Todd Bowles lead the way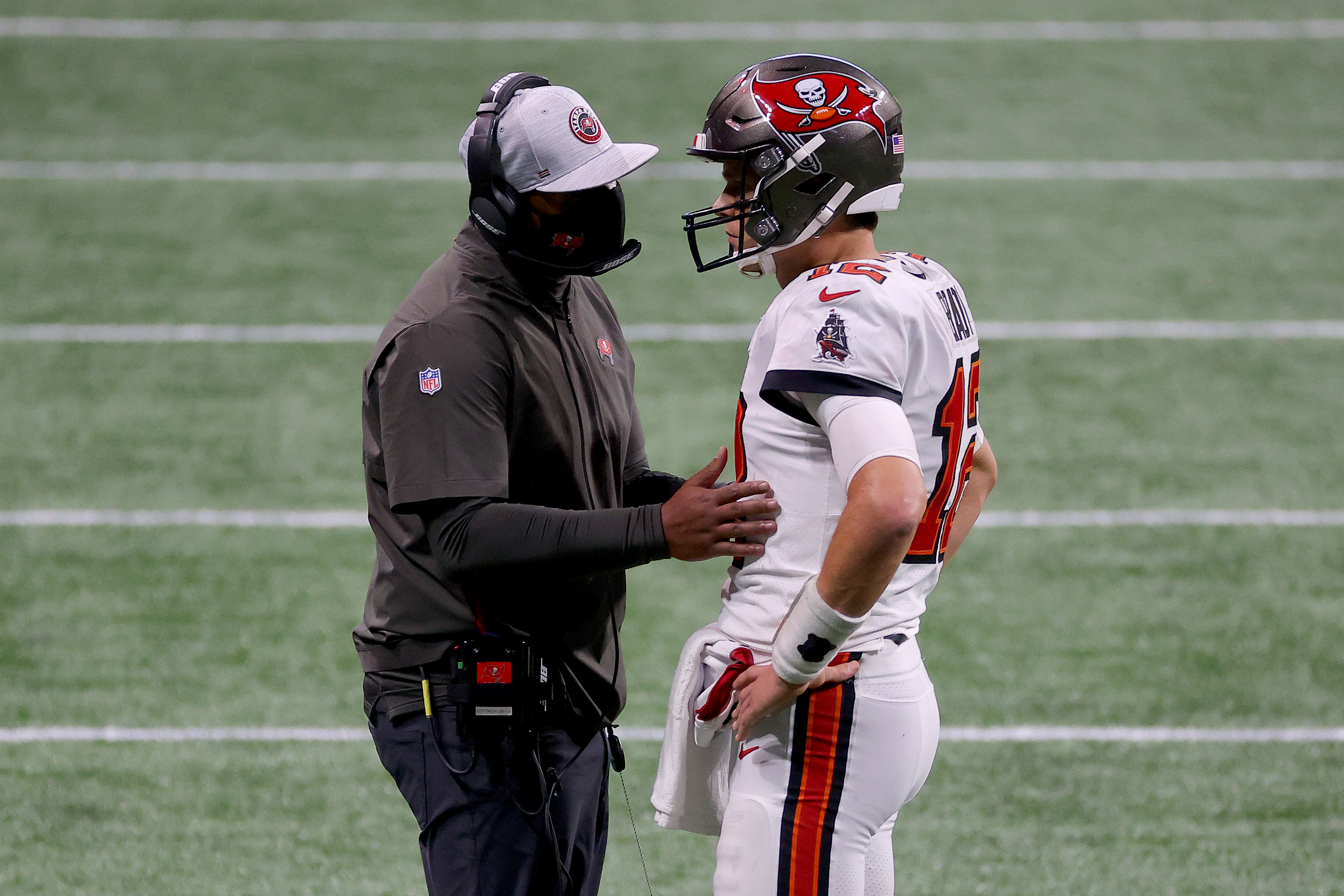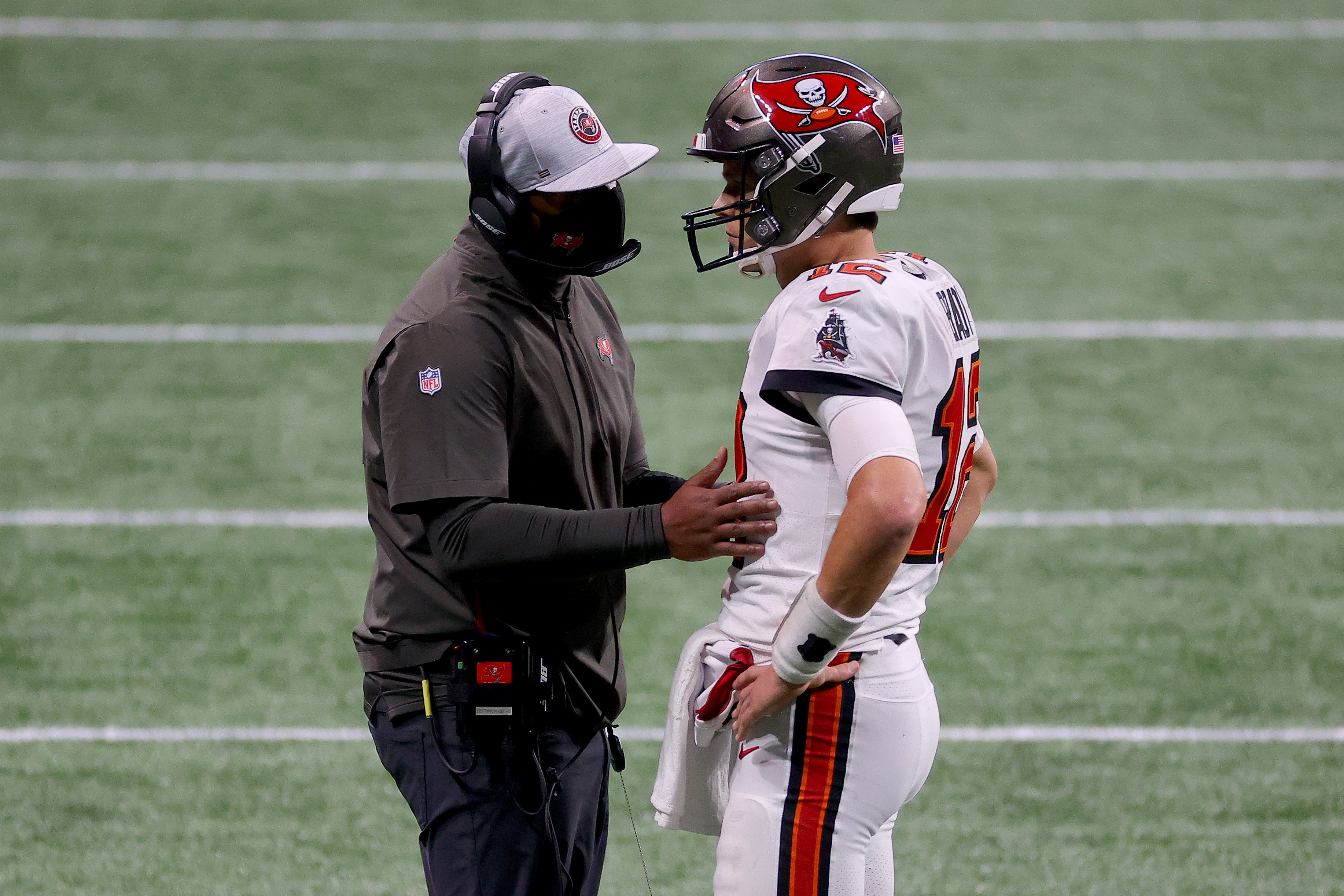 Without the contributions of offensive coordinator Byron Leftwich and defensive coordinator Todd Bowles, Tampa Bay would have come nowhere close to the Super Bowl.
Leftwich, a former NFL quarterback, flamed out after a brief career mostly spent with the Jacksonville Jaguars. In 2017, he found his first coaching job as quarterbacks coach of the Arizona Cardinals, serving under Bruce Arians for one of his two seasons in the desert. After his firing from Arizona, Leftwich reunited with Arians in Tampa Bay as the Buccaneers' offensive coordinator.
Todd Bowles previously served as head coach of the New York Jets from 2015 to 2018. His tenure was largely unsuccessful, as the Jets went 26-41 under his watch. After the Jets let him go, he resurfaced as the Buccaneers' defensive coordinator. He had previously served that same position with the Arizona Cardinals — also under Bruce Arians.
It was Bowles' aggressive defense that finally solved the riddle of Patrick Mahomes and the Kansas City Chiefs' offense. In five straight playoff games, Mahomes had played brilliantly and overcome every deficit his team had fallen into. Not this one. The Buccaneers pressured the Kansas City star relentlessly, forcing three sacks and two interceptions. Leftwich's offense, with Tom Brady at the controls, did all the rest.
A reporter has the wrong guy
Naturally, the contributions of these distinguished men should be recognized along with the players they coached. This is especially true in a year when Black coaches are fighting harder than ever for equal representation in the NFL head coaching ranks.
So you could not imagine a worse possible time for a reporter to make this gaffe.
After the game, Byron Leftwich took questions from reporters over Zoom. Someone — who, according to USA Today, is identified as "Michael Donaldson" — piped up with this.
"Hey, coach, great win. Congratulations. Going into the game, what was your No. 1 goal on the defensive side to shut [Patrick] Mahomes down, to shut that high-powered offense down. What was your guys' No. 1 goal going into that game?"
Leftwich — who, we reiterate, is the offensive coordinator — did a double-take. Obviously, the question was meant for Todd Bowles.
The timing for this gaffe couldn't be worse
We could not find any information on this "Michael Donaldson" person. It's just as well because we're sure he knew the magnitude of his error and probably wants to dig a hole to the center of the earth. At least we hope he knows, because…wow. That was bad.
On the face of it, this person's blunder doesn't sound like it was that bad. All he did was mistake one man for another man. And even in the clip above, Leftwich laughed it off. But in the context of the civil rights battles inside and outside of sports these last few months, this was maximum cringe.
It's hard to tell if he simply failed to do his research on which person was which or if he legitimately could not tell the two alike. Bowles is 57 years old and Leftwich is 41, so the two are not that hard to distinguish from each other.