Retired Pro Bowl RB Justin Forsett Is Using His Own Difficult Past to Help the Next Generation: 'I'm Able to Be an Answer'
Article Highlights:
Former Baltimore Ravens running back Justin Forsett is dedicated to helping the next generation
Forsett discussed his Hustle Clean brand and his commitment to helping youths in a recent interview with Sportscasting
The 2014 Pro Bowl selection also shared high praise for Ravens quarterback Tyler Huntley and the underdogs
A generation of football fans will always remember former Baltimore Ravens running back Justin Forsett as the late-bloomer who made the most of an opportunity and earned Pro Bowl honors in 2014. Forsett, to his credit, will never duck away from that title or the recognition.
Nearly a decade later, Forsett is happily retired and working to ensure the next generation has its own opportunities to take advantage of when the time comes.
Justin Forsett has dedicated his post-football life to helping the next generation
During his college days at the University of California, Forsett terrorized Pac-10 defenses en route to becoming a seventh-round pick in 2008. Along the way, he befriended defensive back Wale Forrester and linebacker Wendell Hunter, who briefly played in the NFL.
When Forsett's own career ended, he reunited with Forrester, a firefighter, and Hunter, who pursued a path as an EMT and emergency room technician. The trio formed Hustle Clean, which partners with nonprofit organizations and ensures communities have easy access to hygiene products, including antibacterial and antimicrobial wipes.
Hustle Clean recently partnered with Shock Doctor, a protective equipment manufacturer, and will sponsor the Free Play @ Legends football tournament. The event, which will run in various states throughout 2022, allows 7-on-7 football teams to compete without worrying about the financial element.
The tournament hits home for Forsett, who discussed his own childhood struggles in an interview with Sportscasting. Long before he signed a three-year, $9 million contract with the Ravens in 2015, Forsett grew up in poverty and dreamed of better days:
"At one point, I was living out of a motel as a 12-year-old, 13-year-old kid; I didn't have a home. And I remember those moments praying to God to just like, 'Send somebody to help me and my family in that time of need,' and begging and pleading my dad for certain things.'"

Justin Forsett
A charitable player throughout his NFL career, Forsett has kept his eye on using Hustle Clean to help the less fortunate.
"Now, with this platform, I'm able to be an answer, and we're able to be an answer to some kids' careers that [were] in my shoes growing up," Forsett said.
Forsett's openness about his own difficult childhood has allowed him to connect with others in a similar situation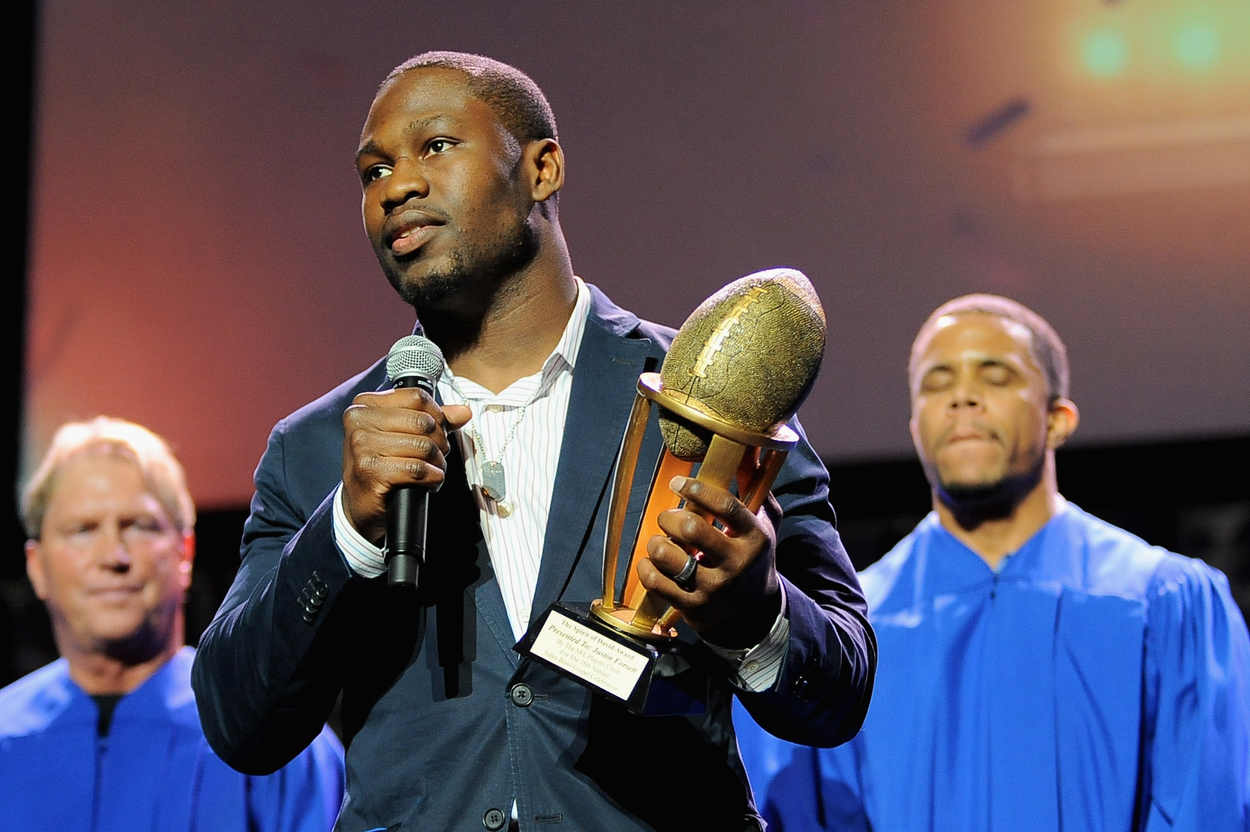 When Forsett speaks with children and teenagers facing financial hardships, he's able to connect with them as someone who knows poverty all too well.
"We've been in their shoes; they've been able to see my journey," Forsett told Sportscasting in a phone interview. "They can look up my journey to get to here, now, from athlete to entrepreneur. And you know, that's been a great benefit [and] value for us."
Forsett said the young players have been receptive to his advances and desire to help them. He added he's tried being a "little more attuned" to what the youths are going through, especially during the pandemic.
"It wasn't just being able to help empower them to play sports," Forsett explained. "It's about seeing [what] we can do with them and really help them reach their goals."
Forsett is still always rooting for the underdog, especially Ravens quarterback Tyler Huntley
Although Forsett entered the league in 2008 and received steady playing time over the next few years, he didn't emerge as a full-time running back until 2014, his age-29 season.
He rushed for 1,266 yards and eight touchdowns on 5.4 yards per carry that season, filling the void created by All-Pro running back Ray Rice's release. He also hauled in 44 catches for 263 yards and helped the Ravens advance to the AFC Divisional Round.
Years later, Forsett is still rooting for the underdogs and the players who take advantage of extra action. The retired running back spoke with Sportscasting not long after Ravens backup Tyler Huntley, who went undrafted in 2020, scored three touchdowns from scrimmage and nearly took down Aaron Rodgers and the Green Bay Packers on Dec. 19.
"I love to see great players maximize their moment and opportunity when it comes because I was one of those guys that I didn't get my true breakthrough until year seven in the NFL," Forsett shared. "So to see young guys step up when their name is called and be at their best when their best is needed, that's what it's all about."
The Free Play @ Legends Showcase will first run in Panama City Beach, Fla., on Jan. 15-16 before moving to Houston from Feb. 19-20. The event will also take place in Louisville (March 19-20) and Phoenix (April 23-24) before wrapping up in Oceanside, Calif., on May 14-15.
How to get help: Text HOME to 741-741 to connect with a trained crisis counselor at the free Crisis Text Line.