Retired All-Pro Cornerback Aqib Talib Opened Up on Famous Chain-Snatching Beef with Michael Crabtree: 'I Got It in My Head Like I'm Gonna Embarrass Him'
Article Highlights:
Retired All-Pro cornerback Aqib Talib had plenty to say about his now-buried feud with Michael Crabtree
The two had numerous spats, including an all-out brawl, during their time in the AFC West
Talib, who famously snatched Crabtree's chain, even shared how the two settled their differences
Of the great feuds in modern football history, what made the showdowns between All-Pro cornerback Aqib Talib and veteran receiver Michael Crabtree so memorable involved one thing: a chain.
What we watched over the course of several matchups lacked the vicious words of Donovan McNabb's beef with Terrell Owens or Odell Beckham Jr.'s embarrassing spats with Josh Norman. Instead, we witnessed one man attempt to grab a necklace and the other fight back.
Talib, who played the role of the chain-snatcher, recently opened up on his now-buried feud and revealed no shortage of interesting details.
Aqib Talib opened up on the origins of his chain-snatching beef with Michael Crabtree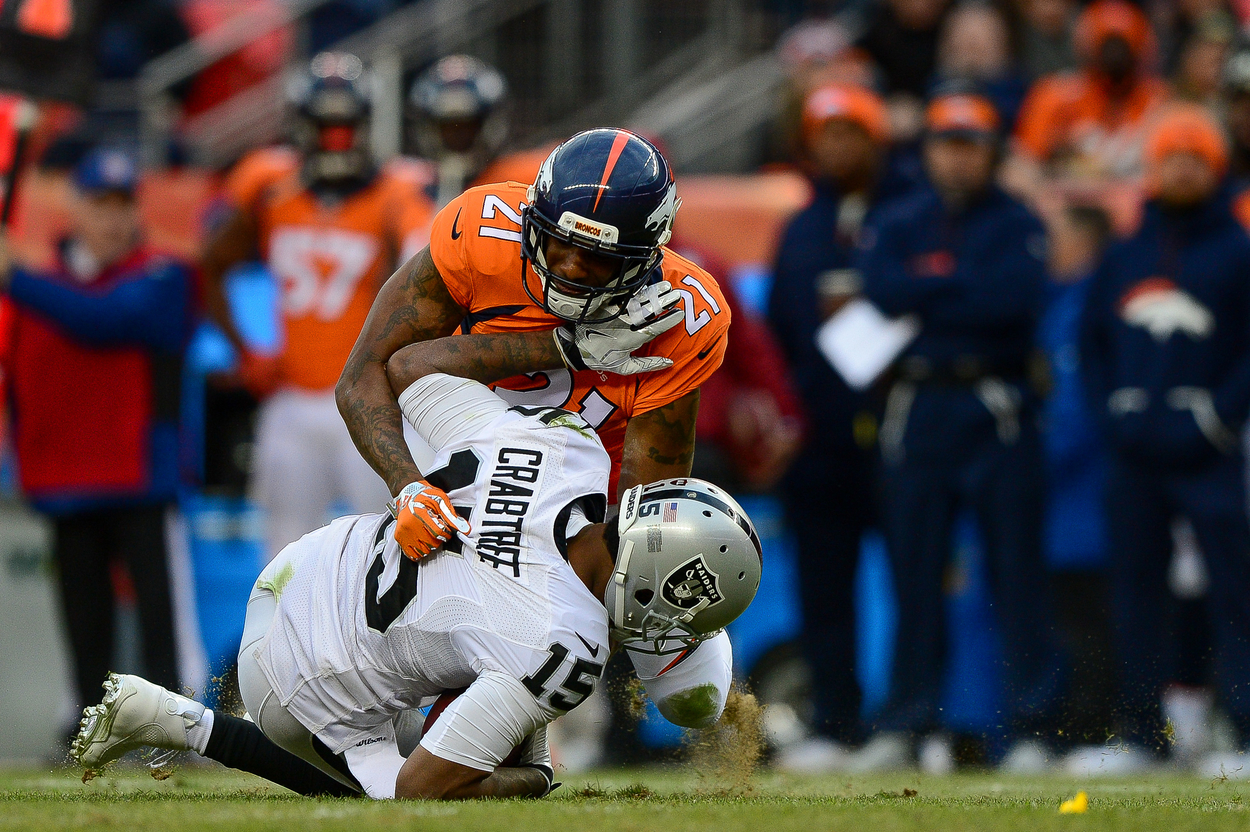 Talib entered the NFL in 2008, and Crabtree followed him a year later. Although both played in the NFC at first, any interactions the two may have had at that time lacked the explosiveness of what occurred in the mid-2010s.
Things changed, Talib said, after he and Crabtree squared off in 2015. By that point, the veteran cornerback was playing for the Denver Broncos and Crabtree, who spent his first six seasons in San Francisco, had joined the rival Oakland Raiders.
On the Nov. 18 episode of Bleacher Report's Untold Stories, Talib said the two had a heated argument at some point during the 2015 season. Things became so bad that Crabtree allegedly made veiled threats on what would happen if they ever met in Dallas, where both players are from and live during the offseason. Interestingly, Talib shared that the two bumped into one another at a mall and had no issues.
The beef took off in 2016 when a Broncos assistant coach ripped the Raiders during a pregame speech. The unnamed coach blasted Oakland players for running onto the field wearing chains and said he'd "snatch that s—." The proverbial lightbulb went off in Talib's head.
"I got it in my head like I'm gonna embarrass him. Once the game starts, I'm locked in. I'm not thinking of no chain; I'm thinking about winning this game. He finna win this game, whatever."

Aqib Talib
Although Talib didn't play during the Broncos' 30-20 loss on Nov. 6, 2016, he faced Crabtree and teammates on Jan. 1, 2017. That game, a 24-6 Broncos victory, marked the first time Talib grabbed Crabtree's chain. Well, he attempted to grab it.
"I just see the chain right there, so I try to snatch it," Talib told Bleacher Report. "I thought I had it, but it was just hanging on his neck."
Denver may have won the game, but Talib didn't consider the battle over. Not by a long shot.
Things famously reached their breaking point in November 2017
Considering both teams missed the playoffs in 2017, fans might not remember all of the scoring plays or significant coaching decisions from the Raiders' 21-14 victory over the Broncos on Nov. 26, 2017. What they will remember, however, is Crabtree and Talib's first-quarter brawl.
Early in the heated AFC West showdown, Crabtree punched Broncos cornerback Chris Harris Jr. in the stomach and forced an injury timeout. Crabtree tried to mimic the move on Talib, who understandably didn't appreciate the receiver's actions.
"He just [started] pushing me, he's blocking me, I'm thinking he's gonna let me go. I'm not really on that s— this time, so I'm like, 'Chill out! It's old,' but he was still mad, I guess. So while he [was] blocking me again, all I [saw] was the chain, so I'm like 'I'm gonna get him again.' I [snatched] it again."

Aqib Talib
Both players were ejected and later received two-game suspensions. However, the league eventually reduced their ban to one game upon review, a move Talib said came when Broncos executive John Elway "went to bat" for him.
Talib also explained how the two put their beef behind them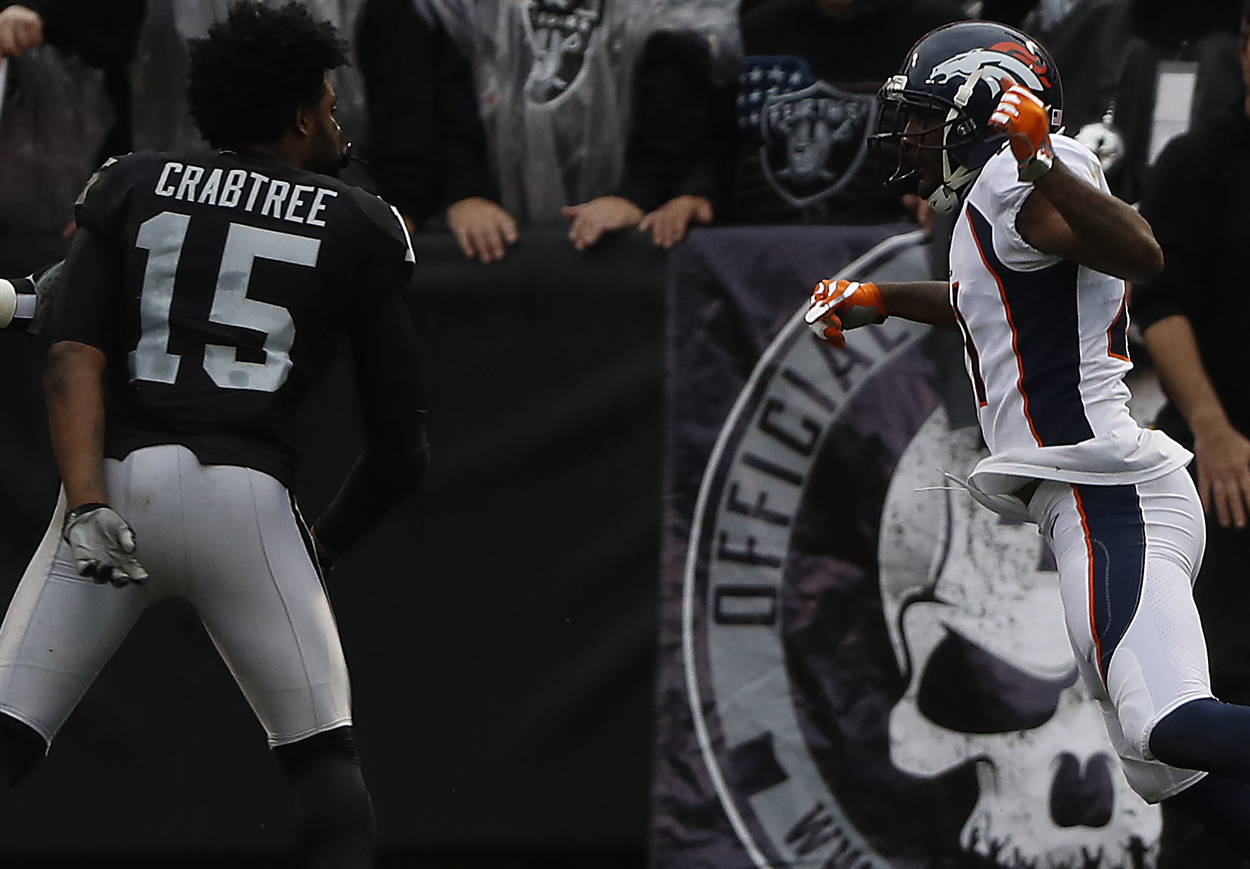 According to Talib, it wasn't the money or the suspensions which helped them settle their problems. The magic elixir involved a fun setting and two men being adults.
At some point following the fight, Talib and his extended family — he estimated he had 11 people, including nephews, with him — ran into Crabtree and his family at a go-karting track. The two went outside and settled their differences.
"We kind of got to the bottom of it," Talib shared. "We squashed it."
Who would have guessed that a go-kart track, of all places, would end a high-profile feud? Then again, considering Talib's outspoken and eccentric personality, maybe we shouldn't be so surprised.