Retired All-Pro Wideout Andre Rison Defends Former Coach Jon Gruden after Offensive Emails: 'We've All Made Mistakes'
Article Highlights:
Former Oakland Raiders receiver Andre Rison defended former head coach Jon Gruden amid an email scandal
Gruden resigned as the Raiders' head coach on Oct. 11
Rison is the latest ex-NFL player to weigh in on the situation
Former Las Vegas Raiders head coach Jon Gruden's email scandal has brought upon varied reactions from his former players and colleagues. Andre Rison knows where he stands.
Although he's best known for his stint with the Atlanta Falcons, Rison spent a season with Gruden on the then-Oakland Raiders in 2000. The five-time Pro Bowler recently made it quite clear that he has his former head coach's back.
Andre Rison defended Jon Gruden amid the latter's email scandal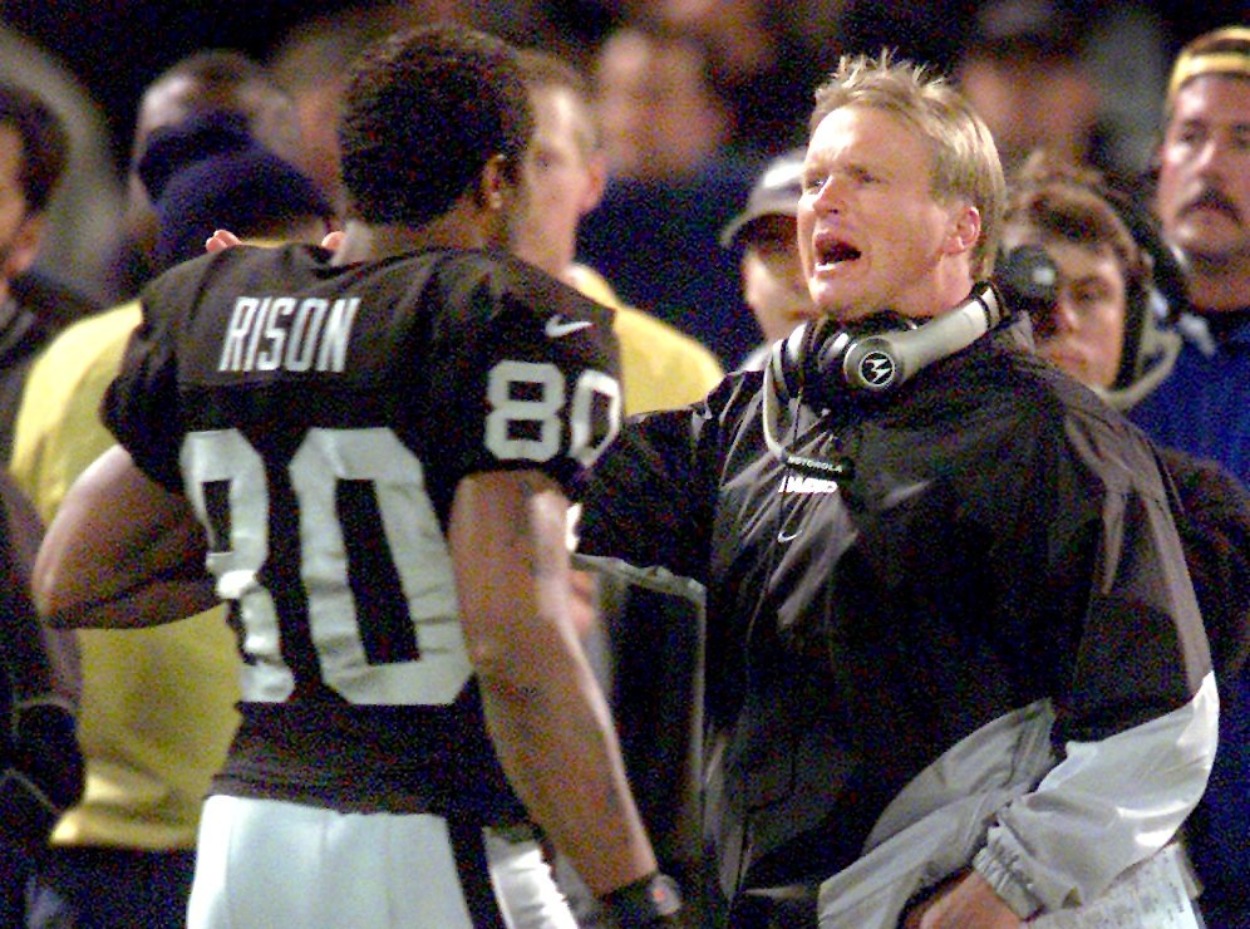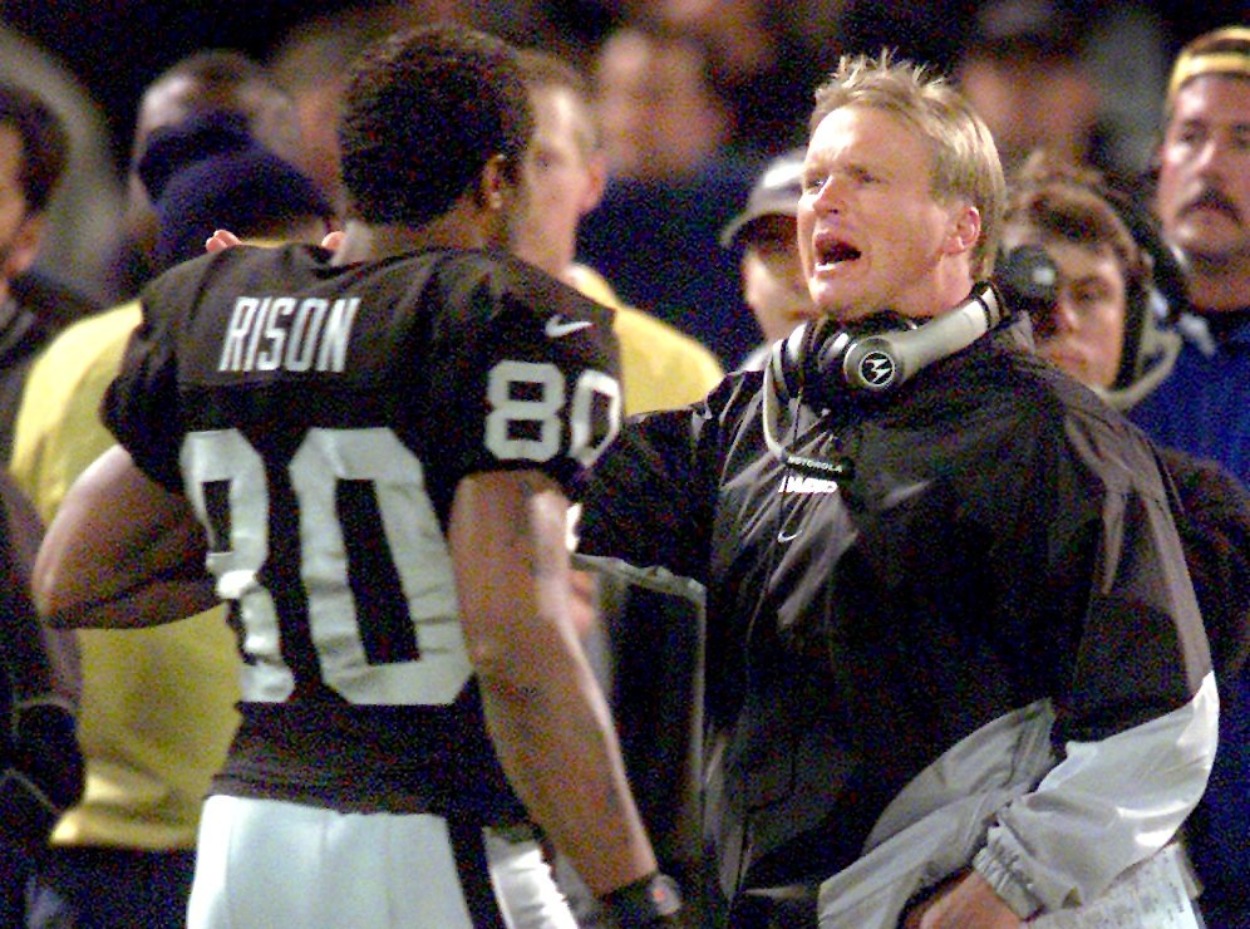 There is no defending the offensive emails Gruden sent from 2011-18 when he worked at ESPN. We can't excuse the remarks, which ranged from homophobic to racist.
Rison, an All-Pro receiver in his prime, isn't going to argue against the facts. However, he recently told TMZ that Gruden is definitely "not a racist."
"We all say some things behind closed doors that we regret, or we wouldn't say in public. We've all made mistakes. I believe who he said and what he said and who he intended it for, it was intended for that person and nobody else."

Andre Rison
Gruden sent most of the emails in question to former Washington Football Team executive Bruce Allen.
Rison, who is Black, told TMZ he believes Gruden should "go on" with the rest of his life, even if it means never coaching in football again.
"You've already given this game some of the best tutelage and best leadership you could possibly give," he said.
NFL players, current and former, have had varied reactions to the Gruden situation
Rison went out on a limb for his former head coach. Keyshawn Johnson, who played for Gruden on the Tampa Bay Buccaneers in the early 2000s, took a far different approach.
Johnson, who now works for ESPN, recently called the Super Bowl 37 champion a "fraud" and a "used car salesman." Fox Sports' Emmanuel Acho, a former linebacker, referred to Gruden as a "homophobic racially insensitive pervert" in an NSFW tweet.
Conversely, Miami Dolphins head coach Brian Flores and ex-Buccaneers head coach Tony Dungy, both of whom are Black, each cited forgiveness when discussing the scandal. Dungy, who Gruden replaced in Tampa Bay, was a defensive back for the Pittsburgh Steelers in the 1970s.
Although Raiders tight end Darren Waller believes Gruden's comments are "inexcusable," he hasn't closed the door on his former coach.
"I want to offer somebody grace and allow them to learn from what they may have done, and that's what I'm trying to do right now for Coach," Waller said on Oct. 13.
Gruden is about to have bigger problems than the emails
Gruden can't do anything about his emails at this point. He sent them over a multi-year span and resigned once they emerged. Rison feels one way, Johnson feels another, and plenty of others are either on one side or somewhere in the middle.
The fallout could get interesting, though. According to NFL Media, Gruden never reached a settlement with the Raiders and is still owed roughly $40 million over the balance of the deal. Things won't be as simple as Raiders owner Mark Davis cutting Gruden a check to, in essence, go away.
If Gruden pursues the money, and it's his right to, the situation could eventually come to a head in court. As of publication, neither he nor the Raiders had announced what the next step would be in a potential contract dispute.
Like Sportscasting on Facebook. Follow us on Twitter @sportscasting19.
RELATED: Jeff Fisher Stomps on Jon Gruden's Loud Claim That the Rams Were Forced to Draft Michael Sam