MLB: The Return of Shohei Ohtani is (Almost) Exactly What the Angels Need
Shohei Ohtani is a unique player in Major League Baseball. He can both pitch and serve as a designated hitter, and he can do both in the same season, which was one of the selling points that appealed to the Los Angeles Angels when they signed him out of Japan before the 2018 season. He was working out well as a two-way player for much of his rookie season until injury struck and threw a curveball into the Angels' plans for Ohtani. After missing the first quarter or so of the 2019 season, Ohtani recently returned to the field — partially — and his comeback might be just what the Angels need.

Ohtani's rookie season
The Angels decided before Ohtani's rookie season that he would only be the DH on days that he didn't pitch, so as to maximize his performance on the mound and minimize his chances of getting hurt.

The strategy seemed to go well through August. Ohtani had 326 at-bats in 104 games, and he made the most of his time at the plate. He hit .285 with 22 home runs and 61 RBIs, and he even stole 10 bases.

On the mound, he made 10 starts in which he posted a 3.31 ERA with 63 strikeouts in 51.2 innings on the way to a 4-2 record. He didn't pitch after September 2, but he finished the season as a hitter and eventually won the American League Rookie of the Year award.

UCL injury and Tommy John surgery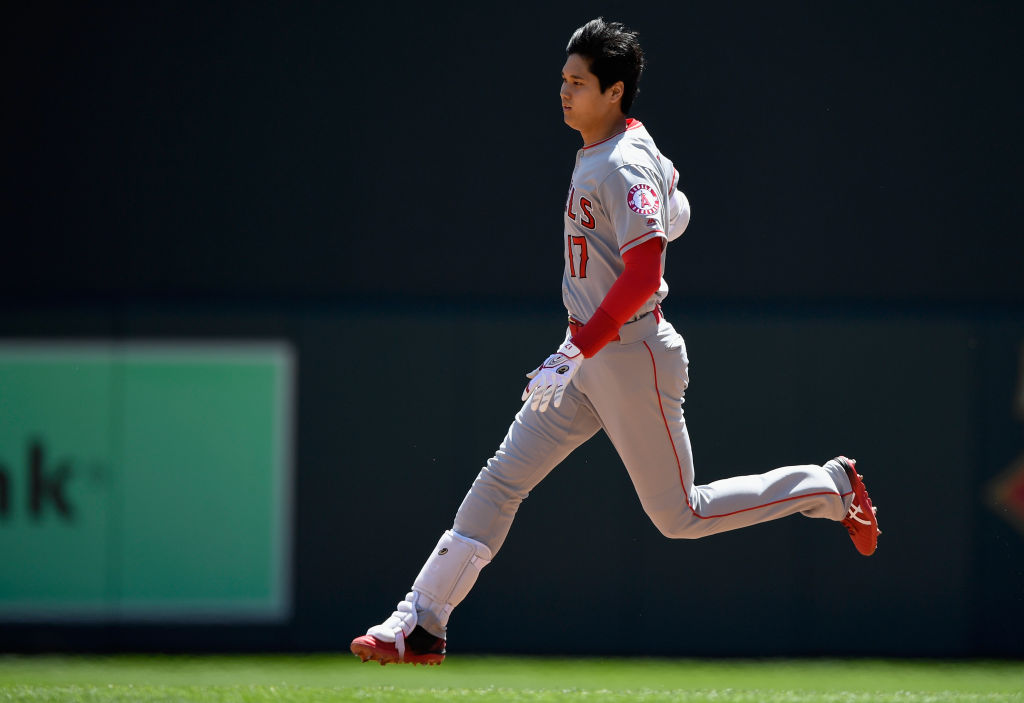 The day after Ohtani made his last start as a pitcher, doctors recommend that he undergo Tommy John surgery after an MRI showed ulnar collateral ligament damage, an injury that had sidelined him for a few weeks earlier in the season. It was that injury that led the Angels to shut Ohtani down as a pitcher, but he continued to make starts as a DH.

About three weeks later, on September 25, the team announced that Ohtani agreed to have the surgery. Tommy John surgery for pitchers usually requires more than a year of recovery for pitchers, and his surgery meant Ohtani likely wouldn't pitch in the majors again until 2020. But the Tommy John wouldn't keep him sidelined as a hitter for quite that long.

The Angels offense starts slow in 2019
The Angels announced before the season that Ohtani would be able to hit in 2019, but he wouldn't be ready for opening day. So the Angels had to play the first few weeks of the season sans Ohtani, and their offense suffered as a result.

Before activating Ohtani off the injured list on May 7, the Angels hovered around the middle of MLB in most of the major offensive categories, including average, home runs, and RBIs.

Ohtani makes his 2019 debut
Shohei Ohtani made his season debut in Detroit on May 7. He went 0-for-4, but he did draw a walk and recorded an RBI. After another hitless game the next day, Ohtani got his first hits of the season with a 2-for-4 performance on May 9. He got his first home run of 2019 in his sixth game, as part of a 2-for-4 showing at Minnesota on May 13. Through Ohtani's first seven appearances of the campaign, he hit .321 (9-for-28) with the one home run and six RBIs.

While he didn't show much power early on, Ohtani should start to hit more home runs as the season progresses and his arm gets stronger as more time passes and he gets further along from his Tommy John surgery. With Ohtani not pitching this season, it'll be more important for him to perform well at the plate if the Angels want to stay alive in the wild-card race as the season progresses.