Rex and Rob Ryan Knew They Wanted to Be Football Coaches From the Age of 6
The coaching careers of Rex and Rob Ryan would be enough to make a family proud. But they're not even close to being the most successful coaches with the surname Ryan. Their father was one of the best defensive coaches in his era. His sons were inspired to follow in his footsteps. The love of football is so ingrained in the two that they had wanted to be on the sidelines since they were children.  
Buddy Ryan was a defensive genius
Few coaches left as indelible a mark on football in the '70s and '80s as Buddy Ryan. He was only a head coach for five years in his 30-decade career. But that didn't stop him from being a big influence on the game. Ryan was an assistant on three teams — the New York Jets, Minnesota Vikings, and Chicago Bears — that made it to the Super Bowl. At each of those three stops, he remained innovative.
With the Jets, he set up multiple blitz packages centered on putting pressure on the quarterback — not a common tactic at the time. In Minnesota, the defensive line coach orchestrated the "Purple People Eaters." This devastating front four struck fear in the hearts of offenses and got the Vikings to two NFC Championships and a Super Bowl.
Ryan joined the Bears after those two years. He created the 46 defense built around the greatness of linebacker Mike Singletary. Ryan was a player's coach who inspired such loyalty that, after Chicago won Super Bowl XX, he was carried off the field in celebration alongside head coach, Mike Ditka. The last few years of Ryan's career were less spectacular, but his place in history is secure. 
Rex and Rob Ryan decided to take after their dad early in life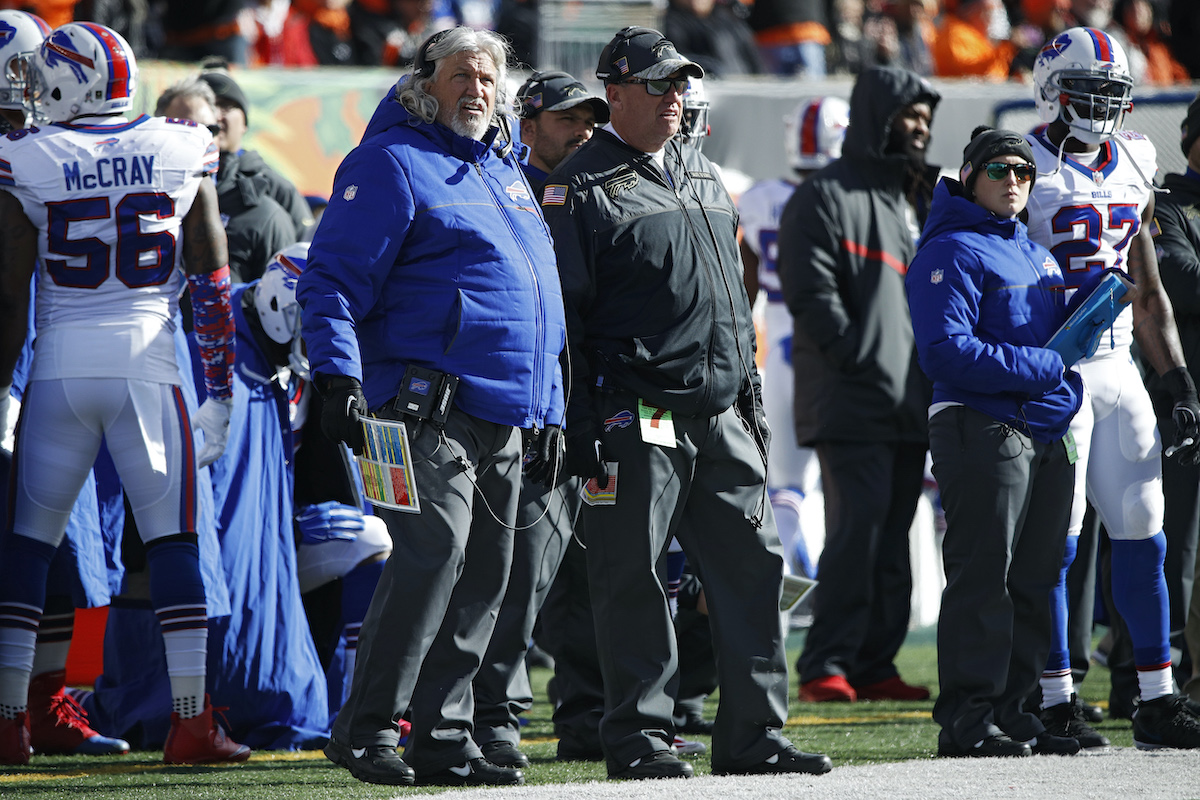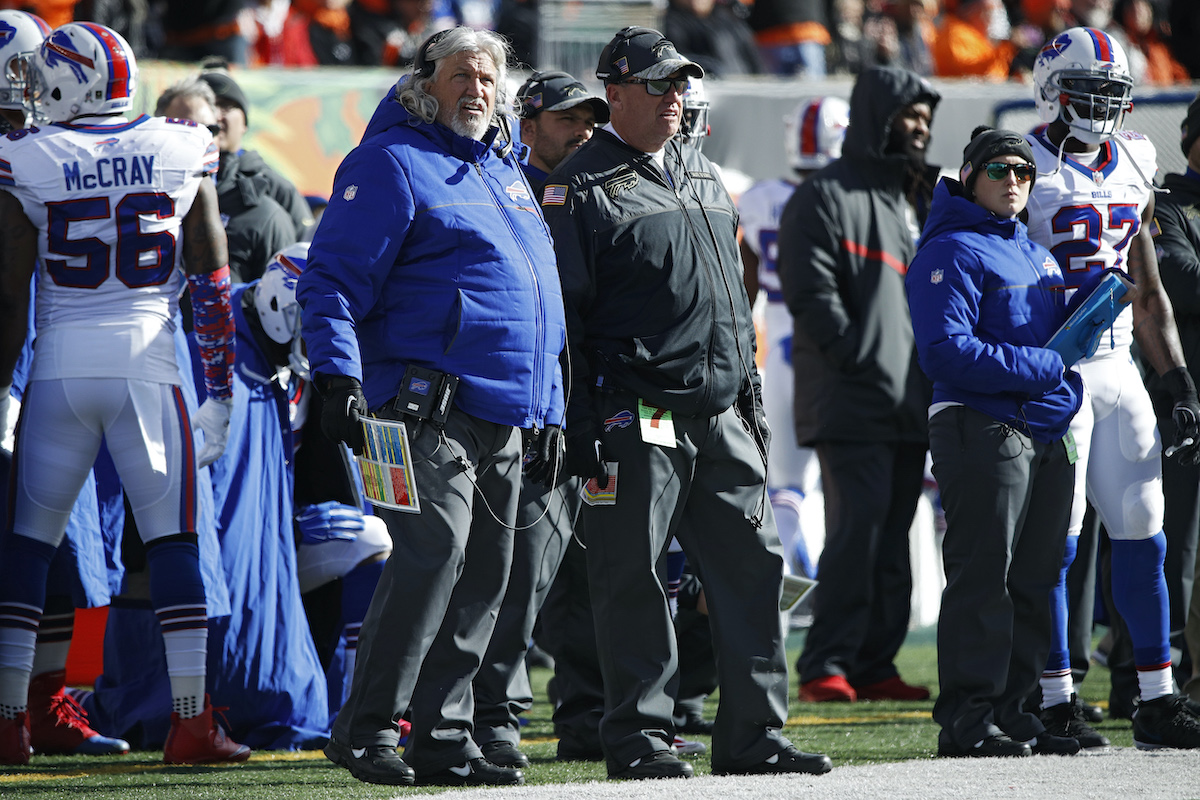 Rob and Rex were born into a family with a mother and father worth admiring. Doris Ryan graduated with a doctorate in education from the University of Chicago. She taught graduate-level courses at the University of Toronto, served as a vice president at the University of New Brunswick, and traveled the globe as a consultant for several companies.
Despite their mother's academia, Rob and Rex's attraction to football was too overwhelming for the twins to aspire to any other job. They knew they wanted to be coaches in the NFL when they were six. Even after moving to Canada with their mother post-divorce, their passion never wavered even if it left them with bruises. 
"In Canada, we played football in the backyard and hockey in the street," said their older brother, Jim, in a profile with the Dallas News in 2011. "It was always them against me. The only rule was that were no rules." The descriptions of their street games — the regular occurrence of cheap shots, fights, and taunts — are intense. However, they serve as early examples of why football was always in their destiny. 
The brothers moved back in with Buddy while he worked in Chicago. Their father didn't want them to follow his career path due to the lack of financial security and travel-heavy lifestyle. But Rob and Rex did not listen. Their personalities didn't allow for doubts to stop them from doing what they wanted.
Their NFL careers are respectable, but underwhelming
It took years of hard work in unglamorous locations for the brothers Ryan to make it into the NFL. Once they earned their chance in the spotlight, they were impossible to ignore. 
Like their father, they were both defensive specialists, but Rex came to the fore first. After spending nine years with the Baltimore Ravens, he became the head coach for the New York Jets in 2009. He had an immediate impact both on and off the field. The team twice made it to the AFC Championship games in his first two years in charge.
Those successes were magnified by the fact that Ryan was the rare coach willing to say interesting things on the record. His quotes ran the gamut from funny to antagonistic. And his attitude was a breath of fresh air in a league often too sterile for its own good.
Unfortunately for him, those two years are currently the peak of his coaching career. In the four following years with the Jets, and two others as the Buffalo Bills head coach, Ryan has never led a team to a winning record. Since being fired by Buffalo, Ryan has worked as a talking head for ESPN, getting in arguments with players and getting overly emotional on air. 
Rob's career is less heralded. He found fame in the 2010s when the internet discovered there was an NFL coach who looked like this:
As wonderful as that image is, Ryan's defenses never produced much on the field. He was the defensive coordinator for the Oakland Raiders, Cleveland Browns, Dallas Cowboys, and the New Orleans Saints. The 13-14 Saints were the only team to have a top 10 defense with him in charge. He was fired in New Orleans 2015 while the team ranked last in defense. 
When most people imagine their dream professions, they don't consider the possibility of failure. The Ryans might be frustrated about the trajectory of their careers in recent years, but they did make those dreams a reality and even got to work together for a year when Rex made Rob an assistant coach in Buffalo. They deserve to be proud of their accomplishments.