Rex Ryan Embarrassingly Backs Down After Near-Violent Exchange With Jets HC Robert Saleh
While the New York Jets continue to struggle on the field, their issues off the field are simultaneously growing worse as well. A feud was brewing between former Jets head coach Rex Ryan and current Jets head coach Robert Saleh after Ryan blasted the current state of New York's coaching.
Fast forward less just a few days later, and the beef has seemingly already been squashed.
What prompted Rex Ryan and Robert Saleh's beef?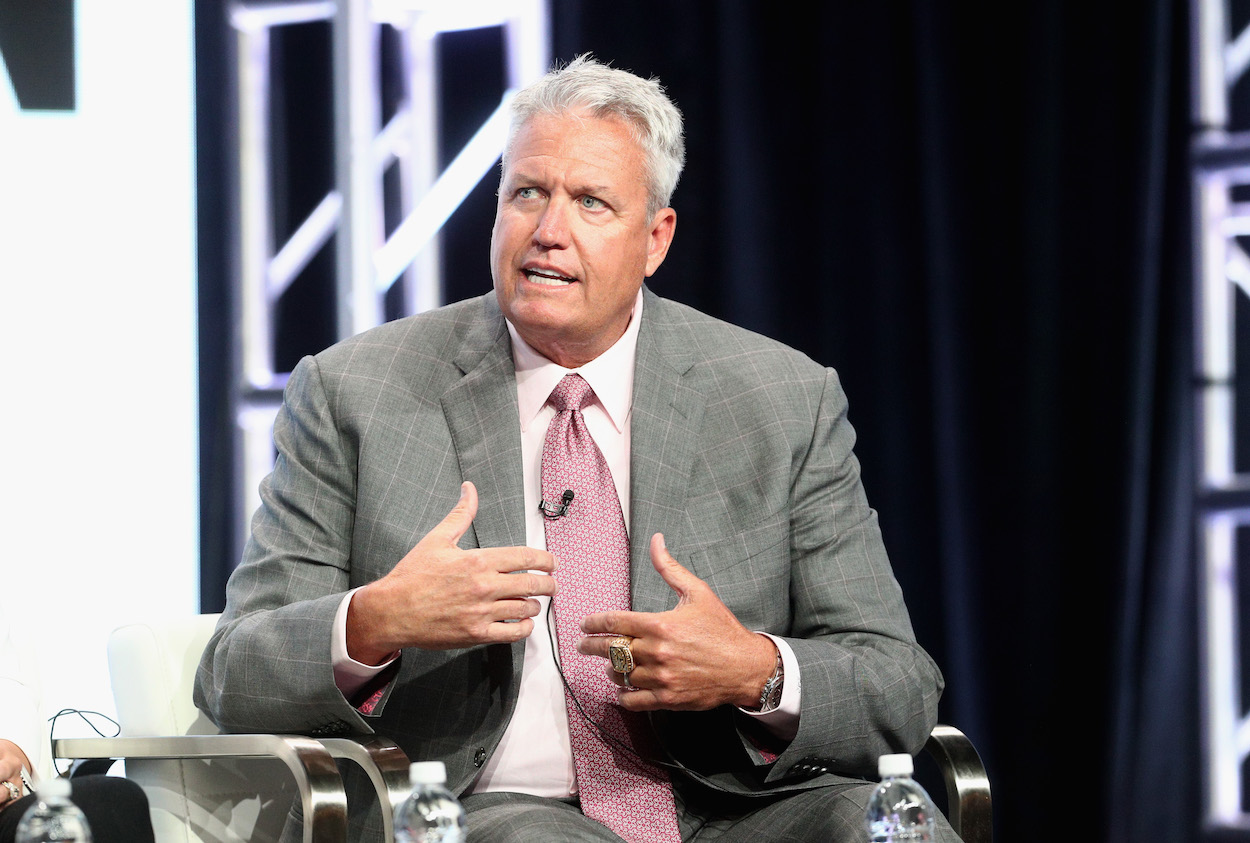 When the Jets first hired Saleh this past offseason, comparisons to Ryan ran rampant. After all, both were/are defensive-minded specialists. However, Ryan took quite a bit of offense following Saleh's lackluster start to his head coaching career.
Saleh was losing games left and right, and Ryan took it upon himself to make sure everyone else understood he and Saleh were nothing alike.
Appearing on a New York radio show, Ryan tore into the Jets' first-year coach:
"This guy is supposed to be a defensive guru," Ryan said. "I take it personal. Everything I heard was this guy is a lot like myself but without the bad part. Some of the bad parts you need, because the team doesn't want to play with any damn heart. That's the thing that's disappointing me.
"Don't ever compare this guy to me, this Robert Saleh to me. … To me, I'm a little pissed off about it when I heard his background is a lot like yours. No, it isn't. No, it isn't."
Saleh fired back on the Michael Kay Show, alluding to the idea that an exchange between the two could turn violent if Ryan wanted to confront him face-to-face.
"I've never met Rex. I've never had a conversation with Rex. I don't even know him, except for people who know him throughout the league. Obviously, if it's that personal for him, he knows where to find me," Saleh said.
Rex Ryan quickly backtracked on his comments
After watching the national media run rampant with this public disagreement, Ryan found it within himself to make peace with his Jets successor.
He reached out to Saleh and started preaching an utterly different tune when Sunday morning rolled around (November 21).
Ryan claims he and Saleh had an incredibly productive phone conversation and believes wholeheartedly in the Jets' current direction.
Rex Ryan didn't have to back down; Robert Saleh is struggling as a first-year HC
Ryan's decision to extend an olive branch and make peace with Saleh is admirable. However, it's important to acknowledge his initial comments weren't all that far off. Ryan coached one of the best Jets defenses in franchise history, leading them to two AFC Championships with Mark Sanchez at quarterback.
Saleh, on the other hand, looks way in over his head. The Jets' defense and offense are overmatched week in and week out, and he's already starting to ruin No. 2 overall pick Zach Wilson and his confidence.
Ryan starting a feud with Saleh during the middle of the season was uncalled for. However, his overarching message rings true. The Jets were a far better-coached team under Ryan than they are under Saleh.
Like Sportscasting on Facebook. Follow us on Twitter @sportscasting19.